This is not your dad's Honda Accord. While the venerable nameplate has been getting sportier over the years, Honda has placed its flagship sedan squarely in sport sedan territory while continuing to update everything else to keep up with its looks. I got to explore this year's Accord in Touring 2.0 trim, and was impressed with what I found.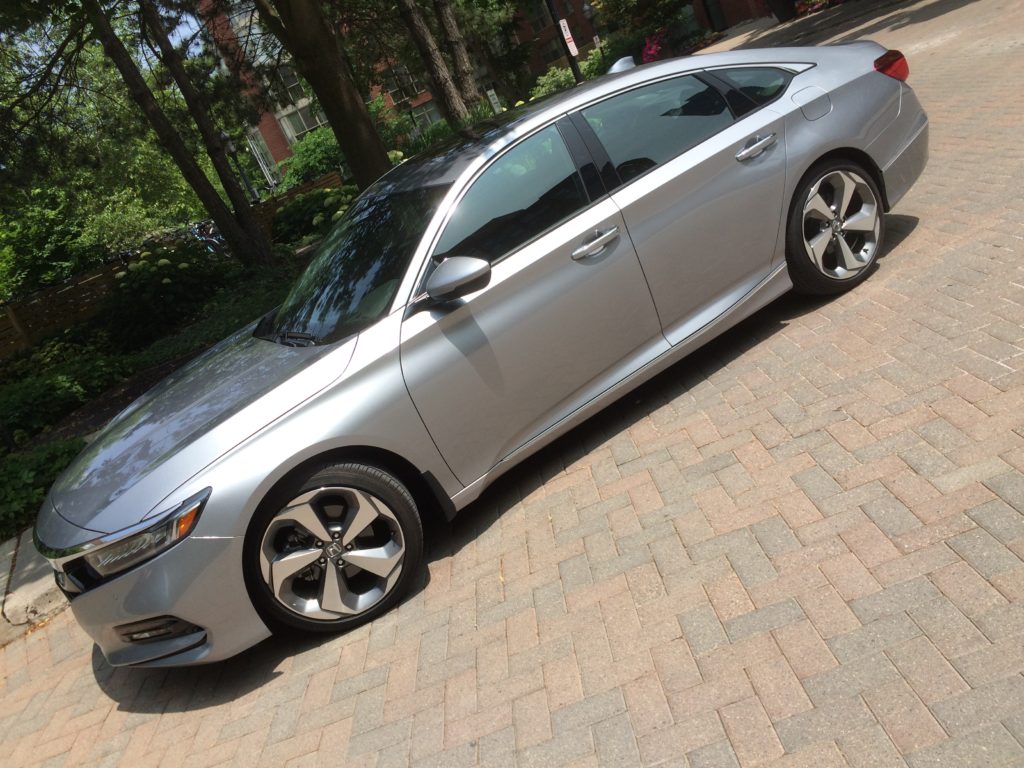 First impressions
The grey paint job on my tester may reflect what people still think of when they think of the Accord. That might be true for Accord sedans of years past. Honda also offered coupes for a slightly sportier look. But the grey on this car stands in contrast to the actual appearance of the vehicle. This sedan sports such a long hood and short rear deck that designers may have been going for coupe trompe l'oeil. The extended wheelbase also contributes to the desired illusion. Such designs have been common among premium-priced sedans for years, and the look has made its way to more affordable offerings like the Accord and at least one competitor I drove earlier this year.
The I-mean-business stance also comes through in 19" low-profile tires (17" comes standard), a vertical front fascia (the one "meh" spot in the looks department) and dual finished tailpipes. Creases in the metal running along the sides reflect the light just right. Multiple "jewels" in the front LED-based headlighting system are mimicked in the fog lamps. The rear deck is shaped so as to include a spoiler. From almost every angle, this is a speedy-looking car. It looks so good a coupe isn't necessary in this year's lineup. Did I mention I'm talking about an Accord?
Interior
Comfortable, adjustable, heated and cooled leather seats up front proved solid and supportive. The driver can activate settings in seat memory using door-mounted buttons (two sets of settings are available), but most drivers will just want to keep one of the numbered key fobs. The number on the back of the fob corresponds to the settings for that "driver number" (1 or 2), and the Accord makes your preset adjustments once you start the engine.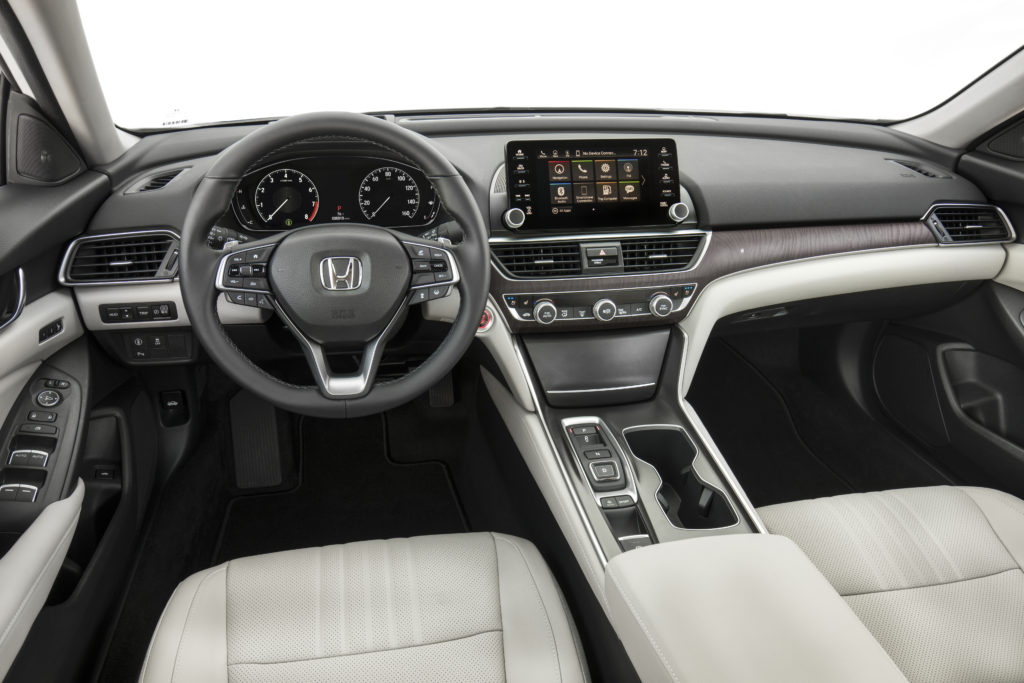 Rear seats are almost tall enough to accommodate me (I'm 6'5") without having to bend my head to one side, so I presume most people will be comfortable riding in back. Certain trim levels also offer heated rear seats.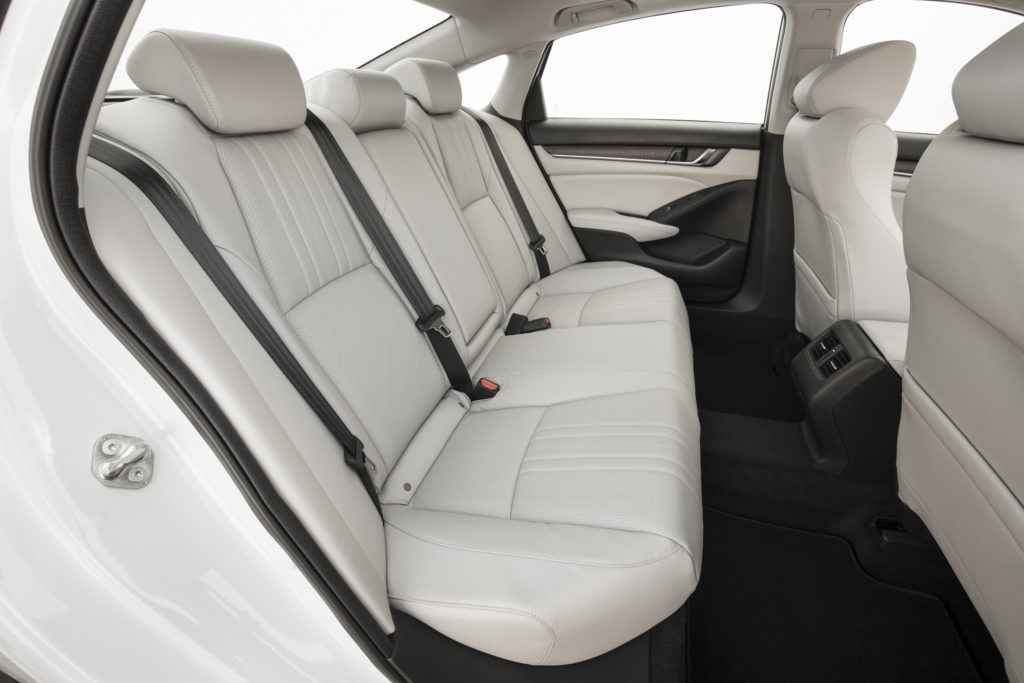 Hockey bag test
The bag fits longitudinally with the back seats up. There's enough room for a second bag. I pushed one rear seat down to slide my sticks through, but this is still a cavernous trunk.
In-cabin technology
Drivers won't want for technology, but I must recognize an improvement over recent Hondas – the 7" infotainment screen has FINALLY sprouted buttons and dials! For too long, Honda's infotainment screens were just that – touchscreens that obliged fine motor control to touch or slide various areas simply to power the system on or (and I did NOT like this) slide a finger up or down to adjust volume. Now the screen sports dials at the bottom corners and eight buttons flank the sides of the touch area. It's far easier to change the station now using tried-and-true mechanical controls like these.
HondaLink enables easy access to a full suite of infotainment options, including Apple CarPlay (my choice – I've come to rely on Siri Eyes Free) and Android Auto.
A 452-watt audio system driving 10 speakers, including a subwoofer, ships with all trim levels but the base LX, which uses a 180-watt 8-speaker system.
The Touring trims (there are two – Touring and Touring 2.0) ship with an AT&T Wi-Fi hotspot. All that connectivity may drain passenger's devices, so certain trim levels also offer two USB ports in the back seat on top of the two in front. That's on top of the wireless charging pad in the Touring trim levels.
The instrument cluster is entirely digital. Tachometer and speedometer flank other information in the centre of the screen, and the appearance changes depending on the drive mode you choose: Econ or Sport.
In my tester, Honda includes a heads-up display. A HUD button on the steering wheel lets drivers switch through a limited set of display options. Images are sharp in various lighting conditions.
Driving
A 2.0L turbocharged engine produces up to 252 hp and 273 lb-ft of torque. The drive-by-wire throttle system delivers this power the moment your foot asks for it, so there's never a problem when passing on the highway or jumping off to a quick start from a stoplight. Honda also offers a 1.5L turbocharged four with one healthy performance number, 192, for both horsepower and torque.
The ten-speed automatic transmission (a six-speed is mated to the 1.5L engine) shifts perfectly to keep the engine purring happily along. The smooth responsiveness of this ten-speed is a huge part of what makes this Accord so responsive and fun to drive.
Honda includes paddle shifters for those who engage in Formula One track reverie on their commute. Thankfully, the decline of manual transmissions has not reached the Accord – Honda still offers 6-speed 3-pedal models.
Unique to the Touring 2.0 trim is the futuristic Acura-style transmission "buttons" cluster. Other trim levels get the typical shifter.
On the Accord, Honda includes every single active safety feature it offers as standard equipment. Aside from the more pedestrian stuff, the Accord sports a collision mitigation braking system, forward collision warning, land departure warning and other tech to help keep drivers out of trouble.
Adaptive cruise control also ships standard on all trim levels, but low-speed follow requires an automatic or continuously variable transmission model. It proved adequately responsive and
Fuel economy
Honda publishes city/highway/combined fuel economy ratings of 10.4/7.4/9.1 L/100km for the Touring 2.0 trim. If you'd like to burn less fuel, consider a model equipped with the 1.5L turbocharged engine.
Pricing
The 2019 Honda Accord starts at $28,190 MSRP. Touring trim starts at $39,190 MSRP.