Korean carmakers, long known as makers of economy cars, are hard at work shaking that image. Hyundai spun off the Genesis model into its own high-end brand. Stealing a page from the Tesla playbook, Genesis welcomes shoppers in high-end mall showrooms.
For its part, Kia has not created a new brand, but it is working hard on making the current one turn heads. Its most jaw-dropping effort in this mission is the Kia Stinger GT-Line.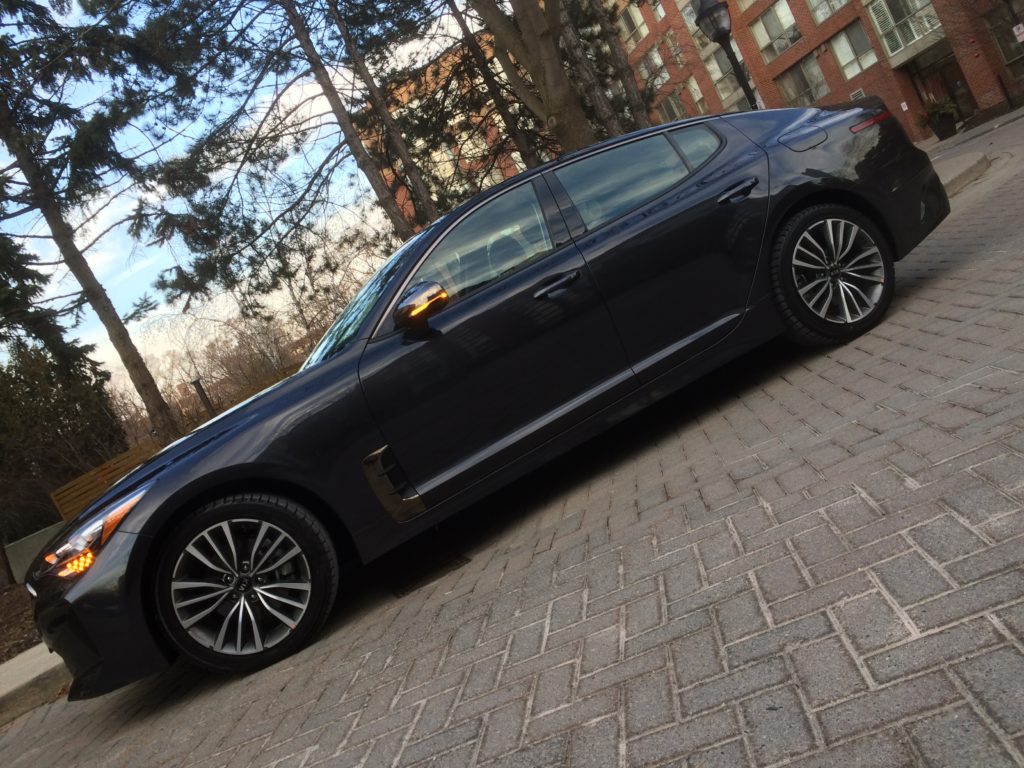 First impressions
Making its Canadian debut at the 2017 Canadian International Auto Show in Toronto, the Stinger proved a looker from day 1.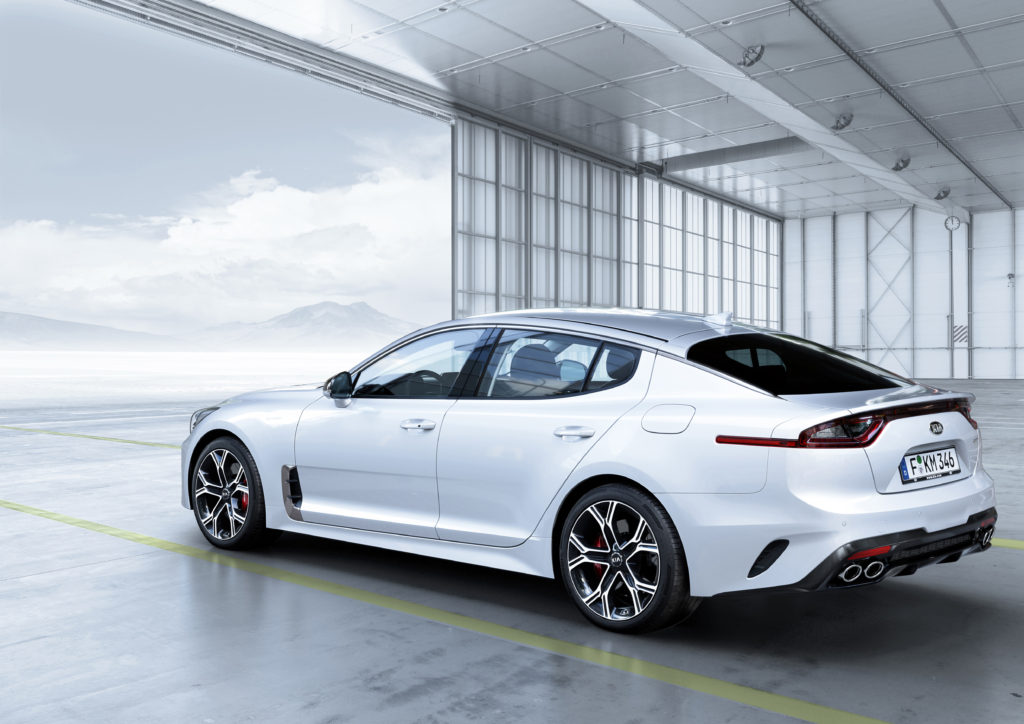 Low-slung on a wide track, muscular in the right places, long hood, short rear deck, it looks fast merely standing still. The large steeply-raked rear window leads to a short trunk deck that sits above double dual exhausts. Kia added design details on the front quarter panels and the hood that go with the front wheel brake vents. One look at this car and you don't question whether it fit in at Germany's Nurburgring, where Kia engineers furthered its development.
Interior
Leather greets you in the usual places, including the flat-bottomed (and well-heated) steering wheel. Fully adjustable heated seats proved accommodating on several long drives. Thank you, Kia, for not putting a sunroof in this GT. My head was never far from the ceiling, and with a sunroof I might have had to drive the Stinger leaning to one side or the other.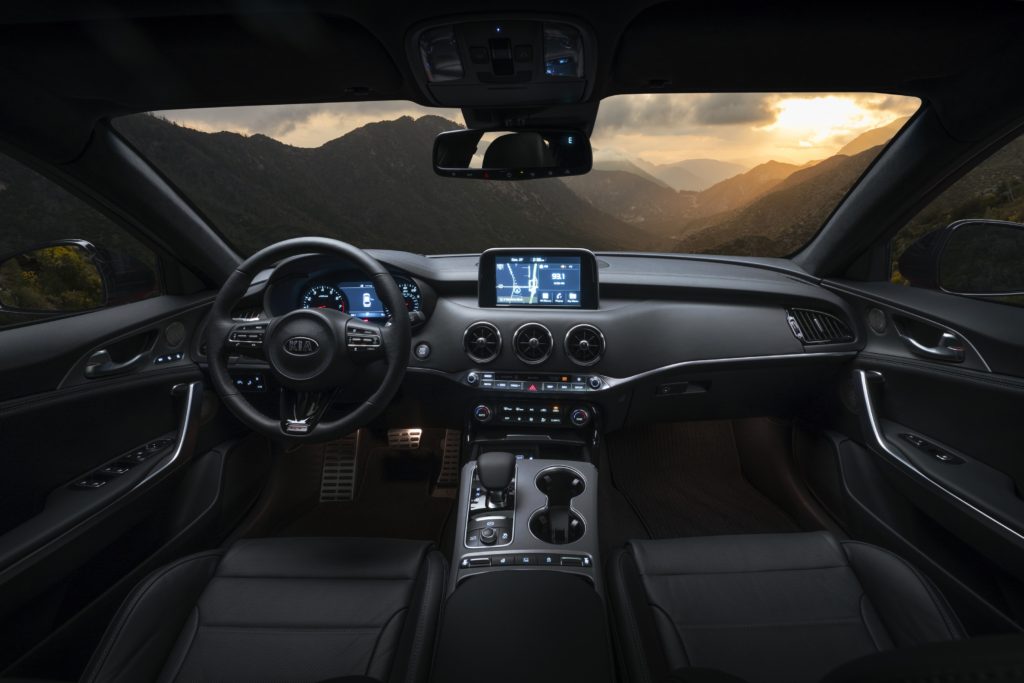 What first caught my eye was decidedly low-tech: three circular vents in the middle of the dash, below the touchscreen and above the climate controls. Two similar vents reside behind the middle armrest so rear seat passengers can have some contorl over the ventilation they receive. Call this minor if you will, but these vents fit the sports car image.
That rear window may be large, but it's practically horizontal. This makes for a sharp-looking rear end, combining with windows that curve in to taper towards the trunk. That said, given my height, I could not see too far behind me using the rear-view mirror – the view was largely downard. I might have had 100 metres of rearward visibility much of the time. Kia cold fix this by extending the glass on the fastback a little higher. Note: this likely won't be a problem for people of ordinary stature.
Yes, I said fastback. The glass and trunk lid are one unit, and when they swing up the generous cargo area becomes thoroughly accessible. The fastback design combones the roominess and security of trunks with the accessibility of hatchbacks, and I still wonder why more automakers don't offer more fastback options in their product lineups.
Rear seats proved almost roomy enough for my 6'5" frame. That's an achievement given how low-slung this car looks.
Hockey bag test
My bag fit longitudinally without pushing up on the privacy cover. Two bags will fit this way, with sticks poking through one of the 40-60 folding rear seats.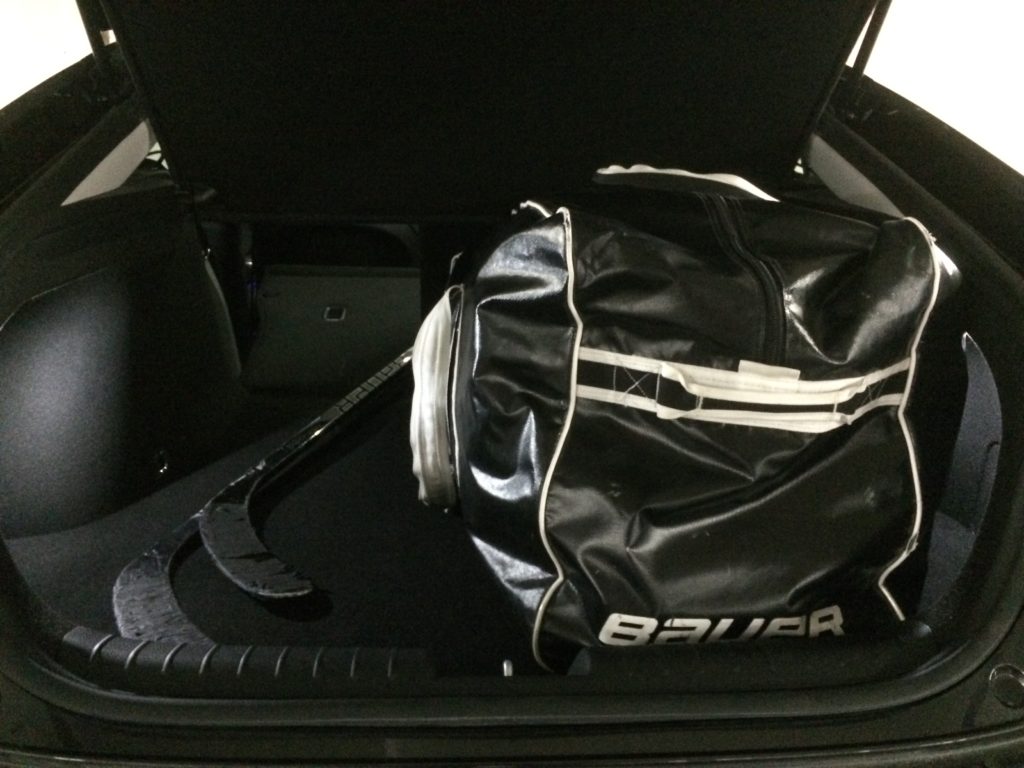 In-cabin technology
The GT features Kia's 7-inch dashboard-mounted touchscreen, which leads to all the regular infotainment options via Kia's UVO telematics system. I largely stuck to Apple CarPlay, but the Stinger supports Android Auto as well.
The screen also doubles as a readout for adjustments made to heating and air conditioning. A strip across the top of the screen shows these changes and current settings. Multiple automakers are going with this design choice since they don't need to include a screen with the climate control cluster.
The instrument cluster features the common two-dial-middle-screen setup. Controls for various features are under the right thumb (the 3 o'clock position on the steering wheel). The screen shows those controls as well as popups indicating activity on the infotainment system.
One USB port resides in a small storage space that also features a wireless device charging pad.
Technology options on the Stinger also include a heads-up display, Advanced Smart Cruise Control and a 360-degree camera momitoring system.
Driving
A peppy 2.0 L turbo 255-hp 4 cylinder propelled the GT-Line I drove. Its acceleration justifies the engine's startup growl. If that isn't enough for you, Kia also offers a 6-cylinder 365-hp option. The motor drives all four wheels (AWD is standard this year) through the 8-speed transmission. Paddle shifters on my GT tester went unappreciated, I admit. All-wheel-drive did not, given some of the snow I drove the Kia through.
A knob by the automatic shift lever enables the driver to choose from four drive modes, including "smart" (I had to look that one up) and custom, so drivers can configure the Stinger according to their driving preferences.
Available active safety technologies (what Kia calls Advanced Driver Assistance Systems) include Driver Attention Alert, Forward Collision Assistance and Lane Keep Assist.
Fuel economy
The Stinger boasts power aplenty, so you might surmise fuel economy is not the greatest. You would be right. In town, the Stinger never got below 10 L/100km. Extended highway drives saw mileage improve to 8.7 L/100km. (All figures provided by the Stinger's on-board fuel-economy monitor.)
Pricing
Here's one area where Kia sticks to its brand. Base MSRP for the Kia Stinger  GT-Line, a sporty fastback with phenomenal looks, is $39,995. Kia packs as many useful features into its vehicles as it can for the price. Tt continues to do so as it moves upmarket with the Stinger, a trend that ought to make driving enthusiasts jump for joy.