I've enjoyed plenty of fine vehicles over the years, but I still have a soft spot for practical cars that eschew unnecessary frills and deliver a good ride at a competitive price.
Over the years, Korean automakers have competed hard using this philosophy. Competitive vehicle pricing is a hallmark in every segment they enter.
That philosophy kept coming back to me during my week with the 2018 Kia Rio EX 5-door hatchback.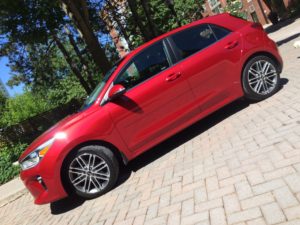 First impressions
From a distance, you could be forgiven for thinking the newly redesigned unibody Kia, like my Radiant Red tester, is in fact one of its more established German competitors. Straight lines and smooth, lightly-creased surfaces give a no-nonsense, get-where-you-need-to-go impression.
The rear wheels could not get much closer to the back end. Those 17″ wheels (15″ are the standard) sport a decidedly sporty, uneconomical-looking 16-spoke design.
Optional headlight configurations and 8-spoke wheels completed the look.
Through sheer luck, an older model Rio5 parked behind my tester, so I got to compare them close up. My conclusions: Kia modernized the same overall practical shape and made it roomier. And drivers are likely to keep the Rio5 on the roads for many years.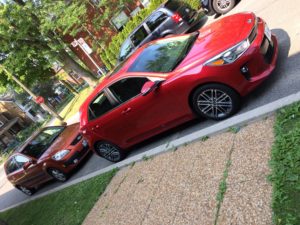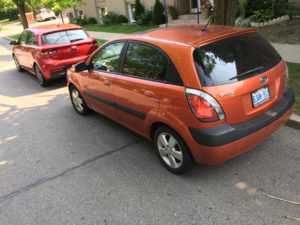 Interior
Manually adjustable heated front seats are firm and comfortable. The driver's seat almost sinks low enough to keep my hair from brushing the moonroof's edge. That issue is nothing a baseball cap doesn't fix. Trading the moonroof for the extra inch of headroom would work for me too, but automakers are enamoured of these overhead openings and I can't expect Kia to think differently.
Kia also throws in a heated steering wheel standard on all trim levels.
The centre stack is exactly the simple arrangement you would expect in an economy car, from the no-frills gear lever to the minimalist climate control cluster.
The rear seats are a bit tight for somebody my height, and the rear seat behind me offers little leg room.
Hockey bag test
The bag just fits, with room perhaps for a briefcase beside it, without my having to lower the rear seats.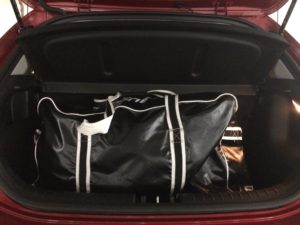 Hockey sticks slid easily over the rear seats from the hatch.
The Rio's deep hatch was a pleasant surprise. The bag did not prop up the privacy cover as it has in other cars in this class.
In-cabin technology
The EX Tech model I drove featured all the goodies, from Apple CarPlay, Android Auto and satellite radio on the touchscreen to a comprehensive set of statistics and settings available through the instrument cluster display screen. Kia clearly knows its market and manages to get these sought-after options into competitively-priced vehicles.
The default 5-inch display audio system was bumped up to 7 inches in my EX tester.
The Rio5 is the first Kia to offer the optional Uvo Intelligence telematics system. Remote engine start/stop, a find my car feature, vehicle status reports and more can be had on a smartphone app.
The EX trim level also includes a start/stop engine button and an automatic rain-sensing windshield. These aren't uncommon in today's vehicles, but I still do a double-take when I see features like these in an economy car.
For all the fancy ambient lighting systems I've seen, this is the first time I can remember an automaker illuminating the two USB ports, one in front and one in the rear. Smart.
I had one quibble: at night, I needed to move the rear-view mirror to prevent glare from headlights on vehicles behind me. When I put my index finger on the lever behind the mirror, I placed my thumb on the front of the mirror, for leverage. That's where I often find programmable buttons for garage door openers. In the Rio5, two of the three buttons here call for assistance (roadside and emergency).
I pressed the middle button. The touchscreen told me it was calling for roadside assistance. Fortunately, the screen also offered a button to end that call. Kia designers may want to move these buttons to the reading light assembly just behind the mirror. They could also turn the mirror into the type that automatically reduces glare without having to be moved.
Driving
A 130 hp 1.6L 4-cylinder engine delivers 119 lb-ft of torque to the front wheels. These numbers are par for the vehicle class, nothing great but certainly enough to move the Rio quickly when necessary.
I'm not a fan of the 6-speed automatic transmission, even if it did quickly kick down to a lower gear when I merged onto highways. Paddle-shifter fans ought to look elsewhere, though I increasingly question the presence of these gadgets even in high-end automatic transmission vehicles. I regard their absence here as another successful value decision.
Cars like the Rio 5 door were, in my opinion, made for manual transmissions, and Kia does offer a 6-speed shifter. Maybe next time, Kia?
Handling is above average and the Rio absorbed bumps in rutted Toronto roads without much fuss.
Available autonomous emergency braking headlines the active safety suite on the Rio. The system uses a long-range radar detection system that, I'd like to think, could also enable adaptive cruise control, a feature the Rio doesn't offer in this, its "tech" offering.
Fuel economy
Kia publishes decent city/highway mileage numbers of 8.3 L/100 km and 6.4 L/100km respectively. The combined mileage is 7.5 L/100km.
The Rio takes regular unleaded in its 45-litre tank.
Pricing
The 2018 Kia Rio 5-door starts at $14,995 MSRP in LX trim with a manual transmission. The EX automatic I drove retails for $25, 605, including freight, cloud charge and A/C tax.
Conclusions
Comparison shoppers who stop by Kia dealerships or dealer websites can't fail to be surprised at all the value Kia can squeeze into its economically priced offerings. The Rio 5-door is no exception, and I expect to see many more on the road.