Small cars aren't just for the frugal. Dress up an economy car with luxury touches, add an engine that provides extra oomph, and you could be inside the 2018 Volkswagen Golf TSI Highline.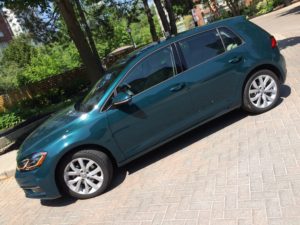 First impressions
The Golf may be Volkswagen's second-most iconic vehicle still in production. And why not? The wheels-at-the-corners, low-overhang body has stood the tests of time, be they practicality, looks or other. Today's version has softer edges than its ancestors did, but the shape is unmistakeable.
The Peacock Green paint proved attractive on its own and set off the cream-coloured interior. Extra touches include smooth dual exhaust tips and 17″ Karlskoga alloy wheels with all-season tires.
Interior
The contrast between the exterior colour and the Shetland – Vienna cream-coloured leather seats works well.
The fully adjustable driver's seat did not oblige me to lean the seat back so my head would not be jammed against the moonroof's edge. Thank you, tall Germans who designed this car.
Luxury touches include the hefty leather-wrapped flat-bottomed steering wheel, leather-wrapped shift knob and brake lever, and piano black accents.
There are no paddle shifters on the steering wheel, though the V-dub does offer TipTronic. The overall feel is one of simple, solid design.
Hockey bag test
The hatch ably accommodates my hockey bag plus a "business backpack" without my having to lower the split-folding seats. The hockey bag, tall as it is, also did not prop the privacy cover up.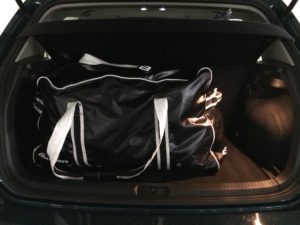 The back seat features a centre armrest passthrough, a throwback to the passthrough in the 90s-era Jetta I owned. I would stick my skis through that passthrough and head to the slopes.
The hatch also features a power outlet. Speaking of which…
In-cabin technology
By modern standards, the Golf does not bristle with technology. And that's just fine.
An 8" touchscreen is the face of the Golf's Discovery Media infotainment system. AM, FM, satellite radio, Bluetooth, Apple CarPlay, Android Auto, and all the other mod cons go through this screen.
Great sound comes through an 8-speaker (plus subwoofer) Fender audio system.
VW's system stands out from those of other carmakers thanks to the proximity sensor. Icons line the bottom of the screen. As you move your finger towards them, they grow in size and acquire labels. Move your hand away and they shrink back down to their original size, making more room for the screen's other contents.
An analog tachometer and speedometer dominate the instrument cluster. Wedged in between is a small portrait-orientation screen that shows data about various features, including fuel economy and the distance you set for adaptive cruise control to maintain between the Golf and the car ahead of it on the highway.
One USB connection is… well, good enough for a single commuter. I'd figure two would be better as a base in any modern vehicle. People want to charge their phones, you know.
Driving
A 1.8L 4-cylinder engine generates 170 hp. (VW offers a more powerful 2.0L engine as well.) The power goes through a 6-speed automatic. (VW offers the Golf with a 5-speed manual as well.) The combination means both good highway on-ramp acceleration and decent highway fuel economy. The Golf features the comfortable, quiet ride you'd expect in a larger vehicle with a longer wheelbase. Keeping the wheels at the corners means the Golf is also fun in, well, the corners. U-turns are a speciality.
Active safety options on my tester included:
a light package that features an adaptive front-light system
a driver assistance package with adaptive cruise control, blind spot detection with rear traffic alert and several other active safety features.
Fuel economy
Volkswagen publishes city and highway numbers of 9.4 L/100km and 6.7 L/100km, respectively. The Golf's mileage tracker suggested I did better than this, certainly on the highway when adaptive cruise control handled acceleration and braking.
The Golf takes regular unleaded in its 50L tank.
Pricing
The 2018 Volkswagen Golf Highline 5-Door Automatic will set you back $30,495 (base MSRP). Having recently driven an aggressively priced Passat sporting a 280 hp 3.6L 6-cylinder engine and considering you can get into a base Golf for a shade under $20,000, I raised an eyebrow when I read this price point. Maybe the size difference between the Golf and the Passat imply different levels of value? I'm not sure. I do know I looked longingly at the vehicle one last time when I dropped it off.
With options, the Golf I drove retails for $33,040 (freight, PDI and excise tax on air conditioning all extra).