SUVs. We can't seem to get enough of them. Automakers know this, and they're turning out a wide range of products to meet every taste.
Luxury buyers may think German, British and certain upscale Japanese brands first. They may want to widen their scope. Mazda has been pushing into this space for years, tuning every member of its limited lineup to sate as many customer desires as possible. One of its results, the three-row 2020 Mazda CX-9, ought to turn the heads of buyers looking for both size and style.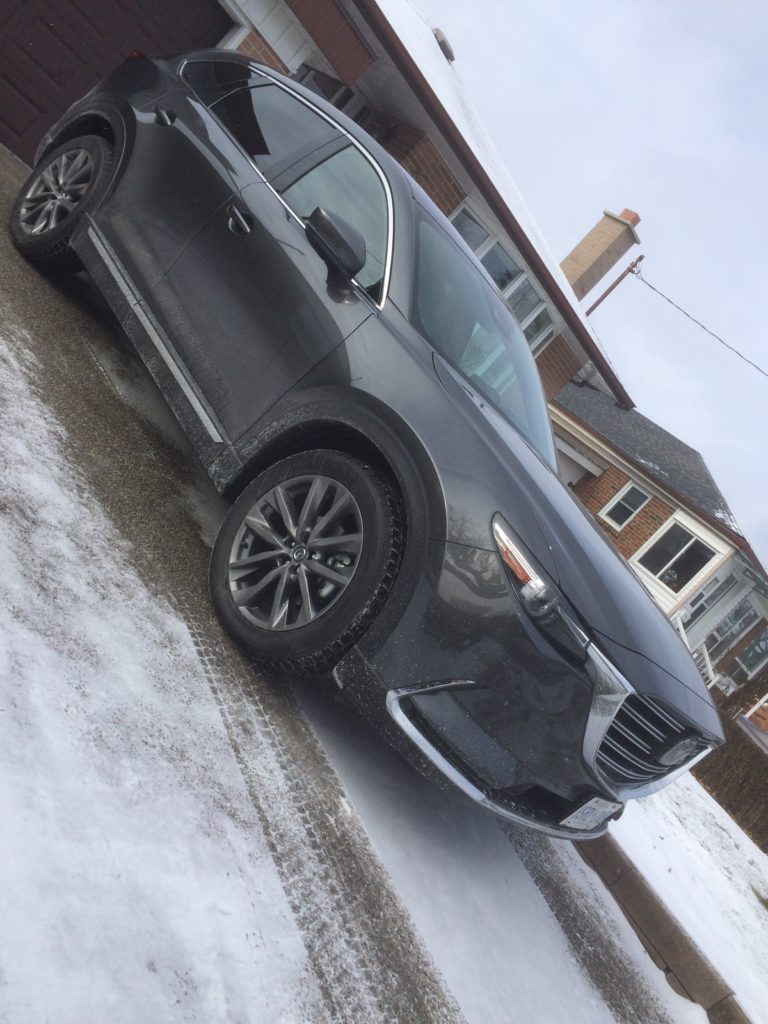 First impressions
KODO Soul of Motion is the design language guiding Mazda's efforts, and the CX-9 is its largest incarnation. Make no mistake – this is a three-row SUV, a large vehicle no matter how you look at it. That said, it doesn't carry many large-vehicle design cues. A long sports-car hood on my Machine Grey Metallic model meets a steeply raked windshield, leading the eye over the roof to a rear window that seems just as steep. Seen from afar, the only way to gauge its size is to compare it to nearby vehicles. KODO works best on Mazda's smaller vehicles, but the trompe l'oeil it plays on the CX-9 sleeker than anything else in its class.
Interior
Luxury touches abound in this SUV. Heated and cooled seats, stitched leather wrapped around the shift lever, the heated steering wheel and most anything else you're likely to touch and room to spare make this cabin easy to get used to.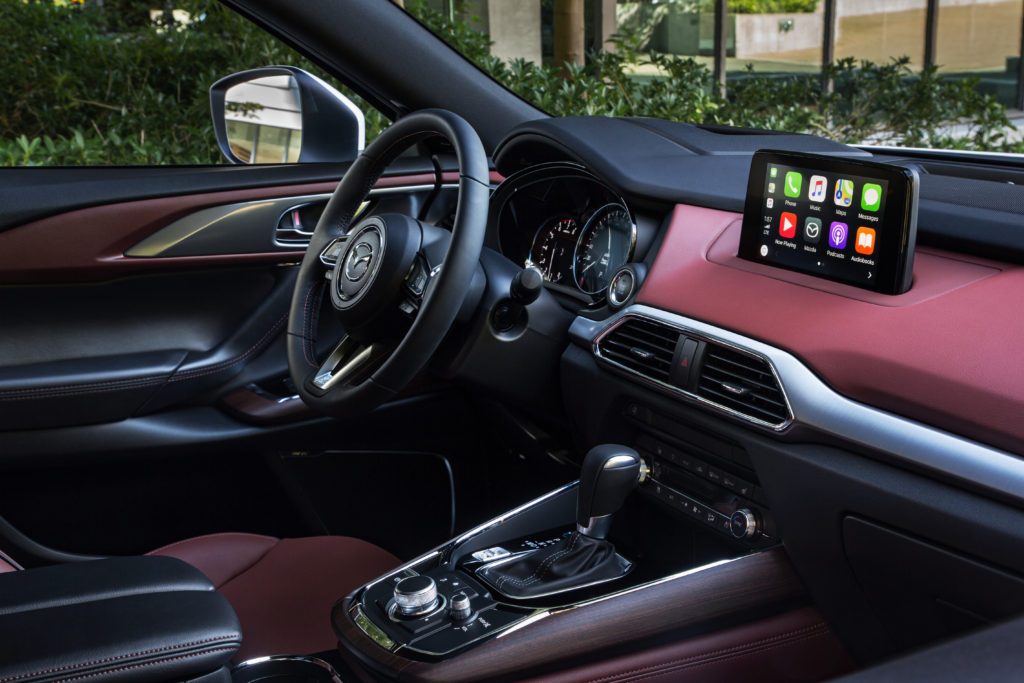 The centre console where you'll find the shift lever, infotainment controls and other things sits on a "platform" of sorts that smoothly meets the centre stack and the climate controls. It's an almost Star Trek-like setup, all rounded edges and separated from the underside by a strip of ambient lighting.
The second row in my tester features two heated captain's chairs separated by a centre armrest. Looking only at the seats, you could mistake them for the first row. That armrest even contains two USB charging ports like the one in front.
The third-row seats may be best for people of smaller stature, but they are also well appointed. One-touch power switches allow passengers in and out and, on higher trim levels, they get one USB charging port.
Hockey bag test
Roominess ends in the hatch. As with CX-9s of the past, I had to fold one third-row seat down to accommodate bag and sticks. The cargo compartment floor can be lifted to reveal an extra compartment, perfect for stashing laptop bags and other valuables out of sight.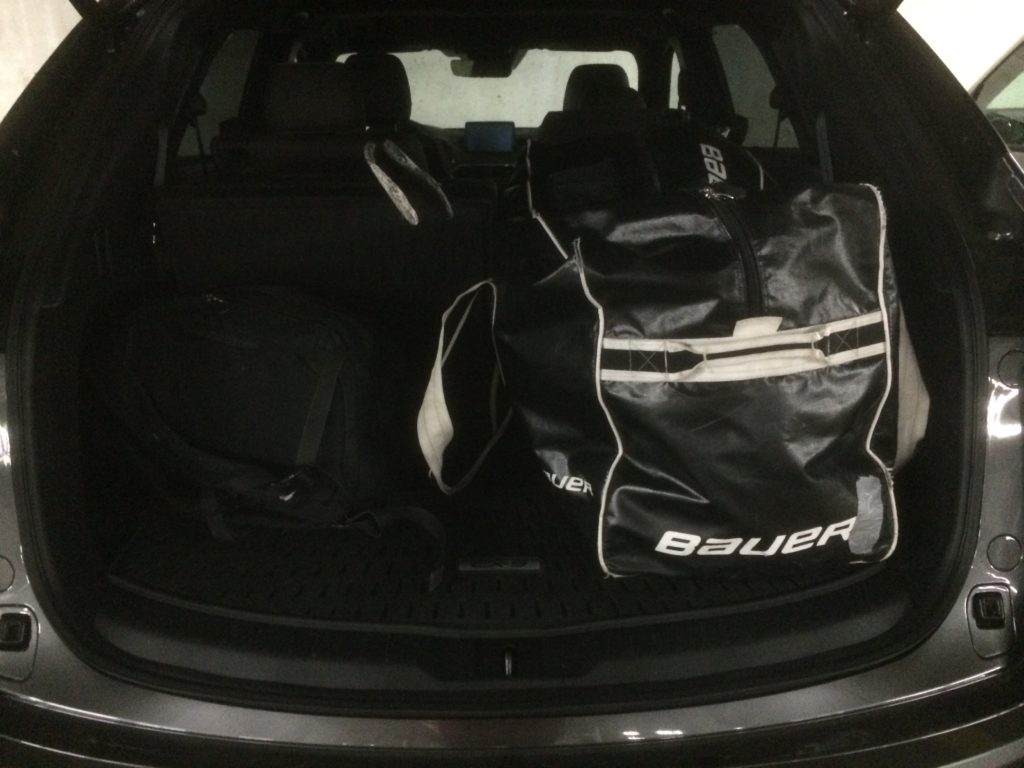 In-cabin technology
Mazda offers a large touchscreen that you don't need to touch. And that's a good thing. Mazda's HMI Controller in the CX-9 is a carryover from the unit that has been gracing Mazdas since 2013. This set of controls resides just below the shift lever. Rest your forearm on the comfy centre armrest to use this set of five buttons, a volume dial and a larger dial/joystick/button combination and you'll zip through Mazda's comprehensive and intelligently laid out infotainment system. There's no need to raise your shoulder and put a kink in your neck to reach for the screen, hoping that a bump in the road doesn't make you tap the wrong thing. It was an ergonomic masterpiece when first introduced and remains exactly that. The CX-9 doesn't get the redesigned infotainment controls, but they feature essentially the same buttons and dials, so you don't lose out.
Mazda also introduced its reorganized infotainment system layout on the Mazda3 sedan and hatchback models. It isn't on the CX-9, but Apple CarPlay and Android Auto have (at long last) made their way into the system.
Another update comes in the form of the instrument cluster. A centre analog speedometer is flanked by two rounded screens that default to tachometer on the left and fuel and temperature gauges on the right. An additional "fuel" gauge sits between these gauges and the speedo, matching the curve of the latter. It provides a distance-to-empty readout that doesn't necessarily match the fuel gauge reading. That plus the real-time fuel consumption readout to the left may incent more drivers to watch their driving habits.
The heads-up display shows just enough information on it, like current speed and cruise control settings. It does not overwhelm the driver with details or choices. The same could be said for the instrument cluster and the display choices available.
Driving
Mazda's 2.5 L T SKYACTIV-G engine powers all trim levels for 2020. This 250 hp power plant generates 320 lb-ft of torque. Combined with the 6-speed transmission, suspension and other bits results in a surprisingly car-like ride.
Quick acceleration to merge into traffic happens with such grace you might momentarily forget you're driving a large vehicle. This is a trick every automaker claims its products accomplish, but few actually do. Mazda does it using G-Vectoring Control Plus, new to the 2020 CX-9 and an enhancement to its SKYACTIV chassis, transmission and engine. Turning left from a stop sign on several occasions, I had to push the CX-9 a little harder than usual to merge. The vehicle did not try to throw me around. This was the case in both regular and sport driving modes.
My driving was more sedate, and I enjoyed the adaptive cruise control on several occasions. It does get fooled from time to time when a vehicle cuts in front. Even years after first using these systems, I still watch other vehicles and my car's reactions to it like a hawk and my right foot isn't as relaxed as it might be, so I have yet to hit anything. Regardless, on long drives with free-flowing traffic, the CX-9, with its creature comforts, smooth-running engine and safety technology, proved a great place to be.
Fuel economy
Mazda publishes 11.6 L/100 km city and 9.1 L/100 km highway, numbers in the ballpark for three-row SUVs.
Pricing
The 2020 Mazda CX-9 starts at $39,900 MSRP.