Automakers have had plenty of success shrinking their popular SUVs down to crossovers, and even smaller, to attract the car-buying crowd. Less documented are those instances where small cars "grow" into subcompact SUVs. I learned this is also a winning strategy during my time with a MINI John Cooper Works Countryman ALL4.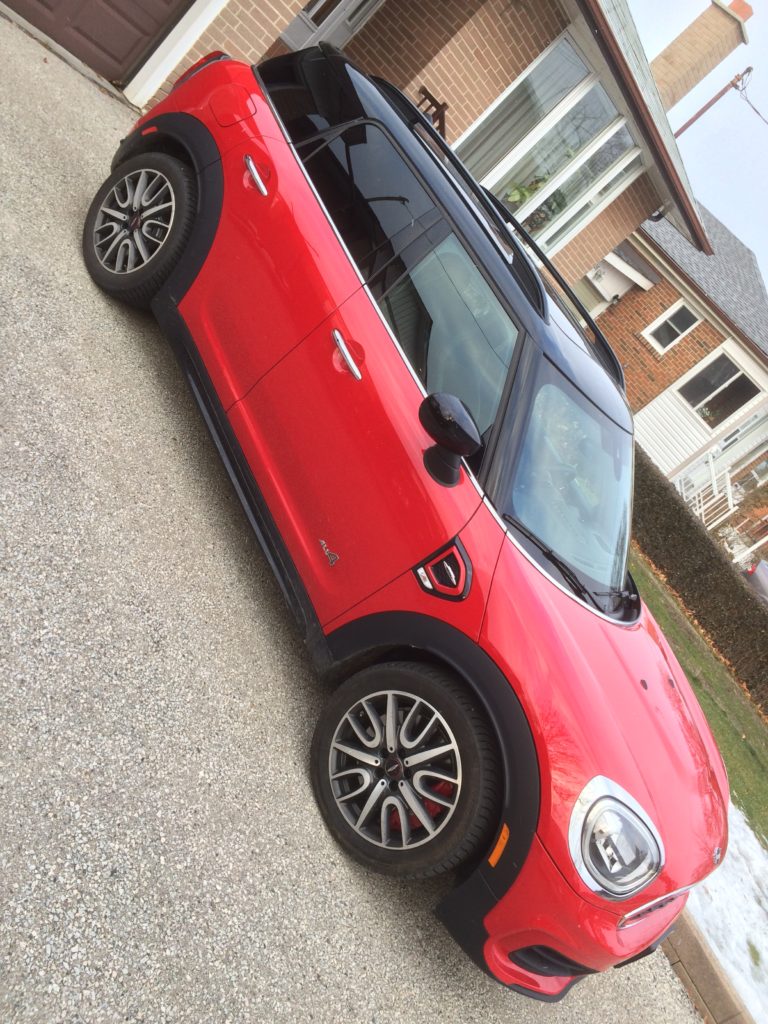 First impressions
Here's the reason why this works: small cars with the heritage and distinctive look that MINI brings to the table feature personality that is nowhere to be found in the truck or SUV segment. Shrinking a massive gas guzzler to a compact SUV might get people to wonder whether the vehicle is a child's toy.
The MINI, by contrast, is MINI through and through. Onlookers know it's a MINI, and the larger size doesn't immediately dawn on people, if it comes up at all. Chili Red, curved, fun, rounded shapes and colour schemes keep 'em fooled, even though it's disingenuous to call the Countryman "mini" at all. From the tire size to the length and height of the car to the protective side skirts, the Countryman is ready to haul people and cargo. Not enough room inside? Make use of the roof rails to cart more stuff.
MINI no more, and yet still MINI to the core. Nice trick.
Interior
The fun in this car comes from the details, outside and in. They're authentic in the MINI in a way they could never be in competing brands.
Look beyond the MINI lighted welcome mat projected down by the side-view mirror and the John Cooper Works door sill badging (more on JCW later) to an interior designed to elicit joy. Overhead switches for lights and the panoramic moonroof are the old-time on-off metal-look switches separated by half-loops. Play around with these switches – you'll find one that changes ambient lighting to different colours, making the interior truly shine (sorry) at night. Unexpectedly, that glow emanates softly from a carbon-fibre-look strip running the length of the dashboard from the steering wheel to the passenger door.
Similar switches also reside in the centre stack below climate controls, where a wider red engine on-off switch dominates the bunch. MINI designers missed a detail here; similar switches could also activate heated seats and the rear-window defrost option. Instead, buttons handle these tasks.
The seats in this JCW are firm and adjustments are manual. Pronounced side bolsters keep your torso in place. MINI touch #486 (or so): lift or lower the steering wheel and the tiny rounded instrument cluster moves with it.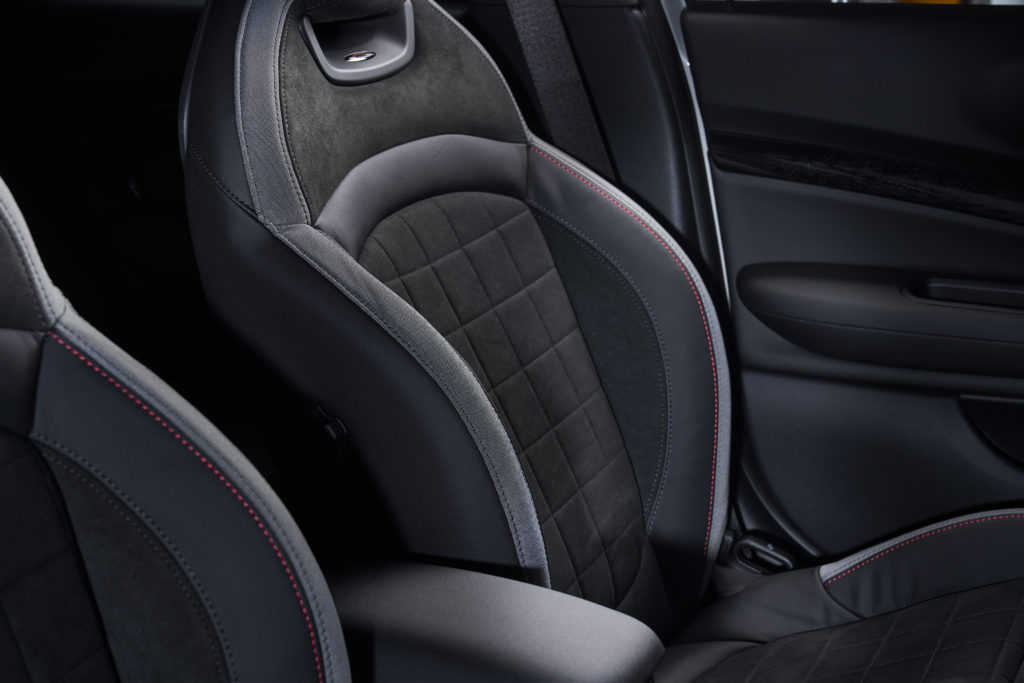 Rear seats are spacious enough for my 6'5" frame. Occupants get a fold-down armrest, a view out of a panoramic sunroof and two USB-C ports to keep their phones charged.
Hockey bag test
The trunk accommodated my bag and not much else – almost a perfect fit. The hatch is so deep that my bag did not prop the privacy cover up at all. Sticks slid easily over the rear seats.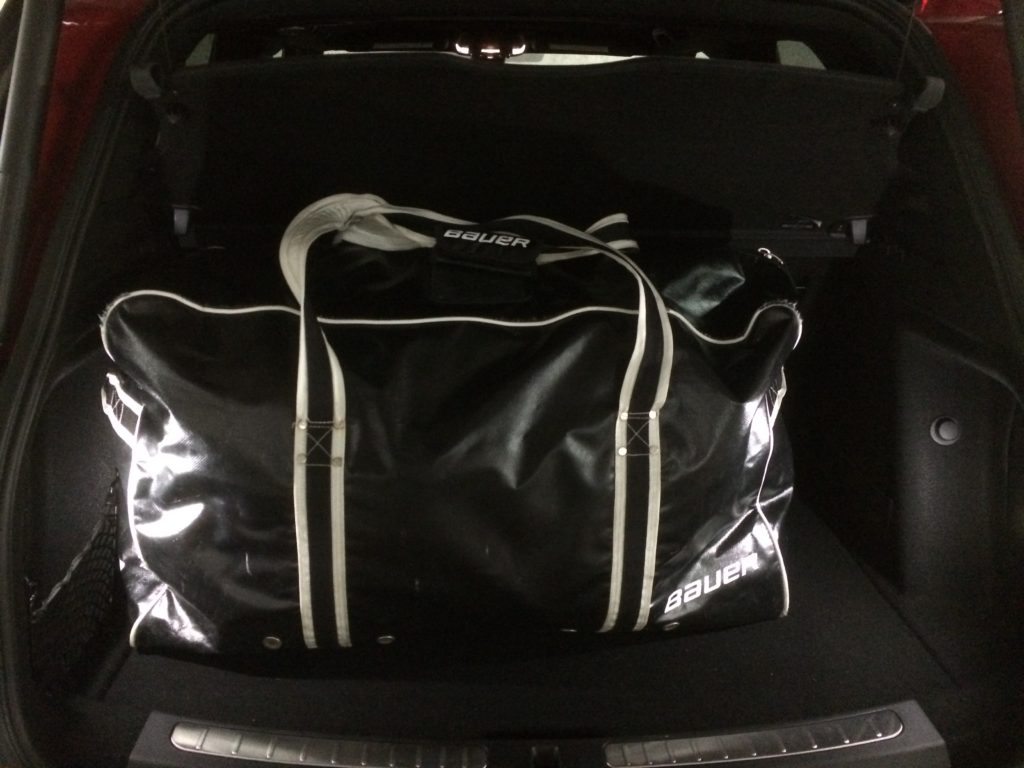 In-cabin technology
The 6.5" touchscreen offers a comprehensive set of features organized into neat categories that are (mostly) simple to figure out. An easy-to-use help system directed me quickly to a couple of things I wondered about. Plug in your iPhone and the system quickly defaults to CarPlay. (Android users: BMW recently announced that Android Auto is coming to its models. Dates to be announced.)
My one quibble is with the control for the heads-up display being stuffed in the organized bowels of this system. The more I work with these systems, the more I believe that the controls for any HUD belong alongside the controls for instrument panel brightness which, to date, are still analog switches found beside the steering wheel (in most cars).
Returning to the touchscreen, you don't actually need to touch it. MINI placed a cluster of controls just behind the shift lever where you can reach them while resting your forearm comfortably on the armrest. This cluster offers buttons leading to commonly accessed features (media, navigation and so forth, plus a back button) surrounding a combination dial/joystick/button that enables navigation of anything the touchscreen displays. This centre dial may lack the touchpad found in the systems of BMW, MINI's corporate sibling, but it still shines as a way to do infotainment controls right.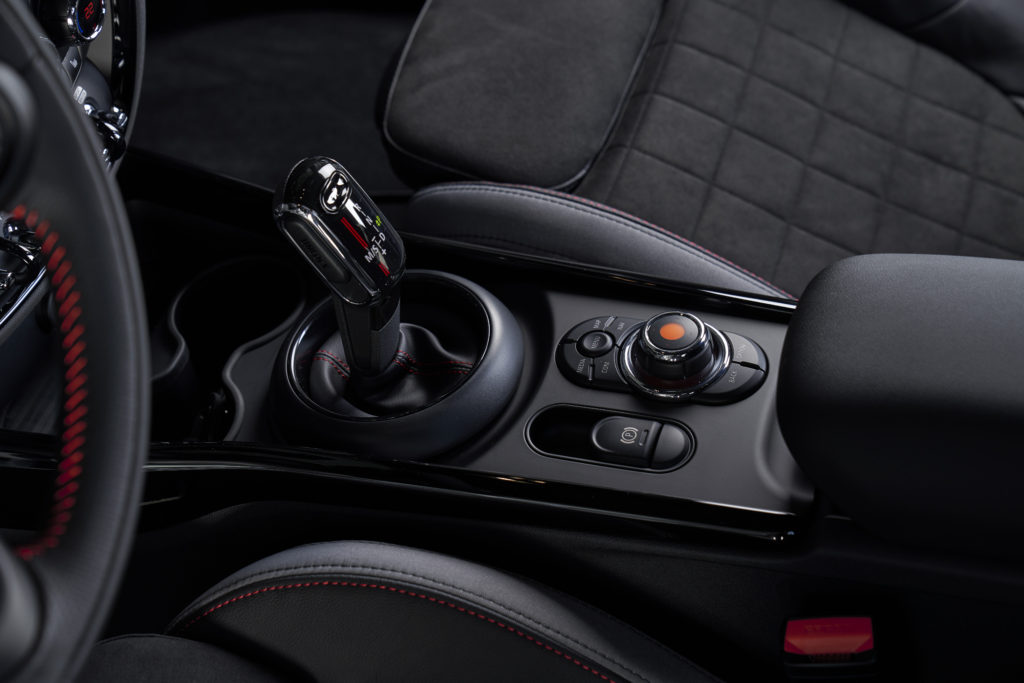 The instrument cluster contains a small screen whose contents cannot be controlled by any of the buttons on the steering wheel (cruise control under the left thumb, media controls to the right). Similar information appears on the pop-up heads-up display. This mechanical throwback surprised me, since automakers (including BMW) have either had their HUDs projecting onto the windshield for years, or are migrating to this setup.
Driving
Let's get back to the John Cooper Works branding. It isn't just for show. BMW claims this is the most powerful MINI ever, offering 301 hp and 331 ft/lb of torque from a 4-cylinder turbo engine (shared with the MINI JCW Clubman ALL4). That power is on tap and easy to manage thanks to the model-specific chassis, additional reinforcements throughout and an 8-speed transmission, paddle shifters included. In short: on-ramps are your friend, but only for 5.1 seconds from a standing start. After that, expect flashing lights to appear behind you.
The automaker wants to keep you out of trouble too. As stated in its press materials: "For the first time with MINI vehicles, the maximum speed … is now electronically limited to 250 km/h."
For more sedate drivers, there's an adaptive cruise control system that keeps the drive fairly smooth regardless of traffic conditions ahead. Sensors and the automated decision-making behind this system are not yet as refined as they are on BMWs. For example, the Countryman does get eager when the lane ahead opens up – 301 hp is part of this MINI's personality, after all – so be ready to brake a little if you think you need to.
Pricing
The 2020 MINI John Cooper Works Countryman starts at a base MSRP of $43,090. With options, the vehicle I drove sells for $53,530 MSRP