Most cars have one personality. Automakers may design them to have a certain appeal, but a vehicle's character ultimately rests with drivers.
That's why it's refreshing to happen upon a split personality on four vehicles. Honda may have designed this car as an economical runabout, but generations of enthusiasts have gleefully turned this pedestrian offering into one of the most modified cars on the road. Honda isn't blind, which is why it offers the rad, ready-for-autocross Honda Civic Type R.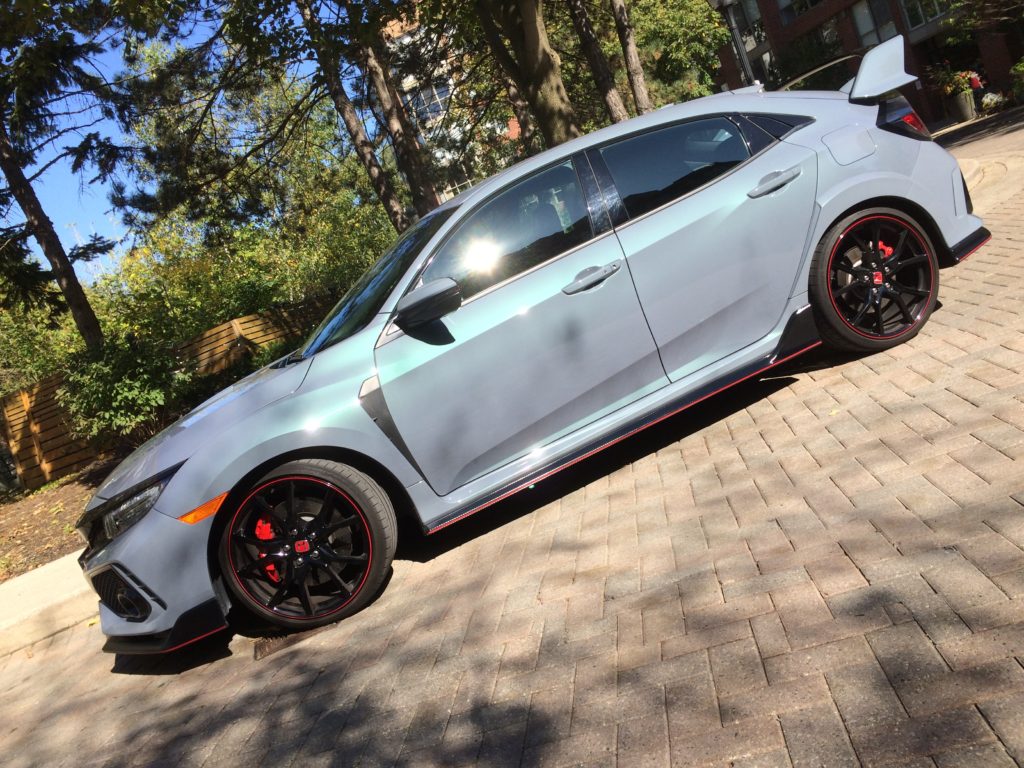 First impressions
If you squint at the predominantly grey model I drove, you can just make out the shape of Honda's latest Civic hatchback model under the red-lined skirts (front, sides and rear), wheels, side venting, and red Honda badge.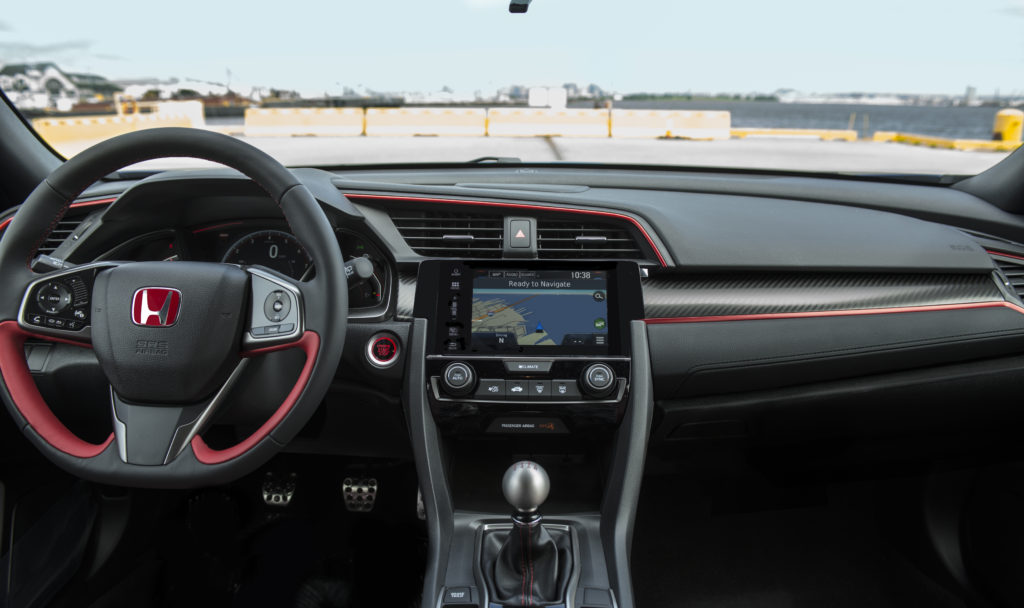 The look-at-me rear wing (uh, spoiler) probably draws the most looks. Twenty-inch low-profile tires on black aluminum-alloy rims let red brake calipers peek through. Three exhaust pipes poke out from the centre of the rear diffuser.
A moulded hood featuring a turbo intake scoop completes the deal: anybody looking for a car to turn into a tuner project might be persuaded to look inside the evil cousin in the Civic family.
Interior
Firm, minimally adjustable red bucket racing seats with hard plastic backs and a Type R logo on the front keep the backsides of front-seat occupants securely in place.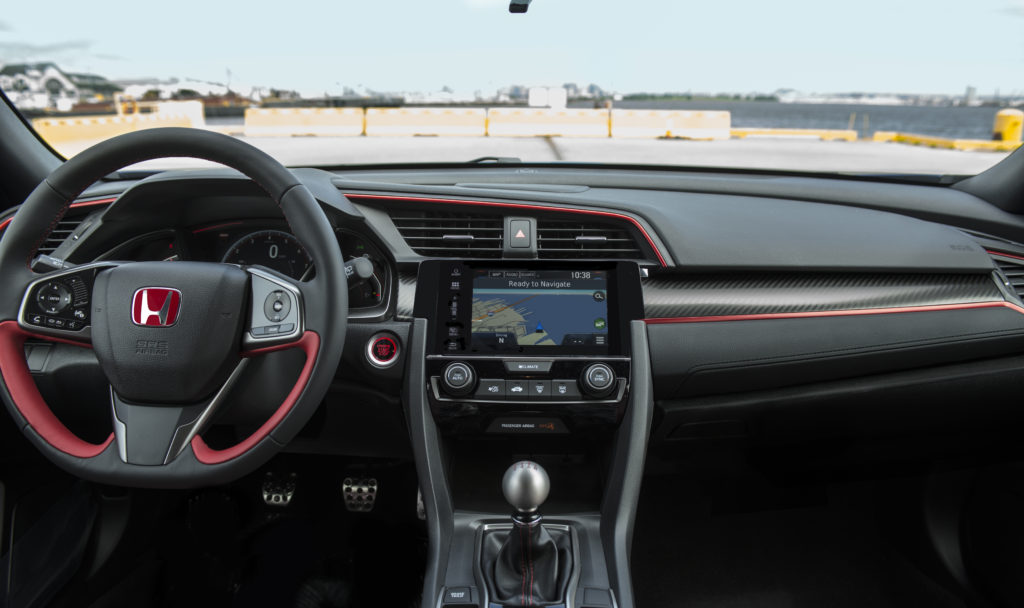 The leather-wrapped black and red steering wheel has a slightly flattened bottom and the short-throw six-speed shifter is topped by a metal ball for a shift knob with the gears engraved in red.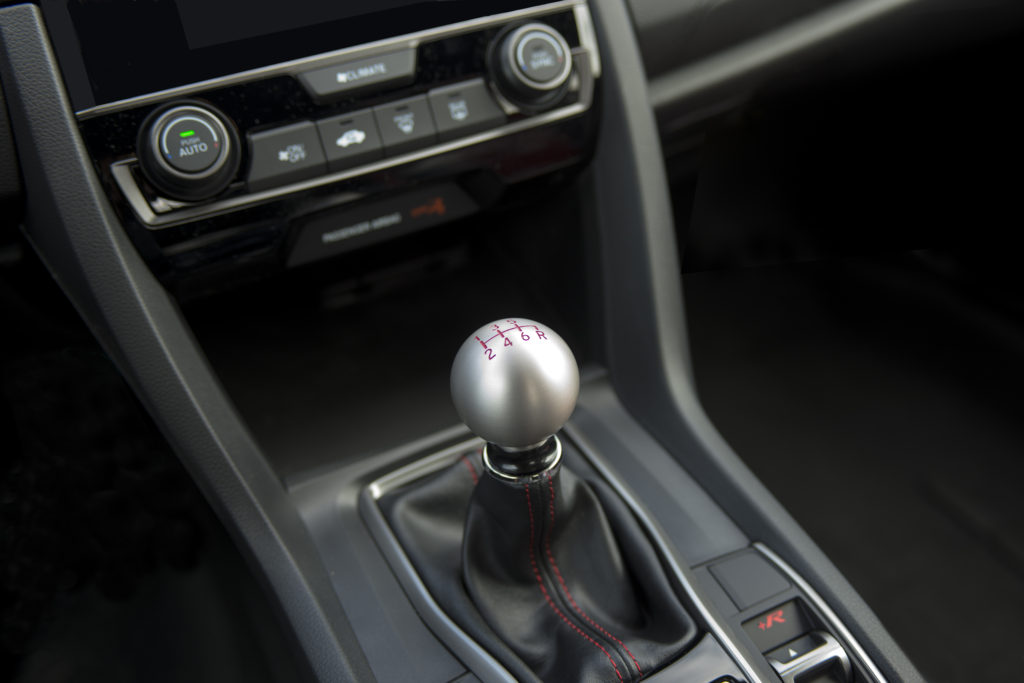 Aluminum pedals help complete the cabin's sporty look.
The back seats may be the first place you remember you're in a Civic as Honda originally designed the vehicle. These seats are more bench than bucket, though they are serviceable enough to carry passengers. None of the seats, by the way, are heated.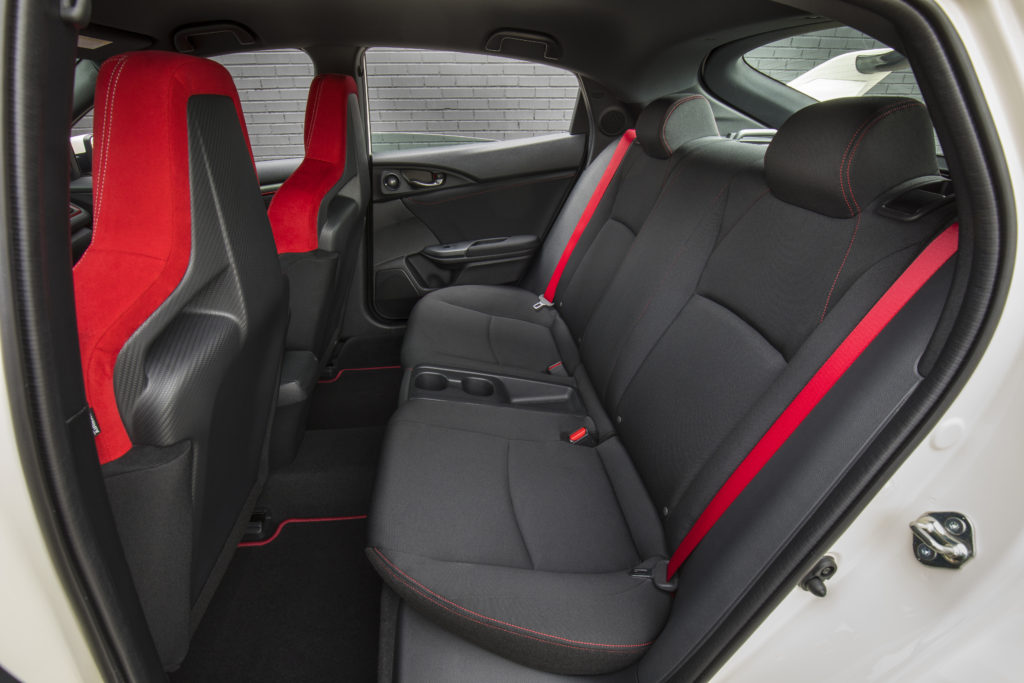 Hockey bag test
The bag fits longitudinally, though a second bag of equal size might prove a tight squeeze. Even better, the bag fits under a privacy cover that retracts into the right side of the hatch when not in use. Sticks slid easily over the back seats.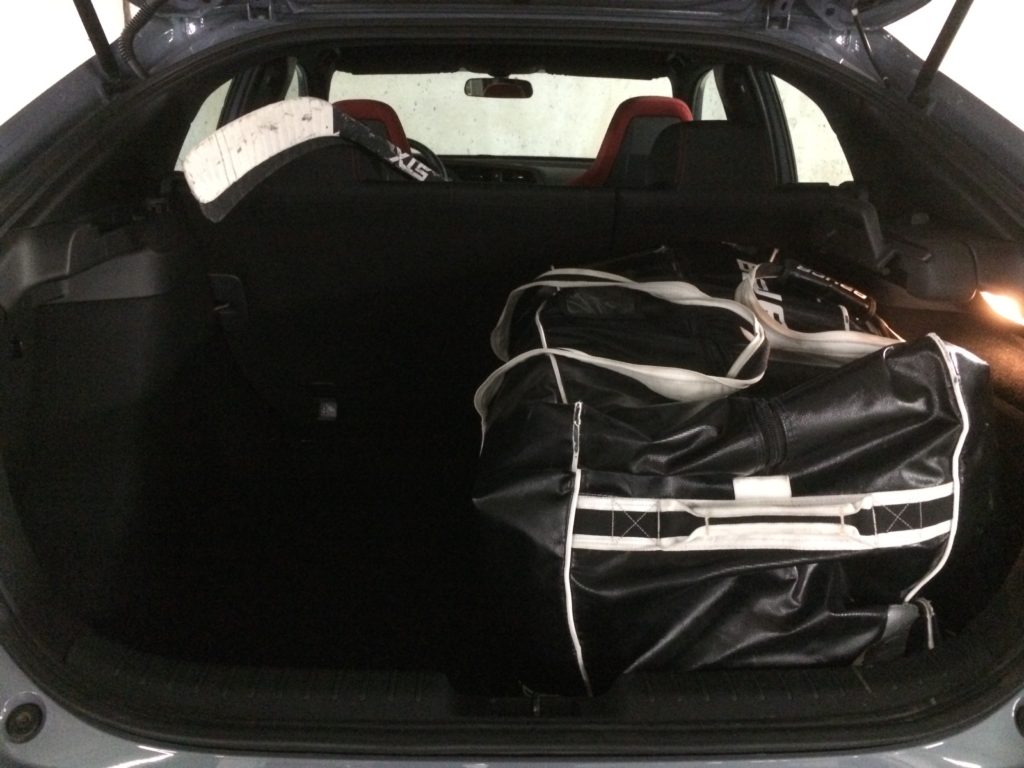 In-cabin technology
The tuner crowd will want to go straight to the instrument panel. Flanked by oil temperature and fuel-level gauges is a seven-inch centre screen that features a digital tachometer enclosing other data that you choose using buttons under your left thumb on the steering wheel. Ordinary data like speed and fuel economy can give way to a stopwatch or a "g-force" indicator—to tell you how hard you're accelerating, stopping or turning.
Honda's infotainment system runs through a touchscreen at the top of the centre stack. A comprehensive suite of features, from radio to navigation to phone access (including Apple CarPlay and Android Auto), happens here. Since you may want the right tunes for your Type R adventures, Honda includes a 542-watt, 12-speaker (including subwoofer) audio system.
Honda is leaving behind the days of strictly touch-enabled controls and bringing back buttons and knobs—well, one on/off/volume knob. A tuning knob would be appreciated. Why not just touch the screen, you ask? Having to do so takes more attention away from the road and the smallest bumps result in touchscreen mistakes. The Type R's stiff ride amplifies those bumps. That's fine when you're trying to set your personal best on an autocross course, but not when you're manually tuning the radio to find your favourite station. Fortunately, Siri Eyes Free also graces the vehicle, so you can get things done without lifting a finger (to the screen).
A wireless charging pad plus two USB ports ensure you'll keep your devices ready for use.
Driving
A 2.0L turbocharged 4-cylinder engine tops out at 306 (!) hp and 295 (!) lb-ft of torque (in a Civic!). The six-speed manual transmission conducts power to the front wheels. (There is no automatic option on the Type R.) Short gear throws and rev-match control make the shifts satisfyingly quick, demanding just the right amount of effort and . . . just feeling right. The whole package invites the driver to get into trouble.
Honda doesn't really want that, which explains the vehicle stability assist and traction control that ship standard on the Type R. Honda Lanewatch blind spot display turns the touchscreen into a rear-facing image along the right side of the car every time you use the turn signal to indicate a right turn.
The inclusion of drive modes (Sport – the default – plus Comfort and Type R) may be overkill. You can only buy the Type R with a six-speed manual transmission, 305-hp turbocharged engine and so forth. It's ready to go fast off the lot whenever you want to push it.
Fuel economy
Honda posts. City/Hwy/Combined numbers of 10.6/8.3/9.6 respectively (all in L/100 km). The in-car computer clocked fuel consumption at 8.3 L/100 km during the week I drove the Type R. Yes, that's markedly north of an ordinary Civic's appetite, but it's great for a performance car. Honda recommends premium fuel for this Civic.
Pricing
The Honda Civic Type R starts at $41,690 MSRP. This isn't exactly Civic territory, but then again, neither is 305 hp or all the touches that remind you this is no ordinary Civic.