In the mid-'90s, two Japanese automakers pioneered the compact sport-utility niche. This event triggered the evolution of the automotive market from "cars and trucks" to "cars, trucks, and plenty in between."
It's a testament to their foresight that both companies continue to sell these products under their original model names more than 20 years after they first came to market, and they are as common as they ever were. They boast more room than a car and lower operating costs than trucks or SUVs, so it's little wonder they (and the copycats that followed) are nearly ubiquitous.
I recently spent a week with one of these pioneers, the 2019 Honda CR-V, to reacquaint myself with this original niche-buster.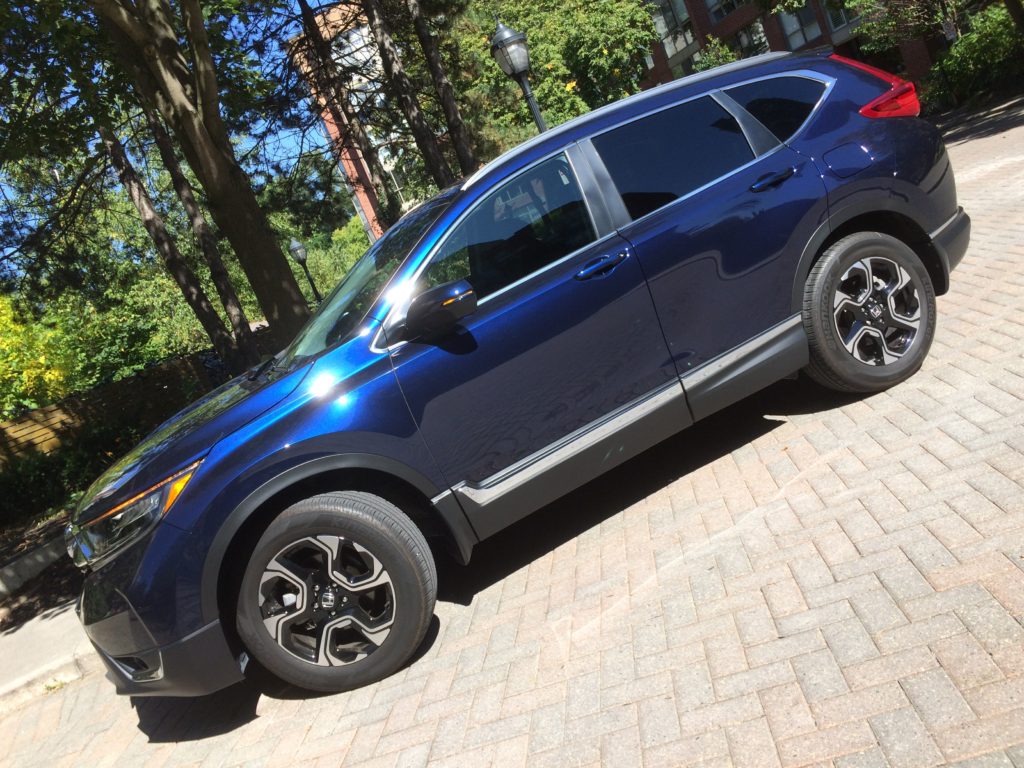 First impressions
My Obsidian Blue Pearl Touring tester does not tower over other vehicles, and that's a good thing. At first glance, I could almost call this vehicle a car (I'm tempted to think of it as an oversized hatchback), given its intelligent proportions.
Largely a carryover of the 2018 model, the 2019 CR-V mixes practical notes like the side skirts with a sportier look up top. The Touring model features flourishes like chrome garnishes around the fog lights, dual chrome exhaust finishers and a panoramic moonroof.
Interior
This CUV may have been inspired by Dr. Who's Tardis. What may appear to be a small package from the outside proved roomy and comfortable anywhere you look on the inside. Even the rear seat accommodated my tall frame comfortably.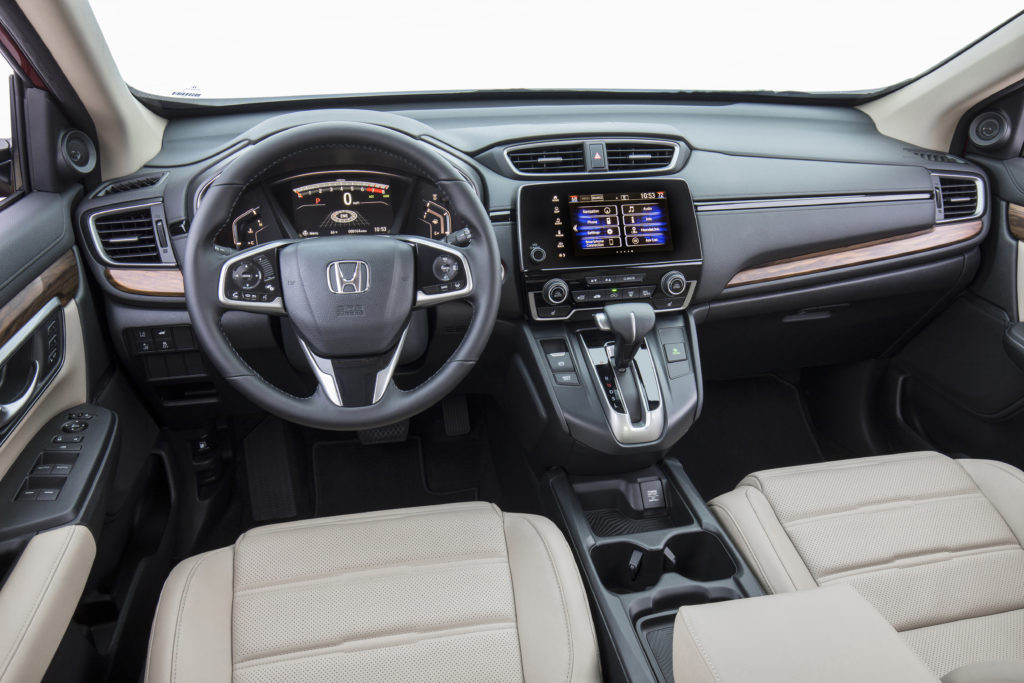 Otherwise, the interior is mostly straightforward. The Touring trim features wood accents on the dash and a 2-person seat memory for the power adjustable driver's seat, but there isn't too much out of the ordinary.
Front and rear seats are heated, so those winter early-morning trips to the rink or the ski hill ought to be a little cushier for all involved. And if you want to hold a conversation with people in the back seat, lower the sunglasses compartment from the roof, just above the auto-dimming rearview mirror, to be able to see your interlocutors. (I always assumed that mirror was to check on whether the kids were behaving.)
Hockey bag test
No surprises here. The bag fit longitudinally. sticks poked through a fold-down rear seat. The bag did not reach the privacy cover. It's difficult to convey just how cavernous this hatch is, especially when you look at the vehicle from the outside..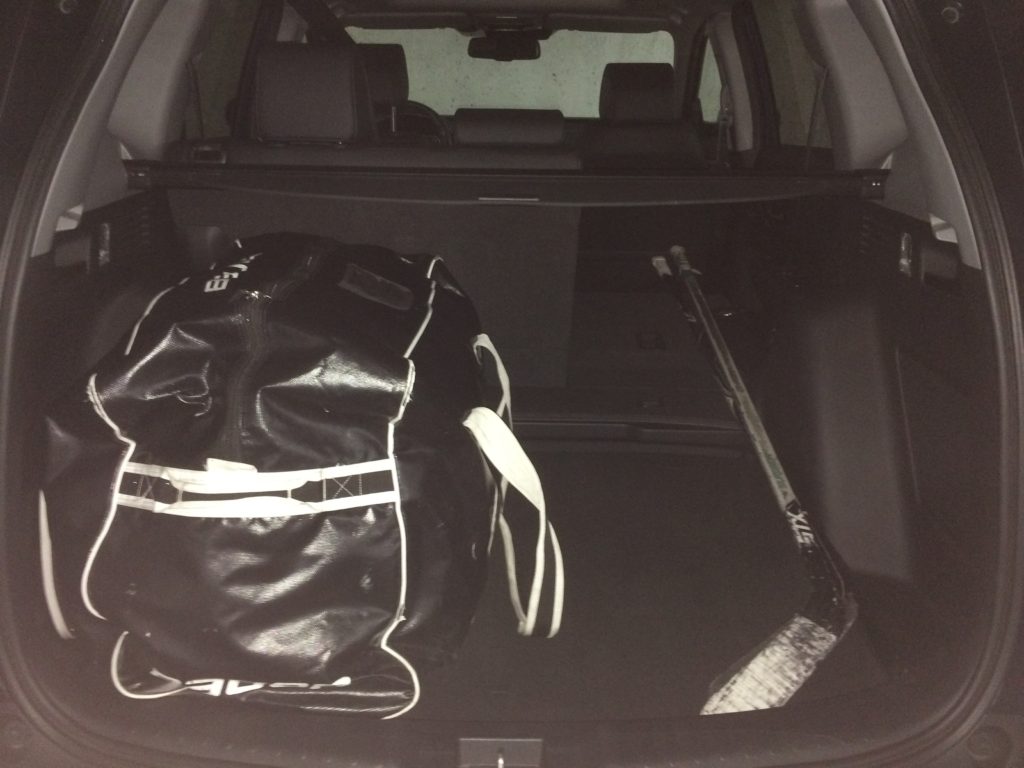 In-cabin technology
For years, Honda has provided touch-screen interfaces that don't feature physical buttons or dials. Everything, from radio tuning to volume control, was done by swiping a finger on the screen. Even the gentlest bumps in the road make finding a station or turning up the sound tricky, to say nothing of the extra attention required to perform these simple tasks by focusing on a screen – instead of the road ahead.
The CR-V's 7" display audio system comes with one dial, an on-off-volume knob. While that's an improvement, I look forward to upcoming models that include a tuning knob and buttons that lead to commonly used features.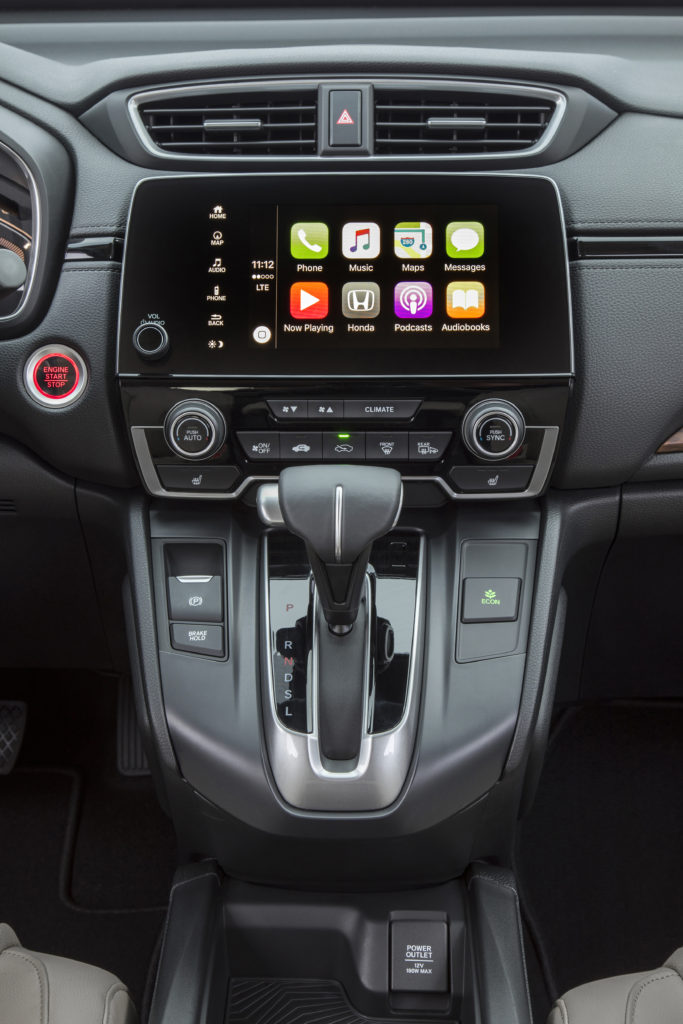 Apple CarPlay and Android Auto can take over the screen should you want them to. These are still touch-based interfaces, but (at least in the case of CarPlay) the driver ought to be able to spend less time thinking about them. The voice command button on the dash activates both Honda's voice recognition system (one press) and Siri (press and hold).
The instrument cluster, dominated by a large screen in the middle, is logically laid out and easy enough to control using buttons on the left side of the steering wheel.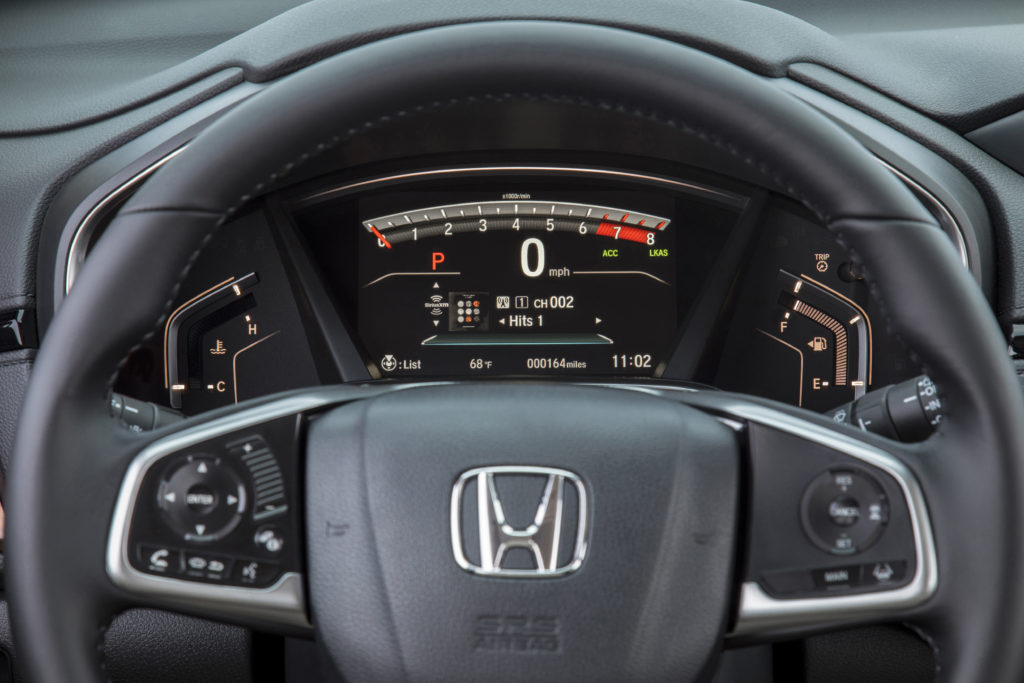 Music in the Touring trim emanates from a 331-watt 9-speaker system that provided adequate sound, at best. Four USB charging ports are distributed equally between front and rear seats.
Driving
The CR-V's 1.5L turbocharged 4-cylinder engine generates a maximum 190 horsepower and 179 lb-ft of torque. Real-time all-wheel drive and a continuously variable transmission (CVT), coupled with an ECON mode for frugal drivers, provides a balance between necessary power and optimal fuel economy.
The logic behind these choices—engine size, CVT and so forth—is unassailable. Technology under the hood has reached the point that smaller engines, for example, can do all the work required for a vehicle this size. That said, the lack of extra oomph and a CVT results in a less-than-inspiring drive. I suspect buyers will fall in love too deeply with the CR-V's practicality to mind.
Honda increasingly includes a comprehensive set of active safety features in all its models, and the CR-V is no different. The base LX trim level has them all if you opt for the AWD model, but the other trim levels get the full suite, which includes:
collision mitigation braking system
forward collision warning system (where the CR-V flashes 'BRAKE' in big orange letters on the dashboard. Yes, I've seen it happen. No, I didn't crash.)
lane departure warning
road departure mitigation system
For long drives through varying traffic conditions, there's nothing like adaptive cruise control and lane-keeping assist. The latter quits if the driver relies on it too much. (Don't blame Honda—road laws don't yet permit autonomous driving.) The former could use some tweaking so that it reacts better to lane changes executed by drivers ahead of the vehicle. On the upside, it does work from a standstill, making it a huge asset in stop-and-go traffic.
Fuel consumption
Honda posts fuel economy numbers of 8.7 L/100 km city, 7.2 L/100 km highway and 8.0 L/100 km combined. The CR-V takes regular fuel in its 53L tank.
Pricing
The 2019 Honda CR-V retails for $27,690 MSRP. The Touring model I drove is priced at $39,090.