When looking for the right balance between automotive styling and interior space, mid-size SUVs make appealing choices. Several automakers also throw sporting, performance touches into the mix. That's what sets the Ford Edge ST apart from its stablemates.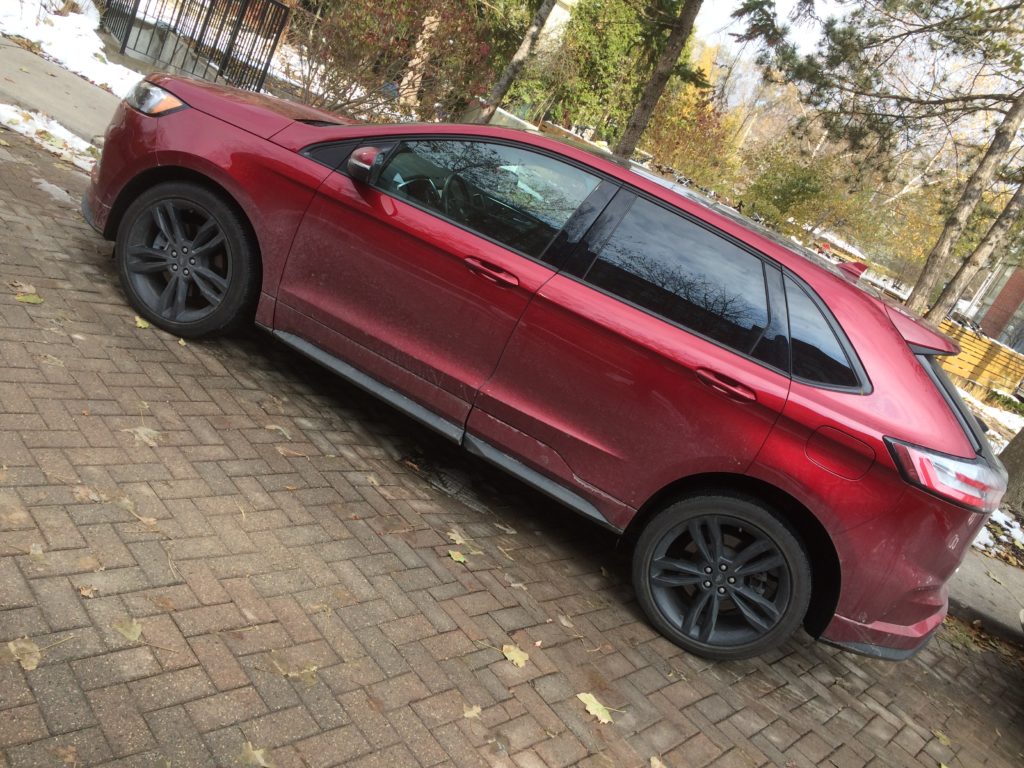 First impressions
The red Edge ST I drove offers a few curves, body scallops and a raked rear window, but vehicles this size aren't as easy to distinguish as are sedans, wagons and hatchbacks. Twin trapezoidal exhausts and a faux diffuser framing a tow hitch accent the rear. 20" machined aluminum wheels shod with low-profile tires stand out on the side view. Bright, distinctive LED lines of light cut through the darkness. These extra touches hep make the Edge handsome enough for an SUV. Whether they're enough to help it visually earn the ST badging Ford put on it is up to the beholder.
Interior
A nicely appointed interior makes the Edge ST cabin a pleasant place to be. A large moonroof lets in plenty of light from above. That light illuminates leather seats embossed with the letters "ST". Front seats are heated, cooled and fully adjustable. Surfaces are either leather or feel high-quality to the touch.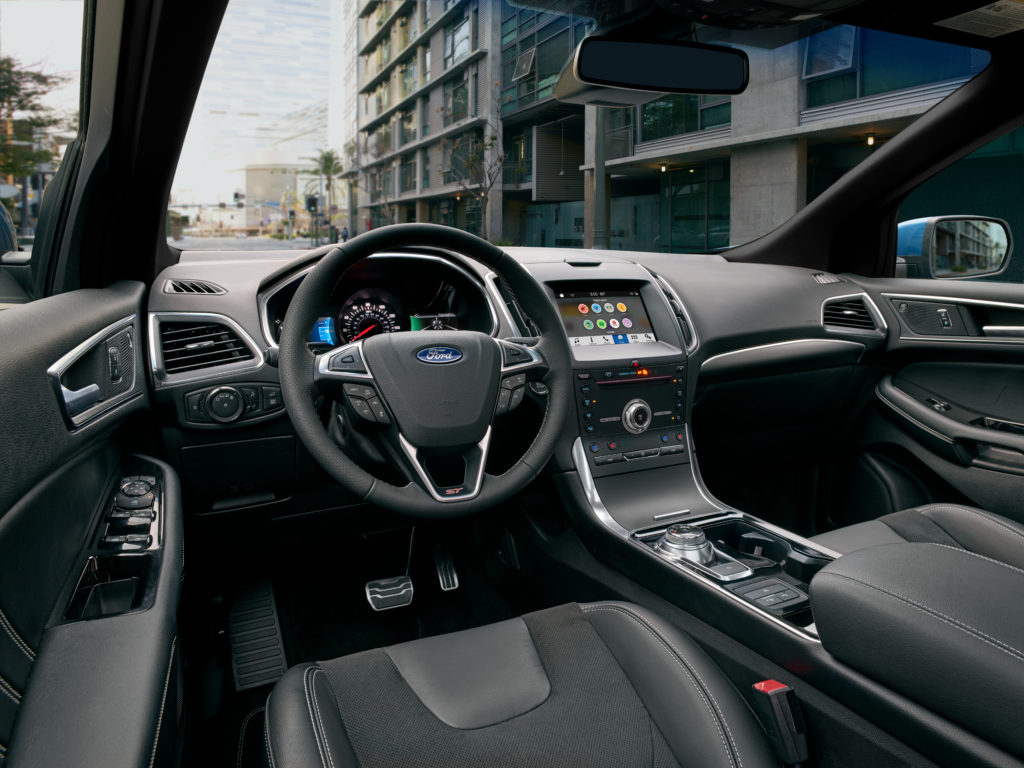 Spacious rear seats are heated. (The driver gets a heated steering wheel as well.) Five full-sized adults ought to be comfortable during long rides in the Edge.
Hockey bag test
This roomy hatch might accommodate three bags like mine (with a little squeezing) before a rear seat has to be folded. Sticks slid easily over the rear seats.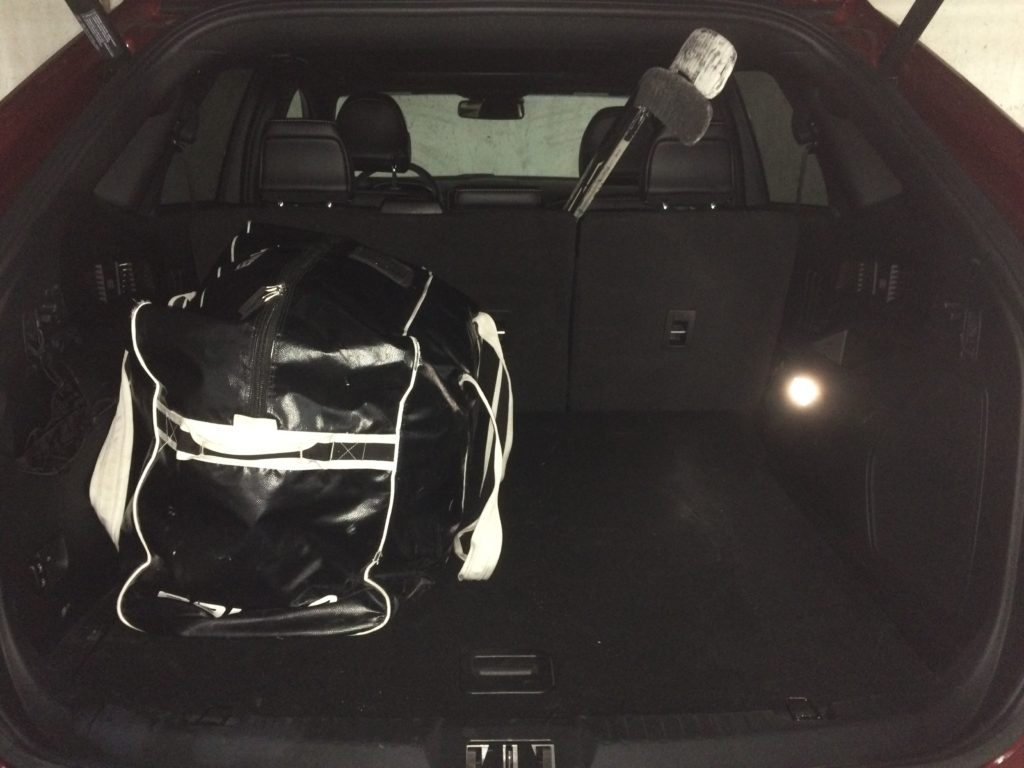 In-cabin technology
Ford's Sync system centres an above-average fully featured touchscreen-centred infotainment system. Controls are easy to get to, well laid out, and Ford has no fear of providing oversized icons as targets for fingers that may be jostled by bumps in the road. (Apple CarPlay and Android Auto quickly take over when the system detects smartphones.)
That said, I have a quibble here. The control for the heated steering wheel is on the system's home screen. Also, there are no buttons near the screen to quickly take people to commonly accessed screens (e.g. phone, navigation, radio). Honda went this route years ago.
Physical (i.e. off-screen) buttons are now returning to Hondas, and I recommend Ford bring them back too. Tried-and-true physical buttons on the dash would let drivers devote more of their attention on the road. For example, it would be logical to put a physical button on the steering wheel so drivers need not provide the attention required for up to three taps of the touchscreen to heat the steering wheel.
The instrument cluster contains an analogue speedometer flanked by two screens. Ford's organization here is, as always, refreshingly logical. Buttons under the left thumb enable the driver to navigate the left screen, which contains a variety of vehicle settings. The same relationship exists for buttons under the right thumb and the right screen, for navigation, phone and media information.
Phones plug into the USB ports just under the climate controls and next to a wireless phone charging pad.
To control the automatic transmission, the driver turns a dial by the right thigh. It contains the right letters, plus a button labelled "S" in the middle of the dial should drivers want to experience "sport mode." That dial reminds me of certain other SUVs I've driven. It also makes me think of the eminently more practical infotainment dials and controls other automakers put in that spot. I did say Ford's Sync system is competent, but for ergonomics and ease of use, nothing beats putting physical screen controls just ahead of the centre armrest. Ford has wiring in place. Now designers just need to use it for a more practical purpose.
Driving
Since Ford has greatly diminished its presence the car market in favour of trucks and SUVs, the ST performance "subbrand" had to go somewhere. The Edge ST is the first of Ford's larger vehicles to wear these two letters.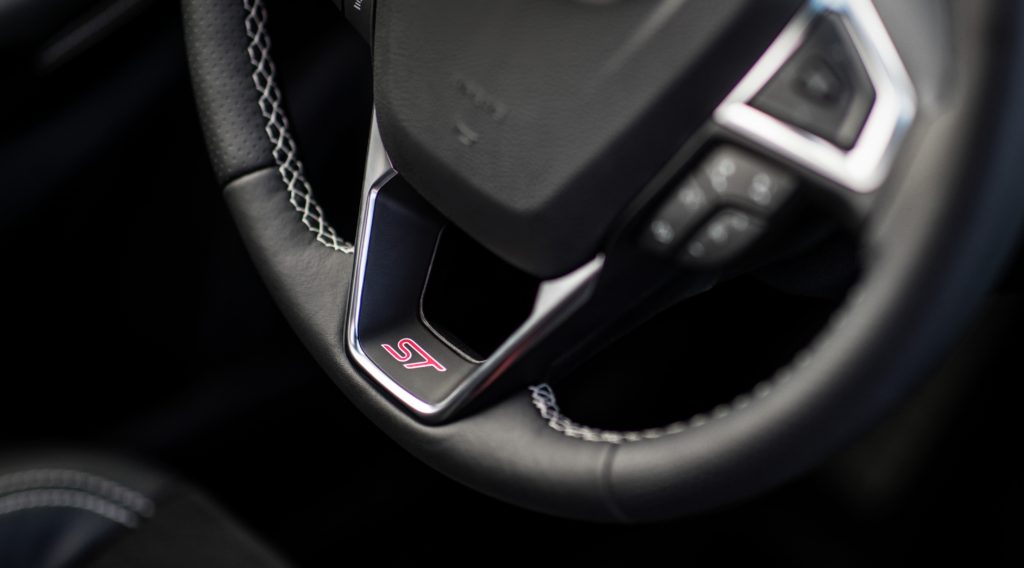 A 2.7L EcoBoost twin-turbo V6 produces 335 horsepower and 380 lb-ft of torque. Step on the accelerator and the ST sprints hard off the line while ST-like engine noise enter the cabin. Use sport mode and you get a digital tachometer in the left instrument cluster screen while you control the gears using paddle shifters mounted on the steering wheel. Yes, this SUV wants to elicit the fun of eager ST-badged cars in Ford's past.
No, it doesn't really manage to do that. This is, after all, a hefty vehicle, and the physics are difficult to overcome even with the performance upgrades Ford put into the ST. That includes the paddle shifters, though I suspect most of the driving done in this SUV will be too utilitarian for drivers to want to take over the transmission.
That's not a bad thing. The Edge can be a sporty ride, but only grudgingly. With its size and pedigree, the Edge, even with ST upgrades, is more at ease as a competent, comfortable family hauler. Or as a camera truck.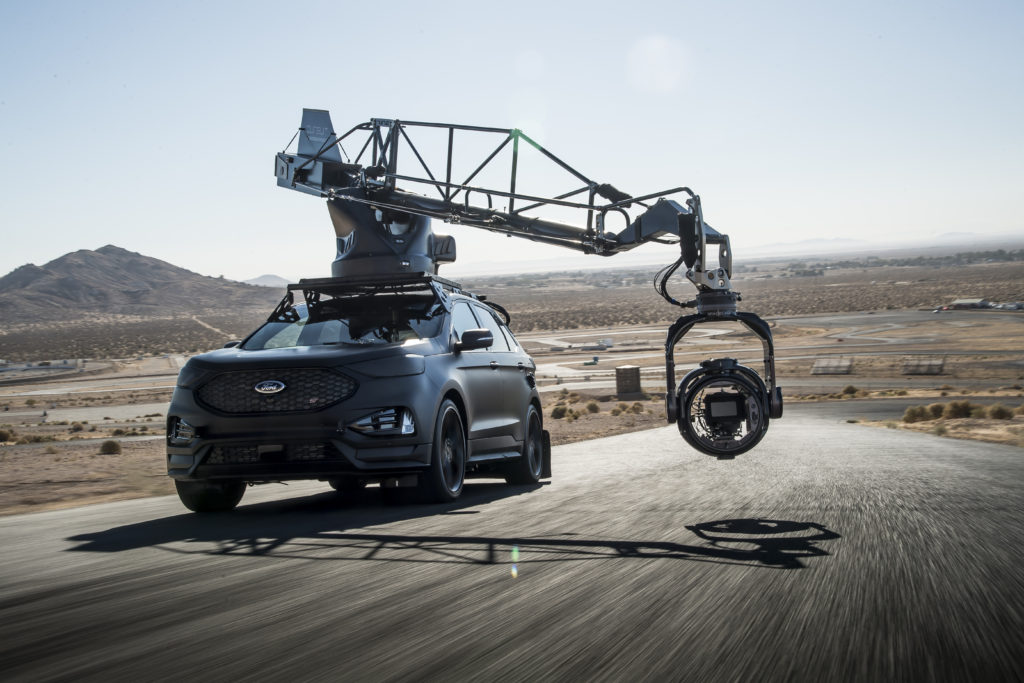 Active safety technologies make the ST more capable. I let its parking assistant take me into several spots, both parallel and angle. Blind-spot warnings kept me from ill-advised lane changes. Adaptive cruise control made certain stop-and-go trips more comfortable than they would have been. Proximity sensors all round the Edge helped me navigate tight parking spots. Other safety systems ought to keep prudent Edge drivers out of trouble.
Fuel economy
Ford posts fuel economy estimated of 12.5 L/100 km city and 9.2 L/100 km highway. The engine thankfully shuts itself off at stops so owners need not visit the pumps quite as often.
Pricing
You can get into a 2020 Ford Edge ST for $49,399 MSRP, before taxes and other fees.