High-profile car designs out of Germany are getting increasingly sophisticated and luxurious. But even those designs stay near to the pragmatic reputation German automakers have nurtured over decades. That pragmatism is refreshing when it's close to the surface and paired with extra power as it is in the 2019 Volkswagen Jetta R-Line.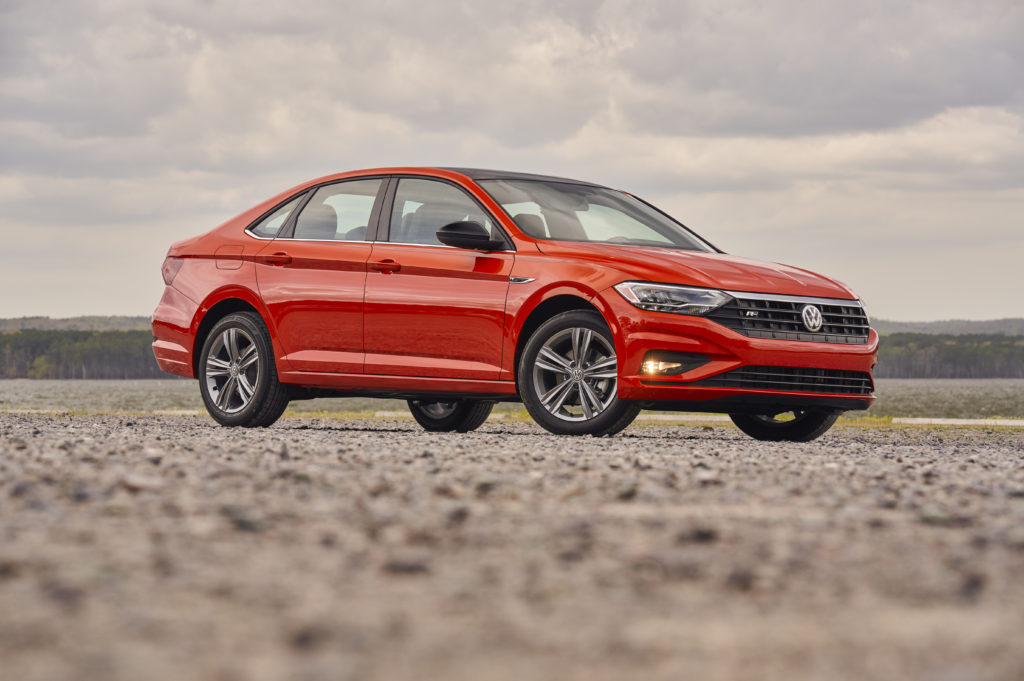 First impressions
The red paint on my tester may be the most "exciting" thing about this sedan, at first glance. A no-nonsense sedan when first produced decades ago, this Jetta continues in its predecessors' styling footsteps. Sharp horizontal creases adorn the sides, matching the sharpness of those on the hood. A wide honeycomb grill centres a functional front end, while dual chrome exhausts accent the rear. The roof isn't red—it's black, part of VW's "rail-to-rail" sunroof design, and it pops up and back when the sunroof is open.
Interior
Well-ordered functionality is the order of the day—no surprise here. Volkswagen does enhance the cabin using ambient lighting that wraps around the cabin just below window level and glows softly at night. Otherwise, functional manually adjustable heated seats in my tester proved comfortable during several two-hour-long highway drives.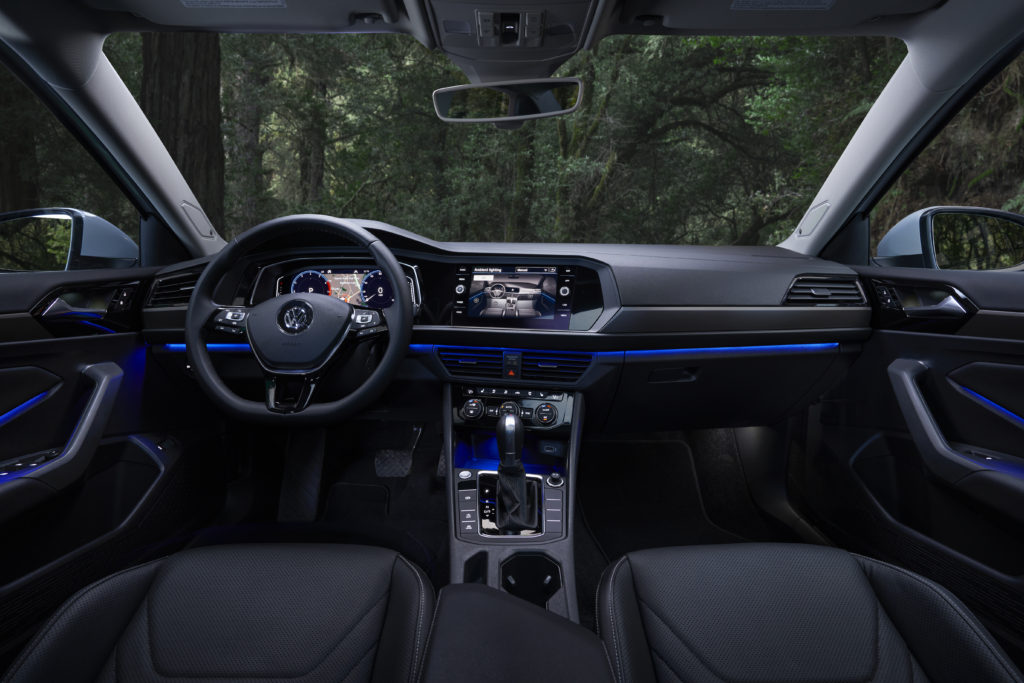 Intelligent subtle touch: the sunroof's fabric screen can be manually closed while the sunroof is open. This allows fresh air to enter the cabin from above while keeping front-seat passengers from frying under a hot sun.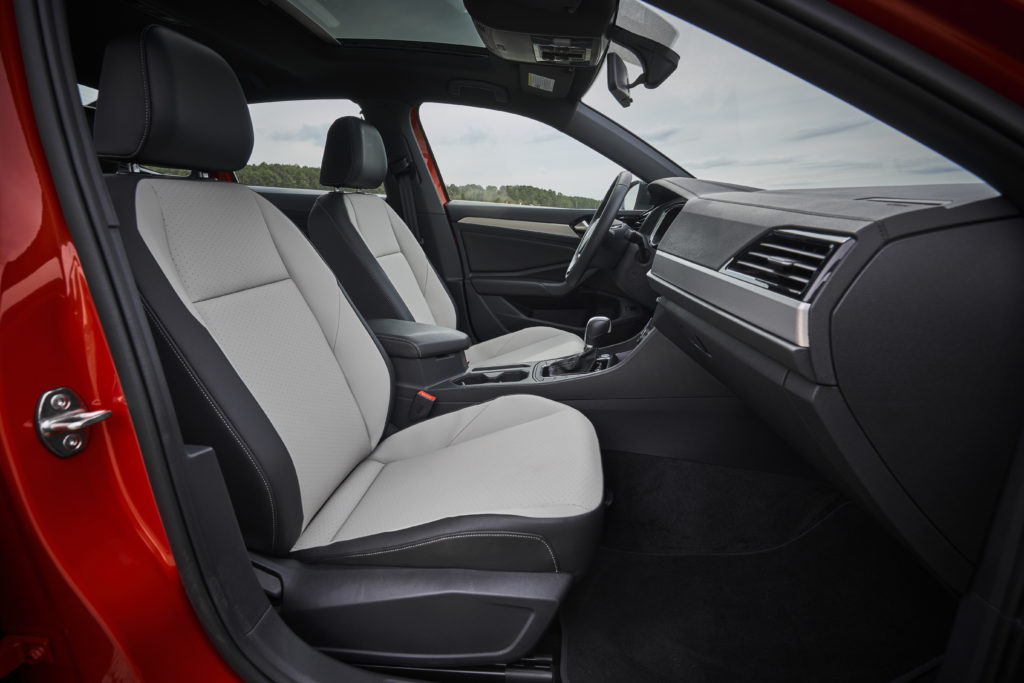 Rear seats will fit full-sized adults thanks to the somewhat boxlike cabin roof. At 6′5″ I can almost sit upright back there with my head straight instead of cocked to one side.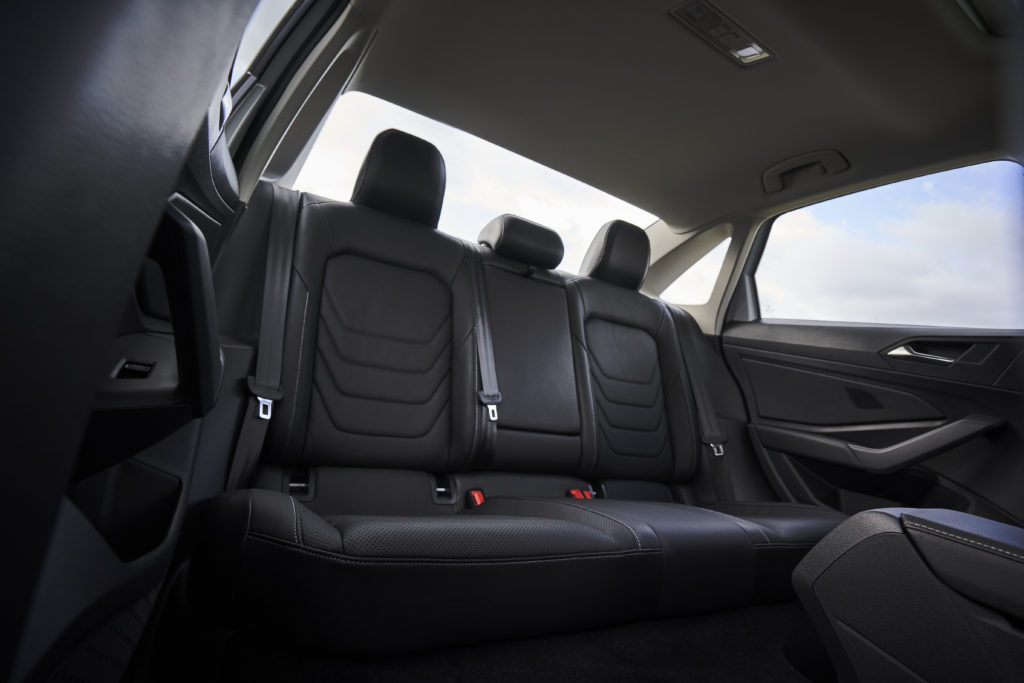 Hockey bag test
As usual, the Jetta trunk may compete in square footage with some of the newer condos on offer in Toronto. My hockey bag fit longitudinally and the trunk featured enough room for a second similarly sized bag. Sticks predictably slid through the -40 side of the 40–60 split-folding rear seats. On another occasion, a small IKEA dresser and table slid into the trunk. We folded both rear seats down to accommodate the table's length.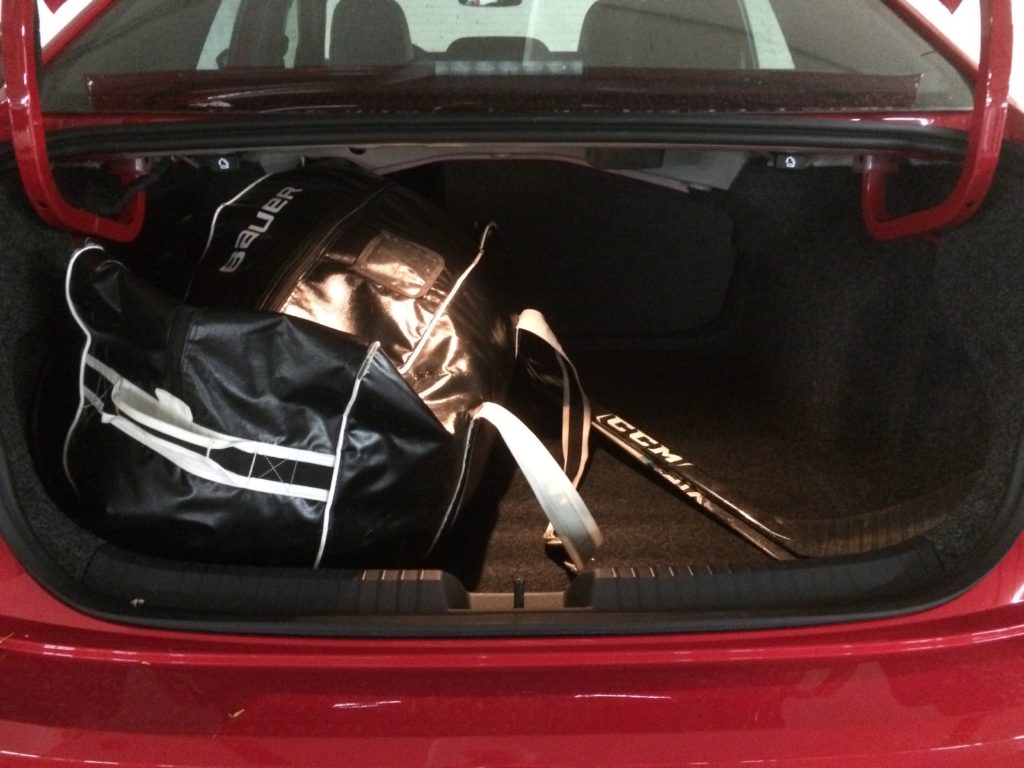 In-cabin technology
The no-nonsense instrument panel features two dials flanking a modest portrait-orientation screen. Nothing flashy here, only well-laid-out feature sets that don't take many clicks to get to. Volkswagen also offers a fully digital instrument cluster boasting the same overall layout, albeit one that allows for more flexibility in what it displays.
I wish I could say the same about the buttons on the steering wheel. I'm becoming fond of layouts that keep vehicle settings under one thumb and infotainment options under the other. VW's layout mixes and matches the two. I would get used to this over time, but this separation would likely prove easier to learn and use.
When you reach for the infotainment touchscreen, it senses your approaching hand and enlarges icons and wording so you know what you're about to tap. Remove your hand, and the icons and wording shrink back, showing more of the screen's "non-control" contents. This happens when you use VW's system. Switch to Apple CarPlay (and Android Auto, I presume) and this proximity-sensor-driven feature does not appear. The whole screen is flanked by two knobs (on/off/volume and tuning) plus eight buttons (four per side) that bring up commonly used screens using just one tap.
Two USB ports are available for device charging.
Driving
Depending on the Jetta you choose, it will ship with either a turbocharged, fuel-sparing 1.4L turbo or, in the case of the GLI, a 2.0L turbo that generates 228 horsepower and 258 lb-ft. of torque. All this travels through a seven-speed transmission. VW does not ship the Jetta with paddle shifters (thankfully). If you want to try a semiautomatic mode, simply use the shift lever to choose your gears.
VW figures the GLI combination ought to satisfy Jetta fans who want the model's pragmatism with a little extra oomph under the hood. That oomph doesn't appeal much to me, which is why I used the Drive Mode selector to keep the car in Eco mode. (Sport, Normal, Comfort and Custom are also available.) The automatic transmission ships with engine start/stop technology that keeps it from burning fuel at red lights, stop signs and other places where the engine would idle. Adaptive cruise control offers an amazingly long following distance relative to most other such systems I've tested. That plus the fact it enables starts from a standstill made certain highway conga lines more bearable.
Pricing
Volkswagen offers the Jetta GLI at a starting MSRP of $31,695.