Few vehicles go all-out on technology the way BMW does, so it wasn't a surprise to find gadgetry permeating the all-new 2019 BMW X7. I'm somewhat used to it.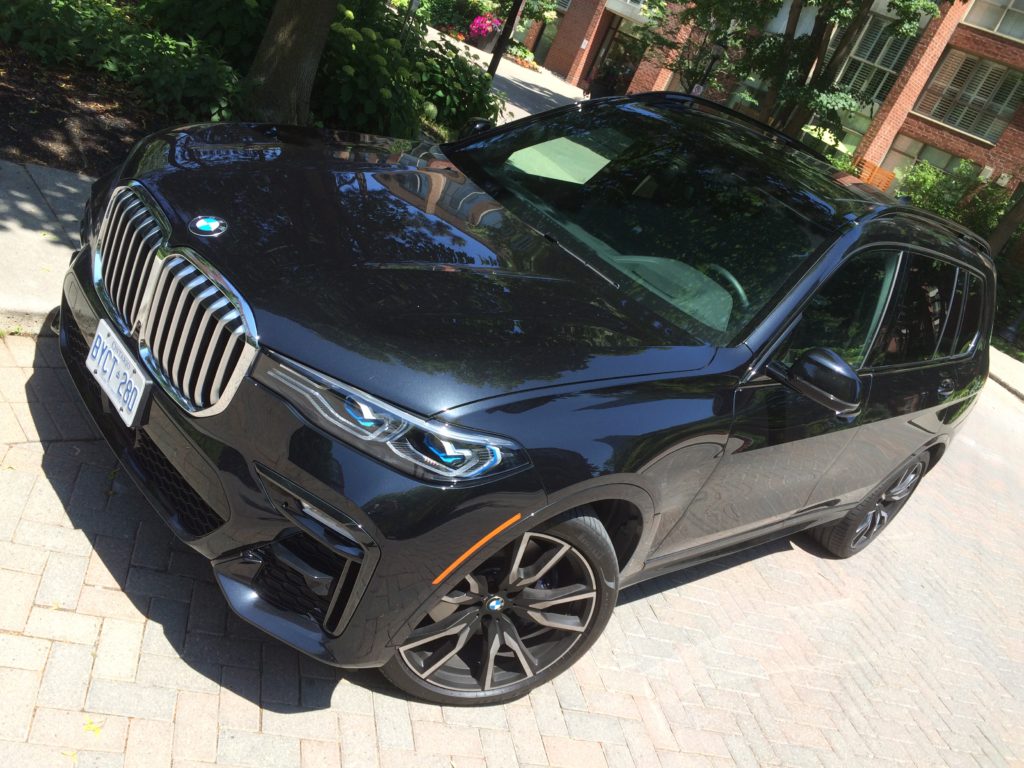 My neighbour isn't, so when I gave her a quick tour of the vehicle, she mused it takes a university program to understand all there is to operate in it.
Being a contract learning designer, I started thinking about creating a Certificate in BMW X7 ownership. What courses would be required to cover most everything on the vehicle, from getting acquainted with the X7, to programming its performance, to mastering its technological prowess? Here's my first (and admittedly incomplete) stab at a curriculum overview (complete with course numbers) to help you get ready for one of the most technology-packed vehicles available today.
X7-101 Fine design
BMW's design language fits the category of "estate vehicle" quite nicely. The X7 tester, in carbon black metallic, is ready to take on a certain U.K.-based maker of large off-road vehicles with its sharp good looks, from the no-nonsense Teutonic styling to twin exhausts to 22" wheels to exterior welcome lighting that emanates from alcoves just behind the front wheels to a large front end that sports the largest twin-kidney grill yet on any Bimmer.

(The 22' wheels are part of the Premium Excellence Package, a $15,000 upgrade. Standard wheel size is 21". This review won't distinguish between standard and upgrade features.)
Narrow LED headlights that include distinctive blue laser lights flank the grill to remind onlookers that this is still a vehicle with attitude.
X7-102 Interior Aesthetics
Black leather with contrasting stitching adorned just about every surface of the tester, including the expansive dashboard. Wood accents graced the centre console and the doors.
A Sky Lounge Panoramic Glass sunroof exposes the X7's first and second rows while third-row occupants get their own smaller sunroof.
Glass is also a notable design touch on the shift lever, start/stop button and iDrive controller.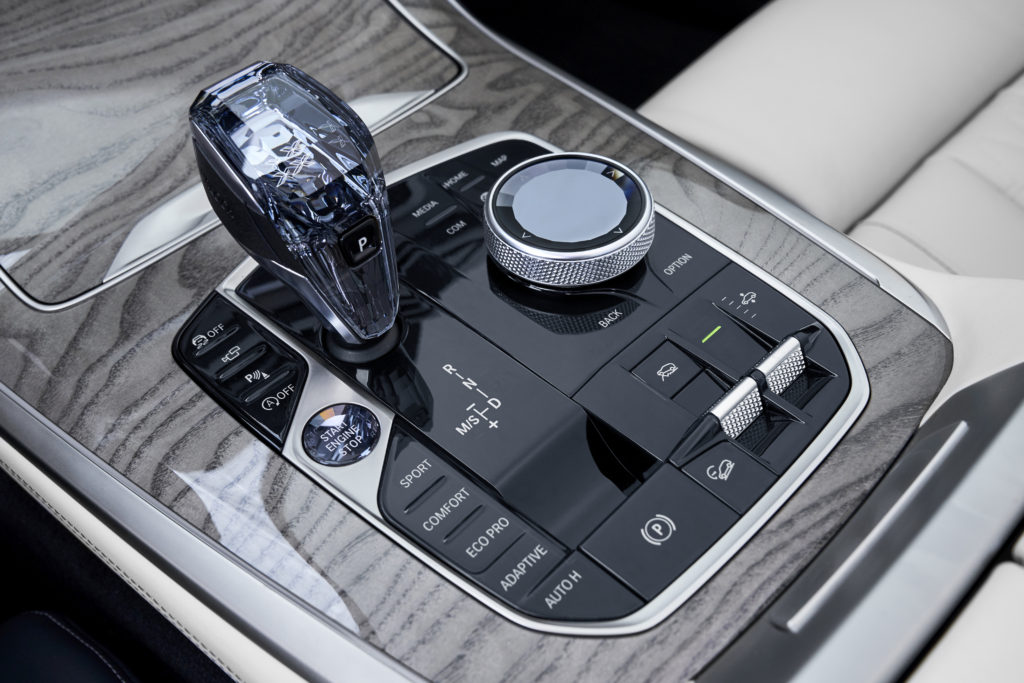 The second row, incidentally, can be either a bench or (as in my tester) two finely appointed captain's chairs that boast all the same power adjustments as the front seats. Side window sunshades protect occupants from excess sun (or attention) and they can also control where the sunroof's opaque cover stops. The rear doors are longer than the front ones, making it easier to get in and out, especially for third-row passengers.
X7-102.5 Hockey bag test
By folding down one of the third-row seats, I managed to fit my bag longitudinally, with room for sticks right beside the bag.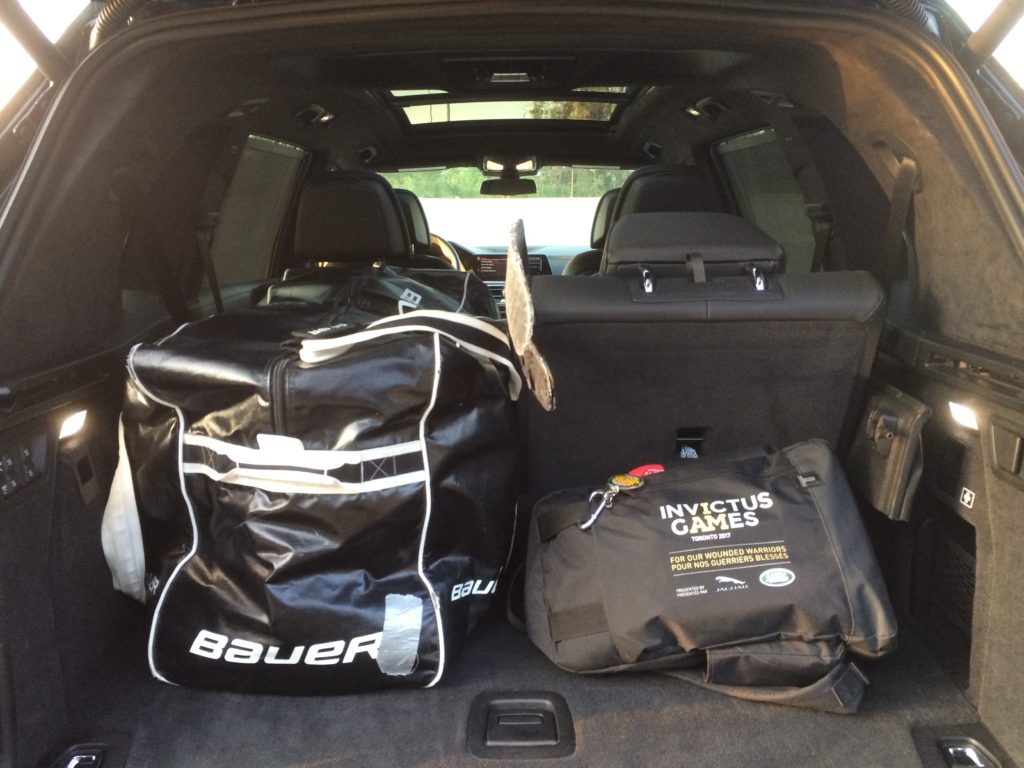 Extra storage beneath the cargo area floor extends to underneath the third-row seats.
X7-110 Creature comforts
Heated and ventilated seats also provide massages, making long trips a bit more bearable.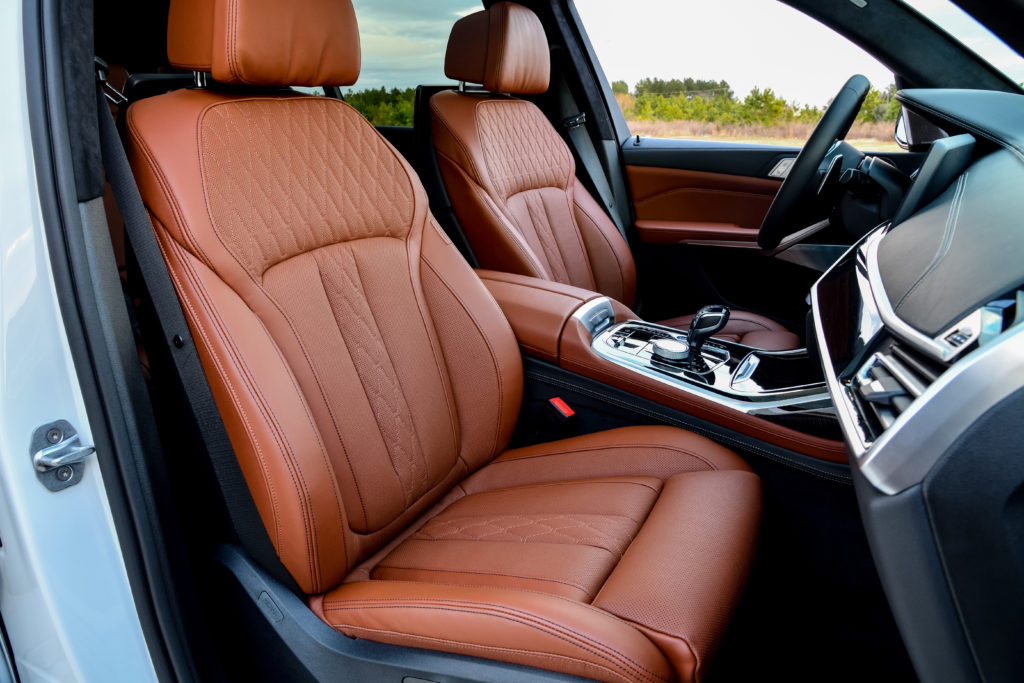 Red and blue buttons by the front-row cupholders can ensure beverages stay either hot or cold, respectively.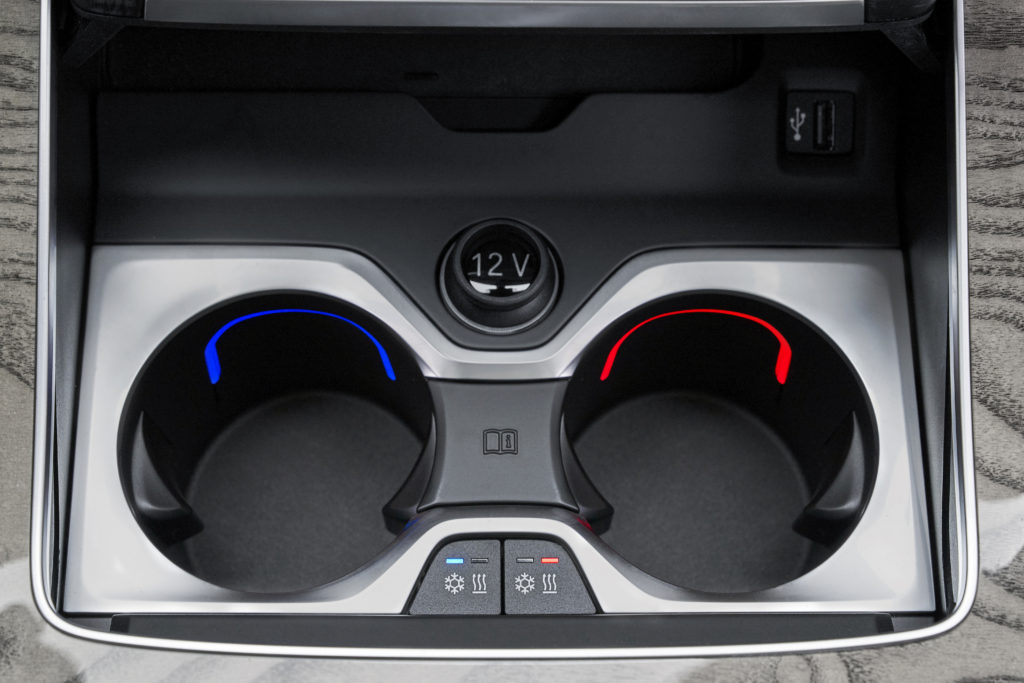 BMW's ambient air package gives you a choice of fragrances to choose from when you'd like a different aroma in the cabin.
BMW put five zones in the X7 for climate control. This means second- and third-row passengers get their own climate controls.
X7-140 Driving
You won't need a course to figure out how to drive the X7, nor to enjoy the experience. For all its size, it handles as stably as its stablemate, the 7-series sedan. Body roll on high-speed curves is barely perceptible. Engine and transmission response to the merest suggestion from the accelerator is practically instantaneous – gear down, rev up, and your passing manoeuver is over before you realize you began it.
Active Comfort Drive with road preview (from the X7's front camera sensors) works with the two-axle air suspension and an active roll-stabilization system. In other words, the system takes what it sees ahead and proactively adjusts the suspension to handle turns and improve comfort.
The X7 surprised me with a couple of tighter-than-expected low-speed turns, including one U-turn I thought would require more work. That's the Intergral Active Steering at work. It makes the rear wheels turn in the same direction as the front ones when changing lanes on the highway, and in the opposite direction at low speeds.
BMW ships the X7 with either the 3.0L inline six turbo (335 hp, 330 lb-ft of torque) or a 4.4L V8 turbo (456 hp, 479 lb-ft of torque). Both models put power through an 8-speed Steptronic transmission.
Active cruise control is more responsive now because the transmission works with both the navigation system and the radar sensors for said cruise control. The transmission shifts proactively using information from the navigation system and the sensors to, for example, downshift when approaching a vehicle ahead.
Fuel economy
All this responsiveness comes at a cost, of course. The inline six in my tester, the 40i, sipped about 12 L/100 km of high-octane fuel. The V8 will set you back even more. You can reduce consumption using Eco Mode instead of Normal or Sport, letting the X7 do the shifting instead of tapping the paddle shifters, and activating the engine auto start/stop technology that kills the engine when the X7 idles at a stop (and, of course, resisting the urge to use the power on tap, but that may be easier said than done).
X7-141 Driving – extra controls
Look beyond the paddle shifters on the steering wheel to the centre console. There, you'll find the redesigned "crystal" gear selector, driving experience controls, air suspension controls and off-road mode selector controls.
Air suspension raises and lowers the X7. (A button on the split liftgate lowers the X7 to make loading it easier.) In Sport driving mode or when the vehicle exceeds … well, egregiously exceeds legal speed limits in this part of the world, the ride height automatically lowers by 20 mm. (It lowers by 40 mm when you press a button on the rear liftgate.) You can also raise the suspension for off-road driving up to 40 mm above "regular" ride height.
X7-142 Driver displays
The entire instrument cluster is, unsurprisingly, a 12.3" screen. Its width is matched only by the 12.3" infotainment screen to the right. There's about an inch of opaque "non-screen" surface between the two displays.
Driving information appears in logical, if not perfectly traditional, designs. Drive modes, gears being used and so on mostly stay within the border of the digital speedometer and tachometer. These elements only occasionally make way for messages from the X7's "brain." Between the two dials, I kept a continuously updated map that showed the road I was on, along with upcoming intersections.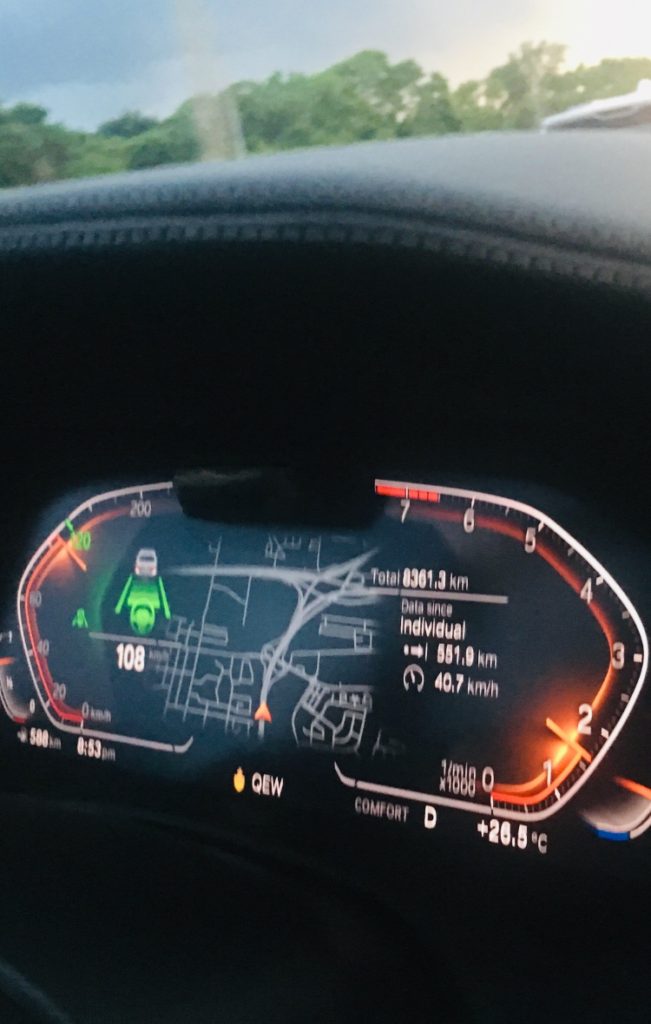 A small black "outdent" in the centre of the top of the digital cluster contains cameras that peek at the driver, scanning for fatigue so the X7 knows when to suggest a coffee stop.
The heads-up display keeps track of a variety of information, though I kept it to speed and RPM during much of my time with the X7. That said, it displays information for phone calls or media sources so that you need not peek at the infotainment screen and (generally) keep your eyes on the road ahead. At 6'5", I found that to get the whole HUD in front of me, I had to lower it to the point that the speed numbers appeared to rest on the front edge of the hood. Shorter drivers will find the HUD closer to a level that permits them to watch the road farther ahead.
X7-143 Active safety
The X7 xDrive40i comes standard with Active Protection and Active Driving Assistant including Blind Spot Detection, Lane Departure Warning, Rear Collision Warning, Frontal Collision Warning and Pedestrian Warning with City Collision Mitigation (which now also alerts the driver if cyclists are detected), Cross Traffic Alert Rear, and Speed Limit Information.
Upgrade to the xDrive50i to acquire standard Parking Assistant Plus which provides Top View, Panorama View and 3D View (all included on my tester, by the way). The xDrive50i also includes Head-Up Display and Active Driving Assistant Professional with Active Lane Keeping Assistant and Extended Traffic Jam Assistant for limited-access highways. This last feature uses a driver-facing optical/infrared camera located in the digital instrument cluster to monitor the driver's eye and nose position (i.e. sunglasses won't fool it) to determine if the driver is watching the road ahead. If the driver continues to pay attention to the road, there's no need to touch the wheel every 30 seconds or so. That camera also watches for driver fatigue and has the X7 suggest a rest stop if need be.
All of these features were in a package on my tester, and all worked as advertised. The X7 isn't meant to be used as an autonomous vehicle, but on limited-access highways, it proved a reliable "driver" while I kept my fingertips touching the wheel at 9 and 3 o'clock.
X7-150 In-cabin technology
The centre console is where it's at to control the 12.3" centre screen.
Sure, you can touch the screen, but using the iDrive Controller (with an updated "glass" look) and the buttons surrounding it proved far more comfortable. Apple CarPlay integration was also handy, along with voice-activated controls.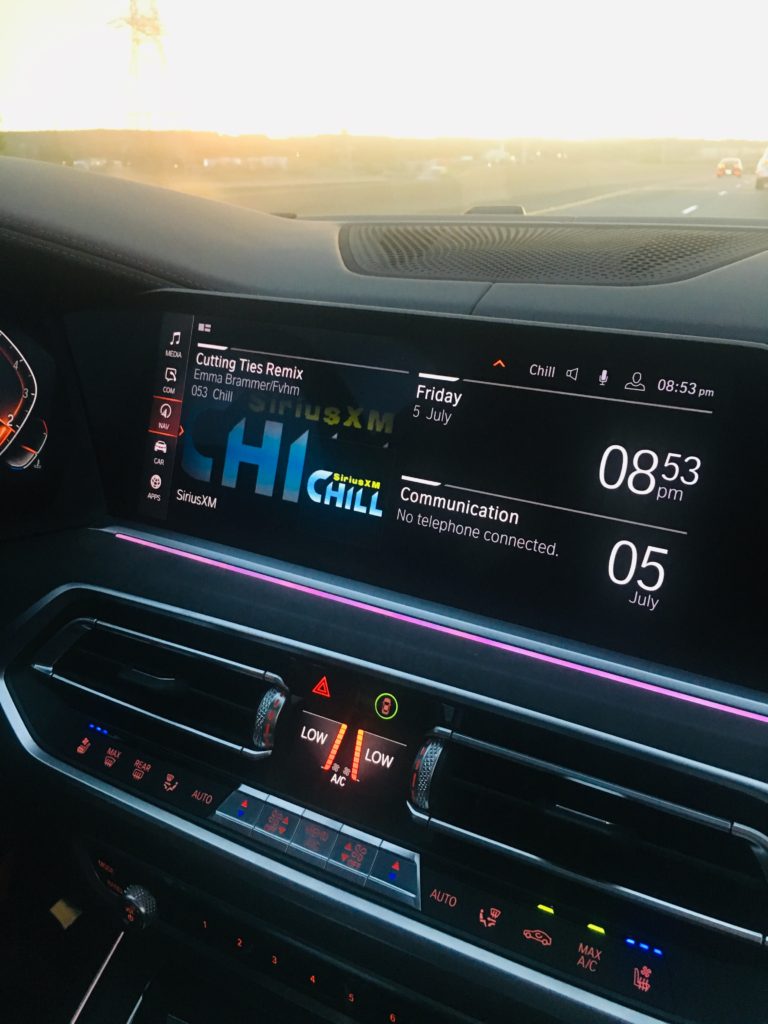 This is where driver settings get set and stored. Once the driver handles this, all preferences get uploaded to the BMW cloud so they can follow the driver to other BMW vehicles.
Audio in the X7 xDrive40i flows from a standard 10-speaker 205-watt sound system. You can upgrade all the way to a Bowers & Wilkins Diamond Surround Sound system (1,500 watts power 20 speakers).
This is BMW's 7th "incarnation" of iDrive, and it's still cutting edge. But if I had one issue, it's that there's SO MUCH TECHNOLOGY to dig into, drivers might be well advised to take a course on it.
USB C ports are now standard and available in all three rows. One USB 3 port remains in the front centre console, next to the wireless charging pad. Bluetooth, of course, remains standard.
X7-170 Pricing
Base MSRP is $92, 500. My tester, which included the Premium Excellence Package, M Sport Package and several stand-alone options, retails for $111,950 MSRP. (The BMW destination charge was listed at $2,245.)
X7-200 Autonomous study
There's so much to learn in the X7, not all the details made it into this curriculum overview. You might want to check out features (current and upcoming) like:
automatic lane changes
evasion aid
interior configurations
creature comforts (video screens for second-row passengers, anybody?)
the BMW Intelligent Personal Assistant
how to use your smartphone as a key
But now, you're ready to work with most of the features that make it one of the most technologically enhanced vehicles available today. Pick your area of study, slot it in here, and you're ready to continue learning.