Moving gear to a cottage. Moving friends from one apartment to another. Simply moving lots of stuff from one place to another. If you frequently schelp stuff around, chances are you aren't driving a compact sedan. No, you tool around in a larger vehicle. And you're probably popular with other people when they need to move stuff.
That was the case for me during my week with the 2019 Honda Passport Touring.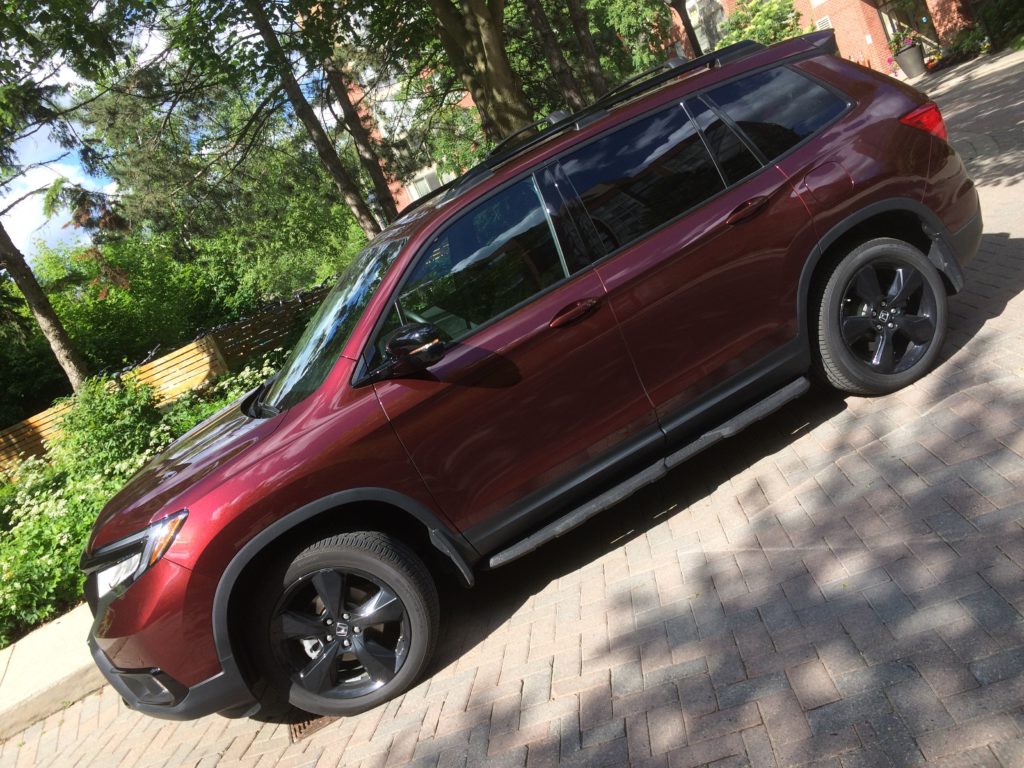 First impressions
The Deep Scarlett Pearl Touring model proved capacious inside and rugged-looking outside. The pretty paint job gives way to protective plastic molding along the bottom edges of the vehicle to keep stone chips from nicking the finish and encouraging rust. 20′ black alloy wheels match the molding colour as well as the black running boards. A rear diffuser sits between dual exhaust pipes, adding a sporty touch to the Passport.
Interior
Comfortable, adjustable, heated and cooled leather seats keep front-seat passengers comfortable on the move. The overall look, made up of understated black leather and similar finishes, comes together with a high degree of fit and finish. Rear-seat passengers get their own climate controls as well as two USB charging ports, a nod to the need to charge devices on the go. Bonus: the centre storage cubby up front was so deep and wide it accommodated a "picnic bag" as well as one of the USB ports.
Hockey bag test
The bag fits longitudinally with the back seats up, with enough room for a second bag. The bag fits under the fabric privacy cover.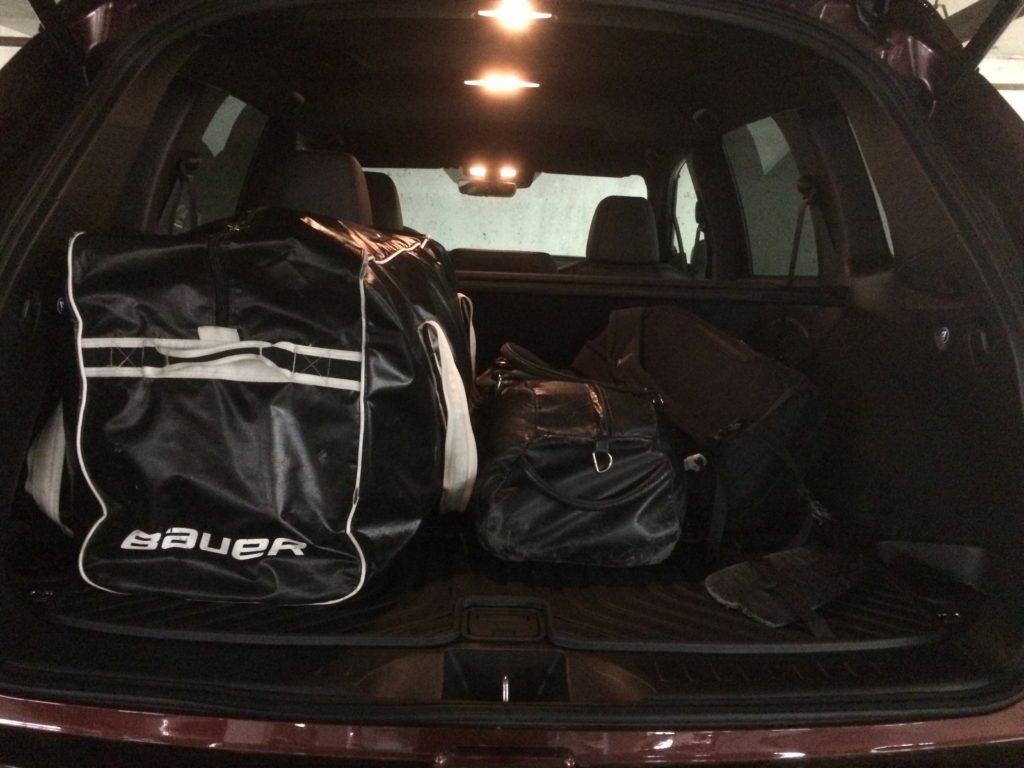 Put the rear seats down and a cavernous, easily accessible space swallows up all sorts of things. The four cargo tie-down points are handy, but placing two more (maybe near the rear seat headrests) could prove handy.
In-cabin technology
A full suite of in-cabin electronics greets drivers. Start up the Passport, tap the Home control to the left of the screen, hold and move icons to the screens you want (you get eight icons per screen, so I put.commonoy used icons on the "home" screen) and you're ready to go.
The Touring trim features a 550-watt audio system running 10 speakers, including a subwoofer. Sport and EX-L trims get a 152-watt 7-speaker system.
Honda's systems are mostly easy to use. The Passport also ships with Apple CarPlay and Android Auto for interaction with smartphones. Non-drivers may want to use the Passport's Wi-Fi hotpot as well.
Honda is thankfully bringing back tactile controls like the on/off/volume knob. Everything else is a tap on the touchscreen. Physical buttons (like for favorites) and a tuning dial would be welcome additions to the interface. They would prevent "mistaps" that happen when the Passport hits a bump just as your finger reaches the screen.
The instrument cluster is dominated by a 7-inch centre screen and flanked with two half-dials for engine temperature and fuel level. (The tachometer is a flat "bar" along the top of the screen.) The layout works well enough and scrolling through views and options is as easy as clicking the four-arrow dial and "Enter" button under the left thumb on the steering wheel. The horizontal arrows on this "click wheel" double as track selection controls, a fact that tripped me up once. For the most past, though, this was not a problem.
The Passport Touring features four USB ports – one in the centre stack, one in the centre cubby, and two for rear-seat passengers – as well as a wireless charging pad by the first USB port mentioned.
Driving
A 3.5L V6 produces up to 280 horspower and 262 lb-ft of torque. The 9-speed automatic handles shifting adequately, though you can take over using the steering-wheel-mounted paddle shifters. (Why automakers, and not just Honda, put paddle shifters in SUVs is beyond me.) The all-wheel-drive system kicks in when necessary, though for good road conditions you can expect the Passport to spin the front wheels only. (One of the instrument cluster views shows, in real time, which wheels get power at any given moment.)
Active safety features include vehicle stability assist, traction control, proximity sensors, blind-spot information system, forward collision warning, lane-keeping assist that provides haptic feedback through the steering wheel, bligatory rearview camera, and adaptive cruise control.
The Passport's ACC system could use some fine-tuning. For starters, it deactivates if you slow down to below 30 km/h. Also, despite my using the longest following distance setting, the vehicle tended to brake a little too hard a little too early, while at times it did not brake early enough for my liking. Finally (and this goes for many other ACC systems I've used) the sensors ought to turn if the Passport uses a curving on- or off-ramp. As it is, the Passport applies the brakes later than it should on curves. Note: I could make the same comments about other ACCs I've used. Few automakers get this right.
Fuel economy
Honda publishes fuel economy ratings of 12.5 L/100km city, 9.8 L/100km highway and 11.3 L/100km combined. The Passport features idle engine shut-off technology to help save fuel during city driving as well as an ECON mode. Those two features, plus adaptive cruise control, help explain how I managed a shade under 9 L/100km overall during a 400-km day of driving.
Pricing
The 2019 Honda Passport starts at $41,990 MSRP. Touring trim starts fro $48,990.