When they first hit the scene in the 1990s, crossover SUVs stole driver's hearts and automotive market share. Since then, the segment has evolved from its one-size-fits-all origins to today's smorgasbord of sizes and packages.
Certain crossovers have shrunk down to the size of, frankly, four-door hatchbacks. Not that that's a bad thing. This might be the most practical automotive design of them all. Place this category of vehicle next to what the industry considers "cars"and you'll see what I mean. Compact crossovers, as they're called, might imply they're capable of off-road adventure, even if they're better suited to tamer urban pursuits. Yet the implication helps them retain their SUV cred.
I recently drove one of these mini sport-cutes, the Lexus UX 200 FWD. Incidentally, "UX" stands for "urban crossover," a quiet admission of what the UX 200 is actually meant for.
First impressions
The Ultrasonic Blue Mica model Lexus leant me certainly cut a sleek figure. "Cut" is the operative word here – many design details, outside and in, seem honed to an edge. The massive, curved front grill gives way to these edges, swooping and diving right to the taillights that might be partially inspired by the tail fins on cars of yesteryear. The whole package looks thoroughly modern and atractive.
The SUV look comes mainly from the black plastic lining the bottom edges of the car. It implies you need to protect the body from increased risk of tips from off-road driving, but this nod to practicality would suit any vehicle.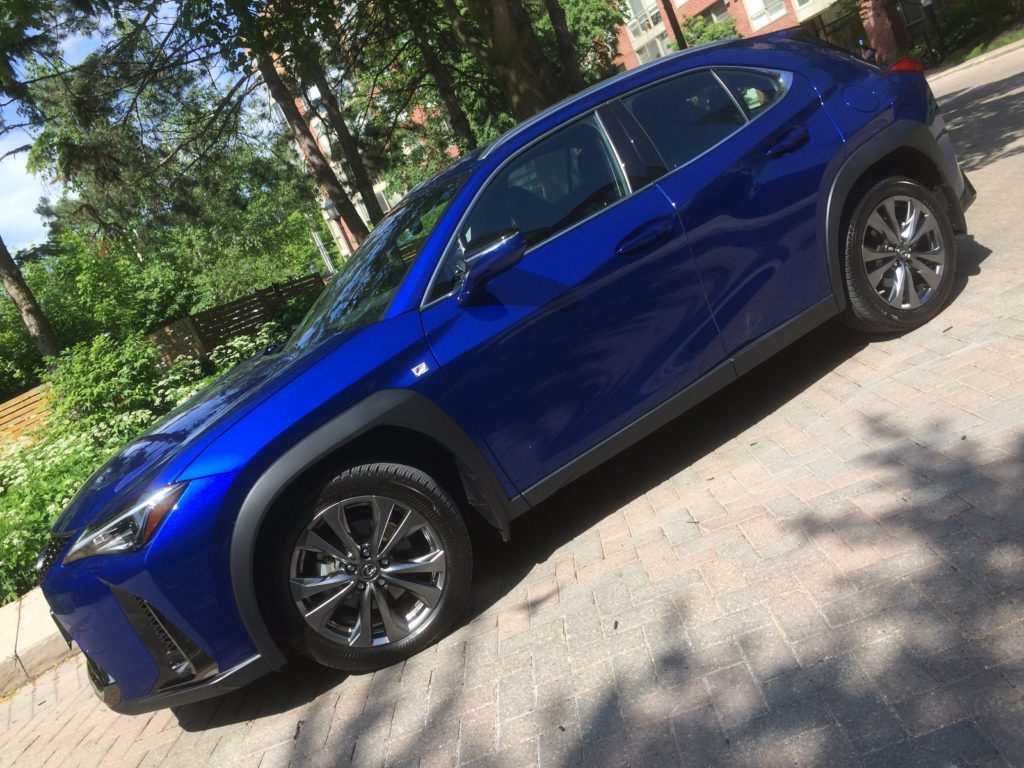 Interior
There's little in the cabin to fret over. Comfortable, adjustable seats, tight fit and finish, leather accented by contrasting stitching and a high-quality feel in all the right places. It's a Lexus, after all.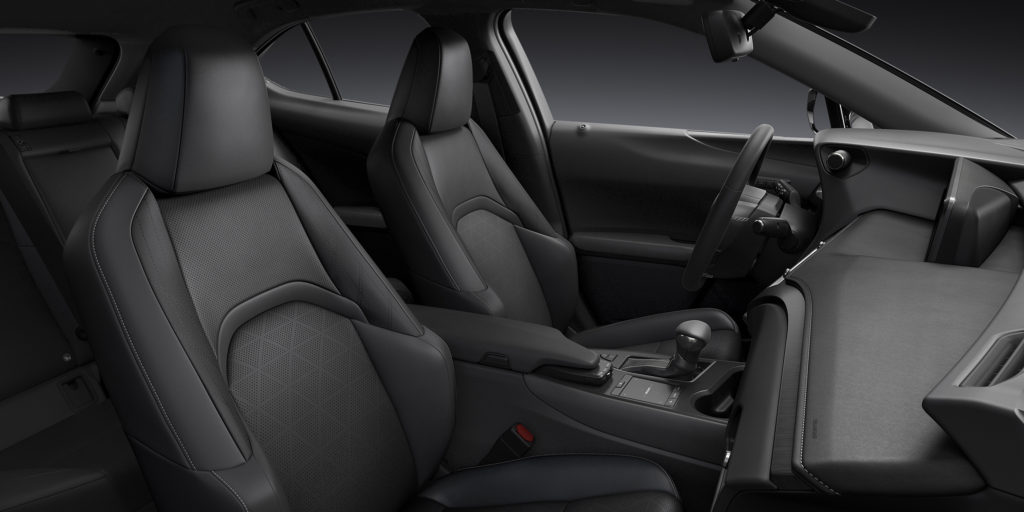 The optional F SPORT Series 1 package, a $2,300 option, included an F SPORT branded steering wheel, headrests, an upgrade to 18" wheels from the standard 17" offering, and a variety of other goodies.
Hockey bag test
The bag just barely fits in the hatch longitudinally, with room to spare for groceries and a backpack. An equal-sized bag would be a tight squeeze. The bag just barely lifts the privacy cover.
In-cabin technology
Every automaker will load techno-toys into the cabin for you. Few of them do so as logically as Lexus does.
The Enform Audio package drives 6 speakers tastefully incorporated into the cabin. The 7" display screen (a 10.3" upgrade is available) offers access to audio, information, and your phone via Bluetooth and Apple CarPlay (no mention made of Andriod Auto in the Lexus spec sheet). The Lexus standard analog clock sits to the left of the screen, a luxury touch I hope Lexus keeps in its vehicles.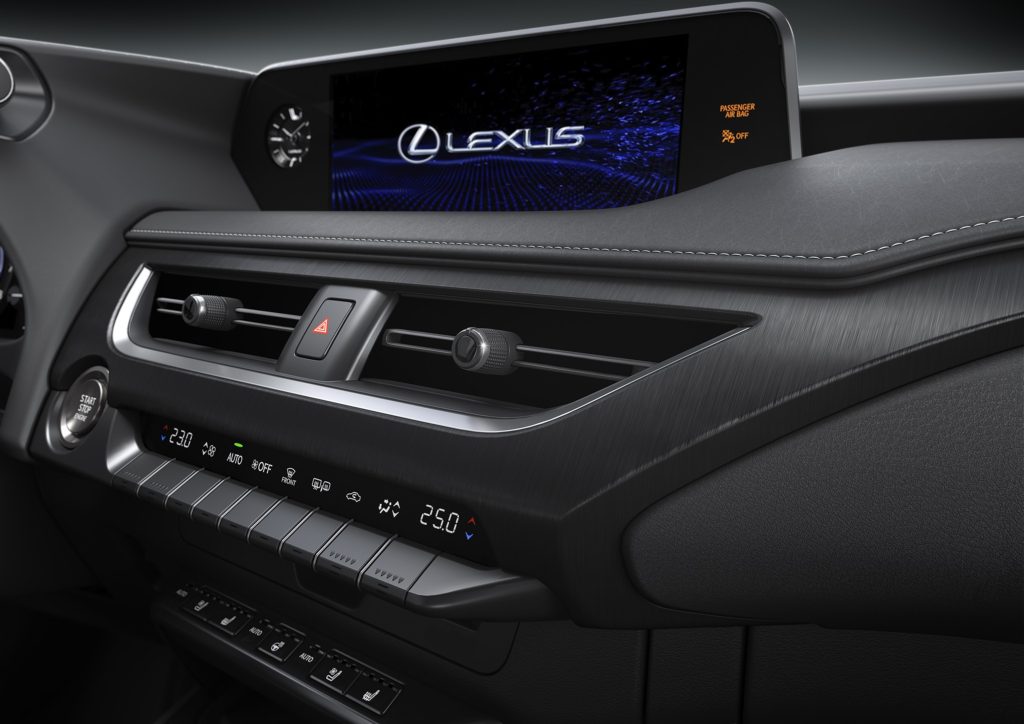 The magic in this system comes from the way in which you control this screen. It's a display screen, NOT a touchscreen. For years, Lexus has offered its touchpad located, in the UX, right next to the automatic shifter. Buttons around the trackpad lead to commonly accessed screens. Run your finger over the trackpad and it "jumps" under your fingertip (i.e. provides haptic feedback) whenever the on-screen pointer lands on something clickable. It can take some getting used to – it may feel as though you have clicked something when, in fact, you haven't – but once you understand it, the feedback greatly reduces the atention required to navigate a Lexus display screen.
Another magical thing about this trackpad is its location. To use it, you lean your arm on the padded cover of the double-hinged centre storage bin. ("Double-hinged" is my term – both front seat occupants have a button on this lid that faces them. Once they press the button on their side, the lid opens away from them. Inside this storage unit, by the way, is where you'll find USB outlets for phones.)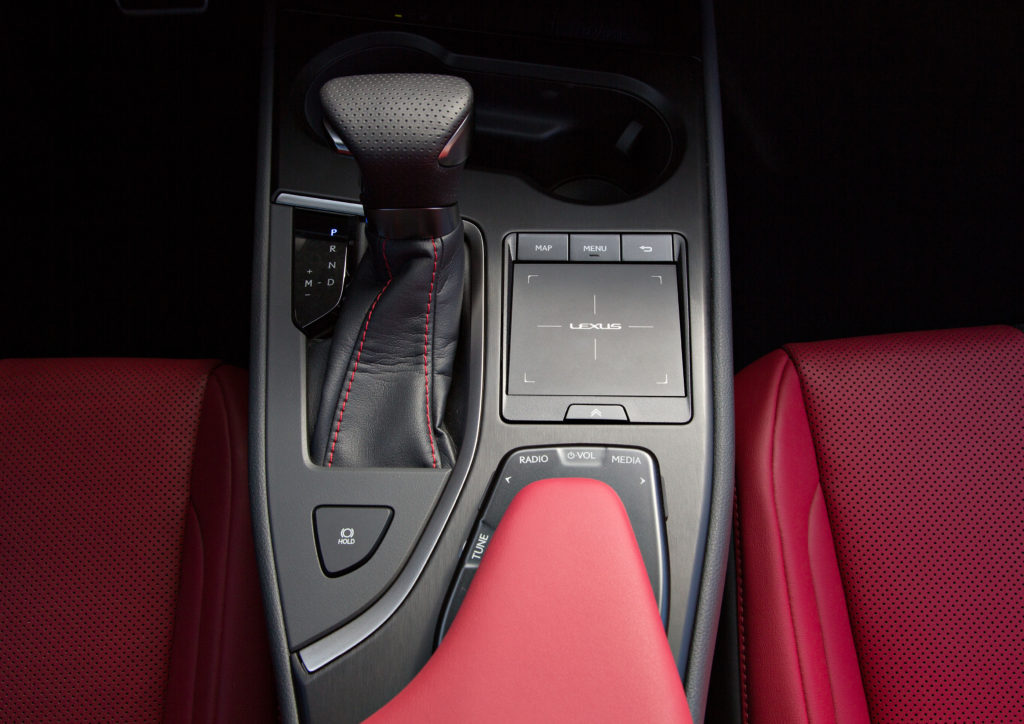 Lexus extended this ergonomic thinking beyond the trackpad. Designers clustered dials and buttons at the front of the padded armrest, an inch away from the trackpad. This is where you'll find entertainment system controls like volume and radio tuning. Like the trackpad, I had to look at these controls the first few time I used them. What surprised me was how quickly I remembered which control did what and used them without looking at them. These controls are still on the steering wheel, but moving them from the centre stack to THIS location was an ergonomic master stroke to my eyes.
The instrument cluster is entirely digital. Here again, Lexus offers a pleasant design surprise. With a tachometer dial in the middle, the driver gets a "limited" information display to either side of the dial. With the press of a button on the steering wheel, the dial "slides" to the right (it looks like a physical dial – I couldn't touch it to make sure) to enlarge the screen area to the left. In both cases, the driver can scroll through plenty of information, but the option switch makes more detail information – and, frankly, the effect just looks cool.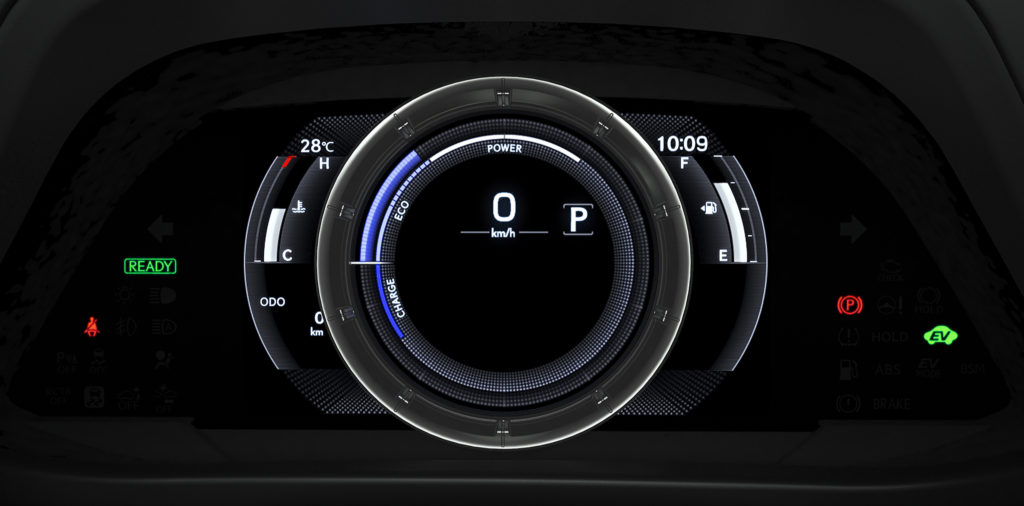 Other high-tech options (my tester didn't have these) include a heads-up display, wireless phone charging and hands-free liftgate.
Driving
A four-cylinder, 2.0L engine tops out at 169 hp to power the front wheels via a direct shift continuously variable transmission. Lexus also offers a hybrid option, the UX 250h, with all-wheel drive. My tester provided comfortably quiet drives, growling a little only when I hammered the accelerator as it "downshifted" to derive more power from the engine.
Incidentally, I don't know when steering-wheel-mounted paddle shifters became de rigueur, but putting them in a vehicle that shifts via CVT seems increasingly ludicrous. (Lexus isn't the only automaker to have done this.) They might please people who keep the UX 200 in Sport Mode (using the tubular switch above and to the right of the instrument cluster) but I, for one, would enjoy seeing Lexus break from the crowd and make these things optional – at least on CVT-equipped vehicles.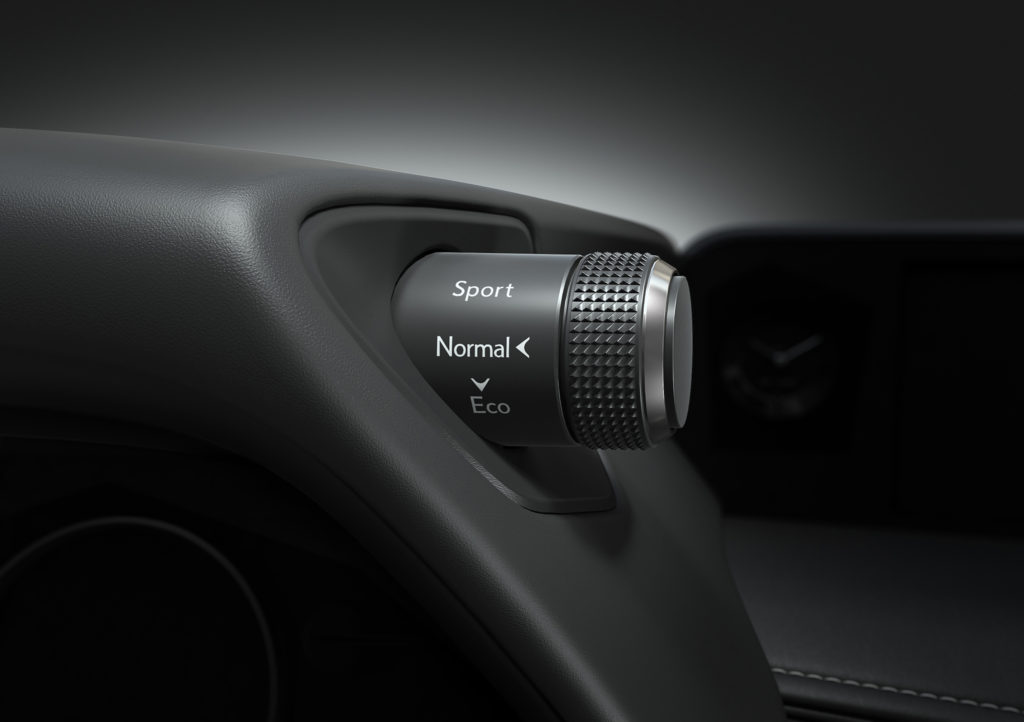 Lexus bundles worthwhile active safety technology in each UX 200 it sells. Pre-collision systems, pedestrian detection and lane tracing assist are three of the "lookouts" bundled into the Lexus Safety System+ 2.0. Drivers may not need these aids every day – in fact, I hope they never need them – but it's good to know they're looking out for the vehicle's occupants.
Long-distance commuters will enjoy at least one of these safety technologies: the civilized radar cruise control with low-speed follow. What might seem to be an underpowered engine on the UX 200 (it isn't, really) is perfectly suited to maintaining a civilized following distance.
Fuel economy
Here's the upside of the 2.0L engine: I was able to keep fuel consumption below 8 L/100km, an un-SUV-like number! Of course, I also stuck to Eco drive mode instead of going for "Normal" or "Sport" like I suspect some drivers may want to. Lexus publishes fuel ratings of 8 L/100km and 6.3 L/100km (city/highway).
Pricing
The 2019 Lexus UX 200 retails for a base MSRP of $37,100. Options, fees, levies etc. brought the MSRP of my tester to $42,251.25.