Parking lots at places like home improvement centres and hockey rinks host more than their fair share of SUVs, especially extended ones that feature more cargo space and a third row of seating. I mention this because I was driving one of those SUVs – the 2019 Acura MDX A-Spec – in these and many other places not too long ago. It seems like this class of SUV was purpose-built for hauling extra amounts of stuff and people.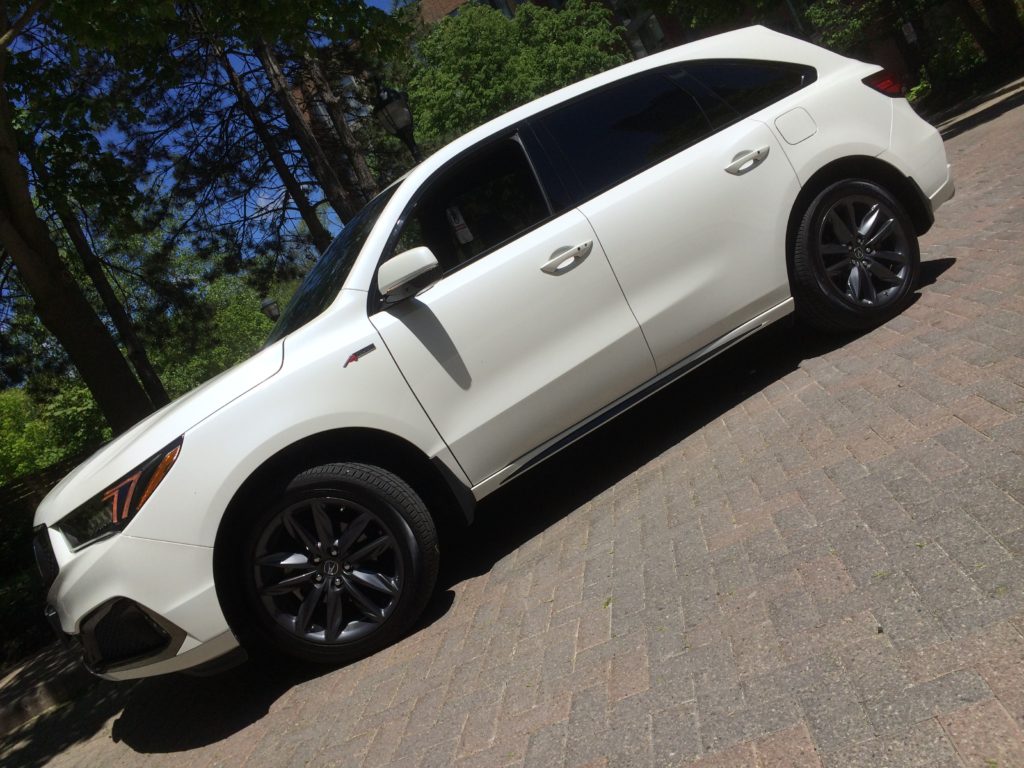 First impressions
The white A-Spec I drove sits is a mid-trim level in the 6 trims Acura offers MDX customers. It holds its own in the looks department, from the "jewel-eye" front LEDs and cavernous grill down to the 20" alloy wheels supporting a stately vehicle that would not look out of place on a country estate.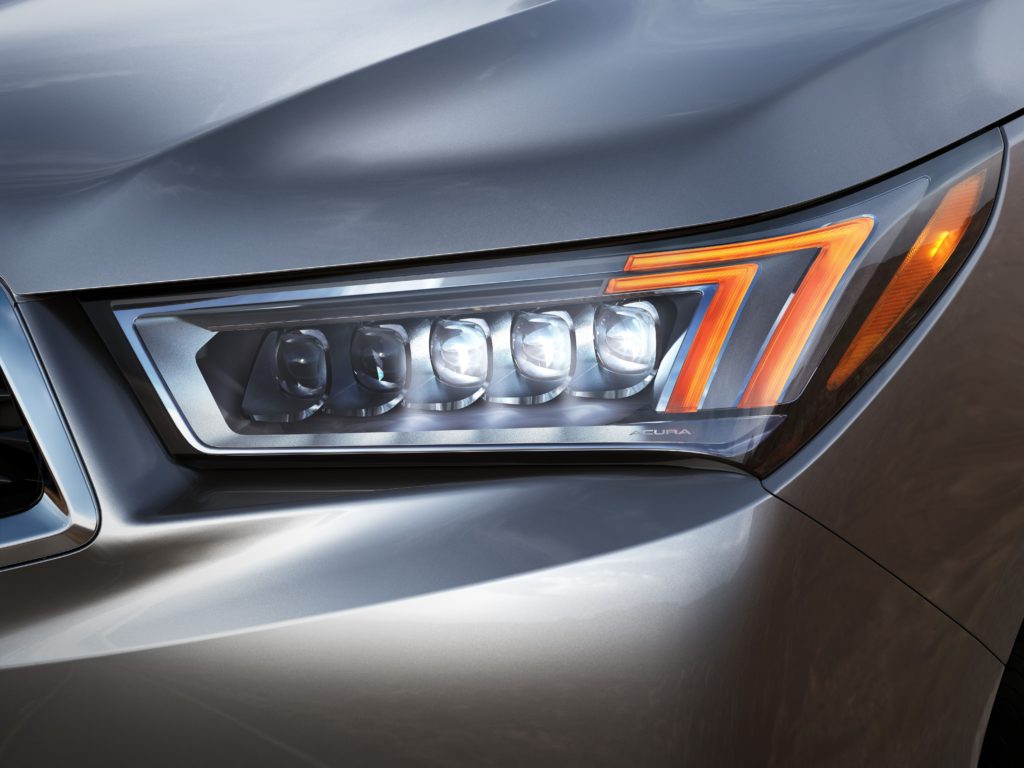 Interior
Acura hits all the right notes in the cabin, although the "extra-hi-tech" vibe given off by dual centre stack screens and a group of buttons that serve as the transmission control may give some drivers pause for thought.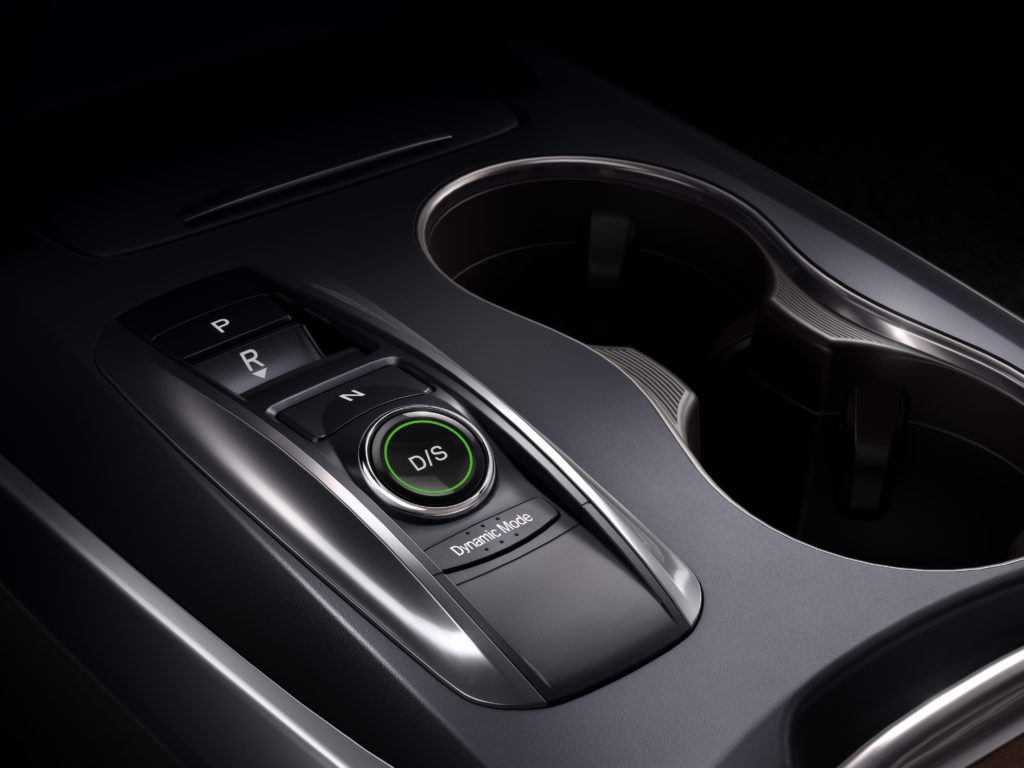 They probably won't think long about these design choices. Seats are comfortable all round, although I found the 3rd-row seats predictably tight. (For reference, I'm 6'5" tall.) A heated leather steering wheel and other high-end finishes strike the luxury notes Acura owners have come to expect.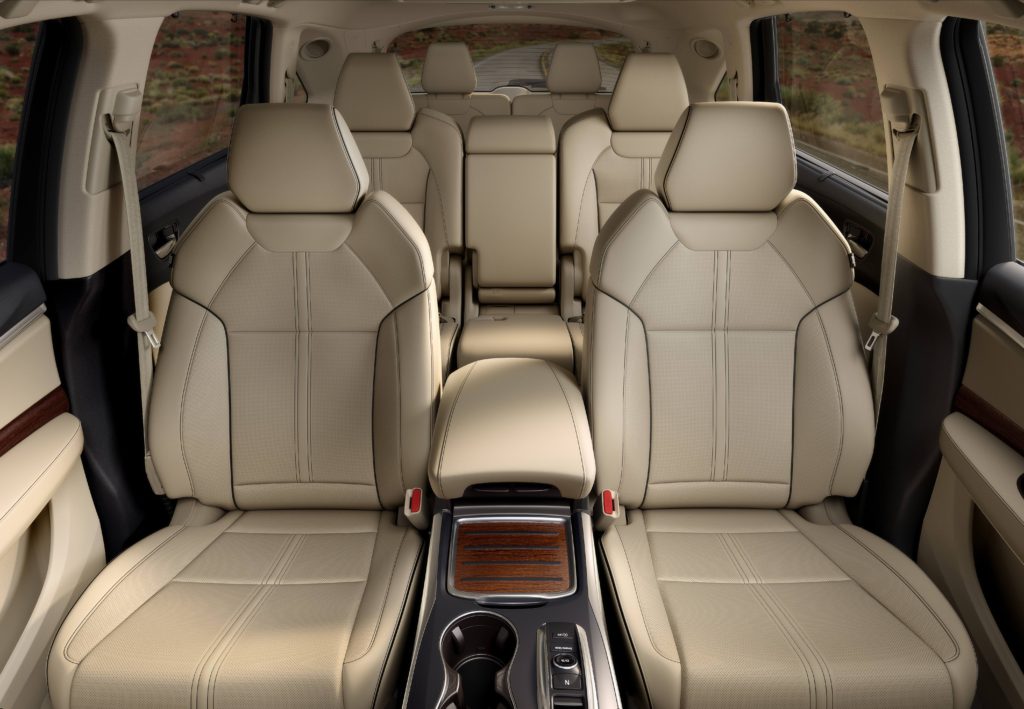 The 2-position memory system covers climate control preferences, side mirror and steering wheel position as well as the setup for the heated and ventilated front seats.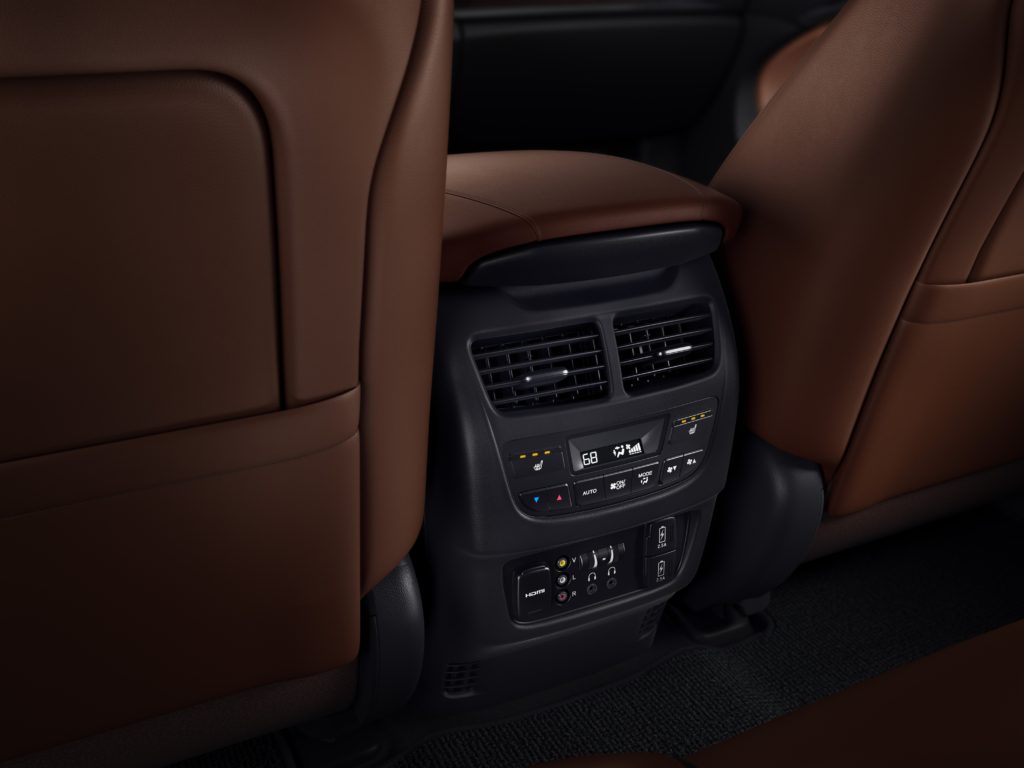 Hockey bag test
There's oodles of room with the 3rd row seats down and a vast expanse with the 2nd-row seats folded.
In-cabin technology
Acura fits two screens in the centre stack. The lower one is touch-enabled and provides most of the controls required for onboard audio and climate control. The MDX does not make many physical buttons or dials available for these systems, and I found myself glancing down at the screen more often than I was comfortable doing. Hardware like a fan dial and radio tuning knob would be much appreciated.
The upper 8" screen sits below a cowl. It shows veehicle info and, should you connect your smartphone, the OS-specific display that is meant for your device (i.e. Apple CarPlay or Android Auto). You control this screen not by touch (I didn't try, since that would have meant an uncomfortable stretch) but using a combination button/dial/joystick mounted below the (lower) touchscreen.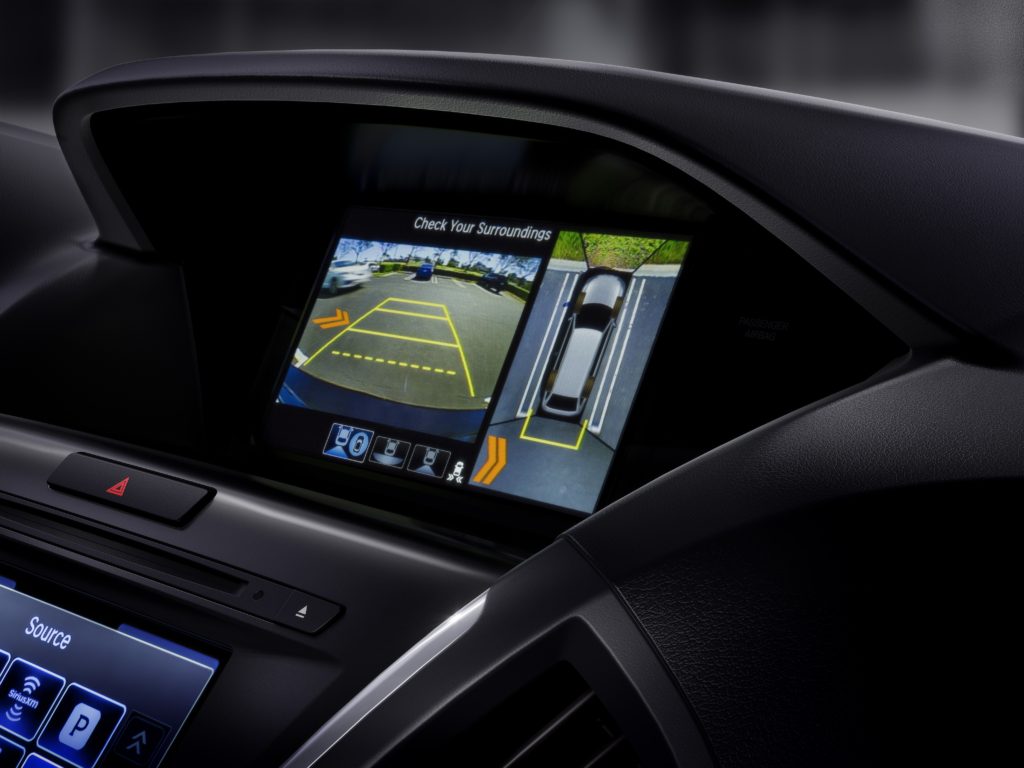 It's an intuitive device you'll find in vehicles from other automakers and it's certainly welcome here. My only quibble is that it could be mounted not on the centre stack but in front of the transmission buttons. If it were, the centre armrest would support the forearm while the driver uses this control. As it is, you need to hold your arm in the air while using it. This ergonomic comment is not a big deal, it's just an area of improvement.
One thing did annoy me during my time with the MDX: the parking brake control. (Yes, this is my "You kids! Get off my grass!" fist-shaking moment. If you'd rather skip it, go to the last paragraph in this section.)
As in many modern cars, the parking brake is now a small switch. This means it can be mounted in many more places than traditional parking brake pedals or levers. I like to see this control near the automatic transmisison controls, which seems logical to an (ahem) "older driver" like myself.
Acura put this control to the left of (and partially obscured by) the steering wheel in the same cluster as that of several active safety features, like lane keep assist. As a result, when I reached down to activate or deactivate the parking brake without bending to the left to look at what I was doing, I ended up deactivating one of these features. That is NOT what safety-conscious drivers want to do.
I knew I deactivated the feature because the instrument cluster screen between the tachometer and speedometer flashed me a message about this. That screen enables the regular assortment of vehicle settings and information commonly found in teched-out offerings like the MDX.
Improper control layout is a risk when vehicles come as chock full of switches and buttons as the MDX does. That said, Acura designers managed to put the steering wheel heater button ON the steering wheel, which is perfectly logical. I hope designers put the brake switch elsewhere (and on its own) on future models.
OK. Rant over.
The MDX ships with a minimum of four USB charging ports, 432 watts (or more) powering the sound system, SIRI Eyes Free and plenty of other gadgetry to satisfy the biggest techies out there.
Driving
Acura sticks to offering steering-wheel-mounted Sequential Sportshift paddle shifters so drivers can go through the 9 gears in the MDX transmission while pretending they're driving a racecar. Um, no, but the 3.5L V-6 handled itself well in any situation where I began to near its 290 hp and 267 lb-ft of torque limits. Acura offers towing capacities of either 3,500lbs (1,588kg) or 5,000lbs (2,268kg).
Long-distance commuters will enjoy the civilized adaptive cruise control with low-speed follow, which stays on even if the MDX is momentarily stopped. The MDX calmly adapted when vehicles cut directly in front of me. Its sole less-civilized following habit happens when the road ahead opens up and it "sees" no other vehicles ahead. That's when it jumps forward, but not so much most people would notice, and it coems back to its civilized self once it senses a vehicle ahead. Civilized, in fact, is how I see the MDX all around, even through I did get out of Comfort drive mode a few times to explore Normal and Sport modes. Super-Handling All Wheel Drive (SH-AWD) promises many drives with few surprises.
Active safety features (at least those you don't accidentally turn off when using the parking brake switch) include road departure mitigation, vehicle stabilty assist, rear cross traffic alert, blind spot inforamtion system, and another one of those purely common-sense features Acura seems enamoured of, a wiper-linked headlight system.
Outside cameras do their jobs, but on a vehicle this size, I would want a 360-degree surround view (Acura's term) to show me what's within a few feet of the MDX. Acura offers it as on option. I'd like to see it become standard. In spite of this bias of mine, visibility was fine at all times. It's augmented by heated power side mirrors that tilt down when you put the MDX into reverse gear.
Fuel economy
Acura publishes segment-average city/highway/combined (L/100km) numbers of 12.6 / 9.0 / 11.0. In city driving, auto start-stop technology mitigates the Acura's thirst. Acura recomends premium unleaded fuel only go into the 74 litre tank.
Pricing
The 2019 Acura MDX starts at $56,596 MSRP, including freight, PDI and fees. The A-Spec trim level starts at $59.696.