I've experienced plenty of high-end technology in pricey cars. That's why I'm glad to return to  vehicles like the 2.0L Turbo Hyundai Santa Fe. Hyundai is doing everything it can to bring the most useful new technology to the masses.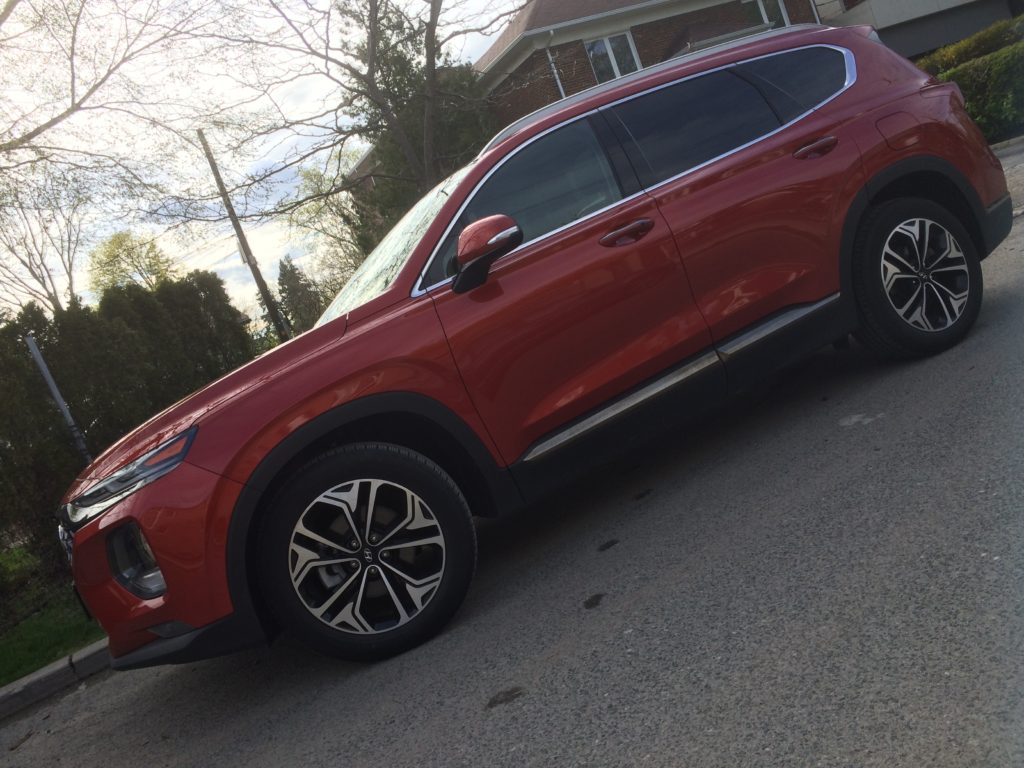 First impressions
The Orange model I spent a week with hits all the right notes for a modern SUV. The black and chrome grille goes well with the headlight and fog light assemblies to create a fashionable first impression. Lovely curves along the sides and a sporty-looking back end might give you the impresison that this is a smallish vehicle. (It isn't, but we'll get to that later.)
Interior
The optional panoramic sunroof let the light shine in onall five occupants in the Santa Fe. Four of them get heated seats, and the seats themselves proved comfortable front or back. The heated steering wheel keeps the driver's ands toasty.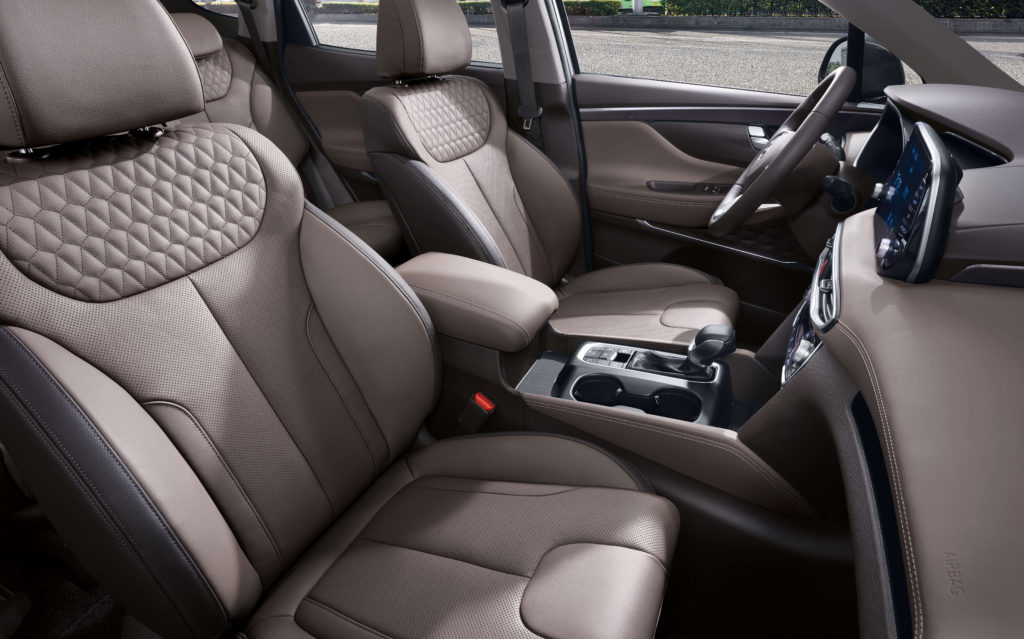 The weather swung to extremes during my week with the Santa Fe, so I also got to try the ventilated front seats. If it gets that hot, air conditioning ought to keep rear seat passengers comfortable. They can block sunlight from the side windows using shades then can pull up from the base of the windows. And, of course, soembody in front can close the sunroof cover.
The interior felt well put together and tastefully designed. Of note, the large door-mounted speakers presented a textured black surface that tastefully complements the rest of the door design instead of standing out.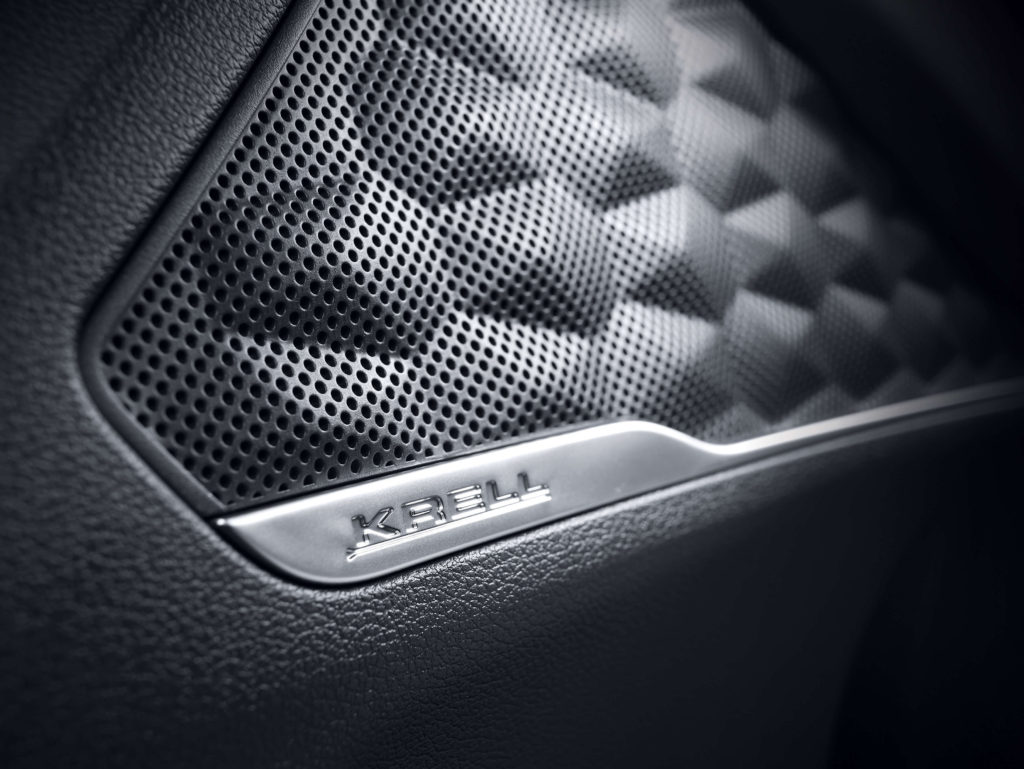 Hockey bag test
The huge hatch easily accommodates the bag longitudinally. Fold down the rear seats and you can fit a dresser, small fridge and various other pieces of cargo in the hold, all secured with bungee cords hooked onto the four hatch tiedown rings. The hatch area also features compartments under the floor.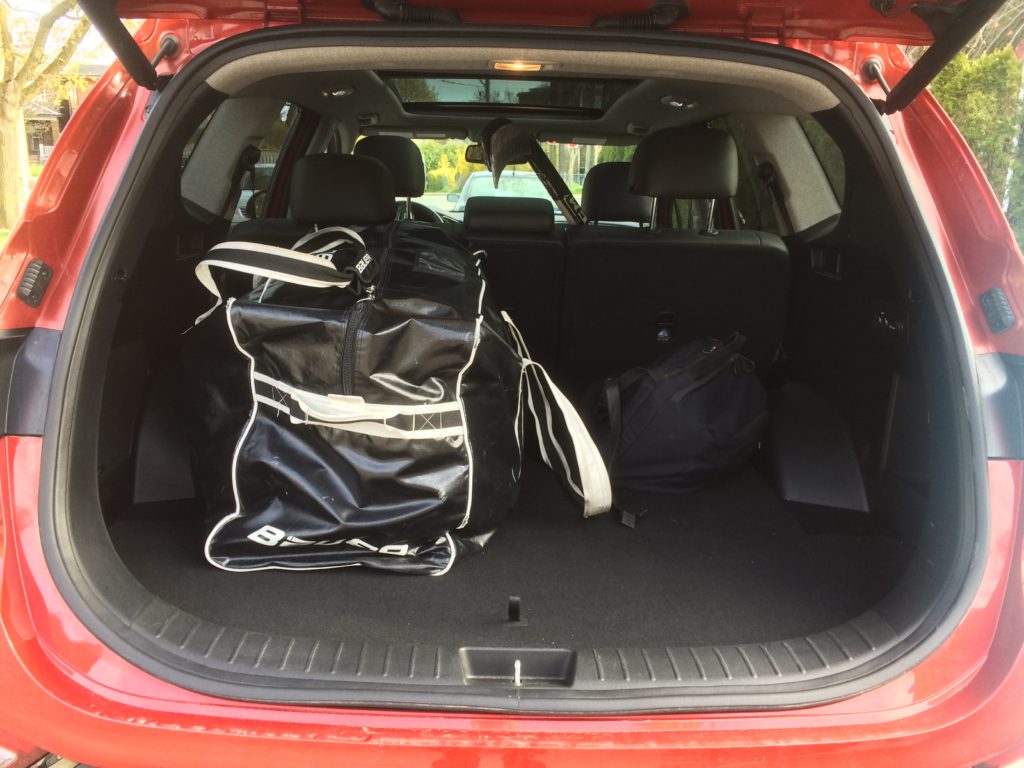 To its credit, the Santa Fe's sleek shape hides any suggestion of just how much stuff it can accommodate. My tester also came equipped with a tow package, though I didn't use it.
In-cabin technology
The touchscreen is flanked by eight buttons and two dials that take you to the most commonly used infotainment features on the screen. Hyundai's system is perfectly competent, but I expect smartphone owners to gravitate to Apple CarPlay or Andriod Auto.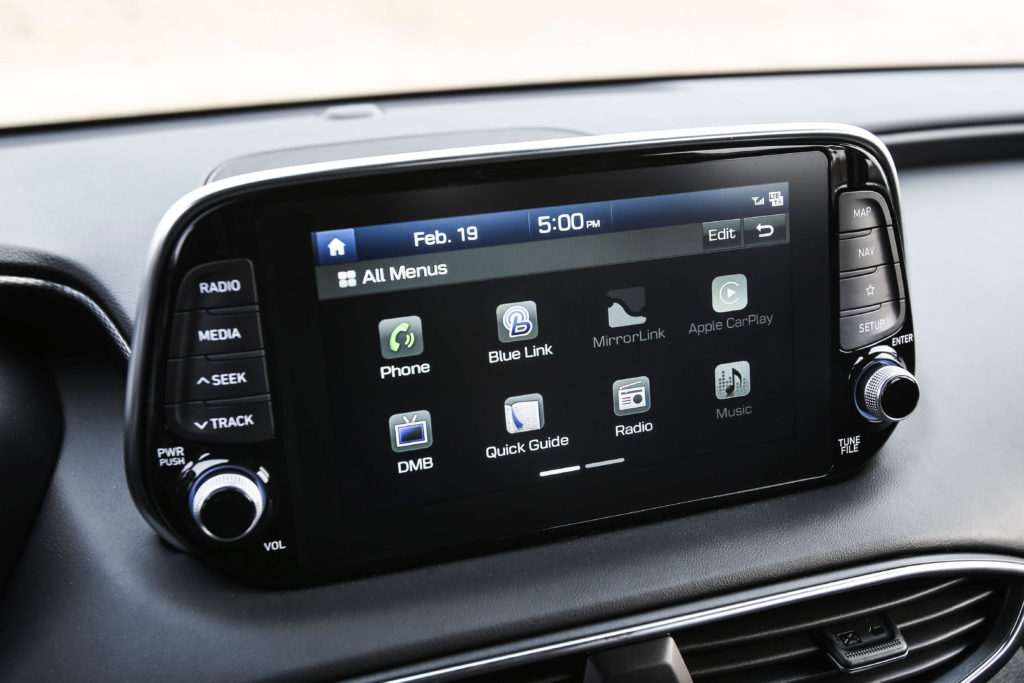 There are enough charging ports for everybody's devices, plus a wireless charging pad.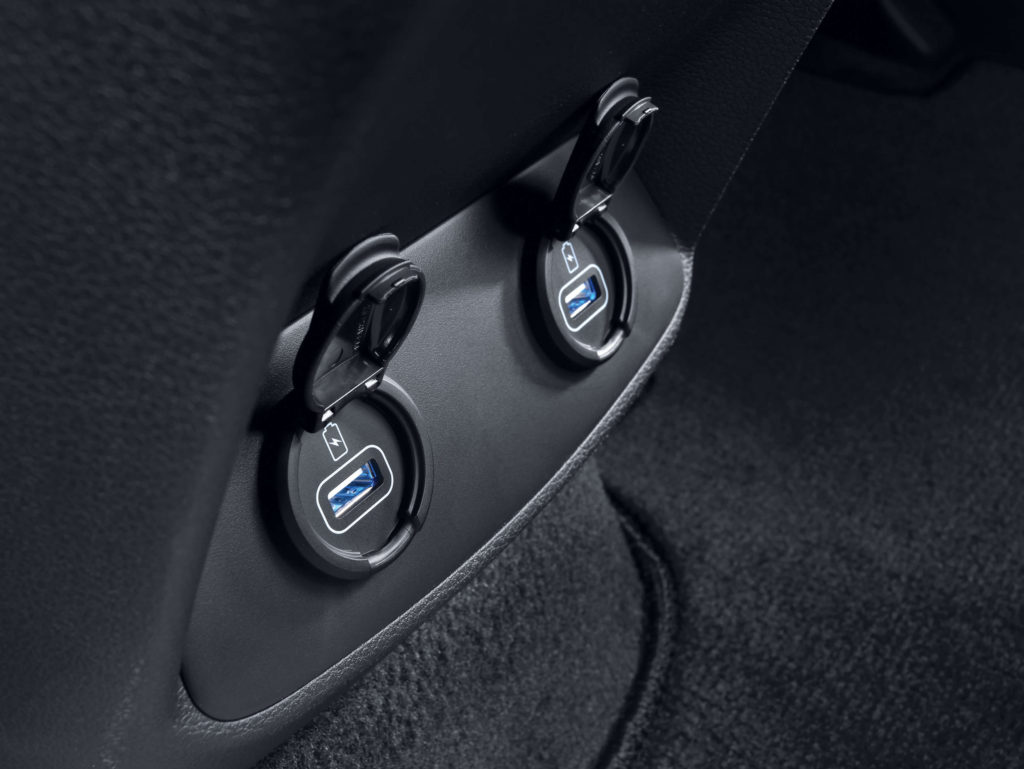 The driver's instrument cluster consists of a three-part layout, a centre screen flanked by two dials. Information on the centre screen can be controlled using steering-wheel-mounted switches.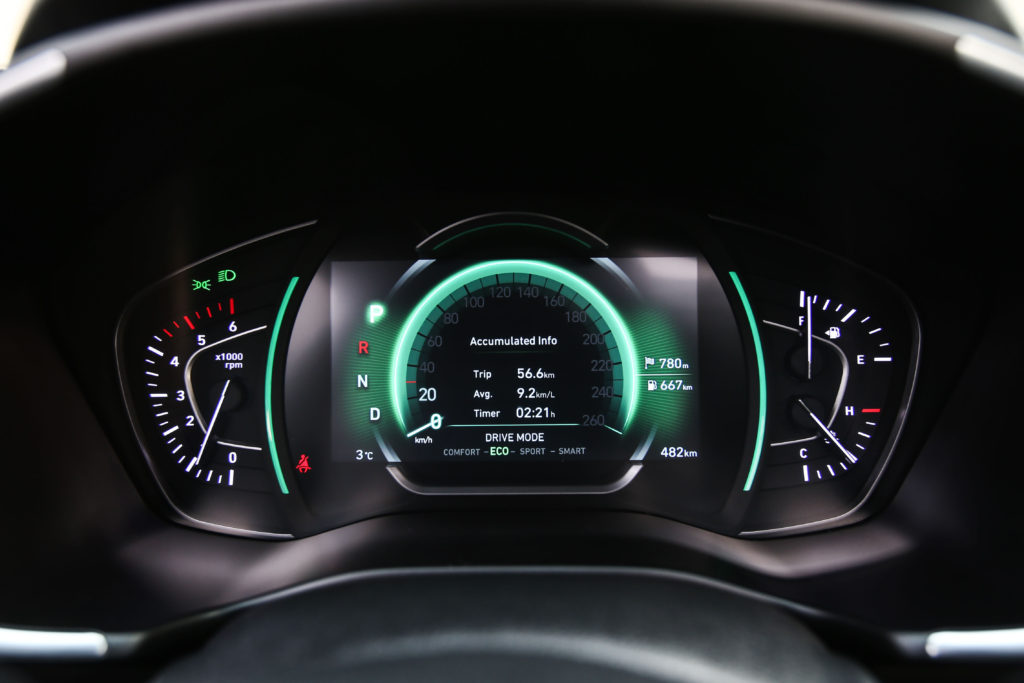 Key information from the cluster appears in the heads-up display, which proved perfectly legible in various (and sometimes varying) ambient light conditions.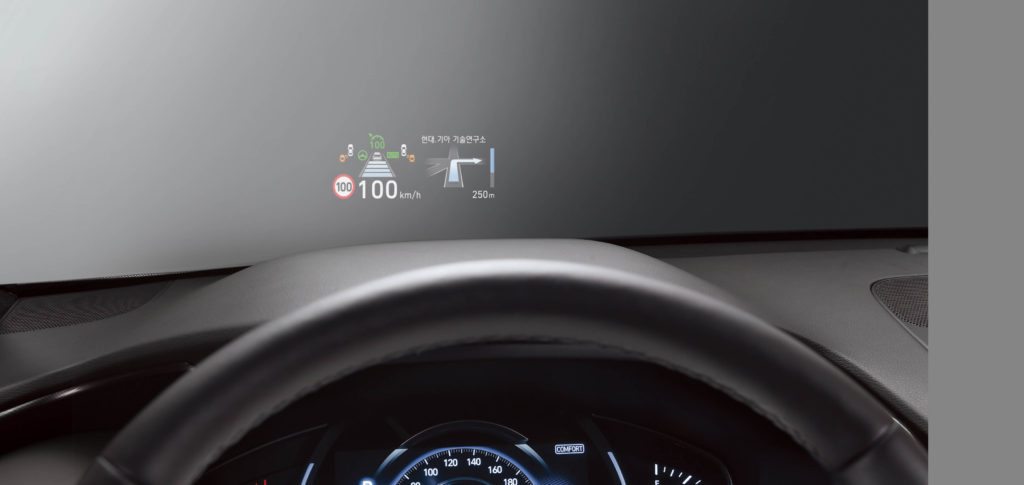 Driving
An 8-speed automatic transmission transfers power from the 2.0L turbo engine to all four wheels. Hyundai also offers a 2.4L and front-wheel drive models. All engines are gasoline direct injection. Kudos again to Hyundai for not including steering-wheel-mounted paddle shifters, another conscious decision to keep unnecessary costs out of its vehicles.
Power is on tap regardless of which of the three drive modes (Normal, Smart, Power) you use. Adaptive cruise control delivered safe, predictable drives, and lane-keeping technology reminded me (with beeps, flashing lights and nudges felt through the steering wheel) to, well, stay in my own lane. This is lane-keeping technology, so the steering wheel nudges you back into your lane if you leave it. That said, like systems I've tested from other automakers, it turns itself off if you take your hands off the wheel. An autonomous car, this is not.
Vehicle stability management enabled me to take highway ramps at speeds I would not normally consider in a vehicle this size. Road conditions were never treacherous during my time with the Santa Fe, but it felt grounded no matter the manouever.
Value-conscious buyers, take note: the Santa Fe features a 360-degree view camera (aka Surround View Monitor) that you can turn on even when the transmission is not in reverse. Perfect parking is practically child's play with this system. Finding this system in a vehicle with this price tag was a pleasant surprise.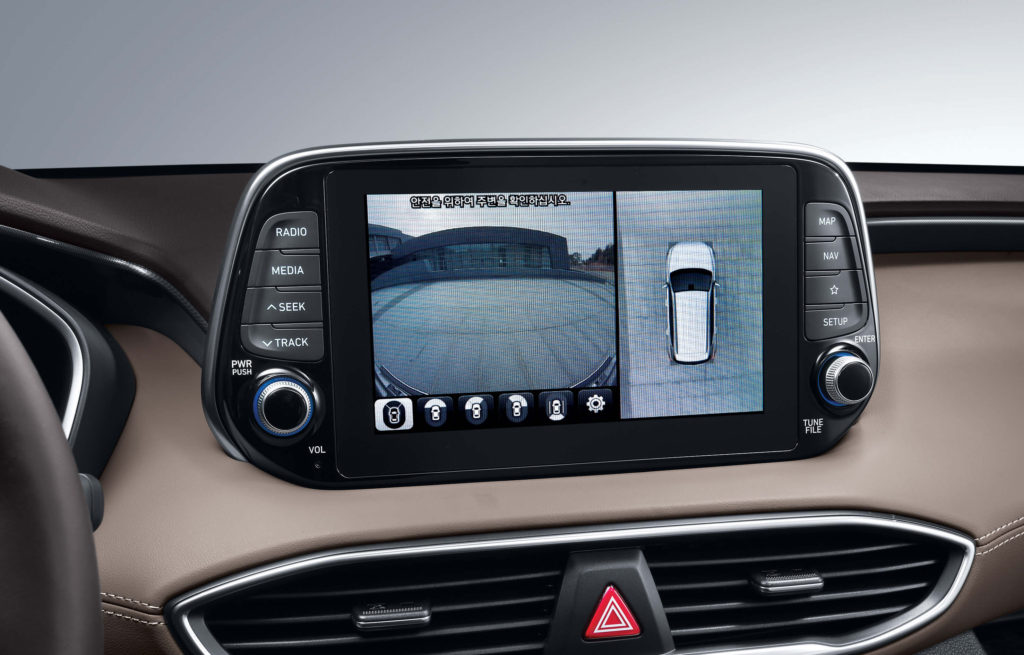 Other active safety features include a parking distance warning (reverse only – I could not trigger it by sneaking up on a wall in a parking garage), blind-spot collision avoidance, rear cross-traffic collision-avoidance assist and forward collision-avoidance assist.
Fuel economy
I managed 100+ km highway drives where overall fuel consumption hovered between 7.5L/100 km and 8.0L/100km. Hyundai mitigates the understandable fuel economy drop in city-based driving using idle start-stop, so you don't burn gas at street lights and stop signs.
Pricing
Hyundai offers the 2019 Santa Fe in Essential (FWD), Preferred (AWD), Luxury (AWD) and Ultimate (AWD) trim levels. MSRP ranges from $28,999 to $44,999.
Conclusions
Feature-by-feature comparisons with similar offerings from other automakers reveal Hyundai's continuing devotion to winning the value-for-money race. (Note: the following list reflects my own biases.) Hyundai omits needless gadgetry (paddle shifters, expecially in an SUV) and somehow includes truly useful stuff (360-degree camera, adaptive cruise control, lane-keeping technology, heads-up display) to ensure its vehicles stay cost-competitive in an ever-evolving automotive market.
If roominess, modern techology and comfort in a stylish SUV are what you're looking for, take the Santa Fe for a spin.