Some vehicles are so large that if you drive them through urban areas, they occupy two postal codes at any given time. At least.
For all that the 2019 Lincoln Navigator has going for it, size is the first thing that most people comment on. And with good reason. But there's plenty to appreciate beyond the vehicle's mass.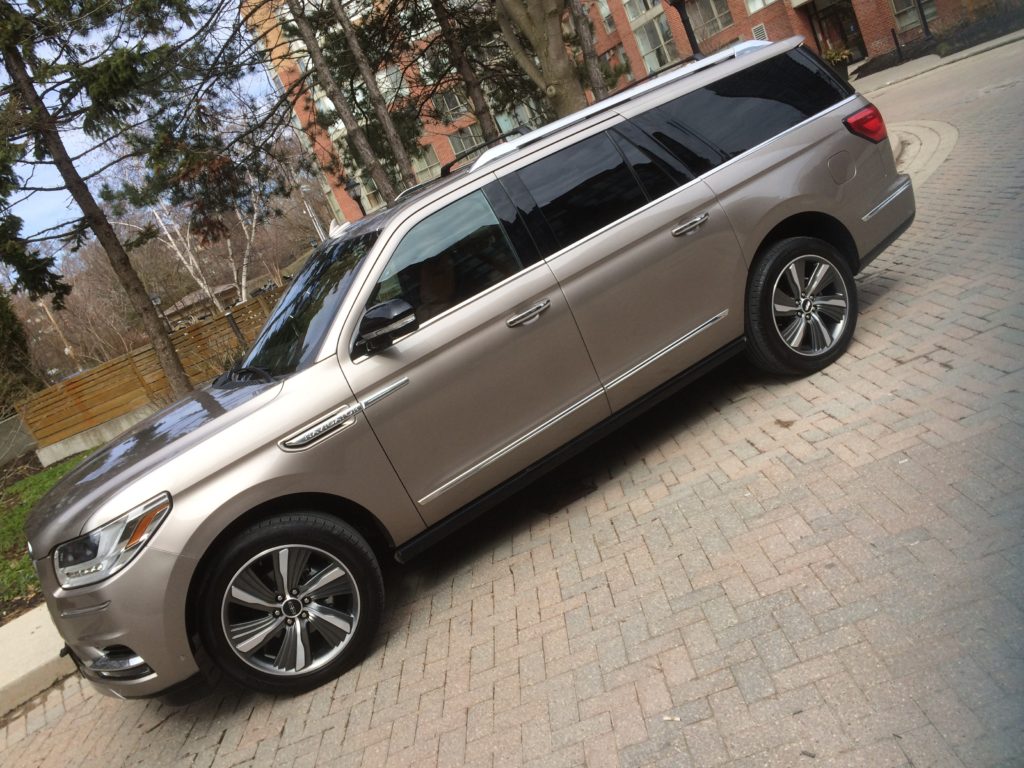 First impressions
My Iced Mocha "L" tester ("L" stands for "long wheel base") stretches more than 5.6 metres long and 2 metres wide, reaching almost 2 metres in height as well. The modern vertical Lincoln "satin chrome mesh" grill sits boxlike between LED headlights, setting a tone of straight lines all the way back to the rear hatch. Navigator branding sits just aft of each front wheel. That branding and the door handles are all that break up the expanses of metal on each side. Comboned with the upright "boxlike" stance of the windows, the overall look is one of elegance one might find on an English country estate, if somewhat elongated.
Interior
Approach the vehicle and the exterior lighting system welcomes you. This incudes the Lincoln logo in the middle of the front grill. Nighttime is the best time to appreciate the large Lincoln logo lighting up the ground beside the passenger doors. (Lincoln calls this the "welcome mat" and that it is, in both size and its effect on anybody watching.)
Open the door and running boards slide out from under the doors. They come in handy given the lengthy step up to the vehicle. Leather handles on the A-pillars aid front-seat occupants during both ingress and egress.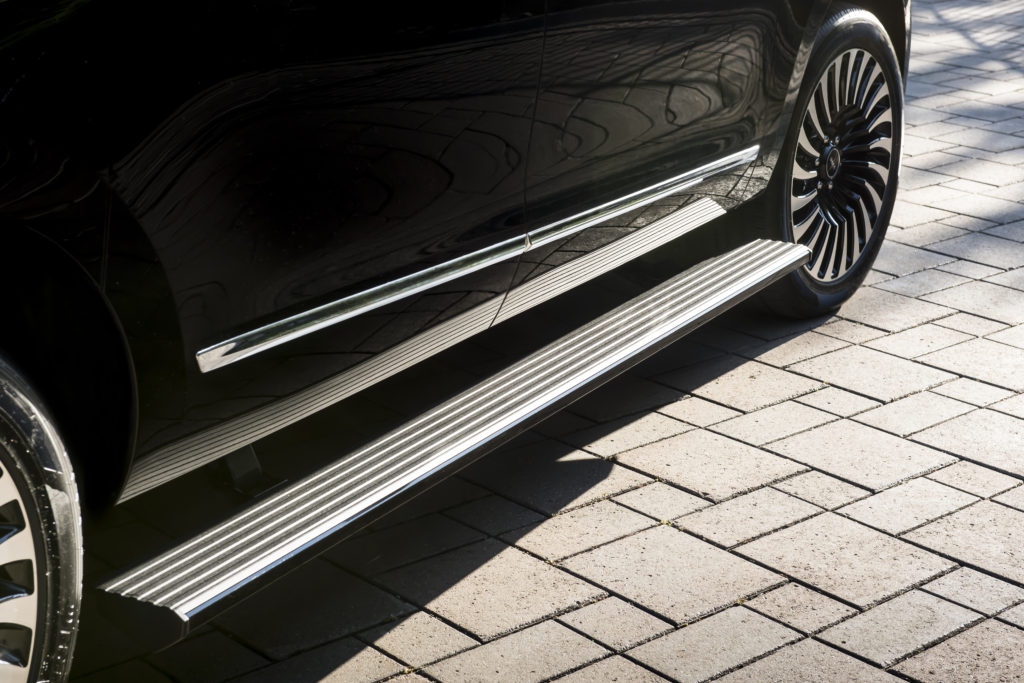 Lovely leather coats just about any surface occupants might touch.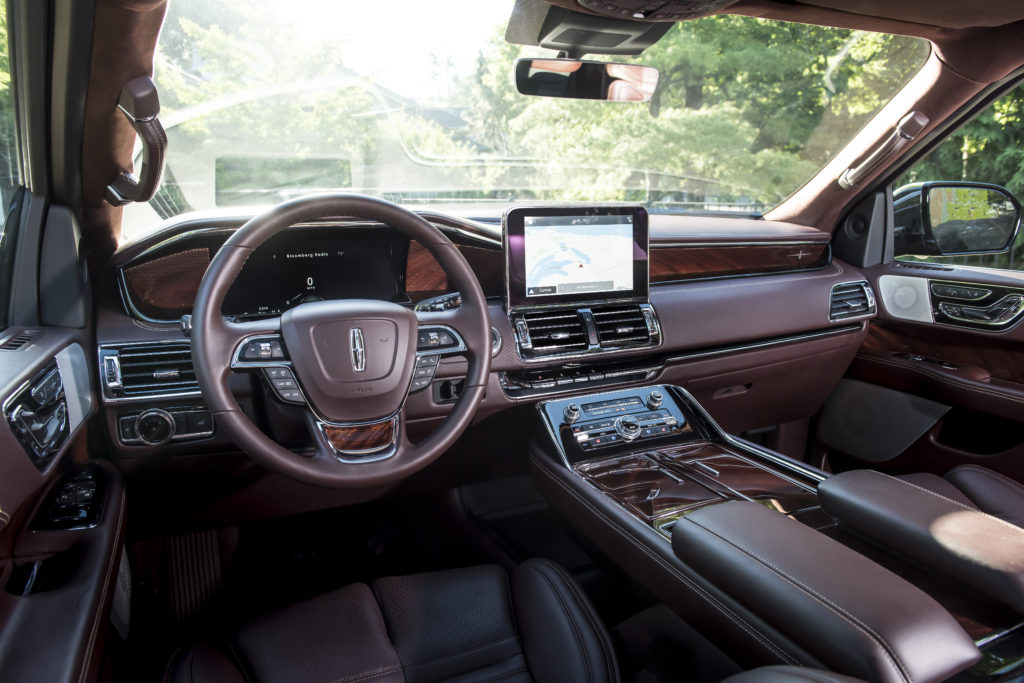 Controls for fully power-adjustable front seats reside on the doors so occupants can see what they're adjusting. Controls are so targeted there are even indivudual settings for each thigh. Both the driver and front-seat passenger can store their settings in seat memory. Lincoln upped the "seat memory" game with its  new Personal Profile, which uses the key fob to recall individual driver preferences for seat, mirror and pedal positions, as well as climate control and entertainment settings.
Seat heating and ventilation buttons are found in the climate control cluster.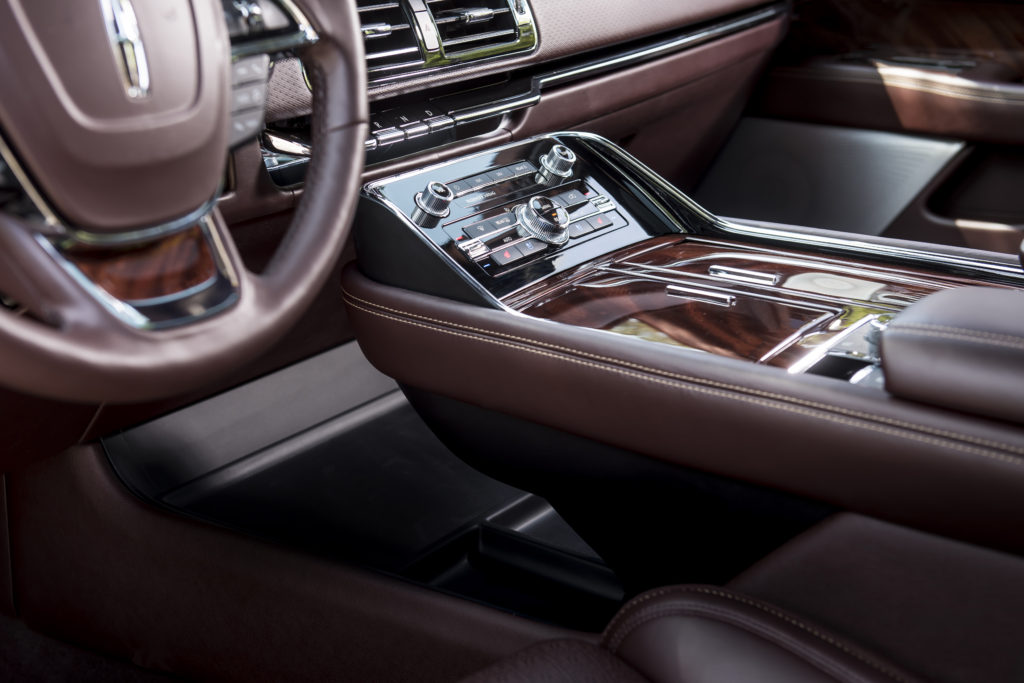 Seat massage controls reside in the Lincoln SYNC®3 system, accessed via the 10" capacitive touschscren. For some reason, Lincoln placed the steering wheel heating contorl on the touchscreen intead of on the steering wheel itself… I scratched my head over that design decision, but a quick trip back to the home screen usually turned up that switch.
The Lincoln's bulk means a certain amount of distance between the driver and the pedals, so before you test-drive this Navigator, use the buttons just to the left of the steering column to adjust the position of those pedals.
2nd-row passenger captaints chairs tilt, recline and heat up. The optional 2nd-row centre console wasn't included on my tester, so the seats featured fold-down armrests. Each seat folds forward, allowing access to the thrid-row reclining seats. Choose a second-row bench and you convert the Navigator from a 7-seater to an 8-seater.
A panoramic lets in the sun over the heads of both 1st– and 2nd-row occupants, while 3rd-row passengers get to enjoy the view up and ahead.
Hockey bag test
Surprisingly, the bag did NOT fit longitudially in the hatch with the 3rd row of seats up. That hardly matters. I lowered both 3rd and 2nd-row seats with a few presses of handily-placed buttons just inside the hatch to the left. A bicycle does fit with the 3rd-row seats down, even if you don't take the front wheel off.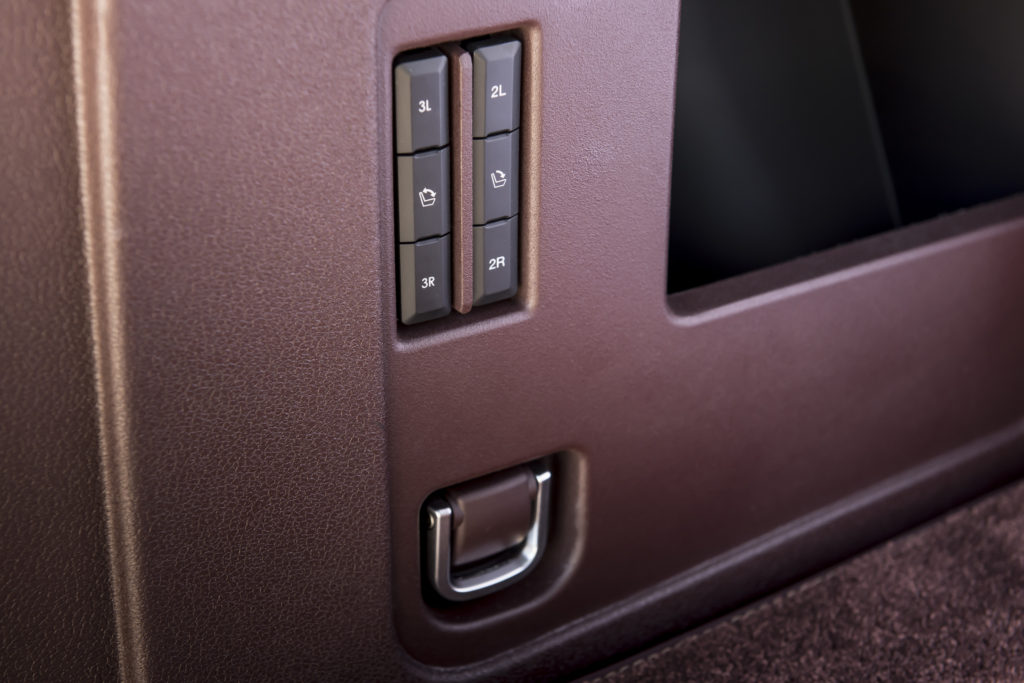 In-cabin technology
Lincoln extended luxury to just about every conceivable technological touch you might want in a vehicle.
The driver gets both a fully digital 12" configurable instrument cluster as well as a heads-up display. Those screens provide intuitive control over all driving and other vehicle settings via a switch and buttons under the driver's right thumb.
Second—row passengers need not make music requests, since they have their own simplified audio controls grouped with climate and seat heating controls of their own. The touchscreen in front displays their choices clearly enough to be read from the second row.
Two USB ports up front (of 6 portstotal) reside beside an angled rubber wireless phone charging pad. If you're connected, play your tunes through a Revel® Ultima® Audio System. Twenty speakers reside throughout the cabin. Some of these appear as metallic accents on the doors, adding a futuristic luxury touch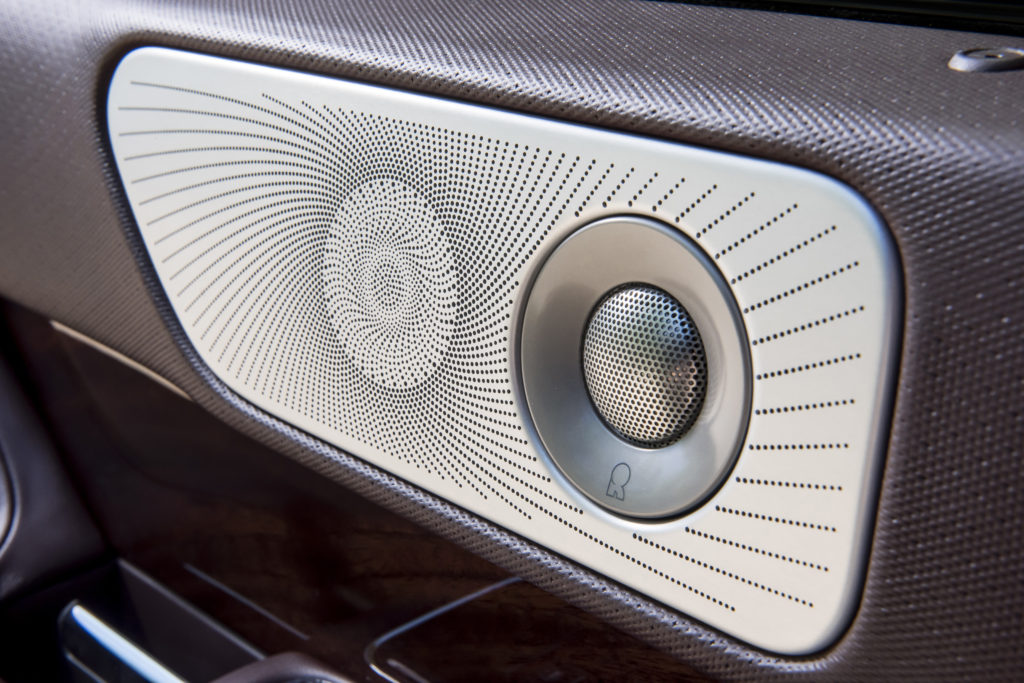 SYNC3® has made large strides in usability (particularly since SYNC first hit the market) but Lincoln adds Android Auto ™ and Apple CarPlay ™ as well, resulting in a genlter learning curve for smartphone owners.
Driving
It's easy to get so caught up in Lincoln luxury that you forget you're in a truck, with all the working towing and cargo capacity that term implies.
A ten-speed transmission makes plenty of sense when you need to haul this much bulk, but – and I can't get over this – the vehicle offers paddle shifters on the steering wheel. I'm not normally one to request an automaker drop a feature, but when your 6,000 lb-plus vehicle can tow more than 8,000 lbs, I'd be inclided to let the transmission choose the gears.
As with most such systems today, the Navigator takes over if you forget to shift. That ought to keep the 450-hp 3.5L twin-turb V6 running smoothly, as it did during my time with the Navigator. Ride quality proved civilized at all times, with bumps in the road hardly ever making it to the cabin.
Adaptive cruise control made urban highway drives more tolerable, and it kept the Navigator, more susceptible to the forces of inertia thanks to its size, out of trouble with little input from me.
One "gadget" I would never deny another driver is the 360-degree view around the vehicle that supplements the rearview camera whenever you put the Navigator into reverse. Initial worries about fitting into parking spots vanished quickly, thanks to the enhanced exterior views coming into the cabin, combined with the Navigator's proximity sensors. Maybe such systems could be deemed standard equipment on vehicles above a certain size…
The Navigator gets "bigger" if you use its heavy-duty tow package to tow trailers. Pro Trailer Backup Assist makes it easier to back them up. Forward or backward, you'll be grateful for the maximum 510 lb-ft of torque on tap.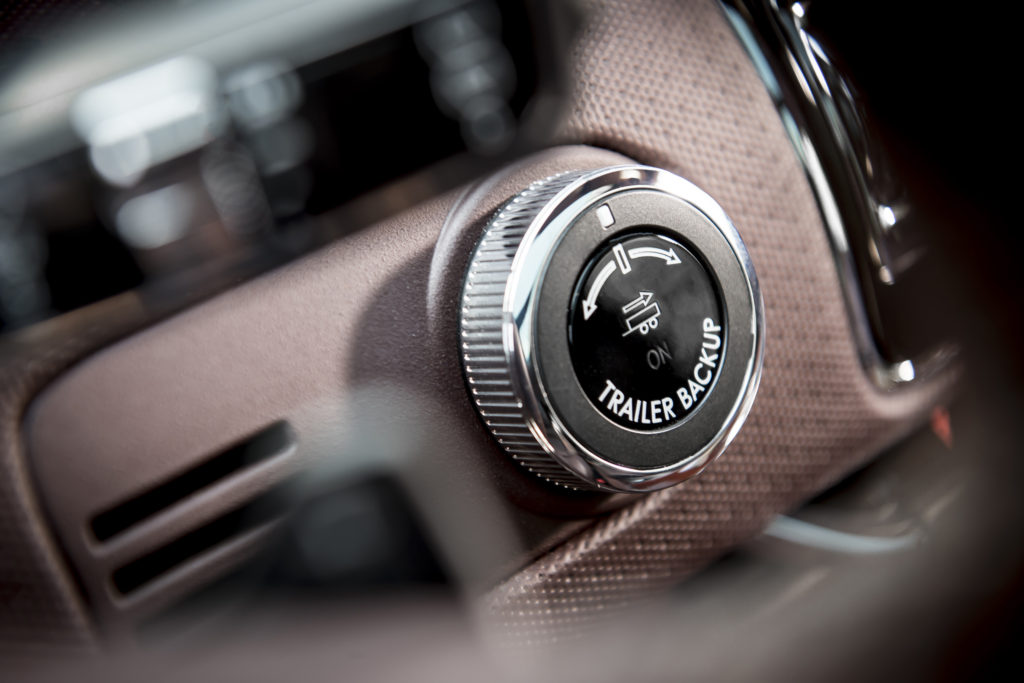 A dial on the centre console lets drivers adjust to different driving conditions. Lincoln also adds an "eco" setting, though economical driving may be a bit much to hope for in the Navigator. Thankfully it does feature engine start/stop technology so you minimize fuel spent while standing still.
Fuel economy
Lincoln publishes estimates of 15 L/100 km city and 11.4 L/100 km highway for the Navigator, which slurps gas from a 102-L tank.
Pricing
The 2019 Lincoln Navigator Reserve L can be had for $99,750. With options and other charges, the vehicle reviewed here comes to $107,200.