Compact SUVs have come a long way since their introduction more than two decades ago. Once considered utilitarian runabouts with better fuel economy and drivability than the larger models they were based upon, "sport-cutes" have carved out a huge market niche for themselves.
To keep pace, automakers must go beyond the CUV's utilitarian roots. From looks to performance to luxury features to in-cabin technology and beyond, CUVs compete with just about any other vehicle class in offering the features drivers want.
Hyundai is known for packing a surprising number of features into value-prices vehicles, but it's happy to tweak its offerings to suit luxury tastes. If you want to go upmarket Korean, try the 2019 Hyundai Tucson Ultimate AWD AT.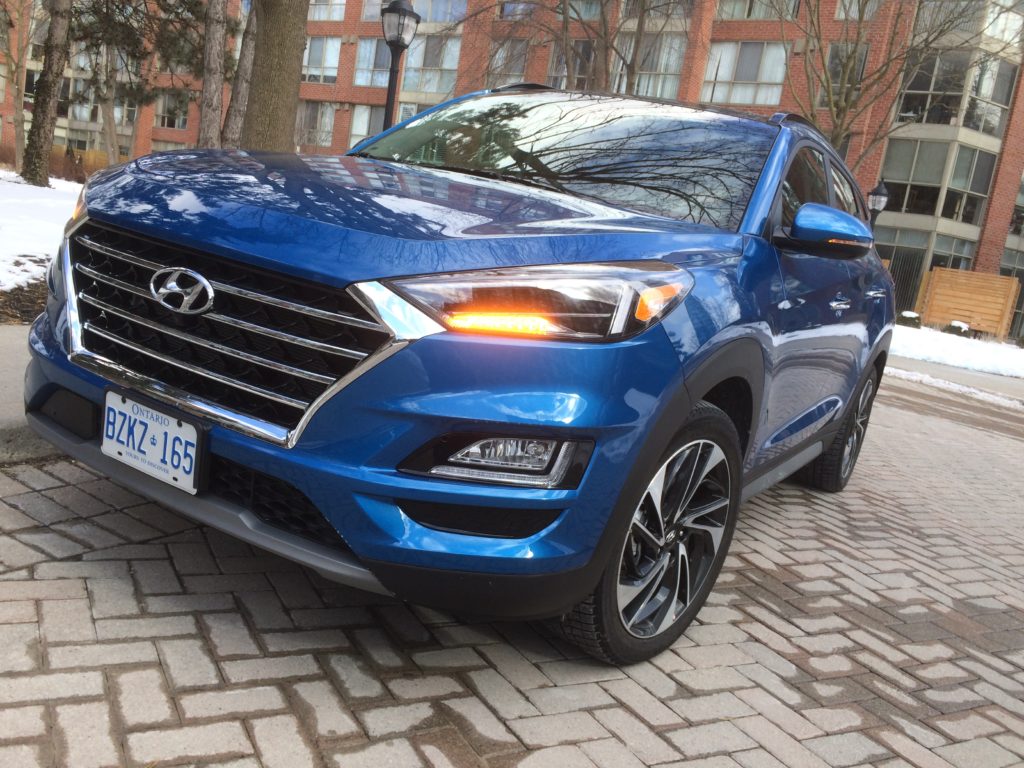 First impressions
My bright blue tester strikes the right style notes from the new Hyundai cascading grille and (obligatory) squinty LED headlights to the new rear fascia. Redesigned 19" wheels set off the body perfectly.
Interior
Leather heated and ventilated seats combine with dual-zone climate controls to keep front seat passengers comfortable. A heated steering wheel keeps bare hands warm, though I look forward to the day when the switch to activate it sits on the steering wheel itself.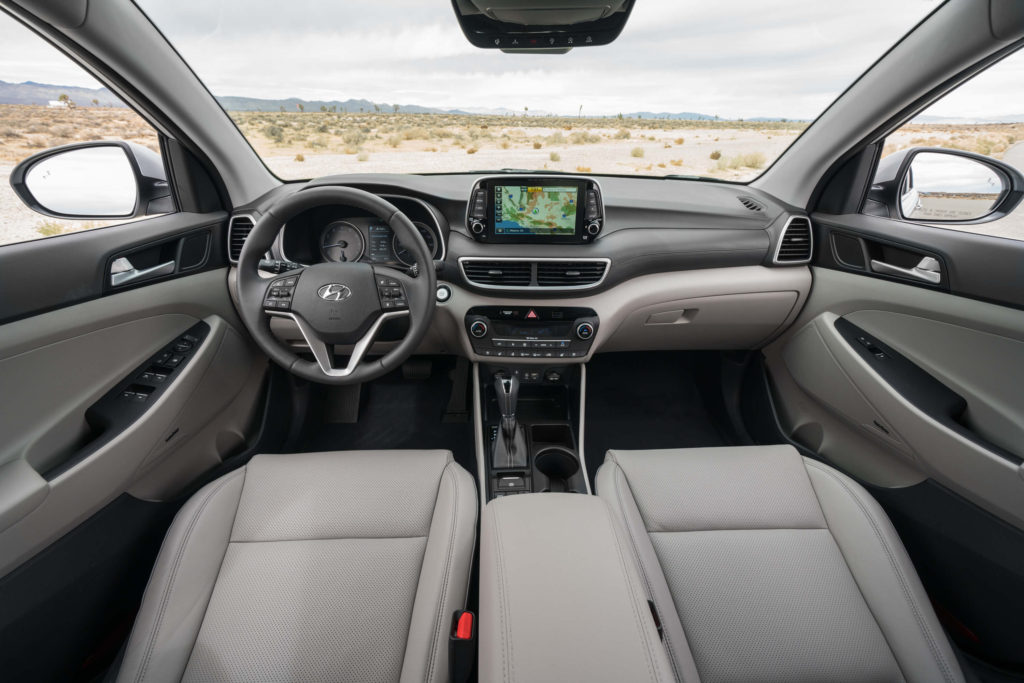 Heated rear seats feature enough head room for my 6'5" frame, thanks in part ot the relatively level roof that does not slope down before the raked rear window. This is where you want to sit to truly appreciate the panoramic sunroof.
Hockey bag test
The bag fit longitudinally in one half of the hatch without my having to fold the 40-60 rear seats down. There was enough room on the other side of the hatch for another bag. Sticks slid easily over the rear seats. The power liftgate features a close button at its base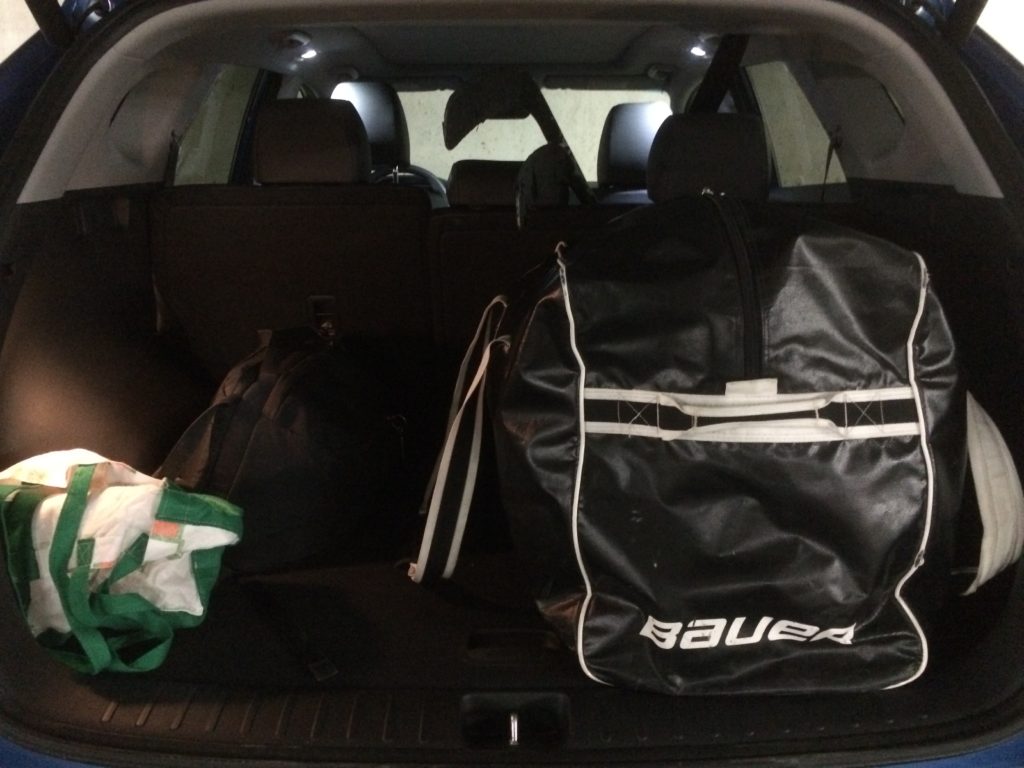 In-cabin technology
The 8" touchscreen (a 7" touchscreen comes standard) is flanked by eight buttons and two knobs, so drivers won't need to actually touch the screen to access the most commonly used features. Hyundai's infotainment system has made a few quiet strides, but the availability of Android Auto ™ and Apple CarPlay ™ (standard on all models) means many drivers may forego the in-car system. Audio reaches passengers via an Infinity sound system.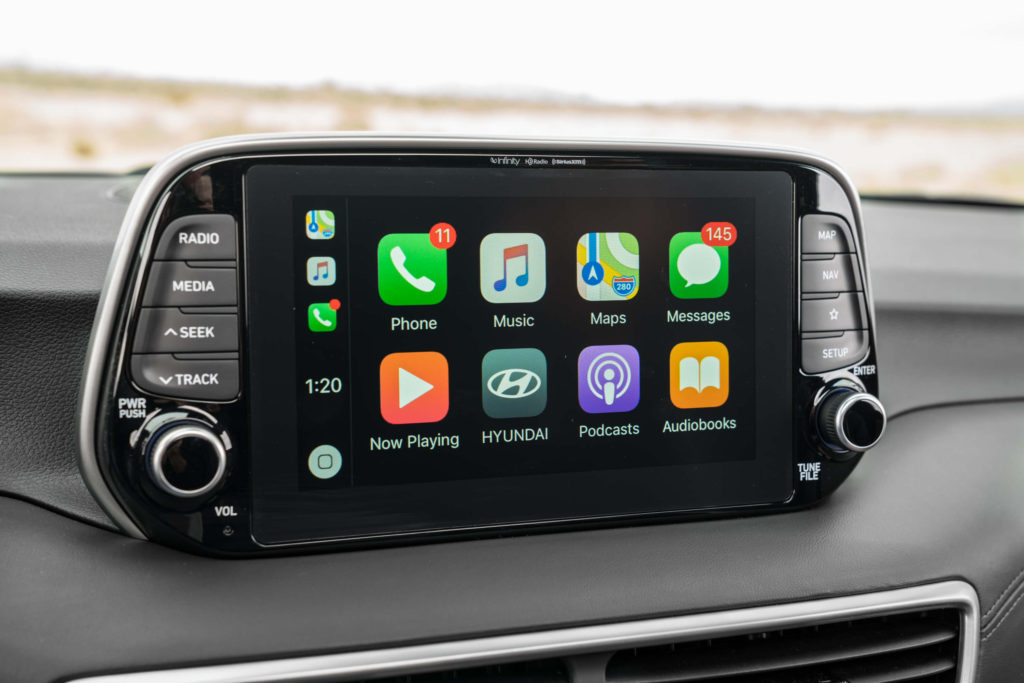 The instrument cluster consists of a typical portrait-orientation screen sandwiched between an analog speedometer and tachometer. Controls under the right thumb let drivers set up the car's features the way they like and switch between drive information screens.
Driving
The 2.4L engine drove all four wheels via a 6-speed automatic transmission. (A 2.0L engine, front-wheel-drive and a 6-speed manual are available too. Hyundai dropped the 1.6L turbocharged engine with 7-speed transmission option for 2019.) Sport mode delays upshifts when you want the engine to provide highway passing or merging horsepower, but regular drive mode proved adequate in all situations I encountered.
If you have a long highwya commute every day, you'll enjoy the Tucson's adaptive cruise control. It proved civilized and responsive, braking just enough to keep a safe following distance while not jostling passengers. It works from a stop as well. This meant that when I encountered stop-and-go traffic, the Tucson stopped and I could get it going again by tapping the accelerator. The screen in the instrument cluster helpfully prompts you to do this.
Speaking of screens, my Tucson's touchscreen displays a 360-degree view (Surround View Monitor) around the vehicle, as well as the rear view, when you shift into reverse. This system is active safety taken to a new level.
Not unlike its competitors, Hyundai is making a suite of active safety technologies nearly ubiquitous. Hyundai's offering is called SmartSense and it includes forward collision-avoidance assist, lane keep assist and driver attention warning. It's available for $400 on the base Tucson and standard on all other trim levels.
Other active safety features on the Ultimate trim level include blind spot collision warning and rear cross-traffic collision warning, which ought to make Saturday trips to mall parking lots just a little less hazardous.
Fuel economy
Hyundai's numbers are 10.1 L/100km combined, (11.0 city, 9.1 highway) which about matches what I saw on the in-car fuel economy monitor. Hyundai posts more economical numbers for the 2.0L engine: city/highway/combined 10.1/7.9/9.1L per 100km.
Pricing
The 2019 Hyundai Tucson Essential 2.0L FWD trim starts at $25,599 MSRP. My tester, the Ultimate 2.4L AWD, sells for $37,999 MSRP.
Conclusions
Hyundai took their experience at tightly packing value into their vehicles and created a more upmarket version of the Tucson. Even lower trim levels offer attractive features, from smartphone-based infotainment interfaces going through a 7″ screen to affordable active safety technologies to a new body design that looks great. If you're in the market for a compact utility vehicle, the Tucson is worth a look.