Advanced technology, sporty performance, luxury refinement – these are but some of the rules in the automotive market segment BMW occupies. The Bavarians push the standard even further with the 2019 BMW X4.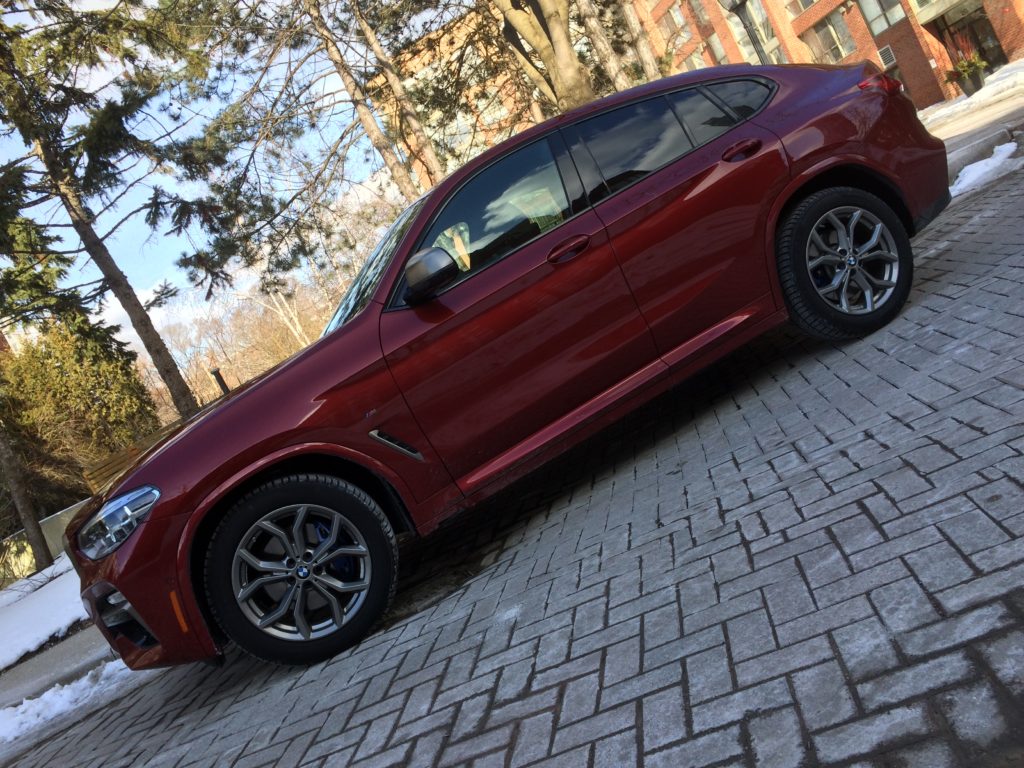 First impressions
My M40i M Performance tester in Famenco Red Metallic hit all the right style notes.
BMW combined the muscular front end typical to its vehicles with a steeply raked rear window. The result: the looks of a coupe in a 4-door-plus-hatch model that turns heads. Despite its wider track and lower centre of gravity, it's still too large to look as racy as a sports car. However, among compact SUVs – sorry, Sports Activity Coupé in BMW parlance – the X4 will turn a higher than average number of heads.

There's more to this redesign than looks. As stated in BMW's press release, the model achieves "a reduction in aerodynamic drag of around 10 percent. This advance has been achieved by streamlining the body at the same time as incorporating a raft of additional measures, including active air flap control, the Air Curtains in the front apron and additional underbody cladding. The all-new BMW X4 sets a new benchmark in its segment with a drag coefficient (Cd) of 0.30."
Interior
This is a BMW interior through and through. Vernasca leather sport seats ensure the right combination of comfort and support. Front seats are heated and ventilated. The steering wheel can be heated. There's plenty of front-seat headroom even with the panoramic moonroof. You're surrounded by tight fit and finish, accented by red stitching and softly glowing LED lights you'll see at night. All the expected upscale touches are there.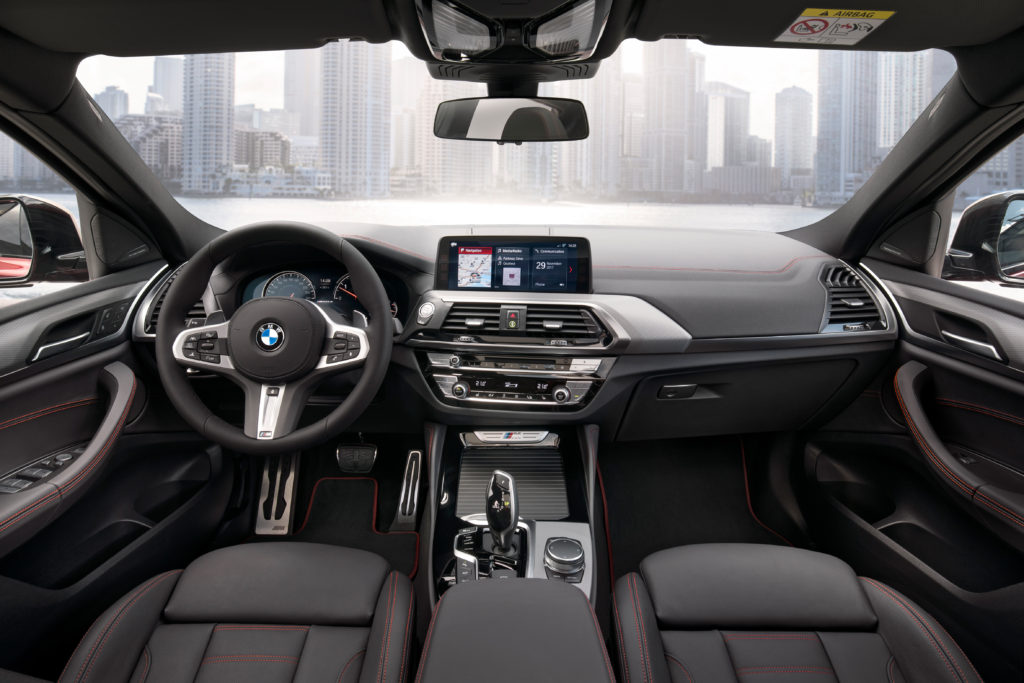 Rear seat passengers may enjoy that moonroof, provided they are of average stature. That steeply sloping back end does rob the back seats of headroom, a typical tradeoff of tall-person comfort in favour of a good-looking exterior. Heated seats ought to help make up for that loss. So should the 3rd zone of climate control covering the rear seats (the first two cover the driver and passenger seats).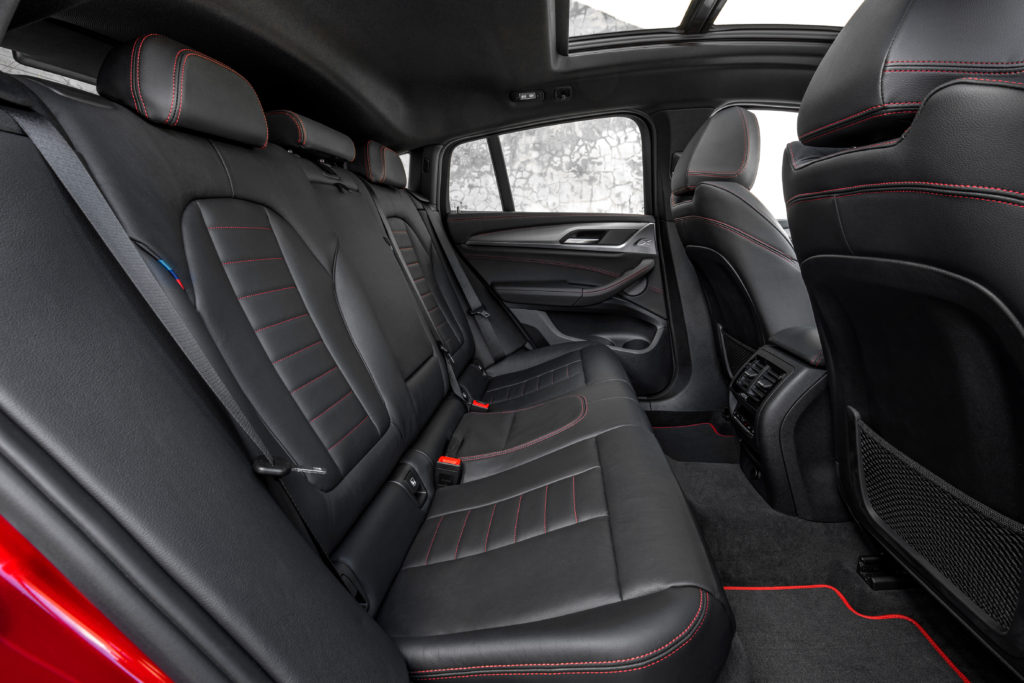 Hockey bag test
The bag fit longitudinally and I could have slid another similarly-sized bag beside it with no issues. Sticks slid through the middle folded seatback of a 40-20-40 setup.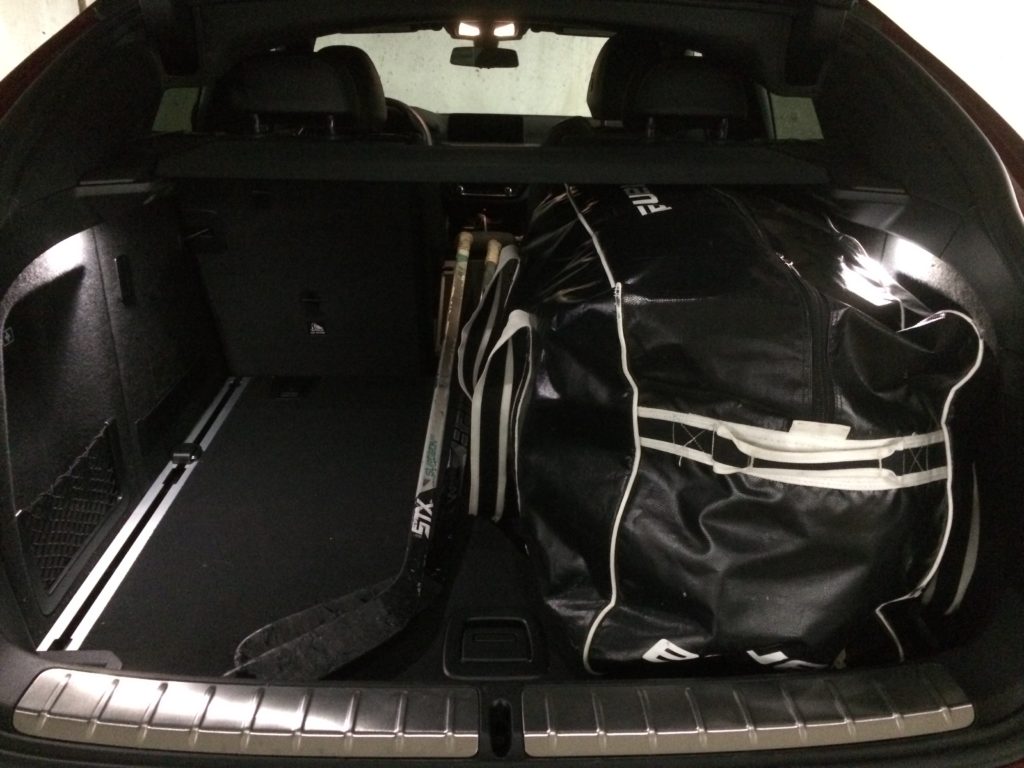 The trunk features additional compartments, USB ports and 12V sockets, multifunctional hooks and lashing rails, all standard.
It's fun to discover design details, no matter how mundane. For example, the privacy cover only seems to reach halfway back to the rear of the cargo compartment. That's because designers attached the other half of it to the hatch lid. When the hatch is closed, the cover protects the entire compartment from prying eyes. When open, drivers need not move the cover to reach for cargo situated near the seatback – it's already out of the way.
In-cabin technology
BMW hasn't upped its game here that much, but then again, it hasn't needed to for years. Its infotainment and instrument cluster systems have been phenomenal for years.
The wide screen perched in the middle of the dash displays a main menu dominated by six large icons, three per screen. This is an evolutionary change to a system that earned high useability marks. The only downside has to do wtih the sheer number of features accessible using this screen. Non-car people might not be able to find every feature easily without rough knowledge of where features might be grouped, or perhaps a course on using them all.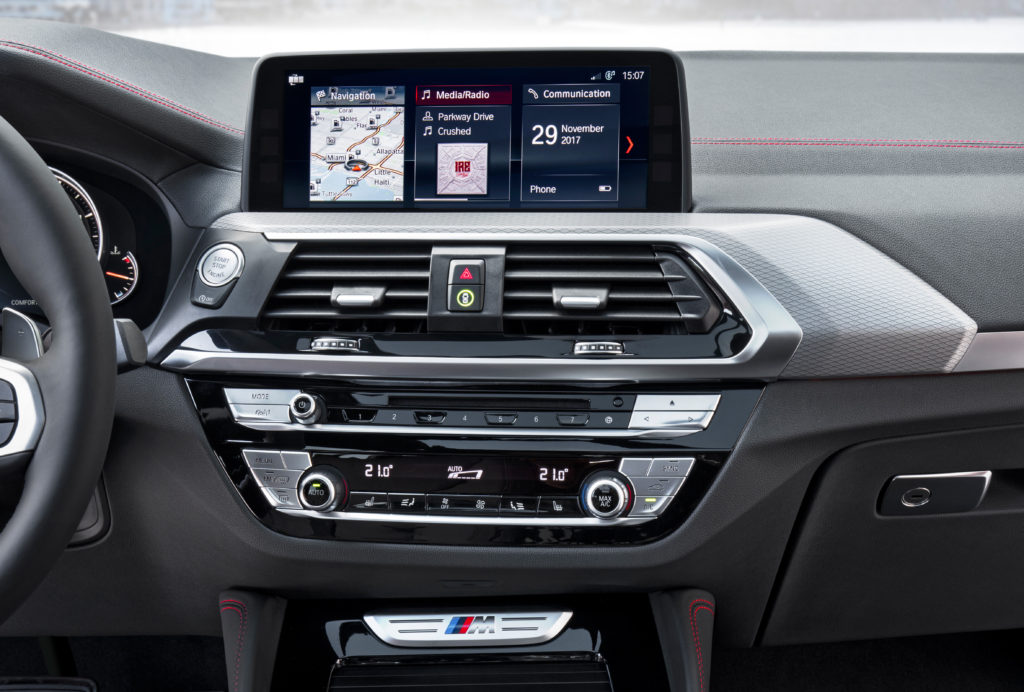 You access these features using the command cluster near the shift lever, not by touching the screen. The Commander knob/button/joystick and the seven buttons surrounding it are far more usable than a touchscreen. Simply rest your forearm on the lid of the centre storage unit and work with these controls. Your shoulder will thank BMW for putting these controls here for you.
That round device is also a trackpad that you can use to write letters, numbers and punctuation on the screen. Even though I haven't used a Palm Computing device in more than 10 years, my still-flawless knowledge of the PalmOS Graffiti system of characters enabled me to enter addresses and other information, and I never looked down at what I was writing. The system also verbally confirmed each letter and number I "wrote" so I didn't have to look at the screen either.
The X4 boasts a 75 percent larger heads-up display. Just about anything you need to know about the drive can be projected on the front windshield – navigation directions, following distance for adaptive cruise control, current speed and so forth – in full colour. Visible in all ambient lighting conditions, it's a step up from BMW's already top-nothch HUD.
Just below the HUD, you'll find the full digital instrument display. It takes on different designs depending on the drive mode you select (Normal, Eco Sport or Sport).
Phones can rest on the wireless charging pad or get their juice from the USB port, both located just ahead of the shift lever.
Driving
The X4 tells you what you need to know about BMW M performance when you hit the Start Engine button. The X4's inline six-cylinder engine roars to life, announcing that it's ready to move.
355 hp and peak torque of 365 lb-ft propels the X4 M40i from 0 to 100 km/h in 4.8 seconds. Given my highway on-ramp experience in sport mode, I believe it. The X4 xDrive 30i's four-cylinder generates 248 hp and 258 lb-ft of torque.
An eight-speed transmission deliveres the power, and paddle shifters let the driver decide the shifts. Launch Control is standard on this trim level. M Sport suspension, brakes and other components round out the package.
Several highway rides were enhanced by the combination of the active lane-keeping assistant (with side collision avoidance) and active cruise control. Buttons for both systems reside under the left thumb, and once engaged, I only kept two fingers lightly touching the steering wheel for tens of kilometers at a time. Active cruise stays active in stop-and-go traffic as well, a boon for commuters in busy urban areas.
Safety features abound. The most obvious is a 360-degree view around the X4 when you put it into reverse. A button by the shift lever lets you manually switch the screen to this view.
BMW's active safety suite of technologies, known as Driving Assistant features, includes Frontal Collision Warning, City Collision Mitigation with Braking, Pedestrian Warning with City Braking, and other problem-avoiding technologies.
Pricing
The 2019 BMW X4 M40i retails for a base MSRP of $66,000. The model I drove inciuded Premium Package Enhanced, Advanced Driver Assistance Package, several other stand-alone options, and a price tag of $77,145, excludung the BMW Destination Charge.