If SUVs have been getting more popular as they grow smaller, could the same be said for hatchbacks that grow larger? When it comes to looks and practical roominess, the line between these vehicle types are so blurred they might as well not exist. That vague space is where the 2019 Toyota Corolla Hatchback plays.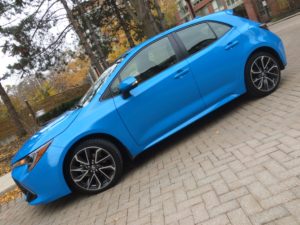 First impressions
This sporty-looking yet roomy hatch in bright blue is the latest iteration of the Toyota Corolla iM, which evolved from the Scion iM and started life, way back when, as the Toyota Matrix. (Pontiac had a vehicle on the same platform called the Vibe.)
The roominess was always apparent. Over time, Toyota has stepped up the sportiness to compete with similar offerings from competitors, especially those from its native Japan. The overall look is part of the Toyota New Global Architecture (TNGA). Sharp LED headlights cap a new large vertical grill.
Curves flow from the front over the hood and across the doors, replacing the more linear body style of years gone by. The rear window seems more steply raked under its slightly more pronounced rear spoiler. Tapered twin tailpipes complete the athletic look. Because of its size, I can't bring myself to call this Corolla a "hot hatch" but without a frame of reference nearby, I could accept the moniker on looks alone.
In case you're wondering, there might be an inch or two difference in height between this 2019 model and my neighbour's Toyota Matrix circa 10 years ago. It's lower, but not much.
Interior
Manually adjustable front seats are perfectly serviceable, although I did need to lean mine back a little after lowering it fully. Otherwise, my head was jammed against the ceiling. Regardless, I was never uncomfortable, and people shorter than my 6'5" will find this car a good fit.
Heated seats and steering wheel enhanced my comfort on cold days. While the seat heater switches were easy to reach, I had to peer around the steering wheel to see the steering wheel heater switch, located just above my left knee.
Hockey bag test
The bag fit without my having to lower the split-folding rear seats, although it did prop up the privacy cover, which impeded rear visibility. Sticks slid easily over the back seat rests.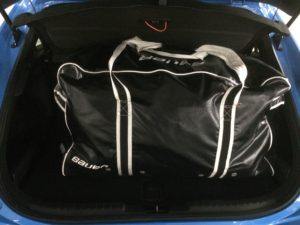 In-cabin technology
The 8" touchscreen propped on top of the dashboard provided easy access to all the infotainment options thanks to Toyota's Entune 3.0 interface. Kudos to Toyota designers for keeping multiple buttons and two dials, since some things should not be adjusted using a touchscreen.
Plugging in my iPhone gave me access to Apple CarPlay.
I had to bend down and to the sie to find the one USB port embedded "under" the dash. It might have made more sense to place the port near the seat heater switches. Those switches, incidentally, flank a wireless phone charging platform.
An "aha" moment hit me when I lifted my arm to control the touchscreen while driving. When your right arm is in midair, your hand ready to tap an onscreen icon, and the car hits even small bumps, you may not touch the thing you meant to touch.
Certain automakers are standardizing on infotainment controls that reside between the centre storage cubby and the gearshift. For example, Lexus, Toyota's sister brand,  places a touchpad and several buttons in this place. These controls let the driver rest, or should I say brace, the right arm on the centre armrest while changing infotainment settings.  Maybe it's time for Toyota to borrow the Lexus control system. That system makes for a better technology experience.
My Corolla Hatchback's instrument cluster was mostly analog with one screen to the right showing vehicle settings, radar cruise control speed, fuel economy and other information. Other trim levels ship with more digital display area in the instrument cluster.
Driving
A 2.0L 168-hp TNGA engine was mated to a 6-speed manual transmission. The combination made for a sporty ride, good passing power on the highway, good cornering – in short, better handling than you would expect from most econoboxes or SUVs.
If you read my reviews regularly, you'll know of my preference for the manual transmission, an endangered species among automotive technologies. Fortunately, Toyota continues to cater to people with this preference, even to the extent of embracing a #SaveTheManual hashtag. Here's something I copied from a Toyota press release:
(The) six-speed Intelligent Manual Transmission (was) designed from scratch for this super fun hatch. The 6-iMT is definitely not your grand-dad's stick-shift.   Toyota has pushed the boundaries of the manual transmission, with features such as downshift rev-matching control to ensure smoother and faster changes between gears*. The result is that driving a stick has never been easier – or more fun.
You activate iMT using a button near the base of the gearshift. And that about describes it. I was wondering whether the blips I gave the accelerator during downshifts were actually needed, but decades-old habits die hard and I would not downshift without at least trying to match the engine's revs to current wheel speed.
If manual isn't your thing, Toyota also offers a direct shict continuously variable transmission (CVT) with available paddle shifters and sport mode.
Adaptive cruise control and a manual transmisison may appear to be strage bedfellows, but it has been pulled off in other vehicles. It works in this hatchback as well, although it cuts out if you slow down to abotu 25 km/hr. It helps drivers experience the Corolla's other personality, that of civilized, quiet highway cruiser. If stop-and-go traffic forms part of your daily reality, opt for the automatic, but having adaptive cruise control in the manual model is a nice compromise for those who just want to maintain a safe following distance during steady cruising.
Active safety technology comes standard with the Toyota Safety Sense 2 package of features. 
Fuel economy
Toyota posted fuel consumption numbers of 8.4 L/10km city, 6.3 L/100km highway and 7.5 L/100km combined for the iMT-equipped Corolla Hatchback. Posted numbers are better for models that use the CVT instead.
Conclusions
The Corolla Hatchback hasn't survived its rebrandings on some executive's whim. Spacious inside yet easy to park, good on fuel and on long drives, this Corolla continues to offer the value it boasts at first glance, and will likely outlive any future rebranding Toyota might bestow upon it.
Pricing
The 2019 Toyota Corolla starts at $20,980 MSRP, about $1,800 less than the iM it replaces.