A conference earlier this year took me to Ottawa. During that week I drove Ford's 2018 Escape Titanium. Ford updated this decades-old CUV model with better looks and a solid ride that made the Toronto-Ottawa round trip a relaxing drive.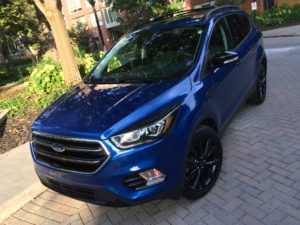 First impressions
Long gone is the stout, level stance of Escapes gone by. The Lightning Blue Metallic model shows lines that imply a forward lean to the vehicle, from the steeply raked windshield to the sloped rear window.
This Titanium benefits from optional black roof side rails and 19″ ebony black premium-painted aluminum wheels.
Interior
Firm partial leather-trim heated bucket seats proved comfortable and roomy. Leather also covers the heated steering wheel and shift knob, but that's about the extent of upscale touches. The whole interior could best be described as working-class: not fancy, but well-assembled. The ensemble makes me picture families taking kids to hockey practices, filling more than half of the eight cupholders scattered throughout the cabin. This is an interior made to be lived in and cleaned up easily.
Two parents can store power seat and power mirror settings in the two available seat memories.
If regular rear seat occupants like looking up at the sky, opt for the panoramic sunroof that stretches to just above their heads.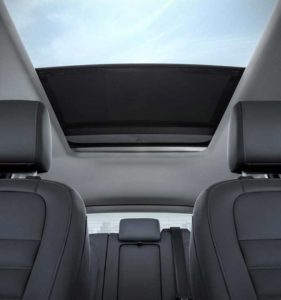 Hockey bag test
The Escape easily took my hockey bag longitudinally without the rear seats having to fold down. If the driver doesn't mind losing visibility out the rear window, you could stack four of them in the hatch. By the way, this is a foot-activated hands-free power liftgate.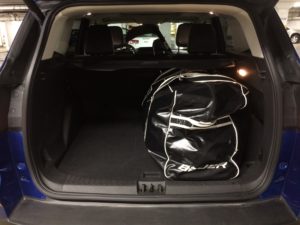 In-cabin electronics
Ford's fully-packaged in-dash SYNC 3 touchscreen has improved over what it was even five years ago. In-screen "buttons" are large so you don't miss them. That said, I gravitated to Apple CarPlay when it came time to use features on my iPhone. Even in its improved form, Ford's system doesn't match CarPlay for ease of use. (This shortcoming isn't unique to Ford. I could say the same for every other automaker's system I've tried.)
Music goes through a 10-speaker Sony audio system.
The single instrument cluster display sits between the tachometer and speedometer. The driver's left thumb can hit five buttons that make navigating this screen's features a breeze. This system dates back at least five years, but if it works, don't change it.
Driving
The 2.0L Twin-Scrolled EcoBoost engine, standard in Titanium trim, puts 245 horsepower through a six-speed transmission. The Titanium trim includes steering-wheel-mounted paddle shifters for drivers who want to manage gearshifts.
Should drivers pilot the Escape as though it were a smaller vehicle, standard Curve Control helps keep them out of trouble when they encounter bends in the road. Torque vectoring control, traction control, intelligent 4-wheel-drive and other technologies round out the Titanium's active safety technology suite.
In slow-moving traffic, Ford's forward and reverse sensing systems take over the touchscreen when the vehicle approaches obstacles. An image of the Escape is accompanied by several rings of dashed lines around the vehicle. Individual segments of these lines turn yellow and red when obstacles appear nearby.
In another nod to common sense, Ford integrates small convex mirrors into each side mirror. These should make blind-spot blunders a thing of the past for Escape drivers.
Fuel economy
The premium SUV owners pay for fuel wasn't bad in the Escape. During my lengthy highway drives using cruise control, the on-board mileage tracker told me I achieved between 8.5 and 8.8 L/100 km. 8.8 L/100km is Ford's published highway number, while drivers can expect 11.5 L/100km in city driving.  The Auto Start-Stop feature frequently stops the engine when you're at a red light, stop sign or just standing still, which helps lessen fuel consumption.
The Escape takes regular unleaded fuel.
Conclusions
The Titanium trim level brings upscale features to the Escape, an SUV made for sporting, outdoorsy Canadians who values practicality over luxury.
Pricing
As equipped, the 2018 Ford Escape Titanium I tested rings in at $42,689 MSRP. The Titanium starts at $32,631.