The writing is on the wall. Automakers are increasingly moving to propulsion systems that depend less, or not at all, on fossil fuels.
Different automakers have implemented different strategies to increase fuel efficiency across their fleets. Hyundai has joined the party by offering three separate alternative powertrains on just one platform.
The first two powertrains were hybrid and fully electric. Earlier this year, I drove the third powertrain variant: the 2018 Hyundai Ioniq Limited Plug-In Hybrid Electric Vehicle (PHEV).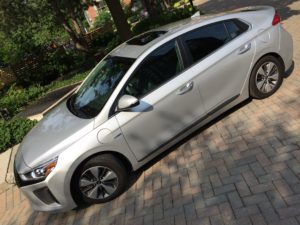 First impressions
The overall shape doesn't differ much from other hybrids where designers prioritize the minimization of drag. The whole package is designed to achieve a coefficient of drag of 0.24.
The Platinum Silver colour seems to be the de facto shade for green vehicles – go figure.
The Ioniq looks like a four-door sedan with a short trunk deck. In fact, the rear door provides access to a hatchback.
LED daytime running lights run vertically up the sides of the bumper, helping to frame the full front hexagonal grill. Look more closely at these lights and you'll notice airflow channels that make the Ioniq slipperier when facing wind resistance.
Interior
Leather heated seats are comfortable, if a bit tight. Even with the driver's seat all the way down, my head is still jammed against the edge of the moonroof. (Note: I'm 6″5″ tall, and this happens to me in quite a few vehicles, which is why I'd like to try versions that DON'T ship with roofs that open.)
In my tester, both front and rear seats were heated and the driver's seat features a memory function.
Matching blue strips subtly accent areas on the dash, like the HVAC vents, and piping on the seats. Blue accents also dot the car's exterior.
A spoiler sporting the brake light cuts horizontally across the rear window. The lower portion of the window enables the driver to see lower to the rear than would otherwise be possible. The privacy cover does not interfere with this sightline.
Hockey bag test
Surprisingly, the Ioniq's hatch room my hockey bag longitudinally with enough room for another bag of similar volume, without having to fold the rear seats flat.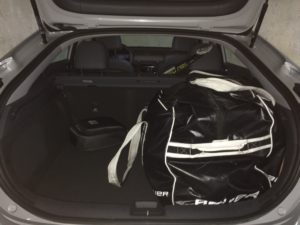 I would have expected the batteries to interfere back there, but they don't. That's because they're under the rear seats.
My sticks slid easily over the back seats.
In-cabin electronics
The (optional) 8" touchscreen provides access to all the modern conveniences – satellite radio, ordinary radio, Apple CarPlay, Android Auto and so forth. The one thing omitted is the optical disc reader. They've disappeared on many computers. Automakers are finally dropping them too.
Thankfully Hyundai knew better than to drop the on/off/volume and tuning knobs. Fully touchscreen systems aren't, IMHO, the way to go.
As with many other hybrid vehicles, the (optional) 7" instrument cluster "gamifies" the act of fuel-efficient driving, telling you what percentage of your time you spend driving economically, "normally" or aggressively. That's if you drive the Ioniq in Eco mode. In Sport mode, these statistics give way to performance measures.
Wireless smartphone charging accommodates one phone if the Ioniq's two USB ports are in use.
In a nod to intelligent eco design, the Ioniq's climate control was configured to send cold air my way, and not to the passenger side, when I picked up the car.
Driving
The Ioniq is, predictably, not anybody's idea of a screaming fast ride. That said, handling and feedback through the steering wheel feels solid. You can get decent acceleration if you floor the Ioniq, especially if you switch out of Eco mode and into Sport mode.
A new Kappa 1.6-litre four-cylinder engine with gasoline direct injection sends up to 104 hp through a 6-speed dual-clutch transmission (DCT). The electric motor, powered by a lithium-ion polymer battery, adds 45 kW of power and can provide up to 40 km of no-gas driving. (All numbers quoted from Hyundai.)
Hyundai bypassed the continuously variable transmission (CVT) common to other automaker's hybrids in favour of the DCT. Hyundai claims the DCT offers more direct throttle response and efficient power delivery.
If yours is a short- to medium-length commute, you could theoretically go until the weekend without burning a drop of gas. Just remember to plug the Ioniq in at night.
Or you could use the battery power for the instant torque needed to execute fast starts and stretch the Ioniq's power. That's what you get in Sport mode.
Active safety features make the Ioniq that much better. In an unwanted demonstration of Autonomous Emergency Braking with pedestrian detection, I heard the front collision warning beeper when a vehicle in front of me slowed too quickly for the adaptive cruise control system to, well, adapt. I did not wait to experience the Ioniq's braking assistance.
It also features lane keep assist, blind spot detection and rear cross traffic alert.
Rolling slowly through a parking garage with the windows down, you realize how quiet this car can be, It did emit noises like those of sirens that increase in pitch as you accelerate.
I was disappointed to find, of all things, paddle shifters. These things are now standard features on the Ioniq. I'd prefer to have the Ioniq choose gears if my goal is fuel-efficient driving. I presume the shifters appeal to drivers who regularly choose to drive in Sport mode.
Fuel economy
If they do, they're less likely to enjoy the 4.1L/100km fuel economy (combined city and highway) Hyundai boast on this hybrid blue model.
Conclusions
Outside of the DCT and standard paddle shifters, the Ioniq doesn't stray too far outside the PHEV mold. Keeping the battery from taking up trunk space means this small hybrid hatchback hauls more than it looks like it ought to. And with fuel prices at their current plateau, Hyundai ought to see plenty of interest from people who like to avoid fuel pumps whenever they can.
The 2018 Hyundai Ioniq PHEV starts at $31,999 MSRP. My Limited tester retails for $36,499 MSRP.