Automobile buyers have thirsted for SUVs over several decades, but not all of them like how thirsty they are at the pump. This consumer segment also values vehicles that are easy to park and otherwise manoeuvre in urban settings.
These consumers got their wish when crossovers hit the market two decades ago, but the "miniaturization" process hasn't stopped. Manufacturers are pumping out ever-more-compact SUVs to a market that gladly scoops them up, blurring the lines between compact crossovers, hatchbacks and station wagons.
I recently drove a logical step in this design evolution: the 2018 Hyundai Kona 2.0L Luxury.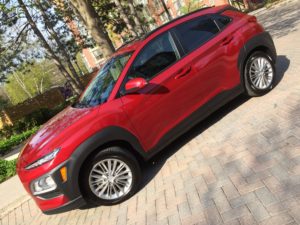 About the Kona name
Hyundai has a penchant for naming its SUVs after actual places. Here's a quote lifted from their press materials about this:
Hyundai Motor continues the approach established by Tucson and Santa Fe of naming crossover and SUV models after acclaimed travel destinations. The Kona is named after the coastal region on the Big Island of Hawaii, USA. The Kona region is famous among thrill-seeking travelers and the island's energetic image is reflected in the innovative, practical and highly functional design of Hyundai Motor's new lifestyle-focused SUV.
Now you know.
First impressions
I liked the Pulse Red Kona's look from the first time I laid eyes on it. Other people also dished out compliments too. The Kona's sporty look comes from touches like squinty LED headlights and taillights, the cascading grille, a sloping roofline leading to a rear spoiler, wheels at the corners and tasteful lines all over.
Lower lights, front and rear, are enveloped by the black body cladding that runs along the bottom of each side of the Kona. The cladding is meant to give the Kona a rugged appearance. The look around the lights suggests they're wearing glasses with no bridge.
The Kona is an SUV I can, with a straight face, call a car. Size-wise, it's not much bigger than today's popular large hatchbacks. The wheelbase is notably short, something I noticed when parking next to such vehicles.
Interior
That short wheelbase means certain capacity compromises. Rear-seat passengers won't be able to stretch their legs much. I had to give the tailgate a firm shove to close it when my hockey bag was in there. It does fit with the split-folding rear seats up, but only just.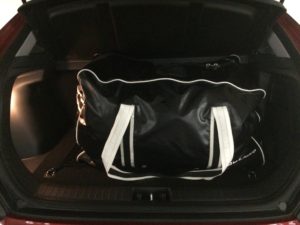 Hyundai added a mesh tie-down arrangement to help secure objects to the cargo area floor.
The heated front seats proved roomy enough, though I'd prefer to not have my hair molded by the moonroof frame above me. I'd prefer the extra inch I'd get if the moonroof wasn't there. All touch points have a quality feel to them. That includes the available heated steering wheel.
In-cabin technology
Apple CarPlay or Android Auto kicks in, depending on the model of phone you plug into the sole USB port.
The BlueLink smartphone app lets you stay in touch with the car, and you can recharge the phone on the optional wireless charging pad.
Kudos to Hyundai for its infotainment system design. Eight buttons flank the dashboard-mounted touchscreen (7" or 8", depending on the trim level), four to a side, so you only need to look in one place to both press a button and see the results of that button press.
Volume and tuning knobs sit below these buttons. No matter how often I experience more sophisticated systems, I prefer this simpler, easier-to-use layout.
The instrument cluster display sits between the speedometer and tachometer. The driver chooses the display's contents using steering-wheel-mounted controls. Hyundai doesn't go overboard here, offering the typical trip computer, mileage and settings information.
Hyundai offers a heads-up display in the Kona that displays information you'd also see on the other two screens.
Driving
The 2.0L engine tops out at a sufficient 147 horsepower and 132 lb-ft of torque. I developed the habit of using Sport Mode to pass other vehicles in highway driving. Otherwise, I left the Kona in Eco mode.
Power travels through a 6-speed automatic to all four wheels. No, there is no manual transmission. It's a pity. On a vehicle this size, a manual might make the Kona more fun.
In North America, Hyundai also offers a 2WD version with this engine, as well as a 1.6L turbo with a 7-speed transmission that raises performance to 175 horsepower and 195 lb-ft of torque. Different engine options are available overseas.
The Kona felt comfortable and under control at all times, even when I swung it through a roundabout. I realized later that it may have been actively keeping me out of trouble. Its all-wheel drive system features an Active Cornering Control system. It tracks both driver inputs and road conditions, then applies power and braking to the appropriate wheels to help keep the driver on the road.
Hyundai's SmartSense is a package of active safety features that includes blind spot detection, rear cross-traffic alert and rear parking assist.
Fuel economy
The Kona's numbers are passable for a vehicle in this segment. For the AWD model I drove, Hyundai published city/highway/combined numbers of 9.2/7.8/8.6 L/100km. The FWD model's numbers are marginally lower, the 1.6L turbo's numbers a little higher. The Kona takes regular fuel in its 50L tank.
Concluding thoughts
Marketing materials I've seen from Hyundai regarding the Kona scream "Millennial" but the compliments on this SUV came from 50- and 60-somethings too.
The Kona starts at $20,999 MSRP. The Luxury variant I drove retails for $27,499 MSRP.