Covering the technological marvels in any given vehicle becomes more of a pipe dream with every model year that passes. Fortunately, some vehicles let me distract readers from this inability using spectacular imagery. Let's see if that works here:
Consider the "key fob" otherwise known as BMW's Display Key. It alone could fill a review. And it's such a minor (if impressive) part of the 2018 BMW 640 Gran Turismo's overall makeup that I have no hope of uncovering every technological tidbit in this car.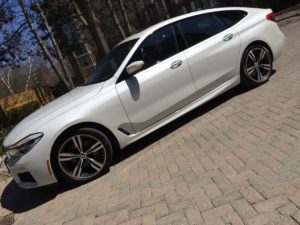 But I had fun trying.
First impressions
This may be cheeky of me to say, but the Gran Turismo has attractive hindquarters. (By the way, the rest of the car is handsome as well.)
The Alpine White GT strikes a fastback post thanks to the hatch in back. The rear spoiler deploys at about 110 km/h, though you can press a button to deploy it manually for cleaning. (and to elicit "oohs" from car buffs).
The rear spoiler, combined with the active kidney grille, air curtains and air breathers to improve aerodynamics.
The tailgate opens wide and tall, providing excellent access to a roomy trunk. When fully open, the lid rises to more than 6'8" – this means the tailgate may make contact with the ceiling of tight underground parking stalls. (I speak from experience – sorry BMW. At least I recharged the Display Key.) With all the sensors studding the car, it might be time to put one in the tailgate to prevent such collisions.
Shorter drivers will appreciate the hatch button on both remotes provided by BMW. If your parking stall is height-restricted, you'll want to at least keep a hand on the hatch as it opens. One gentle downward tug as it moves stops it from rising further than that tug. You can also program the hatch to open to a maximum height.
Placing a hand on the door handle, BMW L-shaped accent lighting "flows" onto the ground from just under the body ahead of the front door. The light fades as it goes further to the rear of the car.
Interior
Elegant brown suited leather seats, wood accents, a chunky heated steering wheel and a panoramic sunroof are among the most obvious highlights.
When starting the car, it seems BMW's ambient air system sent a quick, subtle jet of perfume into the cabin. The ambient air package ionizes (cleans the car's interior of suspended particles) and emits a fragrance into the cabin.
Ambient lighting glows from purpose-built lighting strips and from within the 16 partially illuminated silver speakers scattered about the vehicle.
Those speakers are part of the optional Bowers & Wilkins Diamond Surround Sound system, in which a a 10-channel amplifier puts 1,400 watts of power into any sound you want to pipe into the cabin.
Getting comfortable isn't a problem. Passengers in the rear enjoy power-adjustable, heated, and roomy seats. They get their own window shades, climate controls, and vents in both the door frames and the rear of the centre storage cubby.
Front seats are heated, cooled, offer two seat memories each, and provide massages to boot. The massaging kept up even after I killed the engine. I'm not complaining. Grand touring, indeed.
Hockey bag test
The cargo area will accommodate two full-sized bags with room left over. Need room for one more bag? Use a "-40" section within the 40-20-40 split-folding rear seats.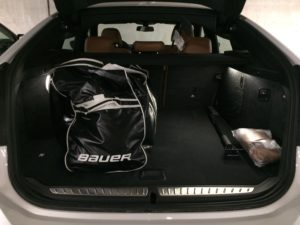 In-cabin technology
If ever you doubt that cars can be called computers on wheels, check out the number of things you can do using 640's 10.25-inch in-dash touchscreen.
BMW makes the options easier to navigate thanks to the controller, a combination knob/touchpad/joystick/button, and the seven buttons that surround it. Where appropriate, the system also brings up controls based on things you're doing in the car. Start the seat massagers, for example, and the screen displays your massage options. (In case you're wondering, the pampering was easy to get used to.) Still, I sometimes wonder whether every owner ought to attend a BMW-sponsored all-day workshop to master all the gadgetry they bought.
iPhone owners may skip much of the on-screen gadgetry and simply stick to CarPlay. (BMW documentation makes no mention of Android Auto.)
Volume controls are in all the usual spots – dial on the centre stack, buttons on the steering wheel – but when you use these, the screen reminds you that you can point at it and turn your finger clockwise to raise the volume, counter-clockwise to lower it.
These are two of six gestures you can use. One of these – the "two-finger jab" – can be configured to your preference.
The heads-up display adapts to whatever feature you may be using at the moment, in several bright colours that show up clearly in any lighting conditions. It's almost enough to make the fully digital instrument cluster just below it unnecessary.
The Parking Assistant, as I've seen in other BMWs, parallel parks like a pro. The BMW Display Key also enables remote control parking, i.e. without the driver needing to be in the vehicle. Perhaps inspired by a certain James Bond film (without the tire-screeching action), this could come in handy when putting the vehicle into a spot so tight it would be difficult to open the doors. Other Display Key functions include vehicle information, range remaining on available fuel and security information – i.e. whether anything on the 640 is open or unlocked.
But I doubt people buy this car for the security features and parking prowess.
Driving
A 3L 6-cylinder TwinPower Turbo engine can provide 335 hp and 332 lb-ft of torque to all four wheels via an 8-gear transmission. In plain language, this car has the oomph to launch quickly. Where it excels, though, is in providing a civilized highway ride.
Paddle shifters on the steering wheel let you go through the gears. However, I suspect most drivers will forego manual shifting to enjoy the adaptive cruise control. It proved responsive even in unpredictable traffic. That may be due to the system registering two vehicles ahead, not just one.
My foot regularly hovered over the brake pedal when cars swerved from an on-ramp to a nearby collector-to-express interchange, but the 640 managed well enough. I attribute that partly to my preference for the greatest possible following distance, which I estimated at about two seconds. If that sounds a bit low for maximum following distance, I've found that a two-second maximum seems to be the standard for such systems among carmakers. I look forward to adaptive cruise control systems that offer a little more following distance.
It's difficult to capture all the active safety features in the 640 without writing a manual-length review. Rear cross-traffic alert. A 360-degree view around the car. BMW's night-vision system showing any objects that radiate heat – i.e. living organisms like animals and human beings. This list continues for a while.
The 640 takes premium unleaded in its 68L tank. The 6-cylinder engine is thirsty, so you may be tempted to turn it off when stopped at a light or stop sign. There's no need. BMW thoughtfully included engine start-stop technology to do this automatically during most (not all) idling situations. The feature communicates with the navigation system to keep the engine running at, for instance, the entrance to a traffic circle.
Conclusions
When I first picked up the 640 for my review, I was able to get in, adjust the seats and mirrors, buckle up, and enjoy my first drive. For all the technological goodness in it, that's what I suspect many other drivers will do. It's technical sophistication can be both an asset and imposing at the same time. Fortunately, you won't need to do all the research I did (much of which did not make it to this review) to enjoy the ride.
The 2018 BMW 640 xDrive Gran Turismo starts at a base MSRP of $76,700. With the options on the car I reviewed, it came to $97,150. Certain features mentioned in this review are optional. Consult bmw.ca for more details.