Lots of drivers thirst for roominess but not the stodginess of minivans. Automakers know this. That's why just about every one offers an SUV that features three-row seating.
I spent a week with a mainstay in this category, the 2018 Honda Pilot.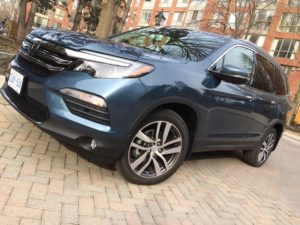 First impressions
Largely unchanged from 2017, the 2018 Touring model I drove hits all the right style notes while remaining conservative in its demeanour. Several people complemented the blue paint job. Modern LED lighting, scallops in all the right places on the body, nothing looks out of place. This vehicle carries itself well without being a head-turner. (Large vehicles rarely are.)
Interior
Inside the Pilot, there's a different story. The Touring trim certainly pampers occupants. Heated and cooled front seats and a heated steering wheel add to the comfort of the superb seats themselves.
The driver's seat offers two seat programmable seat memory settings that include side mirror positions.
The other rows of seats were roomy enough, though given my height I wouldn't want to spend too much time in the third row. Second-row seats in the Touring trim are power-adjustable, heated captain's chairs. Second-row passengers get HVAC controls and manual "subshades" in Honda parlance (I had to rewrite that several times thanks to autocorrect insisting on "subsides") to cover their windows and block glare.
There's one moonroof for the front seats and one for the rear two seats. If you forego the ceiling-mounted entertainment system (I'll come back to this), you can opt for one panoramic moonroof.
Hockey bag test
Like the majority of three-row SUVs I've driven, the hatch would not accommodate the width of my hockey bag when I placed it latitudinally. I ended up folding the -40 section of the third-row 60-40 split-folding seats and placing the bag longitudinally.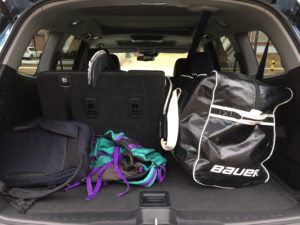 I couldn't end this review without a shot of just how cavernous the Pilot can be. This thing was built to conquer Mount IKEA.
In-cabin technology
I justify the minivan comparison by pointing to the ceiling-mounted video entertainment system. In other words, the Pilot neatly fits the stereotype of kids quietly watching movies on long road trips.
There's a nine-inch screen, remote control, and the pockets mounted behind each front seat contain headphones so occupants can enjoy movie audio while front-seat occupants listen to whatever's on the radio.
That's AM radio, FM radio, satellite radio, or whatever their smartphones contain or pull in, pumped through the Touring's 540-watt audio system and 10 speakers. The Pilot offers Apple CarPlay and Android Auto as an option. (The kids might tell the adults to keep it down.)
Five USB ports are a nod to modern device-charging needs. Other trim levels ship with three USB ports, which is still an above-average number.
Driving
The 3.5-litre 24-valve V6 delivers 280 horsepower and 262 lb-ft of torque, which means you can tow some cargo in addition to the people and stuff you pack into the Pilot. Acoustic glass and active noise cancellation ensure a ride where road noise doesn't intrude on your entertainment of choice.
Fuel economy is about what you'd expect with a vehicle this heavy sporting an engine this size. The in-dash monitor never went below 11.4 L/100km. Honda claims city/highway/combined numbers of 12.4/9.3/11.0 L/100km.
The idle-stop feature certainly makes a difference, stopping the engine at many red lights, stop signs and other situations where the vehicle wasn't moving. So does the Eco-Assist system. Turn Eco-Assist off and you tap into more of the Pilot's power. The Pilot takes regular fuel in its 74-litre tank.
Honda includes paddle shifters on the Touring trim so you can go through the nine gears manually. Paddle shifters in a vehicle with three rows of seating and a video entertainment system for the back two rows makes about as much sense as … I'll let you finish off that lengthy one-liner however you choose. Suffice it to say that automakers need not build multiple personalities into a vehicle. Sometimes the one it ships with is the only one it needs. Other trim levels feature a six-speed transmission (and no paddle shifters).
There's no scrimping on active safety features. A collision mitigation braking system chirped at me several times to brake. That was because I was watching adaptive cruise control manage my speed on highway drives, seeing when it would slow the vehicle.
This was another case of split personality. The Pilot was a little too eager for my liking to get back up to speed after a slow-moving vehicle got out of my way, leaving a clear path ahead to the next vehicle in the distance.
Safety-conscious drivers, take note: this adaptive cruise system did feature the longest following distance setting I've ever seen in action. Honda just needs to tune it so that the Pilot speeds up and slows down at more respectable rates.
Lane departure warning seemed to pull the steering wheel to get me back into the centre of the lane several times. The more I experience haptic feedback through the steering wheel like this, the more I like it. I just hope drivers don't rely on it when they drive on roads where the Pilot can't detect faded or absent lane markers.
From hill start assist to traction control to blind-spot warnings, Honda built plenty of electronic aids into the Pilot – most of them as standard equipment. Given the vehicle's girth, I would like Honda to put a 360-degree view of the vehicle on the touchscreen. I settled for the front and rear parking sensors, though I adapted to the Pilot's dimensions quickly enough. It proved easy to park, in reverse or parallel.
Conclusions
Honda designed the Pilot to appeal to people-haulers wanting slightly more interior space. And dealers will happily outfit the Pilot for every long road you may travel with your brood.
The Pilot starts at $40,590 MSRP. The Touring trim starts at $51,990, before options mentioned in this review. My Touring tester was crammed with just about every feature. Check Honda's website for more details.