There's a well-defined market for large, luxury highway cruising sedans. Their buyers may drive themselves, but don't be surprised to see them in the back seat as a chauffeur takes care of the driving.
American automakers have a long history of excellence here, and one of them recently brought back a classic nameplate that would not fit anywhere else. Even after a lengthy absence, the 2017 Lincoln Continental steps right back onto this dance floor looking like it hasn't lost a step.

First impressions
This long, wide, elegant sedan promises comfort during long highway rides. My tester, the Lincoln Continental Reserve in white platinum, shows few sharp edges, from the smoothly integrated premium LED headlamps flanking a new grill design, through tasteful curves on the sides to the dual exhausts integrated into the rear bumper. Curved door handles add interest since they reside at the base of the window sills.
Approach the Continental and lights "fade on" front and rear. Mat lights illuminate the space outside the doors and certain interior lights come on as well.
Interior
Once you step over the lighted Lincoln-badged sill (the Lincoln logo glows) into the cabin, there's no doubt this sedan means to coddle its occupants.
Close the door slowly and the Continental gently and quietly finishes the task for you using "power-cinching" technology. This was my first taste of the quiet comfort surrounding me.
The front seats adjust in seemingly endless ways. (Lincoln says 30.) Lincoln calls them new Perfect Position Seats and claims they were inspired by private jets and high-end office furniture. There are even separate adjustments for the left and right thighs.
The front seats seem made in two parts: leather seating surfaces appear separate from the frames that support them. The look wouldn't be out of place on the bridge of a fictional starship in a science-fiction movie.
You could fiddle with seat controls for a long while. Feel for the power steering wheel adjustment on the underside of the steering column, get the height and reach right, and you're set to go. (Of course, the leather steering wheel is heated as well.)
That fiddling could take a while in part because Lincoln could stand to better indicate the location and usage of adjustments like the steering wheel toggle and seat switches. After feeling for the seat adjustment switches on the side of the seat and not finding them, I started to play with the switches on the door. This is a good place for them. That said, I wasn't sure which switch did what. Labels on each would have helped my memory. Fortunately, Lincoln provides three seat memory switches there too.
Exiting the Lincoln proved momentarily confusing for several passengers. Instead of a door pull, you use a button on the door. Place your hand in the cavity you use to pull the door closed, let your thumb fall to the outside of that cavity, and your thumb finds the button easily enough. Certain passengers took upwards of 15 seconds to figure this out.
These minor design considerations may fool first-time occupants but they fade into the background quickly enough. That's because the foreground is so enticing.
Luxurious heated and cooled Terra/Ebony leather seats, front AND rear, carry all occupants in supreme comfort. While not comparable to the front seats, the Continental's rear seats seem to offer more adjustments than the front seats in many other cars. Climate control registers in the door pillars and between the front seats, coupled with controls for same in the fold-down centre armrest, give rear-seat passengers a limousine-like experience. My only quibble here was a lack of headroom for my 6'5" frame.
Windowshades roll up beside and behind rear seat passengers to give them privacy and protection from the sun. If sun is your thing, roll back the ceiling material to reveal a panoramic moonroof. You can open it to get fresh air coming in from above.
Leather and wood accents mix tastefully with the silver Revel Ultima Audio door-mounted sound system speakers, several of 19 total in the Continental.
The sound system is impeccable, thanks in part to the quiet ride the Continental boasts.
Hockey bag test
My bag took up half the trunk. Sticks slid through a pass-through between the 40-20-40 split-folding rear seats and came nowhere near the backs of the front seats.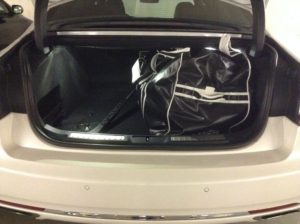 Opening the trunk was as easy as swinging a foot under the rear bumper and letting the lid come up of its own accord.
In-cabin technology
Ford has been refining its systems over time and their effort has borne fruit these past few years. The SYNC 3-based system consists of not just a responsive touchscreen but also the right dials and buttons just underneath that enable occupants to quickly execute common actions.
Don't be surprised if rear-seat passengers exert some control over the sound system using controls embedded in the centre armrest. Then again, if they're the car's owner and you're the chauffeur… or if they're your kids…
Lincoln added both rear-view and 360-degree camera views. The latter gave me an extra degree of comfort when backing this large sedan into parking spots.
Driving
The 3.0-litre GTDI twin-turbo V6 engine never lacks for power, transferred to the wheels via a six-speed transmission. Expect 400 horsepower and 400 lbs.-ft. of torque and smooth, responsive, quiet power. The Continental positively sprints from a standing start. Passing power on the highway is always on tap. Lincoln's press materials justifiably repeat the words "effortless power" to explain the performance it offers. (Lincoln also offers a 2.7L GTDI V6 in other Continental trim levels.)
Continuously controlled damping helps isolate Continental from road imperfections. Road feel is too "smooth" to be considered sporty, which is why the steering-wheel-mounted paddle shifters seem out of place. After all, you go from Park To Drive to Reverse and so forth using buttons mounted between the Start/Stop Engine button and the infotainment screen.
Lincoln packs the modern conveniences into this Continental, from active park assist to a smoothly adjusting adaptive cruise control to lane departure warning to pre-collision assist with pedestrian detection and other technological goodies.
Fuel consumption
Once you fill the 68L tank, Lincoln claims 14.4 L/100 km city, 9.7 L/100 km hwy and 12.3 L/100 km combined.
Conclusions
The 2017 Lincoln Continental starts at a base MSRP of $60,500. With options and fees, my tester came to $80,450. This is a competitive price in a segment that features six-figure flagship models, particularly from European automakers. It may fall a little short compared to other flagships, but I expect the Continental to win fans and close any gaps as it continues its high-quality return to the market.