Some cars are meant to drive. Others are meant to be driven in. Which one is the 2017 Genesis G90? I'm still trying to figure that out.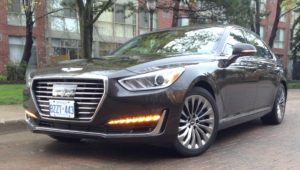 First impressions
You would be forgiven for mistaking the G90 as a German luxury touring sedan. Stately lines, a muscular hood, low profile tires mounted on sporty "turbofan" rims and a back seat that, even from the outside, is obviously cavernous all combine to suggest a short-wheelbase limousine.
Stand at the door and watch the foldaway side mirrors swing into position. Darkness brings out the Genesis logos that shine on the ground beside the front doors. You can watch them swing out to parallel with the car in time with the side mirrors that project them downwards.
If you're a buyer, the brand seeks to distinguish itself from parent Hyundai by delivering its cars to customers and giving them a tour of their new vehicles.  That impression ought to start a new owner's relationship with Genesis on the right foot.
Interior
Step inside and plunk yourself down on leather rear seats. Your legs won't touch the backs of the seats ahead unless you stretch them straight out.
The right rear seat passenger can adjust the seat in front to make more room if desired. One button on the side of the front passenger seat moves that seat forward and backward. Another raises and lowers the seat back. (The 5.0L G90's rear seats come with a few more adjustments. I drove the 3.3L version, so I didn't experience these.)
Leather is interspersed with genuine wood trim and aluminum accents. Several of the G90's 17 speakers are also noticeable, though they blend in well. They deliver music from a 900-watt Lexicon sound system.
At night, you're more likely to see only the ambient LED lighting in your choice of 7 colours. Power window controls also activate side window shades.
Now bring down the centre armrest. There you'll find rear-seat climate and seat heating controls, plus a button to activate the rear windowshade. You'll also be able to take control of the infotainment centre using a subset of the controls at the front of the cabin. These controls befuddled a few of my passengers. None of them truly got used to them during admittedly short drives.
Feedback for these controls appears on the 12.3" HD screen at the front of the vehicle. One passenger told me he couldn't quite make out the screen's contents, a consequence of failing eyesight, thought the screen is extremely sharp closer up.
If you're interested in such things, the G90 also features front seats.
With 22 different adjustments plus seat heating and cooling, comfort can easily be achieved here as well. Back or front, these are among the most comfortable car seats I've ever experienced. Seat memory setting buttons reside on both the driver and front passenger doors.
Button layout on the steering wheel is balanced and easy to figure out. Both sides of the wheel include scroll wheels not unlike those found on the sides of BlackBerries from a decade ago. These scroll wheel/button combinations, for audio volume and instrument cluster display choices, respectively, ought to be included on more cars.
The only moment of puzzlement occurred during my search for the heated steering wheel button. It resides in the second-most-logical spot, between the front seat heating and cooling switches.
Hockey bag test.
Fold-down rear seats? Not in the G90, though there is a pass-through opening in the middle of the seat that lets hockey sticks poke into the rear seat. This cavernous trunk would accommodate two hockey bags, especially since I acquired my new, narrower "tall-standing" model.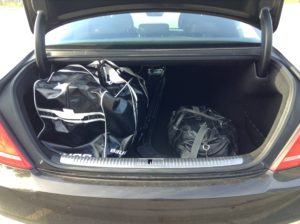 Two thoughtful touches stood out when I was behind the G90.
The trunk opened itself when I approached the car and stood behind it for about three seconds.
The underside of the trunk features a close lid button and a close-lid-and-lock-car button, so the driver need not pull out the key fob to lock the G90.
In-cabin technology
Genesis further cements its credibility as a luxury marque by including all the required gadgets, plus a few you might not expect.
A heads-up display (HUD) is perfectly legible in various lighting conditions and includes much of the information drivers would ordinarily look "down" to see, from speed, posted speeds, cruise control speed, adaptive cruise control distance, current track on audio, next turn information from the navigation system… With all of this data, the HUD could conceivably get crowded, but a well-considered layout kept everything legible and clear.
The dash surface runs smoothly over a 12.3" HD display.
Controls for this screen reside on the centre console (and in the rear seat armrest). A large dial acts as a dial, button and joystick. (For some reason, the rear seat dial does NOT act as a joystick.) Buttons surround the dial, leading to commonly used screens, and include a "back" button.
The setup and behaviour mirrors similar systems I've used in other makes. I'm starting to think of this as a "best practice" even if other layouts still dominate other automotive makes.
Fortunately, Genesis understands the value of physical dials and buttons. On/off/volume and tuning knobs flank a row of aluminum buttons that also lead to commonly accessed screens. This row of controls meshes tastefully with two rows of climate control buttons and dials.
Put the G90 in reverse and the multi-view camera system takes over the screen. The most prominent on-screen feature here is the 360-degree view around the vehicle. Given limited rearward visibility, I found myself relying on this screen more than I wanted to. The front and rear parking assistance sensors proved helpful too. To their credit, Genesis made the dynamic parking guidelines among the easiest to grasp on the fly that I've ever used.
Occupants can charge their phones using several USB ports. Two outlets flip out between the front seats for access to rear-seat passengers. The centre console also features a small, sloped storage cubby that doubles as an inductive charging pad.
Driving
I drove a G90 equipped with a 3.3L twin-turbo V6 engine that generated 365 hp and 376 lb-ft of torque. Genesis offers a 5-litre V8 G90 as well, which puts out 420 hp and 383 lb-ft of torque.
Power goes to all four wheels thanks to full-time HTRAC AWD. Floor the accelerator from a standing start and the movement is palpable. If you've been hired to drive this G90 for other people, please mind your manners.
Both come with an eight-speed automatic transmission with steering-wheel-mounted paddle shifters. Those shifters may be the only misstep in a luxury vehicle like this. I can't imagine drivers wanting to do any shifting in this car.
The Genesis Adaptive Control Suspension features an ungainly acronym totally at odds with the heavenly ride quality it delivers. This refined cruiser insulates passengers from just about every bump, yet handling is never in doubt, even when swinging around tight corners. Drive modes include Sport, Eco and "Individual Drive Mode" so that drivers can tune driving dynamics to suit them.
Drivers must reach minimum speeds to set adaptive cruise control, but once set, it will provide stop-and-go performance, perfect for long commutes on busy highways.
Active safety technologies include autonomous emergency braking, lane keep assist and active blind spot detection. The G90 shows an icon in the HUD whenever another vehicle enters its blind spot, something all HUD-equipped cars ought to do.
Fuel economy
Fuel economy is what you'd expect in a big sedan like this. For the 3.3L turbo G90 I drove, Genesis publishes ratings of 13.7 L/100km city, 9.7 L/100km highway and 11.9 L/100km combined. The 5.0L is marginally thirstier. Why Genesis put a real-time fuel economy meter in this vehicle I do not know. Each time I glanced at it, the resulting guilt left me needing a pick-me-up. So I focused on the ride quality and handling (and acceleration) for that pick-me-up.
Genesis recommends premium fuel for the 83L tank, though I've been assured it isn't required.
Pricing
G90 buyers can choose between the 3.3L twin turbo or 5L engines. They retail for $84,000 and $87,000 respectively.
Market penetration strategy
The scuttlebutt on the G90 is that Genesis wants to compete head to head with the BMW 7-series. In doing so, Genesis is taking on top-of-the-line sedans from every luxury automaker. Many of the features I've mentioned in this review I first experienced in other high-end sedans.
The G90 does not (yet) have every feature to be found on competitor models. For instance, the G90 won't parallel park itself. But dwelling on details the G90 doesn't have (and will likely acquire in due course) would be niggling.
More importantly, Genesis doesn't have the brand recognition its (chiefly) German rivals have built over the decades. Overcoming that obstacle is a challenge Genesis, née Hyundai, is not taking lightly. It's a challenge that Toyota, Honda and Nissan faced decades ago when they launched Lexus, Acura and Infiniti, respectively. They've proven it can be done by automakers willing to do things other than to sell at competitive prices.
For instance, Genesis vehicles are offered at "all-inclusive, transparent" prices. The following excerpts from a Genesis press release helps explain their strategy.
This modern approach to pricing includes delivery and destination charges, scheduled maintenance, satellite radio subscriptions, and navigation map updates. The simplified pricing model also incorporates the new "Genesis at Home" concierge-style service through which customers can request a Genesis representative and vehicle come to them for a test drive and make a deposit in the comfort of their home or office. This time-saving benefit extends into the ownership of the vehicle where Genesis customers can have their vehicle picked up for service, left a courtesy vehicle, and returned when complete.

…an innovative proposition to modernize the automotive purchase and ownership experience. The new streamlined, transparent purchase experience proposed by the company starts with an all-inclusive, fixed price that includes: delivery and destination charges, scheduled maintenance (5 years/100,000 km), Genesis at Home (5 years/100,000 km), satellite radio subscription (5 years/100,000km), and navigation map updates (5 years – up to 10 updates). This approach will effectively eliminate the frustrating process of haggling over price, removing any extra charges or fees, and including high-want features and services that luxury customers desire.
A network of stand-alone Genesis Distributors is being built to sell and service Genesis vehicles on behalf of Genesis Motors Canada. It remains a division of Hyundai Auto Canada Corp., but will be separated from Hyundai's vehicles in the same way other parent companies keep their brands separate.
Genesis will also offer online sales, including finance or lease paperwork.
Conclusion
This tourer had a massive, comfortable back seat, great driving dynamics, handsome looks and an impressive suite of features. It's also priced more modestly than the high-end sedans Genesis has chosen to target.
The G90 will get plenty of attention. That attention and resulting word of mouth, coupled with continued refinement, ought to elevate the fortunes of this new kid on the luxury block.