Sometimes a vehicle earns its way into your heart with a performance that etches itself into your memory. An ancestor to this week's vehicle did exactly that. There was no drama or wheelspin or tight turns, no excitement.
In fact, the experience was entirely tranquil. I simply drove up a steep hill at the speed limit one night. That was remarkable because other cars could not manage the foot of snow that plows hadn't yet cleared away. That 2013 experience would doubtlessly happen again if I had to tackle it in the 2016.5 Mazda CX-5.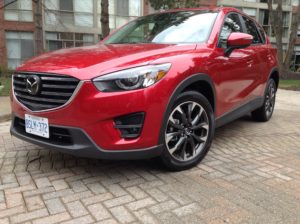 (Note: This is an abbreviated review. I'll go into greater depth on the CX-5 when I test-drive the new-for-2017 model.)
First impressions
Mazda's Soul Red Metallic paint highlights the Kodo Soul of Motion design language that has spread to every model in the lineup. While it's more attractive on Mazda's smaller vehicles, the effect on the CX-5 is to make it appear smaller than it actually is. It still captures the "shape" of the wind inherent in Mazda's design language, making it a head-turner.
Everything seems continuous. Even the sleek headlights and taillights flow subtly into the body's curves.
Interior
Everywhere you look, the cabin presents a polished, near-seamless fit and finish.
Power-adjustable seats featured two colours in my tester, with stitching matching the colour of the fabric to keep the look from becoming too busy.
The CX-5 offers ample headroom in both the front and rear seats
Hockey bag test
I fit my bag longitudinally and laid my sticks through the middle of the 40-20-40 split-folding rear seat. Two bags would fit this way without folding down other seats, making this one of the roomiest hatches I've ever seen on a compact SUV.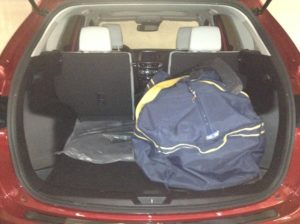 In-cabin electronics
Just like its exterior design language, Mazda got its in-cabin infotainment system just right. A screen sits at the top of the centre stack. Unlike other Mazda models, this screen doesn't look like a tablet wedged into the top of the dash, visible from all angles and appearing removable. Mazda embedded it as high up on the dash as possible.
Controls for that screen reside near the gearshift. This modest collection of buttons and dials proved easy for both driver and front seat passenger to reach. I mean "modest" in the best possible way: Mazda's designers clearly took time to eliminate unnecessary control clutter. What's left is a complete set of controls that's easy to learn.
The large "commander" knob at the centre also serves as a button and joystick. It lets drivers scroll through a well-designed user interface that doesn't require a larger screen. A smaller on-off button and volume knob sits adjacent. The surrounding five buttons lead to commonly used screens and features, like "back."
Aside from audio, the system offers all the modern conveniences: navigation system, phone, vehicle settings and so forth.
Driving
Excepting the base GX and its 2.0-litre engine, each CX-5 is propelled by Mazda's SKYACTIV-G 2.5L inline 4-cylinder engine. Rated at 184 horsepower and 185 lb-ft of torque, it provides adequate power without noticeable strain in ordinary driving conditions. You can use Sport mode on the CX-5 for extra highway passing power, but you won't mistake the CX-5 for a rocket. Competent sure-footedness is this vehicle's forte.
Power reaches all four wheels via a SKYACTIV-Drive 6-speed transmission.
Fuel economy
The instrument cluster screen boasted 2.9 L/100 km stretches of highway driving but the CX-5 read 10.1 L/100 km average during my week with it. Mazda's published numbers are 9.8 city and 7.9 highway. The 2-litre manual and 2.5-litre automatic front-wheel-drive models promise better efficiency. The CX-5 takes regular unleaded in its 58-litre fuel tank.
Conclusions
The 2016.5 CX-5 will serve as a decent comparison to the 2017, to be covered in a later review. This vehicle sets a high bar, and I'm looking forward to the improvements Mazda brought out this year.