You might think the diesel emissions scandal would still dog Volkswagen. You might be wrong.
VWs are still flying out of showrooms around the world. The "people's car" continues to hold a distinct place in the automotive world, largely defined by value and German engineering without the German car prices.
The Tiguan fits that mold well. I explored its capabilities during a week with the 2017 Tiguan Wolfsburg Edition.


First impressions
The standard compact SUV shape strikes a boxy, practical, non-nonsense pose. My tester drew compliments thanks to the Pacific Blue hue. Wolfsburg Edition badges adorn the rear and driver's side of the Tiguan. Chrome door and exterior window surrounds and a chrome exhaust tip add light accents.
Interior
Keyless entry made the locks audibly snapped open when I placed my hand inside the driver's door handle.
Two-tone leatherette seats, in Titan Black and CornSilk Beige, add visual interest to the otherwise businesslike interior. Headroom is adequate throughout the vehicle.
No matter where you sit, look up and you'll enjoy the panoramic power sunroof. It stretches almost the entire length of the roof, which lets rear-seat occupants enjoy the sky as much as those in front.
Hockey bag test
The Tiguan's hatch accommodates one bag. Any more and you would need to lower a seat. The hatch's length is about a foot too short to slide the bag in longitudinally.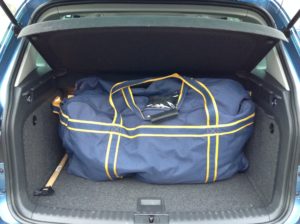 The rear seat armrest lowers to reveal a passthrough that accommodates hockey sticks. It also reminds me of the ski bag passthrough I had in a '90s-vintage Jetta – but that's a topic for another post.
In-cabin electronics
The Composition Media – 6.33″ touchscreen infotainment system comes with the usual hardware and services: CD player, 8 speakers, 1 SD card slot, and satellite radio.
The touchscreen senses fingers as they approach the screen and brings up controls, like play/pause for media, that otherwise remain hidden. It's an interesting use of the technology, though I'm divided as to its usefulness.
App-Connect smartphone integration helps people use their Android and iOS devices more seamlessly.
About that screen: oddly, the upper edge of the rearview camera's field of view is obscured by a "hood" of sorts. Visibility is still good, but it made me wonder what I was missing farther back.
Automatic headlights, rain-sensing wipers and an auto-dimming rearview mirror take care of common tasks without driver intervention.
For some reason, I found myself hitting the skip track buttons on the steering wheel with my left thumb. This isn't something I tend to do in other vehicles, and I was puzzled as to why it happened in the Tiguan.
The driver controls the instrument cluster display using buttons on the right side of the steering wheel. A friend's Facebook post prompted me to look for a way to turn off the outside temperature warning sound. The Tiguan (and other VWs – hers is a Golf) audibly warn the driver if the temperature is low enough to result in slippery road conditions. The sound annoys her and her daughter, who also drives a VW. I didn't find that "switch" but I admit I didn't want to. Extra warning when driving conditions warrant extra attention is a good thing, in my book.
There's one USB input. In a vehicle ostensibly meant to haul multiple occupants, adding another port or two ought to help prevent disputes over who gets to charge their phones.
Driving
The 2.0 4-cylinder TSI (turbocharged with intercooler) engine produces 200hp and 207 lbs-ft of torque.
The net effect is power when you need it without drama. The 6-speed automatic puts power to all four wheels using VW's 4MOTION AWD. The Tiguan's performance seems geared to drivers who will use the optional trailer hitch to haul gear.
Vented discs up front and solid discs at the rear bring the Tiguan to a quick stop when necessary. Four traction control technologies ship standard: Anti-slip regulation (ASR); Electronic Differential Lock (EDL); Engine Braking Assist (EBA); and Electronic Stability Control (ESC).
Fuel economy at its best was just under 10 L/100 km according to the in-cluster mileage tracker. It predictably goes a few L/100km higher than that during city driving. VW's city and highway numbers are 12 and 10, respectively. Front-wheel drive numbers are a few notches better. Fill up the 63-litre tank and the Tiguan is set for round trips to the cottage or ski hill.
Pricing
Base MSRP for the 2017 Tiguan Wolfsburg Edition is $30,198. Options before freight, PDI and excise tax on air conditioning bring the price to $31,648.