The four-door hatchback may be the most practical (and to my mind, the most desirable) style of automobile ever designed. When small size is packaged with surprising roominess and an engine that balances between decent power and miserly fuel consumption, the automaker likely has a winner on its hands.
It helps when the nameplate has been selling well for decades, but I was glad to find that Honda wasn't resting on its laurels when it released the 2017 Civic Hatchback.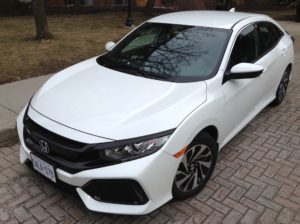 Other automakers are turning out great vehicles in this compact category, so I knew the Civic had a high bar to clear when I first stepped into it.  Here's what I found.
First impressions
I drove a much earlier variant of this car in the early 1990s. The roominess, hauling capacity and surprisingly comfortable ride made for a great few trips in eastern Québec.
Today's version looks nothing like what I drove. For starters, this Civic is a much sleeker vehicle. (You can thank many European-influenced design choices for that.)
The front end takes design cues from aerodynamics on race cars. The hatchback window slopes gently down from just behind the rear seats to the back end. This design extends the amount of room available in the hatch while not making this Civic longer than it has to be.
Yes, parking it was always a breeze, and not just because of the rearview camera. The rear glass doesn't end at the spoiler. It goes down several inches more, giving the driver an extra couple of feet of visibility downward out the rear window.
Honda likes the design so much, this version will serve as the foundation for 2017's Civic Type-R
Interior
Wherever you look, the Civic is an accumulation of small, delightful touches.
A chunky steering wheel feels solid in the hands, as does the short manual shift lever. Manually adjustable heated seats move quickly into place. While Honda offers a power moonroof on the Civic, my LX tester didn't have it (my preference) and I had plenty of headroom while sitting up straight.
Passengers sit low in the Civic, a design choice that gives the car a lower overall profile. Not everybody who sat in the car appreciated how low the seats were, though I don't find them quite so pavement-scraping as certain sports cars where it seemed like the pedals were at the same height as the driver's seat.
The back seat is just a bit larger than the mean for a four-door hatch. I easily slid my 6'5" frame into the seat behind the drivers seat (without moving the driver's seat forward from where I had it when I was driving) and my legs were OK. I had to tilt my head just a little bit to keep it from touching the ceiling.
Hockey bag test
There's a cavernous cargo area that Honda made accessible by having the whole hatch open up, not just a trunk lid. The hockey bag was several inches too long to fit longitudinally with the 60-40 rear seats up, but two bags ought to easily fit in the hatch.
The privacy cover stretches from the left side to the right instead of from front to rear. This means it stays out of the way when you need to fold down the rear seats to accommodate more cargo.
In-cabin electronics
Honda sticks to its all-touchscreen audio system, featuring a 7" colour display that features a "night mode" button.
A "Climate" button just under the display leads to a screen with comfortably large touch controls. This screen supplements the two dials and several buttons under the display.
My one gripe with the Civic is with audio volume and on-off switches all being touch controls. Honda provides more physical buttons for the entertainment system on the steering wheel than it does on the dash. The system is certainly functional, but it takes more attention to control than I want to devote to it.
That said, I can admit, if grudgingly, that the controls were easy enough to get used to. That admission probably stems from just how great the rest of the car happens to be. Also, the 180-watt 8-speaker system sounded great in this Civic.
In fairness, the instrument cluster display enables most of the audio controls a driver needs, presuming favourite radio stations are already preset. The cluster itself is a simple three-part setup. Small digital displays to the left and right of the large centre screen display  engine temperature and fuel level, respectively.
Large numbers showing speed dominate the large centre display, which is rimmed by a digital tachometer. Various features reside just under the speed number. The driver uses controls on the left side of the steering wheel to navigate from fuel economy readings to vehicle settings to the aforementioned audio settings.
Phones connect using Honda's HandsFreeLink bluetooth interface. All trim levels are Apple CarPlay and Android Auto compatible. There are also two USB connections conveniently hidden away so that the phones they're connected to can also stay out of sight while charging.
Higher trim levels offer features like pushbutton start/stop, proximity key entry and wireless charging.
Driving
Honda's 1.5-litre direct-injection turbocharged 4-cylinder engine delivers 174 hp and 162 lb.-ft. of torque to the front wheels. Other trim levels add 6 hp.
The 6-speed shifter is everything you expect from a Honda manual transmission, all smooth movement and quiet "clicks" into place, working as unobtrusively as a manual transmission can.
Together, engine and transmission propel the lightweight Civic quickly. Find the right on-ramp, step on it, and you'll be lightly pressed into the back of the seat. Cruise at speed on the highway and you're in for a quiet, fuel-sipping ride courtesy of the turbo. Front ventilated and rear solid disc brakes provide stopping power.
Other models offer a CVT and, for some reason, paddle shifters. This Civic is just as sporty as its predecessors, so Honda likely wants to keep the sportiness quotient as high as possible.
One less sporty detail is the parking brake switch. It's no longer a lever, so it takes less room. It also works with an automatic brake hold button. Press the button while at a standstill and the rear brakes engage. Get the car moving and this brake hold feature disengages. It may be the perfect helper for people putting a manual transmission Civic in motion while stopped on an incline, though it's useful in an automatic too. Quick note: these electronic switches are consistent with the drive-by-wire throttle system.
The Eco Assist system gives drivers the option to scrimp even more than this tiny but mighty engine normally does. Press the "ECON" button, a green leafy icon appears in the instrument cluster, and the vehicle works with the engine and various systems to lower fuel consumption. Narrow bars appear at the top of the instrument cluster to indicate just how miserly the driving is. Green = great, while white = (in Honda's tactful words) "spirited" driving.
Active safety features that ship standard on the Civic include vehicle stability assist with traction control, hill start assist and electronic brake force distribution. CVT-based models also offer more active safety systems, like forward collision warning, lane departure warning and collision mitigation braking.
Driver assist technologies weren't available on my LX (base) tester either, but buyers can configure the Civic to positively bristle with technology.
That doesn't mean LX buyers don't get any goodies. Heated power door mirrors and an automatic lighting system are two conveniences that come standard.
If you get into trouble, the HondaLink™ Assist automatic emergency response system can summon help.
Fuel economy
Honda says you can expect city/highway/combined numbers of 8.0/6.2/7.2 L/100 km, respectively, for the manual transmission LX I drive. Numbers are similarly strong for CVT-equipped models.
Honda recommends owners pour regular fuel in the LX and premium in other trim levels into the 47-litre tank. That should keep drivers on the road for a while.
Conclusions
Confession: I'm the long-time owner of a Honda Civic that, at this point, doesn't owe me a thing. There are things I wish it had when I bought it. Chief among those is easier access to the reasonably roomy trunk.
The 2017 Civic Hatchback provides that in a thoroughly modern package, one that's fun to drive, easy to park, not a nightmare at the pumps… in short, the car I wish I had all those years ago.
Don't get me wrong. No car ever hits the perfect sweet spot of everyday practicality plus features plus price. But this Civic comes about as close as any car I've ever driven.