Electronic parking brake switches are nothing new in modern cars. This isn't the first thing I usually mention in a car review, if it even makes the review at all. How mundane could one possibly be, right? Stay with me.
I had some difficulty finding the switch when I picked up the 2017 Lexus GS 350 AWD sedan.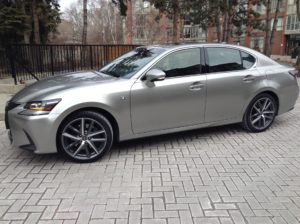 It wasn't easy to see, hidden under the dash. But maybe this mainstay of modern vehicles isn't as necessary as it once was. Lexus takes the electronic parking brake switch idea one step further by having the vehicle engage or disengage the brake depending on whether it's in Park or not.
Think about it: the GS has been programmed to do something that drivers ought to do anyway. That makes me reflect on good design, which often means taking care of tasks that people ought to so, no matter how seemingly inconsequential.
If Lexus pays this much attention to the small things, I thought, just imagine what its vehicles must be to drive. So I looked for the details, and overall, I wasn't disappointed.
First impressions
My tester, in Atomic Silver, proved an understated, handsome sedan. Sitting on 18-inch aluminum alloy wheels, the silver disc brake assemblies don't stand out either.
Curves dominate over edges, from the F SPORT front grill right back to the F SPORT rear spoiler. That front grill presents what watchmakers might call "complications" in the intake vents, the grill that juts out and the daytime running "slivers" under the main headlights.
Interior
Open the door, note the tightly tucked in side-view mirrors as they fold out into position, and then let your eyes roam over the luxurious, white-sticking-on-black-leather  interior. (My tester not exactly as shown.)
Carbon fibre accents interspersed with said black leather prompted one passenger to run her hand appreciatively over several surfaces.
She also laughed at how far she had to reach to pull the open door shut, seeming to fall out of the car as she did so. I noticed the padding where my thumb met the door, shown as the brown area in the image below.
Power-adjustable seats, steering wheel and mirrors create a seat position drivers can save into one of the three seating presets.
The F Sport package, a $10,600 extra, adds 16-way power driver seat adjustments (including lumbar), air conditioned front seats (on top of heating) in an F SPORT Leather Seat package.
The roof slopes attractively down to the trunk lid, predictably robbing back-seat passengers of headroom. Still, a power rear window shade (another F Sport package feature) ought to keep anybody crammed in there from baking on hot days. It descends automatically when the car is in reverse.
Hockey bag test
The rear wheel wells jut out noticeably into the trunk, but the bag fits just fine longitudinally. Sticks poked through the opening for the rear seat armrest – the seats themselves don't fold down.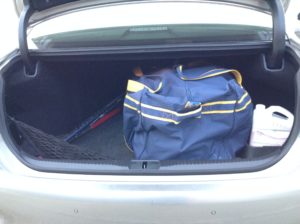 The power trunk lid close button seems like overkill on a sedan, but I'll take it.
In-cabin technology
The 12.3-inch LCD in the centre of the dashboard elegantly solves a design conflict. In some cars, eyes-up safety concerns win out over the desire for an aesthetically pleasing smooth centre stack that doesn't look like it has a tablet jammed into the dash above it. Here, the display is at the top of the centre stack, but recessed under an overhang of the dash so that from the outside, all people see is a smooth dash.
This bright, capable piece of electronics is perfectly legible and controllable. My one minor quibble is that the dashboard overhand cuts off my view of the top few millimetres of the screen (tall people problems). Still, the LCD is fantastic, partly due to the fact that the dashboard overhang I mentioned shields it from ambient light.
This LCD sits recessed several inches back from the centre stack, so you'd need to either lean in or be Inspector Gadget to reach it, but don't bother – it isn't a touchscreen. Instead, Lexus chose to include one of its screen control assemblies.
To the right of the shift lever sits a black square. It serves as a flat joystick and button. Place your elbows on the centre armrest and your palm on a conveniently placed leather pad and your fingers will naturally fall onto this control.
Move this square and a faint point of light moves on the screen. The joystick "sticks" and the screen "pings" when the point of light lands on something you can click. Click that thing and the car emits a higher-pitched "ping" as it activates whatever that element represents.
Buttons surround the joystick to provide common functions, like going a step back and having the map take over the whole screen. There are also two buttons built into the metal sides of this assembly, which sits on a small platform raised slightly above the centre console. The whole ensemble reminds me of trackballs one can buy to replace the mouse on a computer.
I've read some complaints about this not being the easiest system to use. In my experience, moving the button slowly, then pressing it straight down with my index and middle fingers (to prevent lateral motion)) produced reliable results.
Lexus thoughtfully placed this control assembly on the passenger side of the centre console. I found that  front seat passengers could use the car's electronics without reaching over and potentially distracting the driver.
Sound quality is what you'd expect from a 17-speaker Mark Levinson premium audio system. This is an F-SPORT package upgrade from the "base" 12-speaker Lexus premium audio system with all the features you want: integrated SiriusXM satellite radio, audio auxiliary input jack, USB inputs…
Lexus wisely kept standard radio controls, including two matte metal-look knobs for on-off/volume and tuning that sit to either side of the disc slot.
Seat heating and cooling buttons are tucked into the corner where the centre console and stack meet.
The driver can also enjoy heating in the leather-wrapped steering wheel.
The heads-up display (HUD), part of the F Sport package, proved bright, crisp and clear in various lighting conditions.
It's a great feature, but it's also a spot where Lexus overlooked key details:
Like other such displays, I would like to have this information placed a little higher in front of me. The numbers hovered just above the hood, but I'd like them just under my line of sight. Again, a tall-guy complaint, and it applies to all vehicles I've reviewed that feature HUDs.
HUD adjustment controls are hidden on the dash behind the three-spoke F Sport steering wheel, which makes adjustments a little difficult.
HUD settings are NOT saved in driving position memory, which covers seat, steering wheel and outside mirror positions.
The instrument cluster is narrower than I expected. Perhaps a desire to de-emphasize the 350's electronics led designers to fit two screens – including a centre round display that serves as both speedometer and tachometer – plus analog temperature and fuel gauges into an enclosure that is entirely visible through the steering wheel. It's where drivers access a variety of driving dynamic settings.
Driving
Fire up the 3.5L 6-cylinder 311-horsepower engine and you'll get a hint of menace. You can use it, of course, but this car's personality tends towards relaxed, comfortable cruising. Cruising is enhanced by the F Sport addition of adaptive variable suspension front and rear.
If "relaxed" isn't your thing, use the steering wheel paddle shifters to choose your gear from the 6-speed Sport Direct Shift Control transmission. Lexus adds a dial/button to the left of the display screen control assembly that lets the driver choose between Normal, Eco and Sport driving modes. Even in Eco mode, though, the GS reads the accelerator and gives you the power you want.
A button closer to the centre storage cubby says "Snow" and pressing it gives a little extra peace of mind. (It also disables adaptive cruise control, which I should have known.)
Active safety features include AWD, Vehicle Stability Control, Traction Control System, Vehicle
Dynamics Integrated Management and Hill-start Assist Control.
More modern safety features are bundled into the Lexus Safety System: Pre-Collision System, Automatic High Beam, Lane Departure Alert With Steering Assist and the aforementioned adaptive cruise control. The F Sport package adds rear cross-traffic alert and blind spot monitor clearance and backup sensors
Fuel economy
I averaged over 10 L/100km during my time with the GS. That might seem a little steep, but remember, there's a 3.5 L 6-cylinder engine under the hood.
Conclusions
The base MRSP for the 2017 GS 350 AWD is $59,900. The F-SPORT Series 2 package, taxes, fees, freight and PDI bring the MSRP of the car as reviewed to $70,671.25