Automakers tend to include at least one "sports sedan" in their lineups. Handsome, practical four-door-plus-trunk models that deliver extra performance never seem to go out of fashion.
Into this category comes a worthwhile challenger: Ford's 2017 Fusion V6 Sport.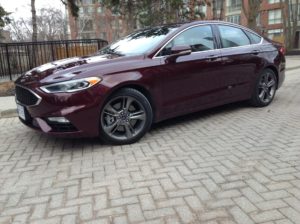 First impressions
If it weren't for the Fusion's perceptibly higher stance, onlookers could easily mistake it for a German tourer. That's not a bad thing. Handsome from any angle, the Fusion isn't a standout looker, but the car's muscular elegance ought to prove as timeless as that of decades-old European sedans.
Interior
The Sport is so named because of the V6 Sport upgrade package. Heated and cooled front sport seats in Dark Earth Grey Miko Suede ought to prove comfortable for most people. I found the seat just slightly off, maybe because my head lightly brushed the ceiling at the lowest seating position. Leaving the moonroof out of this package might have made a difference.
Back seat headroom suffers from the raked roofline that gives the Fusion its sporty stance.
Hockey bag test
Two bags could fit longitudinally in the capacious trunk (that I neglected to photograph for this review). The only reason I had for lowering the "40" part of the 60-40 split-folding rear seat was to get my sticks in the trunk diagonally. Note: I put six-inch extensions on my sticks. Regular-length sticks ought to easily fit inside the trunk.
In-cabin electronics
If there's one thing to praise on Ford's Sync Connect touchscreen, it's that the buttons and sliders are larger and well-spaced. That makes them easier to use when the car is in motion and less likely to result in unwanted changes.
There's actually more than one thing to praise on Sync. Regardless of the feature I used, it seemed like I took fewer steps to do things than I did in the previous version of Sync. Whether it was tuning the radio, entering an address in the navigation system or setting climate controls, the systems just made sense at first glance. Direct tune ought to be on every touchscreen-based radio.
This isn't a small feat, at least not to me. Removing steps and making things simpler to do takes significant amounts of user experience testing and design expertise. As a technical writer, I've documented unnecessarily long processes. I could do little to relieve the burden of those processes on end users. (I used to deliver technology training on various systems too, so I could see and hear feedback on unwanted complexity.) That's why Ford's achievement here strikes a chord with me.
Thankfully, Ford kept physical controls for common functions. An array of buttons under the touchscreen let the driver quickly set climate control features, including seat heating and cooling. Changes in climate control temperature and fan settings appear on screen. Radio controls, from volume to track seek and even a huge on-off button, greatly reduce the need to use the touch screen while driving.
Speaking of the radio, this Fusion ships with an audiophile-pleasing standard 12-speaker, 390-watt Audio System from Sony. The system also includes iTunes® Tagging. If you touch the "Tag" button when you hear a song you like on an FM HD radio station, song information will be saved for later preview and purchase or direct buy if your device is connected to the Internet.
Ford, like most automakers, scrimps on in-cabin USB ports. I'd like to see a minimum of two, and really three, in all new vehicles.
Driving
A 2.7L twin-turbo V6 EcoBoost engine provides 325 horsepower and 380 lb-ft of torque to an intelligent all-wheel drive system.
Even when I stepped on it, the Fusion felt well-anchored. That's saying something. Having the twin turbos kick in made more than one passenger feel gently pressed back into the seat. Put the Fusion in Sport mode, and you can expect even more pep.
Drivers can shift the 6-speed automatic themselves using paddle shifters. I chose to stick to the rotary gear shift dial that sits next to the cupholders. The file-like sides reminded me of the studded edges of a Dual turntable I used to have.
The parking brake sits adjacent to the gear shift dial. It's a small lever that controls the brake electronically.
There's some worthwhile intelligence under this dial. If you turn off the engine and leave the car in Drive, the transmission shifts itself into Park. There are several other conditions where the Fusion will do this, and in each case it helps prevent headaches for the driver.
My frugal nature makes me wonder whether Ford might consider removing the paddle shifters. There's so little incentive to use them when the automatic is fully capable of handling shifts, and removing the cost of this gadget could help Ford make this great car a little more cost-competitive.
Personal preference makes me wonder whether Ford might let me control this engine using the six-speed manual it provides with Mustangs. (Yes, I embrace irony, even in myself.)
Using a combination of adaptive cruise control and the lane keeping system, I managed to safely travel several highway kilometres. Granted, the Ford's instrument cluster insisted I place my hands on the steering wheel the whole way.
This wasn't the smoothest implementation I've seen of lane keep assist. The car swerves gently from one side of a lane to the other. Few drivers will want to rely on the system during a long drive, but if they get tired behind the wheel, lane keep assist will likely keep them out of trouble.
Commuters who regularly get stuck in stop-and-go traffic will appreciate the adaptive cruise control. It doesn't cut out below a minimum speed. It will stop when the car in front stops and start when it gets going again. Ford isn't the only manufacturer that configures the system this way, but I'm puzzled why any automaker would not offer this convenience.
Also standard on the Sport, Pre-Collision Assist with Pedestrian Detection uses radar and camera technology to scan the roadway ahead. If another vehicle or pedestrian is detected, the system provides a warning to the driver. This warning is a combination of noise, a message on the instrument cluster and red lights on the dash that reflect urgently off the windshield. If the driver does not respond in time, the system can automatically apply up to full braking force to help reduce the severity of or even eliminate some frontal collisions.
Needless to say, I didn't test the "full braking" feature on the Fusion. I did test this four years ago on another carmaker's flagship sedan, and if the results are as impressive on the Fusion, this technology ought to save a few lives and prevent lots of injury and property damage.
The blind spot information system ought to keep drivers out of trouble when they back out of parking spots when their views are blocked.
Driver conveniences are interesting to try. Future drivers might expect them as standard. For instance, a pothole detection system coordinates dampers based on input from 12 high-resolution sensors. The rear suspension responds faster than the front since it gets a heads-up from front wheels once they encounter a pothole. Ford means to significantly reduce the bumpiness of pothole-riddled roads using this system to make the suspension provide the steadiest ride possible.
It went against my instincts to steer at potholes. Normally I avoid them when I can. But I made myself aim the Fusion at a few. I felt the bumps, though none of them proved bone-jarring.
Active park assist uses even more sensors (by now I've lost count of how many sensors the Fusion has, something I commonly do in vehicles I review) to identify suitable parking spots (parallel or angle) and steer the car into them. It's up to the driver to work the pedals as the car steers itself. Park Out Assist can help if your parallel parking spot becomes overly tight in your absence.
Parking sensors all around the car audibly and visually inform you of everything nearby that you might hit.
I left the sensitivity of this system on fairly high, even though it proved a little too paranoid at times. Better safe than sorry. I figured.
Fuel economy
The Fusion's economy indicator readout told me I averaged 10.9 L-100km. That might have been better if I had driven more on the highway. It's a little high for miserly drivers, but it's the price to be paid for the power the Fusion Sport offers.
Pricing
The base Fusion lists for $23,688 MSRP plus various taxes and fees. The Fusion Sport lists for $42,288. Add the Ruby Red colour, taxes and other charges and the model I drove tops out at $44,488.
Ford isn't exactly known for competing with luxury automakers. Some people would say that's Lincoln's job. Thankfully, nobody told designers of the 2017 Fusion Sport. This package of performance, technology, styling, creature comforts and price rivals offerings from higher-end brands. This Fusion ought to steal a few of their customers.