Few automakers seem to earn loyalty for a range of vehicles. But there's one that gains customers for just about every product in its lineup: the sedan, the compact, the sports coupe, the crossovers.
For a week, I drove the bad boy of the bunch: Subaru's 2017 WRX. It's the one Subaru whose appeal (and whose audience) I best understand.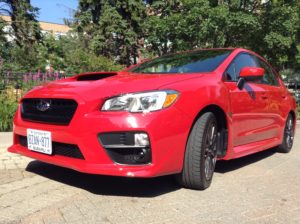 First impressions
Blink and you'll note this Subaru as just another compact sedan.
Look a little closer and you'll see the muscular signature of a sports sedan.
You'll know this car means business when you focus on subtler details: 17" by 8" aluminum alloy 15-spoke wheels; the quad-tipped exhaust; and, of course, the turbocharger air intake on the hood. Buyers of the WRX STI will see all of this overshadowed by the prominent rear spoiler it sports.
The 2017 Subaru WRX is offered in three trim levels: the entry level WRX, WRX Sport and WRX Sport-tech. Subaru also offers STI variants. I based this review on the entry-level WRX I drove.
Interior
You lower yourself into performance-design front seats accented by red stitching. (I don't know why, but red stitching inside a car never gets old. Subaru could have added a little more in places like the leather handbrake boot.) Your legs go underneath a flat-bottom leather-wrapped steering wheel. Your feet interact with drilled metal pedals.
My base WRX did sport conveniences like controls on the steering wheel, a touchscreen and heated seats. That said, the cabin has a somewhat spare layout. That and the firm grip of the seat on my torso spoke immediately to the WRX's nature (spoiler: this is a rally car for the street). Occupants will be comfortable enough, but by no means pampered. And that's good. More on this below.
Hockey bag test
I slid my bag in lengthwise, and another bag would have fit beside it. If my sticks weren't so long, I cold have kept the 60-40 split-folding rear seat up.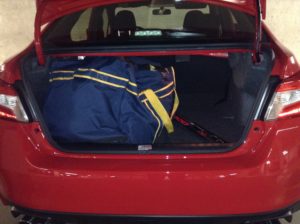 In-car technology
A 6.2" high-resolution touchscreen provides access to a slate of largely standard infotainment features: phone integration, radio and media playback via 6 speakers, all controllable from de rigueur steering wheel controls as well as buttons and knobs around the screen.
A 4.3-inch colour display above the touchscreen shows, on the left, what the climate control system is doing. Kudos to Subaru for keeping the controls simple – three dials with embedded buttons below the touchscreen.
The top-line WRX Sport-tech package bumps the touchscreen up to 7" and adds goodies like GPS and Siri Eyes Free.
The right side of this display shows information the driver chooses: a vehicle dynamics monitor, clock, outside temperature, maintenance reminder and customizable settings. There's a level below this display that moves up and down, and can also be pressed like a button to make selections. I'm not a fan of the placement: drivers with shorter arms may find they need to stretch to use this switch.
Forgive me, Subaru, for not spending more time poring over the technology. Here's why.
Driving
You can overlook the muscular body and the turbo scoop, but you can't deny this car's true nature if you put it in motion.
Your first undeniable clue happens when you turn the key in the ignition. The engine turns over and a low, throaty growl reaches the cabin.
Then you put the car in forward gear. If you linger a little too long on the accelerator, you know the WRX wants to behave badly. That's the eager response engineered into the 2.0L 16-valve horizontally opposed ("boxer"), 4-cylinder engine. Extra kick comes from the twin-scroll turbocharger. Subaru claims 268 hp @ 5,600 RPM and torque of 258 lb-ft @ a wide range: 2,000-5,200 rpm. (The STI's 2.5L turbo boxer punches even further  above its weight.)
The sport-tuned suspension may feel stiff, but this Suby keeps its wheels on the ground. The handling of Subaru's synchronous full-time all-wheel drive system is supplemented by active torque vectoring, so handling and cornering happen as you expect them to.
The 6-speed manual transmission lets you put the power down as you see fit. You feel each shift as it move it during spirited acceleration. It behaves like the shifter you want during a rally race rather than the slick shifter you might want in a regular road cruiser. A hill holder system seems to be the only "compromise" to civility in this transmission.
I managed relatively sedate drives by skipping gears to coax greater fuel efficiency out of the boxer engine while accelerating, as well as using engine braking when circumstances allowed.
Subaru also offers other transmission choices, including a sport-tuned Sport Lineartronic automatic transmission and an 8-speed manual shift mode.
Safety
Newly available rear radar system drive Subaru's full-perimeter preventative safety via: Blind Spot Detection, Lane Change Assist and Rear Cross Traffic Alert. The WRX Sport Package gets you rear/side vehicle detection.
Mileage
The fuel sticker claims 10L/100km, which isn't bad for this subtle rocket. That's a combination of 11.3. city and 8.5 highway.
A little boasting by Subaru
I like it when products outlast owner expectations. So Subaru caught my eye with this claim: "Fully 98% of Subaru vehicles sold in Canada over the last 10 years are still on the road today. (Based on IHS Automotive: Polk Canadian vehicles in operation and new registrations MY 2006-2015 as of June 30, 2015.)" Not bad.
Here's another tidbit lifted from the PR materials: "Subaru offers an industry-exclusive comprehensive extended maintenance schedule all the way up to 500,000 KM." Clearly this company wants to help you to stretch the life of your car to the aforementioned 10 years or beyond.
Pricing
The base 6-speed manual WRX I tested sells for $29,995.00 MSRP. $31,295 gets you a CVT instead of the manual transmission. The WRX Sport and Sport-tech versions range from $32,795 to $37,395. Whichever one you pick, the WRX remains one of the more affordable four-door rockets you'll find on today's roads.