My aging car lives on in the automotive market thanks to the model's seemingly perpetual popularity. That's why it gave me a baseline for comparison when I drove the 2016 Honda Civic Coupe LX.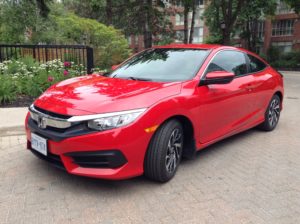 First impressions
This sharp-looking car isn't a recognizable descendent of my '98 sedan. the 2016 includes a number of creases and curves that suggest it's going to slice through the air when you drive it.
Honda pulled a neat visual trick by rounding the top "edge" of the trunk lid.
I found I could easily block out the full-width brake light (that seems to be a spoiler) to visualize a smooth taper from rear glass to taillights. (Honda does offer an actual spoiler for the Civic.) To my eyes, this rounded look evokes certain sporty German models, which isn't at all bad.
Subtle haunches over the front and rear wheels make this Civic look ready for business. It's wider than previous generations, and it looks ready to handle curves at speed with ease.
From the driver's seat, the front-wheel haunches become even more apparent, flanking the ravine of the hood as they do.
Interior
You sit pretty low in the Civic, which adds to the sporty feel of the car.
Manual seat adjustments in my tester let me shove the driver's seat all the way back and keep the seat back nearly vertical. For all that, my head did not touch the ceiling.
Historical note: when I bought my Civic Sedan (more than 300,000 kilometres driven and counting), I could not fit in either the two-door hatchback or two-door coupe models. I'm glad Honda saw fit to accommodate us taller drivers.
The cloth seats proved firm but comfortable. They felt as though they wrapped a little around my torso, making me think for a moment of side bolsters that would hold me in place if I whipped the Civic around corners.
The back seat? I looked at it, but I didn't bother trying to squeeze myself in.
Hockey bag test
The coupe's trunk opens just wide enough to let the bag squeeze through.
Once inside, it settles nicely with room for a few ordinary-sized backpacks and, of course, the sticks which I slid through the "40" portion of the 60-40 split folding rear seat.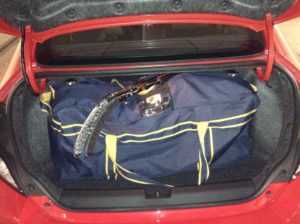 In-car technology
The centre stack touchscreen drives a fairly full slate of technologies. Navigation and satellite radio were absent from my LX, though they're available on the Touring model. Still, a 180-watt sound system drove 8 speakers. (The Touring trim ships with 450 watts driving 10 speakers.)
This Honda won't get left behind in many technology "arms races." Apple CarPlay and Android Auto ship standard on the Civic. So do the increasingly-standard touches like Bluetooth, Siri Eyes Free compatibility, SMS text and email features, compatibility with select audio apps and speed-sensitive volume controls. Extra touches like wireless charging come with the Touring model.
Missing from the centre stack are knobs for tuning and on/off/volume. I found the touch controls for these a little tricky to manage, since they blend in with the surface of the screen. Honda mitigates this by including an easy-to-use ridged touch volume control under my left thumb on the steering wheel.
Honda's user experience designers made a puzzling choice on the steering wheel controls. There's a round up-down-left-right control just beside the volume control. Since the Enter button in the middle of this ring of controls chooses information to display in the 7″ instrument cluster (flanked by two digital gauges), I initially presumed the "ring controls" would enable me to work with instrument cluster information too. That wasn't the case. The ring of controls lets the driver change audio sources (up-down) and tracks/channels (left-right).
To prevent confusion, buttons controlling a given system should not be intermingled with those that control other systems. The OK button would be better placed by the button that toggles from one instrument cluster display (fuel economy and range, audio, phone and so forth) to the next.
The touchscreen sits tastefully above the centre stack by a few millimetres. This subtle touch becomes apparent when you look down on it from outside the windshield. Another thing I noticed from this vantage point was a button that switches the screen from day to night mode. I would have preferred the car determine screen backlighting on its own using an ambient light sensor the way so many other vehicles do, but this, like manual seat adjustments and a lack of other high-end touches in the Civic LX, were easy to forgive.
I leaf through manuals. There, I said it. Now that that's out of the way, I was left scratching my head at Honda's choice of presenting the unabridged version of the manual on a CD. Thankfully it's marked as not being for use in the car, but still – a CD? In an era where many people use tablets and computers that don't have optical drives, a CD seems anachronistic. Better to have an online version or a mobile app than digital media that not all owners can access.
Two USB ports in different, out-of-the-way spots will keep devices charged away from prying eyes.
Honda does include knobs and a few buttons for climate controls, which are all you need to get cool or warm air blowing in the car. A button right below the screen, labeled "Climate," takes you to a screen showing more controls, where you can ensure AC is turned on and direct the air through the vents of your choosing.
I managed to turn my seat heater on several times without meaning to. It seemed to happen when I shifted into first gear. I didn't notice the lights right away. My first clue was baking buns. Then I noticed the lights.
Driving
If you get the 6-speed manual transmission with this coupe, you likely won't notice much either as you put it through its paces.
Powered by a 2.0-litre DOHC i-VTEC 4-cylinder engine, you can expect 158 hp and 138 lb-ft of torque from the LX. (The EX-T and Touring models ship with 1.5-litre turbocharged engines that raise horsepower to 174 and torque to 162 lb-ft.) This won't provide neck-snapping acceleration, but it does make the Civic fun to whip around corners. And you can out-accelerate many vehicles off the line if need be.
This engine, from the eyes of a long-time observer of the Civic's evolution, doesn't surprise me. Whenever Honda updates the Civic's engine, they make it (often) larger, more powerful, and better on fuel economy.
Cabin noise stays reasonable thanks to touches like acoustic glass. The shifter proved buttery smooth, landing in each gear with a palpable click.
At no point did I worry about choosing the wrong gear – and I tend to downshift when I slow down. I may be an anachronism, preferring manual transmissions as I do, but as long as Honda keeps the bar this high on models equipped with three pedals, I'll happily stay rooted in the past.
My tester didn't include a start/stop engine button, but it certainly deserves one. I couldn't stop thinking that key-driven ignitions also seem to be increasingly anachronistic, especially in a sporty vehicle like this.
The Automatic Brake Hold button keeps the brake applied after releasing the brake pedal until the accelerator pedal is pressed. I appreciated its working as a "hill hold" feature, which is particularly handy when used with manual transmission vehicles so drivers need not "ride" the clutch to keep the car from rolling backwards before engaging.
Active safety features available in the Honda Sensing Model and higher trim levels include: Collision Mitigation Braking System; Forward Collision Warning; Lane Departure Warning; and a number of other systems that help keep drivers from making mistakes.
Driving assist technologies are also available on certain trim levels.
Fuel economy
Honda claims city/highway/combined mileage of  8.9/6.1/7.7 litres/100km.
The Civic's computer told me I averaged between 6.1 and 6.4, though on one excursion spent mostly on the highway, this number sank to 5.9 for a while. Honda claims better numbers for CVT-equipped versions, especially in city driving.
The Civic features an Econ button, branded with a requisite green leaf icon. Press the button and the same icon appears in the driver information display. Honda includes this feature for drivers who want to boost fuel economy by modifying performance of the engine, transmission, climate control system, and cruise control.
The Civic takes regular 87 octane in its 47-litre tank.
Pricing
The 2016 Honda Civic Coupe starts at $19,455 for the LX and ranges to $27,555 for the Touring model.
Conclusions
I still remember the time I drove my Civic off the dealer's lot. There wasn't much extra power, the car felt OK, and I felt secure in a logical choice. Fast forward to 2016, and the logic still holds, albeit with better looks and a dash more fun. Nobody should be surprised that perennially popular Civic continues to show up on Canadian roads.