Four-door hatchbacks can't be beat for practicality, fuel economy and drivability. Automakers have increasingly been scaling down their popular crossovers to create large hatchback-looking vehicles. One of the first to do this was Subaru. Little surprise, given the mild quirkiness I've always seen in the brand. They recently updated their hatch-UV and released it as the 2016 Subaru Crosstrek.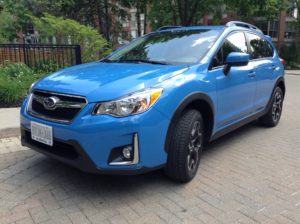 First impressions
My Sport Package Crosstrek in cheery Hyper Blue certainly got noticed. My girlfriend playfully told me to call it "Azzurro." She has a point. You don't see many cars on the road that nearly blend in with a clear summer sky.
Subaru's small crossover SUV stays loyal to the design language established for its larger siblings. This early entrant to the market for lower, almost station-wagon-height SUVs sports design tweaks like a new front fascia. The spoiler at the top of the rear liftgate gives it a sleeker side profile. I maintain that it's a tad large to be a "hot hatch" but Subaru certainly got the proportions right.
Where they didn't (and I'm thankful for this) is the Crosstrek's high ground clearance. Supported by 17-inch aluminum alloy wheels, the lowest bits on the Crosstrek's underside reside 22 centimetres off the ground. This is lots more than later arrivals in this compact crossover segment offer. Combined with standard symmetrical all wheel drive on all models, I'd be more likely to tackle deep snow with confidence in the Crosstrek than in its competitors.
Ever practical touches like the contrasting plastic portions lining body panels closer to the ground remind you that this is a Subaru, built for daily life. That plastic is likely to stand up better than metal to snow, road salt and otter debris winter roads will throw at it.
Interior
The Crosstrek offers a simple, clean (yes, utilitarian) interior, highlighted by bright stitching on the leather-wrapped steering wheel, cloth-upholstered seats and elsewhere. I would have liked Subaru to carry the stitching over to the leather-wrapped hand brake lever and leather boot of the shift lever.
The Sport package does offer certain nods to luxury, like a power sunroof, heated seats and automatic climate control.
Hockey bag test
This is a 1 ½-bag vehicle with the rear seats up. Subaru created lots of usable space in the Crosstrek, which proved useful for hauling stuff on a few occasions.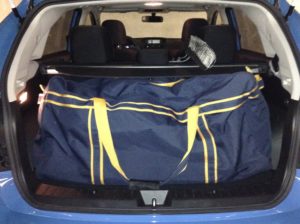 In-cabin technology
The utilitarian theme carries over into the Sport's cabin's digital aspects. A rearview camera, no navigation system and few features were found on the 6.2" touchscreen. Subaru's Starlink smartphone integration offers satellite radio and the ability to connect to a driver's Pandora and Aha radio subscriptions. Bluetooth and one USB port will let you connect smartphones to this system.
Other models in the Crosstrek lineup boast a 7-inch screen and more tech goodies. The system works well enough, but I'd prefer to see Subaru leave the consumer electronics integration to the consumer electronics companies (i.e. Apple and Google). iPhone and Android phone users would be able to use more of their devices while driving and they would see improvements that have been a long time coming (e.g. integration of more third-party apps).
A screen above the centre stack shows a variety of vehicle performance data. You can toggle through this data using a switch just below the screen. This switch is a bit of a reach for me, so I can imagine it would largely go unused by shorter drivers while the Crosstrek is in motion, which would defeat the purpose of the screen's data.
The left portion of this screen stays blank until you turn on the climate control system. That's when it shows you what the system is doing. You control the system using three dials on the centre stack, each of which features a button or two on it. Sometimes manual, non-touch-screen controls are the way to go.
Driving
Electronic throttle control tells the 2.0L horizontally opposed (aka "boxer") engine how hard to push itself. Its limits are 148 hp and 145 lb-ft of torque. This isn't a screamer of an engine, but it will get you around, subject to the limitations of the transmission. It's the same engine for all Crosstrek trim levels except for the Hybrid.
I drove a five-speed manual version of the Crosstrek. It let me push the vehicle quickly enough off the line. That said, like the interior, this transmission felt utilitarian and could use an upgrade. For instance, the shift ratios could be taller. The engine regularly got into 3,000 rpm territory while cruising at highway speeds. Given the quality of manual shifters I've used in the WRX and the BRZ (the latter is, admittedly, rear-wheel drive, an anomaly in Subaru's lineup), the work I had to put into shifting this tranny surprised me.
Subaru also offers CVT and hybrid CVT versions that promise better fuel economy. They also sport paddle shifters for drivers who want the feel of shifting "gears" programmed into the CVT.
All Crosstreks feature Subaru's symmetrical all-wheel-drive system, something I didn't test during my week with the vehicle.
I was glad for the Hill Holder system waiting for lights to turn green at several intersections while facing uphill. Subaru's technology package, an option on the Sport, features Subaru's Eyesight driver assist system. Even without this impressive active safety feature, the Crosstrek is still a great choice for safety: Subaru is the only manufacturer with IIHS (Insurance Institute for Highway Safety) Top Safety Picks (TSPs) for all models for six consecutive years (2010-2015).
Fuel economy
Canada Energize fuel consumption numbers for the Crosstrek stand at 9.1 L/100km combined city and highway (10.2 in the city and 7.7. on the highway). During my time with the Crosstrek, its fuel economy seemed to plateau at 8.6. It takes 60 litres of regular 87 octane fuel.
Environmentalists will appreciate the PZEV badging on the Crosstrek. It has been certified a partial zero-emissions vehicle, which means things like: the fuel system doesn't lose any of its contents via evaporation; the vehicle meets super ultra low emission vehicle, or SULEV, standards; the emissions-control equipment that ensures SULEV has a great warranty.
Pricing
The MSRP on the Crosstrek Sport Package comes to $26,995.00, or $28,670 after freight and PDI. The Crosstrek Touring Package starts at $24,995 while other trim levels nose just north of the $30,000 mark.
Conclusions
Subys have always been a little, well, quirky. They're also vehicles for folks who value keeping their quirky vehicles on the road for a long time. Fully 98% of Subaru vehicles sold in Canada over the last 10 years are still on the road today (so says IHS Automotive: Polk Canadian vehicles in operation and new registrations MY 2006-2015 as of June 30, 2015).