Acura entices people to move up to its vehicles using its entry-level ILX, but there's little about the ILX that's "entry-level." One drive in this vehicle is all it takes to figure this out.
First impressions
Acura has a reputation for sharp-looking performance sedans and it didn't deviate from this formula with the ILX. My tester, the A-Spec, came in Bellanova White Pearl with an Ebony interior.
The lower front fascia shows lines racing fans might recognize from open-wheel racecars. It's part of the side skirt package, an A-Spec extra. Matched with the decklid spoiler, the look is a winner. On Toronto streets, though, particularly those that feature euphemistically named "traffic calming measures," I drove extra slow to avoid the dreaded sounds of scraping.
Jewel eye LED headlights consist of five "jewels" in each forward-focused narrow-eyed headlight.
Interior
The interior boasts upscale touches throughout, from the leather-wrapped steering wheel and gearshift to the metal racing pedals that stand out from the dark carpeting under them.
Dual-zone climate control and heated lux-suede seats keep almost everybody comfortable.
I say "almost" since I drove the ILX with my head jammed against the ceiling, no matter how much I played with the 8-way power-adjustable driver's seat. I didn't come up with a setting I would program into the 2-position memory. This surprised me. I may stand 6'5″ but I've driven smaller cars that give me enough headroom, including Hondas and other Acuras.
A moonroof ships standard on all ILX models. While that might sound great to most, I'd probably fit comfortably with the extra inch I'd get sans moonroof.
Cargo capacity
The hockey bag slid easily into the ample trunk. It could probably have held two such bags.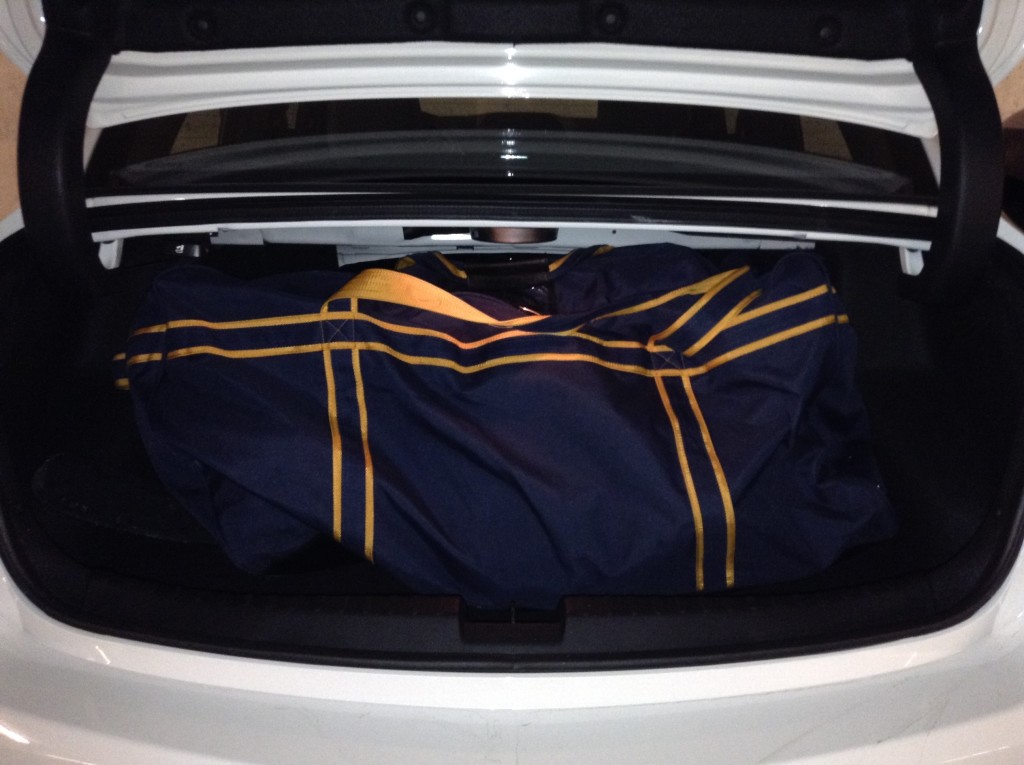 I folded down the whole rear seat (no split) to fit my sticks in the car.
In-car technology
The ILX features two displays (three if you count the multi-information display between the gauges on the dashboard) and far more stuff to do with them than I can list here.
The bottom display on the dash is a touch screen. You can use it to control the Acura/ELS Surround® AM/FM/CD/XM® Premium Audio System featuring 10 speakers. It also lets you type addresses in the navigation system and otherwise interact with the car's systems. The top display shows navigation and other information.
Below the bottom display, Acura includes a combination scroll wheel/joystick/button you can use to make selections. The manual calls this the "Interface dial/Enter button" and it's popular enough that other carmakers, like BMW and Mazda, feature their own versions of this controller in their vehicles.
It changes function depending on the top screen's current context. Using this controller, the buttons surrounding it and the amply sized top screen, I found it was easy to make the changes I wanted while keeping my eyes on the road. Apple mobile device users will appreciate the inclusion of Siri Eyes Free for the same reason.
The AcuraLink® Connectivity System on its own provides a treasure trove of useful technology. My favourite, hands-down: using either a web browser or a mobile app, the driver can map a route, waypoints included, and send that route to the car. Once the driver starts the car, the route is entered and the driver skips the requisite fumbling inside the car. I don't know why more carmakers haven't yet figured out how much easier it is to plan routes before getting in the car.
For all the technology the ILX features, I was surprised to find only one USB connection. (It isn't uncommon for more than one passenger to ask for a phone battery top-up.)
As usual, the audio system only gives me access to my iPod's built-in music system. I need to handle the iPod itself to use other audio apps, like the native Podcast app or the third-party Overdrive app that plays back audiobooks I download from the public library. This isn't an Acura-only limitation. I have yet to test a vehicle that provides this type of flexibility. For now, I'm pinning my hopes on Apple's CarPlay system (Android users are waiting for Android Auto) both for what it can handle today (native smartphone audio apps) and what it may be able to handle tomorrow (more third-party audio apps).
Driving
The ILX ships with Acura's new 2.4L 4-cyliinder 201-horsepower, directed-injected i-VTEC engine. It produces 180 lb.-ft. of torque at 3600 rpm. Not only is this motor standard on all ILX models; it powers the recently-launched TLX as well. Handling is crisp around corners even if you're a little fast going into them, and the highway ride is civilized.
Power travels to the wheels through an eight-speed dual-clutch transmission. The ILX lets you go through those gears using paddle shifters if you like.
Fuel economy
Expect city/highway/combined numbers of 9.3 / 6.6 / 8.1 regardless of the trim level ILX you drive. Acura recommends filling the 50-litre tank using premium unleaded fuel.
Safety
Passive safety technology earned the 2016 Acura ILX Sedan a 5-Star overall vehicle score, the highest possible NHTSA Safety Rating.
Acura throws so many active safety features into the ILX that most drivers will never need to verify that top rating. Most of these features ship as standard equipment on all ILX models.
I quickly got acquainted with the Blind Spot Information System (BSI) since it chirped at me each time I used my turn signal to indicate a lane change while a vehicle sat in my blind spot. Acura wants drivers to stay in their lanes, hence features like the Lane Departure Warning (LDW) and Lane Keeping Assist System (LKAS). Other useful acronyms to explore include CTM (Cross Traffic Monitor), RDM (Road Departure Mitigation), and FCW (Forward Collision Warning). This, by the way, is not a comprehensive list.
Pricing
Acura offers the ILX in four trim levels. The base trim can be yours for $31,659.75, Premium will set you back $34,159.75, the Tech package comes in at $35,659.75 and the A-Spec tops the list at $37,059.75 (all prices MSRP).
Conclusion
The ILX shares enough components with its bigger siblings that many buyers of this "entry-level" vehicle will both enjoy driving it today and likely explore more of the Acura experience when they're ready to trade up. Taller buyers may want to explore the next rung up the Acura model ladder right away. Everybody else can simply enjoy the handling,  comfort and overall experience the ILX provides in spades.