Last week I went over my seven habits of recording interviews. Other journalists thanked me for this, and a few want to know what technology I use.
I'm going to explain what I have used multiple times in a series of blog posts. Today, I'll go over options that many journalists don't even realize they already have.
I have explored a lot of the programs that came with my Mac. More often than not, they're really useful. The fact that they're included in the purchase price is a bonus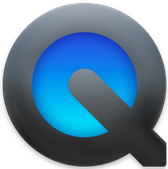 QuickTime is a media recorder and player that ships on every Mac and is available for Windows computers as well. It certainly comes in handy, and not just for audio recording… but that's another blog post.
I've been using QuickTime more often lately to record interviews since I don't need to transfer files from a recording device to my computer – the files are created on the computer itself.
Windows ships with Microsoft's own audio software called, prosaically enough, Sound Recorder and Windows Media Player. Much of what I write here about QuickTime applies to both of these programs.
Recording audio using Quicktime
My Mac's mic picks up live sound well. When I record phone interviews, the phone's speaker is about six inches from the Mac. (Windows computer users: your computer must have a microphone in it for QuickTime to record audio. If it doesn't, connect a microphone to either the audio in jack or a USB port.)
Using QuickTime X, click the File menu and choose New Audio Recording. A small window appears.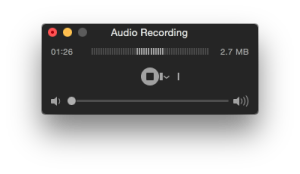 Click the record button in the middle of this window to start the recording. The window also shows the current time of the recording (far left) and audio levels (left and right channel levels start in the middle of the dialog).
I keep a careful eye on the recording level meters. If they barely budge when interviewees speak compared to when I speak, I ask interviewees to speak a little louder. Sometimes this means going off hands-free on their end of a phone conversation, at which point I apologize for being on hands-free, since I have my hands on my keyboard, taking notes. (They understand.)
Remember to stop the recording once the interview is over. Otherwise, QuickTime keeps recording until you remember or do something like put the computer to sleep or turn it off.
If this happens to you, QuickTime lets you trim the recording to get rid of the dead air you didn't mean to record. Check out this 3-minute video for an explanation.
Playback
You can use the play/pause, cue forward and cue reverse buttons on the Mac's keyboard (as well as many Windows PC keyboards) so you don't interrupt the flow of typing by moving your hand off the keyboard to a pointing device.
Also, you can make it easier to go to a specific point in a recording by stretching the QuickTime window across the screen.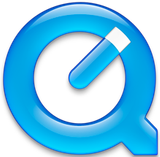 I play recordings using an older version of QuickTime instead of the more modern QuickTime X. Both play audio files, but QuickTime 7 lets me change playback speed, while QuickTime X does not. (I don't know why this useful feature was dropped.)
This feature lets me go through recordings more quickly, saving me time. QuickTime 7 still ships with Macs (and can be downloaded for Windows too). It can be found in the Mac's Applications/Utilities folder.
Technical notes
QuickTime doesn't add a chipmunk effect during fast playback, nor is there the "Frankenstein" effect during slower playback, unlike other audio playback software I've tried. The software maintains the right pitch. This speeds up the transcription process while not annoying the listener.
QuickTime handles many, but not all, audio formats. Should you record audio files using another device using Windows Media Audio (.wma) or Windows Media Video (.wmv), try the Mac add-in called Flip4Mac.
Do you record interviews straight to your computer? If you do, add your experiences to the comments below.