I like to talk about cars. As a result, people share their experiences with me about the models they own and the brands they're loyal to.
J.T., a former work colleague, drove 215,000 kilometers in a '90s era Nissan Sentra. He sold it to take a job opportunity in California, but he figures it probably went another 200,000 kilometers, it was running so smoothly when he sold it. This is one of several such stories I know with Nissans playing protagonist.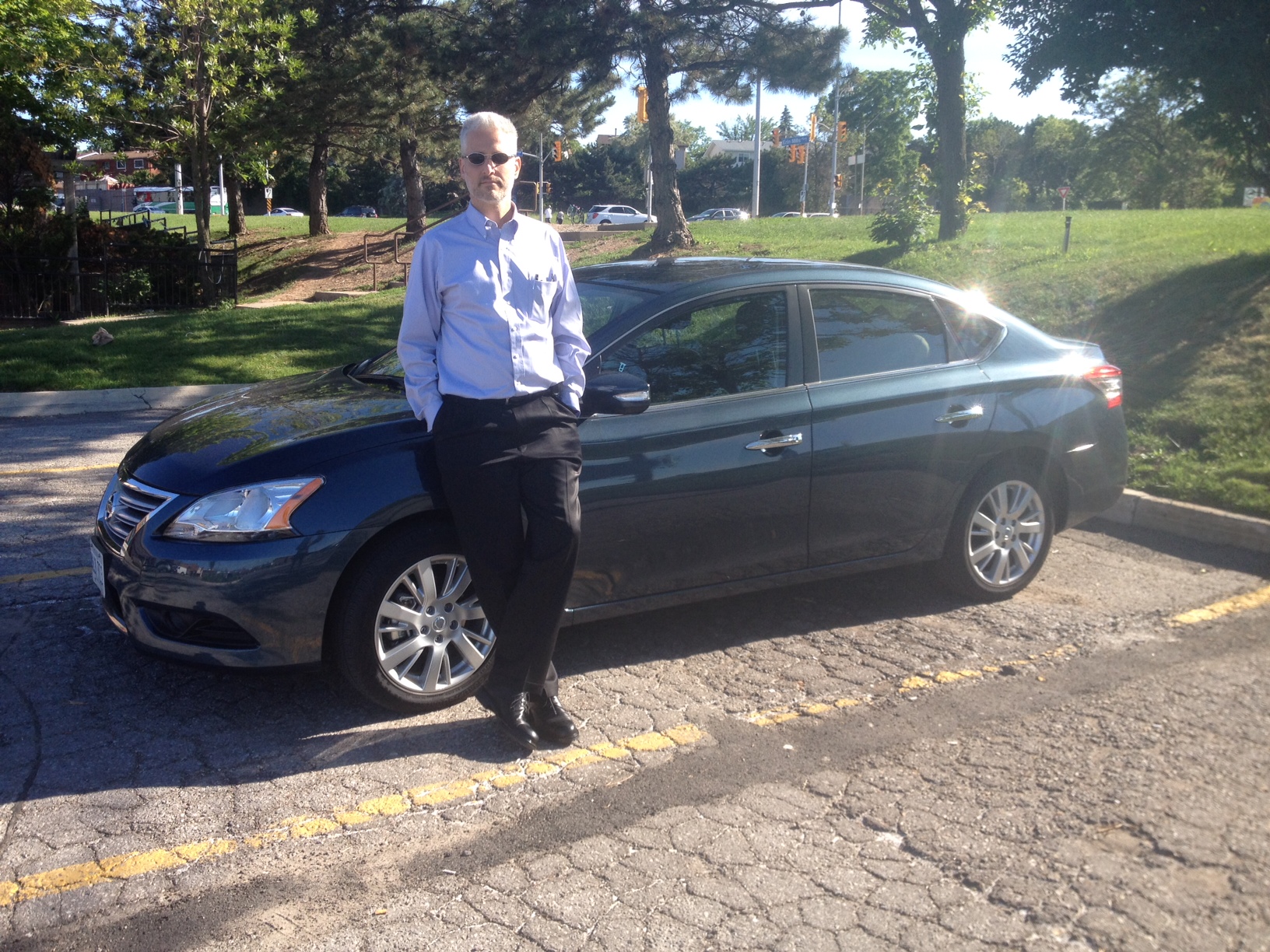 I'm a fan of reliable cars, so I looked forward to spending a week with a 2014 Sentra. My tester, the SL, rings in at a Canadian MSRP of $24,333, but buyers can get into two other trim levels, including the S, a manual transmission base model, that starts at $15,990.
Exterior styling
The smooth, rounded, somewhat bulky body style doesn't do much to distinguish itself from other cars, but it is handsome enough in an understated way.
Interior
The SL features luxurious touches commonly found in European sedans, like leather seats, leather-wrapped steering wheel and knob and individually heated and climate-controlled front seats.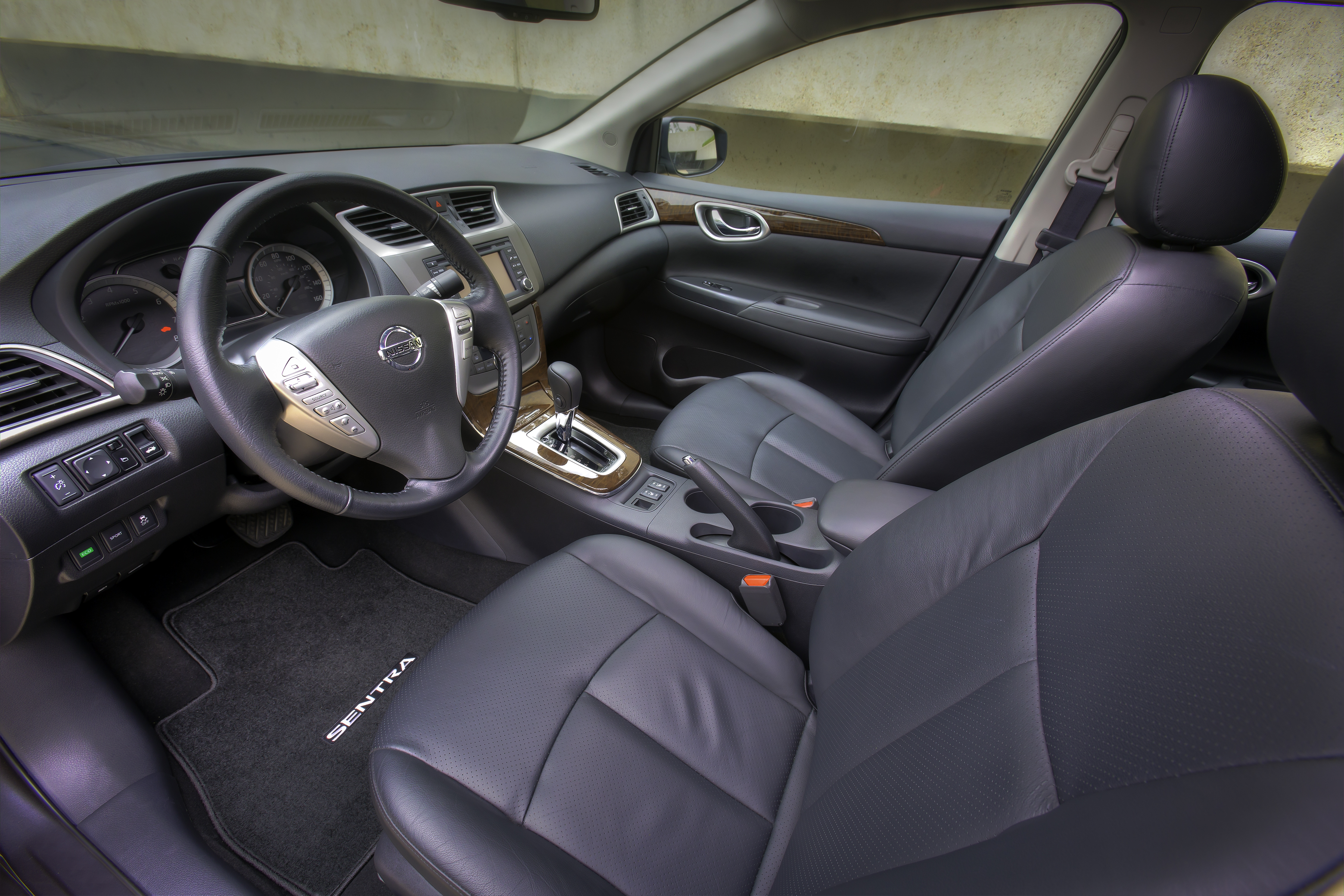 The driver's seat surprised me. I didn't mind the manual adjustments, but not being able to fit comfortably sitting straight up with the seat all the way down made little sense to me. In the end, I settled for a slight recline and having the close-cropped hair at the top of my 6'5″ frame being molded by the edge of the ceiling side of the power moonroof. While not an ideal setup, I got used to this quickly enough.
The Sentra handily passes the hockey bag test. There's plenty of room in the trunk, and it's easy to put the bag in and take it out.
On the road
The Sentra provided a civilized ride on the highways between Toronto and Stratford, Ontario. The 1.8L 16-valve DOHC engine produces an adequate 130 horsepower, transmitted to the wheels through a CVT that kept the ride smooth during normal acceleration. The speed-sensitive audio system volume meant the music coming through the Bose speakers quieted noticeably when decelerating from highway to city speeds.
Fuel economy should not be a concern. The Sentra wears Nissan's Pure Drive badge on the trunk, which means it meets or exceeds upcoming U.S. federal CAFE fuel economy standards. Drivers who care to stretch their fuel economy can try the ECO Pedal indicator bar, the Sentra's feedback of how light or heavy the driver's foot happens to be.
Electronics
I haven't tried any in-car audio systems that meet all my requirements – yet – but thanks to one problem, I stumbled across a brilliant design feature in the Sentra.
The problem: I paired my iPod Touch to the car using Bluetooth, then did the same with my BlackBerry. For whatever reason, I had to tell the system to use the iPod each time I started the car. At times, it seems like car and iPod didn't want to talk to each other. So instead of wrestling with the system, I plugged the iPod into the car using USB.
Brilliant design feature: What I then saw on the touchscreen made me forget about Bluetooth. There were my songs, listed individually, by artist, etc., plus playlists, audiobooks and podcasts. Choosing what to listen to could not have been easier!
Right now, this consistency only applies to native iOS apps like Music and Podcasts. I hope Apple connectivity will one day spread to third-party apps like Overdrive, which I use to download e-audiobooks from the Toronto Public Library. Still, the simple presentation of my music and podcasts shows that car manufacturers are starting to get it: emulate and allow for easy access using the interfaces that drivers know from their devices, instead of creating an interface that drivers need to learn.
This feature is part of NissanConnect, Nissan's "connected vehicle" experience that includes a smartphone app as well. Mundane as this may sound, I like the idea of Nissan helping me to find lower gas prices to satisfy the Sentra's 50 litre tank. It's a great feature, sure to be used more now that fuel seems to have reached a new plateau of $1.42 per litre in the Greater Toronto Area. Thanks OPEC.
The only NissanConnect features I didn't appreciate were Facebook and Twitter, which Nissan put into the "Communications" group of options. I want to keep the "bah humbug" tone out of my writing, but am I the only person who believes carmakers need to maximize the amount of time drivers keep their eyes on the road?
In fairness, Nissan isn't the first carmaker to follow this route. The car industry as a whole is to blame for not taking a stand on this matter, even when you get stats like the one presented in this innovative public service announcement by a rival carmaker. (Sorry Nissan.)
http://www.youtube.com/watch?v=JHixeIr_6BM
Quibbles
I presume the aforementioned Bluetooth issue has an easy fix, and the driver's seat would fit me better sans moonroof. Here are a few other issues I'd take up with Nissan (some of which might be limited to my tester):
The trunk didn't seem to want to "catch" shut. I frequently had to give the Sentra's trunk a few firm pushes to get it to close properly.
Nissan could provide more than one USB port so that several people could recharge their phones during lengthy trips.
The touchscreen was not as responsive as that of my iPod. Pressing buttons and "moving" the map of the navigation system took some patience.
While the navigation system performed well on the whole and I appreciate voice guidance, I don't need to have my music or audiobook interrupted three times in three minutes as I approach a turn. I would have appreciated the ability to cut down the warnings to two, maybe even one, warning per turn.
Conclusions
I enjoyed the Sentra during the week I spent driving it, to the point I'd recommend it to J.T., the former work colleague I mentioned at the beginning of this post. (He's since bought three other Nissans, so he wouldn't need the recommendation.)
Subtle elegance, refined performance and confidence-inspiring road manners defined my week with the Sentra. Throw in a manual transmission (even if I were to lose the Pure Drive designation) and lose the headroom-robbing moonroof, and I could see myself using the Sentra as a daily driver for years to come.