Some days, you need to haul a few more things than you might have room for in an ordinary vehicle. That IKEA chair a friend gave you fully assembled, because she lost the instructions and the box. Four guys and their hockey gear. You know the situation. Those days turned out to be 2018 Toyota Highlander Hybrid Limited days.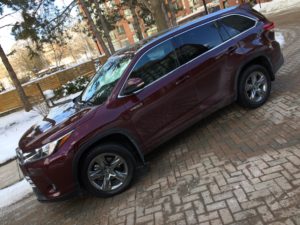 First impressions
Decades of owning small cars have left me with non-market impressions of what a large SUV happens to be. In fact, Toyota sells a few models that are larger than the Highlander.
But I still see the sheer size of this vehicle, its ride height, its get-down-to-business stance. Touches of elegance, like the Toyota-brand fascia and rear spoiler, do little to take away from the impression of size.
The reasonable size of the vehicle shows up when I find I can park the Highlander easily in any parking spot I try. I guess it's not THAT big. Toyota does throw in a few electronic goodies to make parking easier – more on those later.
Interior
Toyota uses the Highlander's proportions to maximize its utility. There are three rows of seating in this vehicle. My tester offers seating for seven. Toyota also offers an eight-seater configuration.
You'd be forgiven for thinking you're in a sedan when you're inside the Highlander. Touch the exterior driver's door handle and the word "Highlander" shines on the ground. Inside, Toyota fit and finish grace the whole cabin. The leather-wrapped steering wheel is heated for winter driving comfort. A low shelf runs more than half the width of the dash. The storage console between the front seats is huge.  Subtle accent lighting glows throughout the cabin. Comfortable front "captains seats" are both heated and cooled. Drivers' seat memory also takes the positions of the power heated side mirrors into account.
The second row of seats proved comfortable too. Second-row passengers get their own charging ports and climate controls. When I received the Highlander, the third-row bench was set up as well. Clambering back there would have been difficult for me, but it's a great option for smaller passengers. Fold that down and the hatch predictably becomes cavernous.
All passengers can enjoy the view up through the panoramic moonroof. Opt for a "solid" roof if you'd rather have Toyota include its ceiling-mounted rear seat entertainment system.
Hockey bag test
The rear hatch is shown with the third row of seats up. As it, it would fit one and a half of my bags. Sticks slid easily over the third row of seats. Pull the rear seats down and you'll pile plenty more gear back there.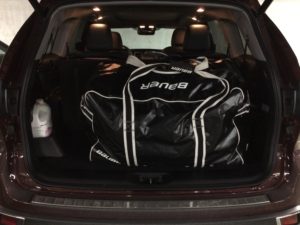 The glass part of the door opens on its own if you just need to quickly reach inside.
In-cabin technology
A 12-speaker JBL Synthesis Audio System delivers sound from the radio and your discs and devices. Your interface to this sonic pleasure is Toyota's Display Audio system, featuring  mod cons like Siri Eyes Free, but not Apple CarPlay or Android Auto. Toyota's infotainment system is user-friendly for an automaker-provided system, but omitting smartphone OS-centric options seems odd, especially in a vehicle at this trim level.
Toyota offers charing ports under the "shelf" in the front dash. On the minus side, they're difficult to reach, or see, while sitting up. While parked, I had to bend to one side to determine how to plug in the USB cord. On the plus side, I could leave charging cords sticking up through a hole in the shelf where hooking up phones was easy. Toyota places a partial cover over this hole that reminds me of cubicles I've worked in, where plastic covers help to give an organized appearance to cords that ran from a PC placed under the desk to things like monitors, keyboards, mice and other peripherals on the surface of said desk.
Of far greater use is the panoramic or "birds-eye view" camera. Toyota offers a button that you can use to have this view take over the touchscreen whenever you want, and not just when the Highlander is in reverse. A "sweep round" view gives the impression you're walking around the vehicle, seeing everything on the ground from every angle. (You can pause and play this "walk-around" view.) The Highlander creates this illusion by combining views from cameras:
poking out the front grille (1)
under each side mirror housing (2)
mounted on the rear door (1)
Coupled with Park Assist guide lines, this system ought to help drivers avoid dings. The only issue with this system is common to almost all automakers: road crud tends to stick to the rear-view camera lens. Once-a-day cleaning during inclement weather is a good idea.
The 4.2" multi-information display sits in the middle of the instrument cluster, flanked by analog dials for power output (to the left) and speed (to the right).
Icons like the distance setting for dynamic radar cruise control are large,  brightly coloured and take over the whole screen when you change that setting. I'd like to see other icons take over the screen the way this setting does when you're using them. For instance, when you set cruise control, you don't see the speed number unless you look at the top of this display where it usually sits. I'd like to see that cruise number take over the display for the few moments you set it, then automatically retreat to that corner of the display when speed has been set.
Driving
Net power of 306 hp goes from the 3.5L V6 engine and two high-torque electric motors to all four wheels. All Hybrid models ship with AWD standard. In the gas-only model, the V6 peaks at 295 hp.
The sedan-like ride stays comfortable even in stop-and-go traffic. The Highlander applies power smoothly when you set the dynamic radar cruise control system. Disappointingly, DRCC disengages when you decelerate to about 40 km/h, so it won't save your feet any effort in stop-and-go traffic.
DRCC is part of Toyota's Safety Sense grouping of active safety features, which includes a pre-collision system with pedestrian detection and lane departure alert with steering assist.
Fuel economy
During much of my week with the Highlander, the average fuel economy readout was about 10.7 L/100km. I reset this gauge and set out on a 150 km trip where DRCC handled most of the acceleration and deceleration. Fuel economy settled at about 9 L/100km. Once I hit traffic close to home, the DRCC turned  off and I started to work the pedals again. Over those last few highway kilometres, fuel economy improved to about 8.7 L/100km.
I drove the Highlander in Eco Mode while I had it. EV (electric vehicle) mode was out of the question. For starters, it doesn't tend to do much in sub-zero weather. Also, it wasn't designed to take this SUV any great distance on the battery. The internal combustion engine (ICE) kicked in even when I drove slowly through parking lots. Toyota documentation says the powertrain was designed to maximize fuel economy, not to allow for distance driving on battery power alone. I did like how the engine cut out when the vehicle was stopped, whether at a light or in stop-and-go traffic, but I'd drive no more than a few meters from a stop before the ICE started up again.
The Highlander takes regular 87 gas in its 65-litre tank.
Pricing
The 2018 Toyota Highlander Hybrid Limited, with fees and other charges, sells for $58,552.50 MSRP