Maybe you want a hatchback, but with all-wheel drive. Or perhaps a compact SUV that's a little smaller and offers better fuel economy. If this sounds like you, rest assured: there's a Mazda CX-3 that will fit your needs.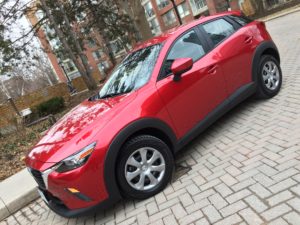 First impressions
This is a competitive segment, and Mazda has upped its game here to keep pace. They've done both the expected and the (delightfully) unexpected. (I'll get to this in the next paragraph.)
My Soul Red Metallic tester was the base GX with front-wheel drive and a six-speed manual transmission. That manual option is new for the 2018 model. It's also a shot across the bow of Mazda's competitors – try making a vehicle in this class so sporty your customers will want it with a manual transmission, why don'tcha! Far from chanting the same dirges over the disappearance of the stick and clutch pedal, Mazda chooses to be a holdout for those of us who want more sportiness in our ride. This is a gutsy move, even if the manual is only currently available on one of seven CX-3 trim levels. I hope the option becomes available on other trim levels.
The CX-3 continues to rock Kodo Soul of Motion. A quick search on Mazda's media website shows new, enticing designs on their current concept cars, and they look great. This tells me Mazda may be about to replace the Kodo Soul of Motion design language that has served the automaker well for more than five years. But to my eye, Kodo doesn't look dated just yet.
A vertical front grill stands at the start of attractive curves that define the vehicle from the fog lights to the spoiler. The plastic molding that runs along the bottom of the vehicle is a practical rust-prevention touch. It also hints at the all-wheel drive capability available in GX, GS and GT trim levels.
Size-wise, the CX-3 isn't much larger than the 3 Sport (hatchback) though the compact SUV body style certainly offers the impression of greater volume.
Interior
Mazda didn't break out the leather in the base trim level. If you want that, and other luxury touches, check out Mazda's Luxury Package. (Given the fact that it includes a moonroof, aka the nemesis of overly tall drivers, I can do without "luxury.")
Regardless, flawless fit and finish greet you when you step into the vehicle. The manually adjustable dark cloth driver's seat felt good when I first got into the CX-3, when I negotiated curving highway onramps and offramps, and everywhere in between. Given the outdoor temperatures when I had the CX-3, heated seats and steering wheel (available on other CX-3 models) would have been nice to have. (As you add these options, by moving up trim levels, the CX-3's price starts to resemble that of its competitors which ship these and other options standard on all models.)
There's a centre armrest, but no storage between the front seats. I found this odd, and chose to keep the armrest out of my way so I could shift gears more comfortably.
The rear seat is a little tight for my 6'5" frame owing to the downward-sloping roof that makes the CX-3 look so good from the outside.
Hockey bag test
The bag does fit, but it props up the privacy cover, obscuring much of my view out the rear window while I'm driving. The hatch floor comes out, though, so you can eke out a few more inches of vertical space if you need to. Sticks slid easily over the rear seat and fit with the hatch closed.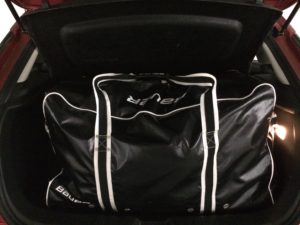 Folding down the rear seats would have created much more room, but I chose to put groceries and other bags in the rear seat instead.
In-cabin technology
Mazda may update their lineup's exterior design language, but I hope it keeps the 7" touchscreen Mazda Connect system driven by the HMI commander. Unlike many other automakers, who have gone through several iterations of their infotainment systems over the years, this setup continues to be robust and easy to learn more than five years after it was first introduced. Mazda, please don't fix this – it isn't broken.
What you get through this system depends in part on which model CX-3 you opt for. The GX I drove ships navigation-ready with Bluetooth phone connections and a number of other functions that are increasingly becoming standard equipment on all vehicles. Mazda still has not added Apple CarPlay to its lineup. Despite the base system's ease of use, CarPlay would be a welcome addition.
Also available is Mazda's Technology Package. In the cabin, the main upgrade is satellite radio.
You can charge devices from two USB ports and a DC power outlet.
The plain instrument cluster is dominated by a large analog speedometer in the centre. To the left is a digital tachometer. To the right, another screen shows trip information and fuel economy readouts.
When you power down the CX-3, the centre screen shows you your fuel economy from the trip. It's a good way to "gamify" fuel-efficient driving. (I found myself doing that after every drive.)
Driving
Like the in-cabin electronics, Mazda's SKYACTIV-G technology does not get old. SKYACTIV creates collaboration between the engine, transmission, chassis and body. And collaborate they do. Driving feel, shifter, braking, every bit of road feedback that made its way to me did nothing to dispel the smooth, quiet, confident ride.
The 2.0L i4, standard on all CX-3s, delivers a great balance between power when you want it and competitive fuel economy the rest of the time. Maximum horsepower and torque both hit the same number: 146.
The manual transmission is a welcome addition to the CX-3. It's every bit as smooth as the manuals I've tried on the 3 and 6 and just as much fun. I don't think I can overestimate the brilliance of adding a manual option to the CX-3 lineup, unexpected as it may be. The handling justifies this option.
As of the 2018 model year, Smart City Brake Support ships standard on all CX-3s.  It's a fine addition to dynamic stability control and the traction control system. (It's also a move Mazda needed to make – its competitors now include more active safety technology as standard features as well.)
Mazda's iACTIVSENSE and Technology packages up the active safety game with aids like Forward Obstruction warning and Lane Departure Warning System.
It also offers Radar Cruise Control, another feature I would have liked on the CX-3. I know what you're thinking: how can radar cruise control work with a manual transmission? Well, I have driven a manual transmission vehicle from another automaker that features adaptive cruise. It won't stop the vehicle, and you still need to shift in stop-and-go traffic, but when traffic flows relatively smoothly, it works well.
Fuel economy
The CX-3 is noticeably larger than a Mazda3 sedan I drove from Montréal to Toronto last summer. Regardless, in mixed city/highway driving, the fuel economy was not much worse than the 3's, which spent most of its time with me on highways.
Mazda publishes city and highway numbers of 9 L/100km and 7 L/100km, respectively. These numbers differ slightly depending on transmission type (manual or automatic) and front-wheel drive versus all-wheel drive. The CX-3 takes regular fuel in its 48L tank.
Conclusions
If there's one knock against the CX-3, it's that the body shape implies more room in the hatch. That's about all I can somewhat reasonably nit-pick about. From driving comfort to looks to practicality, the CX-3 delivers just about every attribute you would want from a car in this segment.
Pricing
My tester, the base FWD GX model with manual transmission, sells for $19,995 MSRP. The top-trim GT sells for just over $30,000 MSRP.