Budget hatchbacks don't tend to catch the eye. But sometimes one comes along to buck the trend. That's one of many reasons why Hyundai's 2018 Elantra GT proved a pleasant surprise.
First impressions
The updated exterior is one of the updates from last year's Elantra. My Fiery Red GLS tester drew compliments from auto enthusiasts and casual observers alike. Merely glancing at the body, one could mistake the Elantra for a European make. Solid, muscular lines make this a handsome hatch from any angle. The overall effect is one of purposeful sportiness.
The new "cascading" front grill adds visual interest to the front end. It's going to grace all upcoming Hyundais too. And if you catch a glimpse of the front end of the car in the reflection of the vehicle ahead, you can see the modern vertical lines of daytime running lights below the bumper. Air curtains outside these lights reduce drag by directing airflow around the front wheels.
Interior
Firm manually adjustable seats up front offer a comfortable ride. Heated seats and a heated steering wheel are standard equipment on all GTs. My GLS tester added a panoramic sunroof. Otherwise, this is a functional, almost no-frills interior (until you move up to the GT Sport trim). The black-on-black interior is simple. Controls are well-organized.
Rear seats accommodate my 6'5" frame – just. That's partly because the roof doesn't slope down quite as rakishly as other vehicles in this segment. Rear seat passengers can enjoy the panoramic sunroof, available on the GLS package, as well as a pull-down armrest for added comfort.
Hockey bag test
The Elantra accommodates the bag well enough with the rear seats left up, though this hatch doesn't leave room for much else.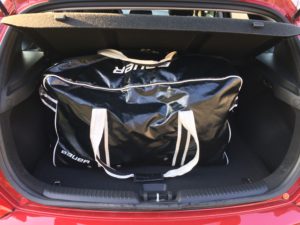 My tallish bag props the hatch's privacy cover up a little. The hatch underfloor holds a spare tire. Otherwise, this hatch could be much deeper.
In-cabin technology
The Elantra's 8" touch screen sits atop the dash. Hyundai thoughtfully placed knobs and buttons to either side of the screen. This reduces the amount of scanning I had to do to tune the radio, choose another screen, and so forth. (I appreciate any design touch that helps me keep my eyes on the road ahead.)
Hyundai's touchscreen systems are serviceable if not outstanding. Plug your phone into the one USB port (one? in the whole car?) to activate either Apple CarPlay or Android Auto, depending on your make of phone.
Moving to the instrument cluster, the tachometer and speedometer flank an information screen. That screen allows configuration of several vehicle settings and, when the Elantra is in motion, serves as a trip computer (distance to empty, average fuel consumption and so forth).
Hyundai offers BlueLink, its telematics-based safety, service and infotainment system. It adds remote car start with climate control, find my car, and other features.
Driving
The 2.0L GDI motor put 161 hp through an automatic 6-speed gearbox in my tester. (Sport variants of the Elantra ship with a 1.6L 201 hp GDI turbo motor. The automatic is a 7-speed dual clutch model featuring paddle shifters.)
The Elantra offers two extra driving modes: Eco and Sport. Sport is what I used during my "highway on-ramp test" just to see if Hyundai can justify using the word.
Not expecting to do so, I squealed the wheels a little executing a right turn from a stop. In an automatic Hyundai. So yes, Hyundai can justify using the word. This car probably justifies the choice of a 6-speed manual, and that's with the less powerful engine Hyundai offers. Off the line, passing on the highway, wherever it suits you, you'll have more than enough power for everyday driving.
Road feel is commendable. The car feels right in any ordinary driving circumstances. That's partly a nod to Hyundai's parent company's forte. The SuperStructure frame on Elantras, composed of 53% Advanced High Strength Steel, is made by Hyundai Steel. That 53% is double that of the outgoing Elantra. Benefits of the SuperStructure include better noise insulation and driving experience, as well as safety.
Active safety components include a rearview camera as well as blind spot detection with rear cross-traffic alert, plus vehicle stability management and traction control.
Fuel economy
The instrument cluster gauge told me I averaged 7.8 or 7.9 L/100km during several days of mixed highway and city driving. I managed 7.3 L/100km on a highway round trip from Toronto to Madoc, north of Belleville.
Hyundai claims 9.4 city, 7.2 highway and 8.4 combined, with slightly higher numbers for manual transmission Elantras. The Elantra takes regular unleaded in its 53-litre fuel tank.
Conclusions
The 2018 Hyundai Elantra GLS starts at $24,099 MSRP. The base Elantra GT starts at $20,449 MSRP.