Most of us buy cars because we're grownups and have to get around. But sometimes we want a four-wheeled toy instead.
Subaru caters mostly to the adults in the car-buying market, but four years ago the company known for going all-wheel-drive across its entire lineup launched a low-slung rear-wheel drive surprise for the kids in all of us. And it was a pleasure to revert to childhood when I drove the 2017 Subaru BRZ Sport-Tech.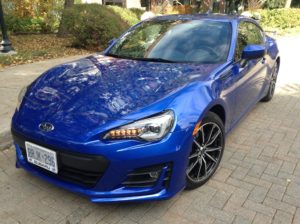 First impressions
Little about the BRZ's exterior has changed since it was introduced. And that's a good thing.
This wheels-at-the-corners two-door hatchback still has the reverse and brake light under the bumper, a cool racing-inspired touch. New C-shaped daytime running lights grace a refreshed front end, where sharp bumps sit above the wheel wells. A rear wing spoiler now sits on the hatch. The overall package, simple and sleek, gets looks from enthusiasts, while the World Rally Blue on my tester drew compliments from non-car people.
Interior
For all the leather and other neat touches in this car, the interior feels simple, even pedestrian.
Solid, manually adjustable seats feature onyx black leather with black Alcantara®, red stitching and embroidered BRZ logos. Side bolsters make themselves felt on sharp turns.
Each passenger I had in this car noted just how far they had to lower themselves to sit down. That's one way Subaru keeps the centre of gravity low and the handling spot-on.
At least I didn't put people in the back seat. Like other cars in its class, the BRZ is a two-seater pretending to be a four-seater, and not doing a very good job of it. With the seats where I and my passengers had them, anybody in the back seat would have to be a yogi. (Yes, there are child restraint anchor brackets back there.) Subaru's own press photo makes the point better than I can, (Note: this isn't so much of a criticism as it is setting expectations.)
Storage space is at a premium in this tight cabin. Cupholders sit in a "console tray" between the front seats, there's the glovebox, and not much else.
There's room in the rear seats for stuff, but flipping the front seats forward is a pain. You need to pull the lever on the floor of the car that adjusts seatback angle, then push the seat back forward – it doesn't spring forward by itself. A lever or switch at the top of the seat would make this operation more convenient.
The higher-trim Sport-tech package I drove included heated seats, dual-zone climate control, proximity key, push-button start (the sound of which is fantastic, by the way) and other trim upgrades.
Hockey bag test
When I first drove the BRZ at a press event almost four years ago, a Subaru Technica International rep saw the smile on my face and told me I ought to get one. I countered with the hockey bag argument. He insisted his bag goes easily in the trunk. His bag must be smaller than my bag, which takes about a minute of gentle coaxing and reshaping to slide in. Either that or Subaru offers a trunk-sized shoehorn as an accessory that he didn't tell me about.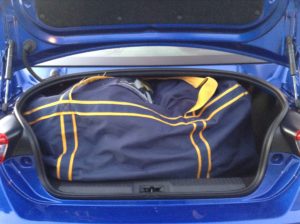 In-cabin technology
The multimedia system offers the standard bells and whistles: AM/FM/CD/MP3/WMA audio system with 6.1-inch high-resolution touch-screen display with GPS navigation, Aha™ radio, and SMS text messaging capability. The sound system fills the tiny space more than adequately, when you're not enthralled by the sound of a responsive engine.
The touchscreen could use a little work. Screens feature spots to touch that are smaller than they need to be, which means the screen demands too much attention when you're driving. The interface could benefit from a friendlier design featuring bigger icons and other "touch points." At the very least, a tuning knob would make channel selection easier.
More so than in most cars, I really appreciated the rearview camera – the blind spots are particularly bad on the left.
Driving
Blind spots when parking aren't what most people consider when they look at the BRZ. This car almost begs to be let loose on an open road, and I'm not one to deny this lovely little coupé.
All the power you want comes from a 2.0-litre, DOHC, 4-cylinder SUBARU BOXER engine. 205 horsepower and 156 lb-ft of torque went through the smooth-shifting close-ratio 6-speed manual transmission to the rear wheels. By the way, manual transmissions on ALL Subies should be this smooth.
Horsepower and torque numbers are a little lower on the 6-speed automatic version. That tranny gives drivers manual-mode paddle shifters. In keeping with making this an easy-to-manage sports car, Subaru also includes a rev-matching downshift control so paddle shifting doesn't accidentally result in a jerky ride.
The engine (which redlines north of 7,000 rpm), plus the transmission, plus a very favourable power-to-weight ratio, plus a TORSEN limited-slip differential, adds up to all the acceleration you can legally use (and then some). Want more performance goodness? Hold the TRACK MODE button for a second, then hold on for the ride.
In fact, the BRZ drives like it's glued to the road – almost. I accidentally – ahem – "gave myself a little reminder" that this is a light rear-wheel drive sports car while taking a left turn. From a stop, I figured I'd accelerate quickly to the speed limit. The rear end slid out a little bit. Even on dry pavement with grippy tires, the BRZ can be trouble for lead-footed drivers.
I can see owners taking this Suby to a racetrack for a little drifting. Even in a drift, the whole chassis feels rock solid. That solidity comes in part from having a roof, which helps to explain why Subaru hasn't released a droptop BRZ. It would look great, but at what cost in road feel?
Fuel economy
Subaru claims a not-unreasonable 11.1 L/100 km in city driving, 8 L/100 km highway and 9.7 L/100 km combined. The automatic transmission shaves these numbers down a little, though usage of the paddle shifters will most likely negate any fuel economy improvements.
Pricing
This is one of the more reasonably priced sports cars you'll find on the market. The BRZ Sport-tech I drove retails for $29,995, or $31,645 with freight and PDI added on. You can get into the base BRZ starting at $27,995 MSRP.
Conclusions
I've read reviewers criticize the BRZ for not having Subaru's turbocharged engine. I think they're missing the point. Off-the-line acceleration is great, and overall handling indicates a balance between great power and a sports car that just about anybody can handle – and afford. This car is clearly in Mazda MX-5 territory, minus the drop top and the million-plus cars sold.
Subaru made tradeoffs – some good, some not – to produce a fun car for the masses. Maybe Subaru will one day add stuff like a turbocharger, power-adjustable seats and other goodies as options in a higher trim level. Meanwhile, fans of reasonably-priced, normally-aspirated, great-handling sports cars need to check out the BRZ. They won't be disappointed.