I've spent time on Italian roads, largely in small cars. My extended family there will tell you how expensive gas is (it hovers at roughly twice the price paid in Canada).
Yet however economical their cars are to drive, they are far from spare. They buy cars that offer comfort, handling, performance and modern conveniences, as well as fuel economy. Contrary to lingering North American perceptions of the "econobox" market, plenty of car makers cater to this set of preferences.
Toyota's 2015 Yaris Hatchback is made for drivers like my cousins. It's Toyota's latest entry in the market for subcompact cars that punch above their weight.
Exterior
The Yaris is small, no doubt, but Toyota's European design team made sure the car looks good. As my relatives would say, "La Yaris fa bella figura."
Redesigned in Europe and built at Toyota's Valenciennes plant in northern France, the black sand pearl body on my 2015 tester showed off Toyota's "Keen Look and Under Priority" design direction. (Or it would if it wasn't usually covered in snow, ice and road grime, hence the lack of flattering pictures I took during my week with the Yaris.)
Much of the front end is a grill, flanked at the lower corners by fog lamps. From the grill, the short hood ramps up steeply to the windshield, which continues the angle up to a tall roof. Speaking on behalf of tall drivers the world over, thank you Toyota.
By Toyota's numbers, 84% of Yaris models leave French shores and 12% made it to North American shores in 2014.
Cabin
This being a tiny car and me being, well, not so tiny, my left hand automatically went down to the seat adjustment levers when I first sat in the drivers seat. Instead of using the levers, I just sat still for a moment. I slowly realized I fit comfortably without having to lower or move the seat.
The leather-wrapped steering wheel and shift knob on this five-speed went well with materials on the seats and the dash that also felt good to the touch. Engine and road noise were on par with bigger vehicles, thanks to a new dashboard silencer, better sound absorption material in various places and a "noise-optimised" carpet new to the Yaris.
Cargo space, as you might guess, is not this car's forte. I might have been able to squeeze the hatch shut once my hockey bag was inside, but it looked too tight a fit, so I instead folded the rear seats down and lifted the privacy cover off its hinges. I had to watch that privacy cover as I loaded and unloaded the hatch since I worried about bending it.
My hockey sticks are extra long and closing the hatch over them took a little thought. In the end, I tucked the blades behind the front seat, then closed the hatch slowly so as not to ram the butt end of the sticks into the glass.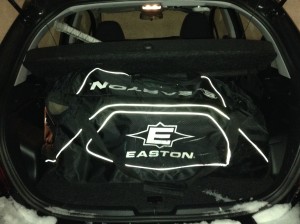 Driving
Toyota crams a peppy 1.5L engine into the Yaris. It puts out 106 hp at 6,000 RPM and 103 lb ft of torque at 4,200 RPM. These numbers might sound modest, but when coupled with the car's light weight the Yaris gets plenty of jump from a standing start.
The five-speed was a hoot on standing starts (I'm sure the four-speed automatic is about as much fun – is my bias showing?) and the car handled curves with plenty of grip, even on snow-covered roads. As I wrote earlier, this is a relatively quiet car, but some road noise gets into the cabin during acceleration, to add a mildly visceral thrill to the drive.
I use manual transmissions not just to accelerate but also to control my speed when descending the ramp into my condo building's parking lot. Even with the Yaris in first gear after a slow approach to the ramp, I still had to brake on the ramp. I chalk that up to the peppy engine.
This front-wheel driver easily handled the winter conditions we faced during our week together. Vehicle Stability Control (VSC) and the Traction Control System (TRAC) may have come in handy during the tight u-turns we enjoyed pulling. (About those u-turns: I often hit the point in the steering where the car's wheels wouldn't turn any more, and I wished they would.) The yellow dash light blinked furiously several times one snowy night as I tried to pull away from stops with a little extra gusto.
Toyota's engineers couldn't have rigged the suspension much better. The ride was smooth for a small, light car, a ride you might expect from a larger, pricier model. (My apologies to the Yaris for the deplorable potholes on Toronto roads, not all of which were avoidable.)
Here are the numbers many Europeans (and increasing numbers of North Americans) really care about: combined city and highway mileage of 6L/100 km with a 5-speed manual, 6.1 with an automatic. These numbers make the lack of cargo room much easier to live with.
In-car electronics
My tester had no navigation system and offered several apps, a radio and CD player. The infotainment system  hosts other devices via USB, line in or BlueTooth and tells the driver what's playing via a 6.1-inch touchscreen in the dashboard.
Toyota kept the basics uncomplicated with three knobs and integrated buttons for climate controls below the touchscreen and a pleasantly straightforward set of analog gauges behind the wheel.
Toyota did the right thing by providing a great driving experience and foregoing excessive in-car gadgetry. That said, there's no back-up camera. I know this is an economy car, but backup cameras in cars are going to be as widespread as airbags in a few years, so Toyota may as well include them now.
Pricing
My 2015 Yaris Hatchback five-door SE model starts at a base MSRP of $17,665. Throw in federal tax, freight, PDI and a couple of fees and this Yaris is on the road for $19,292.15. Toyota also offers more modestly priced three-door CE and five-door LE models.