You know a car is a hot ticket when you call to reserve it for a media review the same day you get the email announcing it's joined the media fleet, only to be told you'll need to wait a few months for your turn.
Fortunately, I'm patient. Driving the Acura RLX Sport Hybrid SH-AWD (Super-Handling All-Wheel Drive) Elite was worth the wait.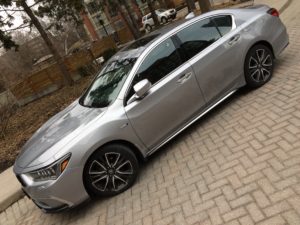 First impressions
This substantially proportioned sports sedan strikes the right style notes from every angle. The redesign includes a diamond pentagon grill flanked by Jewel-Eye LED headlights. From the driver's seat, the sculpted hood adds edges that run from the A-pillars to the inside edges of the headlights, creating an impression of bulk. Dual exhaust finishers say this car can power ahead but does so with manners.
Interior
The RLX welcomes you by shining lights inside each door handle and folding out the side-view mirrors. Open the door and sink into solid leather heated and cooled seats.
While these seats comfortably accommodate most people, I found myself cursing a headroom-robbing moonroof yet again. No matter how far down I put the seat or how far back I leaned, that moonroof edge rubbed against the top of my head whenever I drove. I finally managed a lean that wasn't too bad, thanks in part to the power-adjustable steering wheel coming far enough away from the dash.
That's the only gripe I have inside this car. Leather, piano black accents, contrasting stitching, a heated steering wheel and other high-quality touches add up to an attractive, refined interior.
Heated rear seats are spacious, thanks to the roof not sloping down to the trunk. Score a point for unabashed four-door sedan design. Rear seat passengers can lift manual side window shades for protection of their privacy or protection from the sun. They can also raise or lower the rear window privacy screen using a button that sits between the two seat heater buttons. That screen automatically lowers whenever you put the Acura in reverse.
Hockey bag test
Hybrid cars frequently feature a battery bump in the trunk just behind the rear seats that limits cargo space. You can see the bump in this technical drivetrain image, just above the rear wheels.
The RLX Hybrid is no exception, though the rest of the trunk capably held my hockey gear plus a few more bags. Rear seatbacks don't fold down, so adult-sized hockey sticks ride in the rear seat.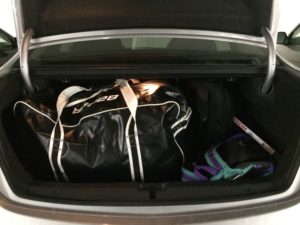 Buyer tip: When you pick up your RLX, make sure the dealer throws in a combination ice scraper/brush/hockey stick like the one I found in the trunk.
In-cabin technology
You put the RLX in reverse by pushing a small button embedded in the centre stack. The transmission controls, in fact, are all differently designed buttons. There's no gearshift lever. That gives the space in front of the centre storage console a very flat look. It's different enough to add a high-tech vibe to the car.
That vibe continues with the two screens in the centre stack. Audio controls usually populate the bottom touchscreen, while many more functions (including audio) can appear on the top screen, shaded from sunshine by an overhang.
That top screen shows you a selection of camera views, including a birds-eye view from "above" the vehicle, that you can toggle through at the touch of a button. It's a little far away to reach using one's hands, so Acura includes buttons and a combination knob/joystick controller just under the touchscreen to interact with it.
Audio sounds great through the 14-speaker sound system. It might be time for Acura to include Apple CarPlay. While it handles "onboard" systems (e.g. AM, FM, satellite radio) well enough, I still find Acura's system unintuitive, to the point that I had to crack open the manual to figure out how to do things like access playlists on my phone. Sometimes I just want to plug my phone into the car and go straight to an interface I already know.
If you're even more old-school and you bring music CDs into the car, Acura saves their contents automatically to an onboard hard drive.
Acura includes a heads-up display for the driver. At first glance, it is smaller and doesn't show as much information as HUDs I've used on other vehicles. First glances can be deceiving.
Acura placed a combination scroll wheel/button under the driver's right thumb (presuming the driver holds the right hand at the 3 o'clock position). You use that scroll wheel to change information shown in the multi-information display that sits between the analog speedometer and tachometer. Screens here include both information (e.g. current heading, adaptive cruise control information) and a screen that offers settings for the HUD.
In that HUD settings screen, you scroll to what you want the HUD to show, then click the scroll wheel. The HUD automatically switches to information about features like voice commands and radio tuning at the moment you use them. The system is easy to figure out,  easy to use, and a user experience win for Acura.
Driving
There's no doubt the RLX can move, but it's a smooth, civilized sprinter. A direct-injected 3.5L V-6 teams with three electric motors, enabling the RLX to leave surrounding vehicles in your rear-view mirror. 377 peak total system horsepower and 341 lb.-ft. peak total system torque will do that for you. (Acura claims this is its most powerful offering next to the NSX.)
Drivers looking to explore the RLX's Mr. Hyde side are in luck: Acura ships each model with Sport mode and a 7-speed transmission you can control using steering-wheel-mounted paddle shifters.
But the car never feels as though it's out of control. I know it's a marketing designation, but using the term "super-handling all-wheel drive" is also an honest way to describe the RLX's performance.
Note: This is a hybrid. That said, there are economy hybrids and performance hybrids. The RLX falls squarely in the latter category. The primary responsibility of the hybrid system in this car is to:
provide instant torque when you hit the accelerator
give the internal combustion engine time to catch up and keep the acceleration going.
It's a system that works in Acuras as well as Ferraris. In the RLX, this means instant torque and the smooth, unquestionable application of power at any time.
That said, the RLX is civilized. It provides a quiet ride thanks in part to all the noise-dampening features built into it. Any engine roar you hear you bring on to yourself by shifting late or using Sport driving mode.
Adaptive cruise control and low speed follow combine with lane-keeping technology to create Traffic Jam Assist. In other words, you may want to trust the car to handle the stress of stop-and-go traffic. (I didn't get to test this during the one week I actually wanted to get stuck in an automotive conga line.)
That's not to say you should let your hands drop from the wheel. The RLX flashed an orange message at me to keep steering when I did this. In my defence, why hands were millimetres away as I tested the car's lane-keeping abilities at speed.
The technologies behind Traffic Jam Assist are bundled into the AcuraWatch suite of safety and driver assistance technologies. Other parts of it include: Collision Mitigation Braking System™; Forward Collision Warning; and Road Departure Mitigation (RDM) with Lane Departure Warning (LDW).
Fuel economy
Acura claims city/highway/combined numbers of 8.4/8.2/8.4 L/100km. When I first got the vehicle, the onboard fuel economy monitor read 9.9.  Sure, the engine turns off when stopped and when decelerating. I did what I could to coast to stops, even letting off the accelerator along main roads where I could to encourage the engine to shut down and have the wheels juice up the battery. I even used Normal drive mode most of the time instead of the higher-revving Sport mode.
My initial conclusion: 3.5L  internal combustion engines will not be denied their thirst.
Finally, I reset the trip odometer (which resets the fuel economy average) just before a highway trip. I managed 7.1 L/100 km on that trip, allowing adaptive cruise to handle the pedals for most of the trip.
The RLX takes premium unleaded in its 57L fuel tank.
Conclusions
The 2018 Acura RLX Sport Hybrid SH-AWD Tech starts at $72,035 MSRP plus freight and PDI. The Tech version will set you back $67,535 MSRP plus freight and PDI.