Carmakers strive to deliver category-busting models at an ever-increasing rate. Those efforts have resulted in many interesting vehicles on our roads.
Those same carmakers also recognize the value in delivering models that consumers have always (will always?) find appealing. The economical four-door sedan is one such staple. Popular models have been around for decades. Case in point: the Toyota Corolla. I spent a week with the 2018 Toyota Corolla SE CVT catching up on the state of this model.
First impressions
My Classic Silver Metallic XSE is easily mistaken for grey. That's a good thing. It's an honest representation of the Corolla legacy, now in its '50s. Sure, there's Lexus-style design love on the front fascia, dressy 17" aluminum alloy wheels and subtle body work to differ this generation from previous Corollas.
The rest of the car leaves no doubt that it's a sensible 4-door sedan Canadians have been buying in droves for decades. Again, that's a good thing. Keep reading. I'll explain why.
Interior
Keyless entry and push-button start tell you that the Corolla is not the bare-bones econobox of yesteryear. But the technological dazzle didn't keep me from noticing one particular flaw.
Summary: plenty of us taller-than-average drivers would love to fit comfortably in Toyota's popular economy car. But that's not entirely possible. (If you're even a tad shorter than my 6'5", you won't have this issue.) The power-adjustable heated front seat doesn't go low enough to prevent contact between my head and the ceiling. Take out the moonroof and I suspect this issue goes away.
Strike two: I could not get the seat to go far enough back so my thighs could rest comfortably on the seat. There's an adjustment that raises the thigh portion of the seat while leaving the butt portion low, but it wasn't quite enough for me.
Fit aside, the cabin is pleasant enough.
A chunky heated leather steering wheel matches the design of the auto shift lever and hand brake lever. Piano black accents add subtle touches of elegance throughout the cabin.
Rear seats are almost tall enough to give me headroom, and that's saying something. This means most people will fit in the back. You can thank Toyota's resistance to the sloping roofline/short trunk deck design trend for the rear-seat headroom. This isn't a sedan trying trompe l'oeil to look like a coupe.
Hockey bag test
The roominess carries over into the trunk. Two bags would fit longitudinally without bringing down the 40-60 split-folding rear seats.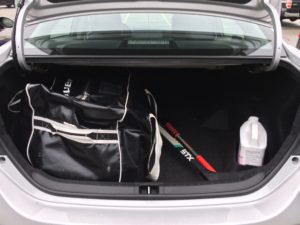 In-cabin technology
Toyota's 7-inch Display Audio system touchscreen (6.1" on the base Corolla) capably delivers the infotainment basics. Satellite radio, Bluetooth hookups, navigation, it's all there.
What's missing? Apple CarPlay and Android Auto. These are making their way into other automaker's offerings, so I'd expect Toyota to bundle these interfaces into their products at some point. Still, SIRI Eyes-Free gives iPhone owners a measure of the interface they're used to.
Driving
A 1.8L 4-cylinder offers a peak 132 horsepower to get the Corolla moving quickly enough. This model Corolla has a CVT, a boon for fuel efficiency on any vehicle. The fuel efficiency reading on the Corolla said 7.8 L / 100km when I picked it up. On a long highway trip largely driven using cruise control, that number sank to 7.1. The Corolla takes 87 octane fuel into its 50-litre tank, so that highway trip could have lasted quite a while longer than it did.
Toyota may have sold more CVT-equipped vehicles than any other automaker, thanks largely to its leadership position in the hybrid car market. Yet Toyota figured it would be a good idea to include paddle shifters on some Corollas.
Preprogrammed gears on a CVT-equipped vehicle may have been a cool novelty five years ago. But on a sensible car – and the Corolla doesn't do enough to shake the sensible image – paddle shifters are out of character. That doesn't stop automakers from throwing them in, and I presume they have the marketing data to justify their existence.
But why would automakers try to make one car everything to all drivers? Upscale touches I can understand. The performance bits, I can't. Frankly, it's difficult to get sporty performance out of most vehicles in this market segment. And I like my automobiles with only one personality. Maybe it's time automakers scale back on their deployment of paddle shifters in their products.
If you're interested, Toyota does offer a true 6-speed manual transmission (by "true" I mean a transmission that calls for the use of a stick and clutch pedal whenever you drive the car). That would probably be more fun to drive.
Toyota Safety Sense seems to be making its way to every model in the Japanese automaker's lineup. A pre-collision system with pedestrian detection and lane-departure alert with steering assist ought to keep many people out of scrapes.
The one feature in this package I gladly used whenever I can is dynamic radar cruise control. It makes drives on highways where rates of traffic vary are much more pleasant. Toyota's implementation of this system is among the smoothest I have ever experienced. In most cases, you don't feel the acceleration or braking. I hope Toyota turns this system into one that also works in stop-and-go traffic. Right now, it turns off once you decelerate to under 40 km/h.
Conclusions
The Corolla SE CVT I drove starts at a base MSRP of $21,790. With the XSE package ($4,080.00) taxes, fees and so forth, the total for my tester came to $27,612.50. The base 2018 Corolla CE starts at $16,790 MSRP