Compact crossovers have been gaining ground as slightly less roomy alternatives to crossovers and full-sized SUVs. Their popularity makes the value-for-price competition among automakers seems especially intense in this segment.
Toyota competes here as hard as the next automaker. The Japanese company chose to differentiate its entry to this segment by calling it a compact high-rise, or C-HR. I found a lot to like about the 2018 Toyota C-HR I drove.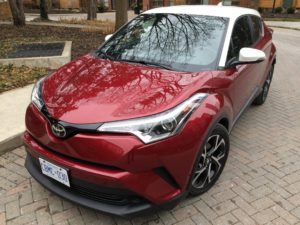 First impressions
Toyota sure knows how to sculpt a distinctive-looking vehicle.
This squat compact crossover has racy lines all down the body, from swept-back headlight assemblies that seem to almost reach the A-pillars to the steeply raked windshield and rear glass (topped by a roof-mounted spoiler) to the angular taillights that stick out from the body.
With wheels that seem to almost sit behind the rest of the vehicle, the C-HR looks ready to drag race.
A white roof capped the Ruby Flare Pearl body of my tester. The ensemble capped a look that solicits second glances.
I parked the C-HR next to a Toyota Matrix (since rebranded as the Toyota Corolla IM) and noted:
the two vehicles are the same height.
the C-HR offers more ground clearance.
Interior
That extra ground clearance means the C-HR offers less cabin room than its more pedestrian-looking Toyota stablemate.
Plain materials dominate a well-appointed cabin that features several attractive design notes.
Aside from a driver's seat power-adjustable lumbar support, seats feature manual adjustments only. I had the rare (for me) experience of not quickly finding a comfortable seat position in the C-HR. It's roomy enough, thanks partly to the welcome omission of a moonroof, even with the odd bumps it sports on the ceiling.
On the theme of unusual looks, the C-HR's rear door handles sit at the tops of the doors.
Rear seats are decidedly snug for anybody above "average" height. Blame that in part on the way the roof slopes to a rakishly angled rear window below a roof-mounted spoiler. It's a common theme in today's auto industry: great looks on the outside, tight fit on the inside.
Hockey bag test
The hatch fits my bag and a backpack, at most. Sticks went though the rear 40-60 fold-down rear seat.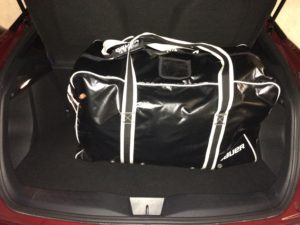 That's par for the course. Despite their apparent SUV pedigree, compact crossovers are not the vehicles to get if you haul significant amounts of stuff.
In-cabin electronics
The 7-inch touch screen and instrument cluster display offer a modest assortment of options.
Passable audio arrives via six speakers. Connecting my iPhone did not bring up Apple CarPlay, though the system easily let me navigate my music.
The C-HR offered one USB port. Maybe I'm influenced by the people I know, but one USB port in a vehicle no longer seems to be enough.
Toyota doesn't put the rear-view camera on the 7-inch display. It appears on the left side of the rear view mirror instead.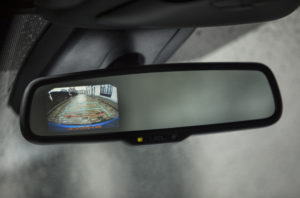 The image is tiny compared to what the C-HR could show on the touchscreen, even if it is a sharp-enough image. But I like this design choice. My eyes naturally stayed "up" where they should be. I didn't have to swing my eyes down and up as I also swung them around me whenever I backed up.
I found the C-HR easy to parallel park even without looking at the camera.
Driving
A 2.0-liter 4-cylinder engine drives the front pair of 18" alloy wheels. (The base wheel size is 17".) 144 peak horsepower and 139 pound-feet of torque means that hard acceleration can be had, but the engine does sound laboured.
A CVT takes care of shifting, though Toyota offers a sport mode featuring 7 preprogrammed gears to drivers who want to mimic the use of a manual transmission using the transmission lever. (Toyota did not include paddle shifters, a wise cost-containment move IMHO.)
Here's what impressed me most about the C-HR: Toyota packs active safety features into even the base model that were once only found in higher trim levels. Toyota calls its package "Toyota Safety Sense" and it includes:
pre-collision system
dynamic radar (aka adaptive) cruise control
lane departure alert
Again, these technologies ship standard, in addition to vehicle stability control, a traction control system and several other features designed to keep drivers out of trouble.
The C-HR's plainer aspects (e.g. lack of power-adjustable seats, plain in-cabin technology) become forgivable when I considered the driving technology Toyota crams into it.
Toyota also automates a good parking practice by having the C-HR activate the electronic parking brake whenever you put the vehicle in Park. It's a minor labour-saving feature I first noticed in Lexus vehicles, but even minor features impress me when they make this much sense.
Fuel economy
Toyota claims city/highway/combined fuel efficiency rating of 8.7 / 7.5 / 8.2 L/100km. Cumulative fuel economy levelled out around 8.8 L/100km during my time with the C-HR. I spent one lengthy highway drive largely on adaptive cruise control and managed 7.2 L/100km for the trip.
Conclusions
The 2018 Toyota C-HR base MSRP is $24,690. My tester with options (including the colour scheme and the premium package) taxes and fees topped out at $28,973.47. Aside from a few other options, that's about as high-end as the C-HR gets.
This car (given its size, I feel comfortable calling this compact crossover a car) ought to attract value-conscious buyers. A plainly appointed interior is the sole tradeoff for a competitively priced head-turner that packs active safety technologies into the base model. The C-HR is a stylishly sensible choice.