One fine fall day, I pulled out of a parking lot, momentarily forgetting what I was driving, and hit the accelerator with a little more oomph than was wise. I woke up quickly to the power on tap that drove the 2018 TLX A-Spec SH-AWD.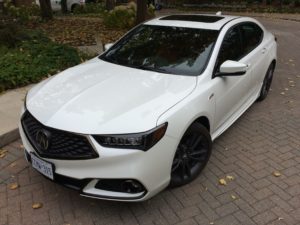 First impressions
Acura's mid-range sports sedan hits all the right style notes. It's well-heeled in its black 19" 10-spoke wheels.
The refreshed-for-2018 body hews to Acura's sports design language, from the jewel-eye LED headlights to the hood bulges to the lengthy hood/short rear deck combo to the black trunk spoiler and so forth. And just in case you forget you're driving the go-fast version, Acura scatters badging around the car.
Interior
Red leather shouted "look at me" before I even stepped across the A-Spec-branded door sill.
Perforated Milano leather accented by piping adorns both front and rear heated seats. Advanced seat frames are designed for all-day comfort with lateral support for aggressive cornering.
That said, those of us vertically-enhanced drivers won't appreciate the lack of headroom. I noted the same issue in the Acura ILX some time ago. You can recline the seat more and rob your rear seat passenger of precious legroom. You can sit upright and have the edge of the moonroof opening create an attractive trench in the hair on the top of your head. But you can't lower the seat enough to avoid these two options.
This is odd. I haven't had this issue in Hondas I've driven, even a Honda Civic. A TLX without the moonroof would be a treat. Seriously. This was one of very few things I found to complain about during a week with this car.
Other luxury touches include wood grain accents, a heated steering wheel, power adjustable front seats and two driver's seat memories.
Hockey bag test
The short rear deck belies a capacious trunk Two bags would fit snugly in the trunk and players would not need to lower the 60-40 split -folding rear seats.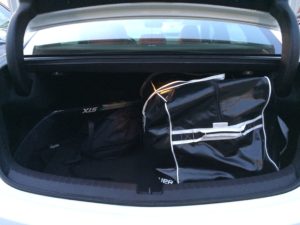 If it weren't for the extensions I put on my sticks, they might have fit diagonally in the trunk as well. Under-floor compartments can accommodate small computer bags.
In-cabin technology
Acura includes a two-screen setup on the centre stack. The upper (non-touch) screen offers Apple CarPlay or Android Auto when you connect a smartphone to the USB port at the base of the stack, hidden in its own cubby. That cubby is also a wireless smartphone charger.
Acura includes a combination dial/button/joystick under the lower display that serves as a controller for this interface. A "Smartphone" button to the right of this controller acts like the "home button" on my iPhone, returning the screen to the main app icons. Full Siri voice controls gave me easy access to the phone when I needed it.
This screen shows a feed from the rear-view camera when you back up. About the backup view: I couldn't figure out how to switch it away from its fisheye perspective. I wanted to switch it, since I found it difficult to adjust to. The backup guide lines helped me slide into parking spots and line up to curbs, but the fisheye distortion did not match up well to what those guidelines indicated. The limited view out the rear window makes the view from that camera more important.
For that matter, the hood bulges in front don't allow for an accurate sense of the space you have on either side in tight parking situations. Still, the whole package looks great. Drivers will likely manage to stay out of low-speed trouble. I did, even if it took some getting used to.
The lower screen is a touchscreen that enables access to all the in-cabin technologies you'd expect – navigation, various settings, radio and so forth.
You use this dual-screen head unit to determine what you hear through the 490-watt, 10-speaker ELS Studio® Premium Audio System.
AcuraLink gives access to operator assistance and emergency services, among others. Controls for the two services I mentioned reside on the ceiling ahead of the sunglasses holder.
Driving
The nine-speed automatic transmission stayed busy thanks to the pleasantly loud and responsive 3.5L Direct Injection SOHC, i-VTEC® V6 Engine.
You can take control of those shifts using paddle shifters mounted on the steering wheel. 290 horsepower and 267 lb-ft of torque can hit all four wheels with more than enough authority to quickly propel the sedan from a standing start to "I'm sorry, officer" speeds. Passengers may clue you in when they find themselves pressed against the backs of the seats.
Acura's Super Handling All-Wheel Drive™* (SH-AWD®) system is designed to sense driving conditions and react accordingly. It can send up to 70% of torque to the rear wheels for more pressed-into-your-seat acceleration.
You can choose which of this A-Spec's multiple personalities (aka drive modes)) to live with when you switch from "normal" to "Econ" or "up" to "Sport" or "Sport+" – where the responsiveness of the accelerate-by-wire system couples with decreased steering assistance for a much sportier feel. You'll find the "Dynamic mode" button in the middle of an interesting row of controls for the transmission, electronic parking brake and auto idle stop button.
Everyday commuters looking to reduce the stress of their daily drives may prefer to focus on lane-keeping assist technology and adaptive cruise control with low-speed follow.
A full range of active safety features ship standard on the TLX, including Blind Spot Information, a Collision Mitigation Braking System and Lane Departure Warning.
Acura also ships front-wheel-drive TLX models powered by a 2.4-litre, 16-valve, Direct Injection DOHC, i-VTEC[®] 4-cylinder engine that produces 206 hp and 182 lb-ft of torque. The eight-speed transmission doesn't sound like much of a step down. Its Precision All-Wheel Steer™ (P-AWS) system enhances maneuverability and stability.
Fuel economy
Acura publishes city/highway/combined fuel consumption numbers of 12.0 / 8.2 / 10.3 for the A-Spec. Numbers for other models, particularly ones with the four-cylinder engine, are better than this. Thankfully, the A-Spec features an engine idle stop-start feature that improve fuel economy. Acura recommends premium unleaded (91) for the thirsty A-Spec's 65L tank.
Pricing
The base TLX starts at $38,163 MSRP after freight, PDI, levies and fees. Nine trim levels up, the SH-AWD Elite A-Spec will set you back $53, 163 MSRP on the road. Given the sporty and luxurious nature of the TLX, this pricing tells me Acura is paying attention to heightened competition in the sports sedan market.
The head will notice value in the A-Spec's features. The heart will be in the mouth after the first launch off an imaginary start line. Head and heart combined ought to open a few wallets after the first test drive.