Completely redesigned for this model year, the 2017 Kia Cadenza provides a luxury tourer's subtle looks and comfort without the luxury price.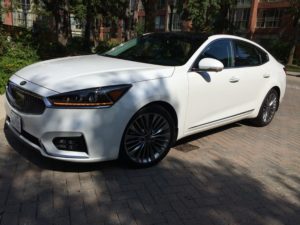 From the looks to the technological conveniences to the power, this Cadenza ought to catch German sedan buyers looking.
First impressions
The Snow White Pearl Cadenza Limited strikes a subtly elegant pose from the turbofan wheels up to the black panoramic sunroof. This wide car is bulky in the right ways. A brand-defining grill fronts a long hood, making for a sporty counter to the short trunk deck.
Interior
Elegance is the watchword throughout the cabin as well.
The largely monochrome interior was punctuated by touches such as strips of paneling on the doors and diamond-pattern stitching on the front seat side bolsters. Stitched or not, every seat surface was leather, with the front seats being both heated AND cooled.
Piano black covers hide the contents of two centre console cubbies.
A panoramic sunroof lets in the rays for everybody in the car. It does take away some headroom, says this "vertically-enhanced" driver who could do without the added sun. Still, getting comfortable was a mere matter of reclining the adjustable seat just a little more.
Climate controls sit sandwiched between the touchscreen above and audio controls underneath. An analog clock splits the climate control cluster in two. That clock seems to be the modern throwback luxury touch du jour from several upscale vehicle manufacturers.
Kia has paid attention to the competition it's chasing, not just in looks but in technology touches. For instance, when you start the car, the steering wheel and seat move into position. Stop the engine and the wheel and seat move away from each other, making egress easier. Driver position memory settings will prove convenient for two drivers.
Hockey bag test
The huge trunk easily swallows a hockey bag or two. Sticks can slide through an armrest pass-through into the rear seat.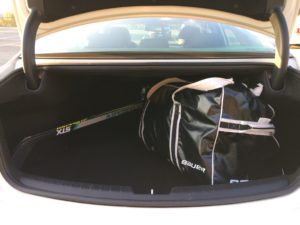 Another high-end touch awaits under the trunk lid: it features both a "close trunk" button and a "close trunk and lock car" button. Again, Kia is paying attention to the details its competitors offer.
In-cabin technology
The luxury extends to the gadgetry. An 8" screen interface offers all the tech you'd need: navigation, audio, including satellite radio, Bluetooth and so forth. Plug in your phone and you can skip Kia's onboard systems in favour of Apple CarPlay or Android Auto.
Given the design touches throughout the rest of the vehicle, Kia's own touchscreen interface could use an upgrade to match. It is functional. Many drivers will bypass it in favour of  Android Auto or Apple CarPlay. However, the default Kia interface looks years behind notably elegant systems from the likes of BMW/Mini and Mazda.
Tunes reach your ears thanks to a premium 12-speaker (that was redundant – "12 speakers" and "premium") Harman Kardon audio system.
Phones equipped for wireless charging can simply rest in the large front cubby containing the USB port. Multiple phones charging without a tangle of cables… now that's civilized.
Press a button near the centre armrest and the screen shows a 360-degree view around the Cadenza.
The instrument cluster display lets you set a variety of electronic behaviours.
Those include the colour, height and so forth of the heads-up display. The HUD is still largely found on higher-end vehicles only, but certain manufacturers are bringing them to more mainstream models. I hope Kia offers this well-executed HUD throughout its lineup.
Driving
A 3.3L V6 gasoline direct injection (GDI) engine produces a healthy 290 hp and 253 lb-ft of torque at 5,200 rpm. Kia put eight gears in the automatic transmission so it won't need to reach that noisy level. Highway cruising is calm, passing is quick, and the ride is relaxed. More adventurous drivers may enjoy the odd near-infraction on highway on-ramps.
The Cadenza's multiple personalities, also known as drive modes, include Comfort, Eco, Normal, and Sport.
Adaptive cruise control proved welcome on a quick road trip when traffic around me couldn't settle on one cruising speed. Other active safety technologies includes smart blind spot detection, electronic stability control and auto emergency braking.
Fuel economy
Kia claims 11.5 L/100km city, 8.5 L/100km highway, and 10.2L/100km combined. The Cadenza runs on regular unleaded, which makes it a cheaper date than many other vehicles in this class.
Pricing
The base price on my review Cadenza Limited was $45,795 MSRP, or $47,655 on the road. The base Cadenza starts at $36,295 while the Cadenza Premium goes for $41,495.
Even at the Limited trim I drove, car buyers who want a heads-up display, 360-degree outside view of the vehicle, wireless phone charging and a 12-speaker audio system, all in a powerful and smooth-driving package will be hard-pressed to find this kind of value from other manufacturers.
This value-for-money theme matters to all manufacturers, of course, but among the Koreans, it appears to  have reached the level of dogma. That's great news for drivers who want that luxury sedan feel without the luxury sedan price.