Back in 2013, Mazda started rolling out its Kodo Soul of Motion design ethic to its entire lineup of vehicles. It frankly makes them among the best-looking cars on the road.
I said cars – not SUVs. As vehicles increase in size, any intended soul of motion tends to become more, well, stationary-looking. Mazda defied this notion of mine, making its CX-9 one of the more pleasant design surprises on the road.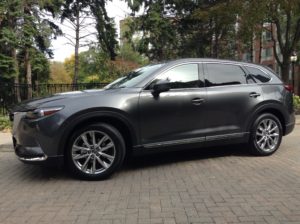 First impressions
The more I look at the vehicle, the more I'm convinced it's the long hood that makes this Machine Grey Metallic SUV stand out. (The colour is a $300 option, the only extra on this model – the Signature Trim seems to offer everything as standard equipment.) The sporty look gets help from wheels placed almost at the corners, go-kart-like, and a steeply raked rear window.
This is a long vehicle to begin with. Any SUV with three rows of seating has to be. Yet the Kodo trompe l'oeil tricks the mind into perceiving the CX-9 as low-slung and ready to drag.
Interior
Chroma Brown Nappa leather seats welcome passengers into an interior as upscale as that of any luxury tourer from any manufacturer.
Leather, rosewood and piano black accents contribute to the luxury feeling.
Subtle, customizable accent lighting glows in the doors and other places.
Heated power-adjustable seats with two-person memory settings, a heated steering wheel, and a heads-up display are at the driver's disposal. Retractable window sunshades and independent climate controls help keep rear seat passengers comfortable.
Second (60/40) and third (50/50) rows of seating predictably fold flat for heavy cargo hauling runs.
Hockey bag test
For all its length, the rear hatch is disappointingly short. The edge of my hockey bag covered the latch of the power liftgate. I had to fold down one of the third-row seats to slide my bag in longitudinally. This isn't a big inconvenience, but it highlights a tradeoff Mazda made in going for looks over cargo room.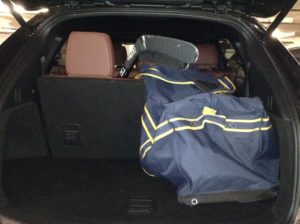 Two handy bins reside underneath the cargo floor for extra storage.
In-cabin technology
Mazda Connect is among the simplest and best-designed in-car infotainment systems on the market.
In this CX-9, it consists of an 8" screen that sits on the dash looking like it was wedged in there and could be lifted out (it can't). It's a touchscreen when the CX-9 isn't moving.
When it is, Connect can be used with a small, simple cluster of controls that sit between the gearshift lever and the centre storage cubby, and and beside the electronic parking brake switch. That's where you'll find the human-machine interface (HMI) commander, a knob/joystick/button controller flanked by several buttons that lead to commonly accessed screens (audio – Bluetooth, SiriusXM™ satellite radio, Bose® premium audio system – navigation, home screen). These controls are as easy to get used to as the on/off/volume knob that resides to the right of this cluster.
Two USB ports sit in the front armrest. In recognition of rear-seat passengers who want to charge their phones, Mazda includes two more ports in the rear armrest.
Driving
I had to keep reminding myself that this is a three-row SUV.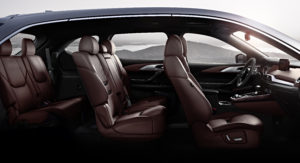 Mazda's SKYACTIV technologies make the CX-9 feel much less bulky than it actually is when it's in motion. The SKYACTIV-G 2.5L 4-cylinder gets a boost from a dynamic pressure turbocharger. Mazda cites numbers of 227 peak horsepower (250 hp using premium grade fuel) and 310 peak torque. Mazda combined this engine and turbocharger to deliver usable torque on par with a 4.0-liter V8, with better fuel economy. Turn on Sport mode and the engine responds a little more quickly, sipping a little more fuel as it does so.
The power plant drives all four wheels full-time (the CX-9 also comes in front-wheel-drive versions) through a 6-speed automatic transmission. There's no manual transmission option on the CX-9 and, intelligently, Mazda doesn't bother with steering-wheel-mounted paddle shifters.
A small Sport switch by the parking brake switch changes the tranny's behaviour, letting the driver maintain higher revs to keep more performance readily on tap.
Like its current design, I didn't think the combination of SKYACTIV technologies would translate on the CX-9. Again, I was proven wrong. From steering feel through curves and turns to quiet, straight-ahead cruising, the CX-9 drives like a smaller, nimbler vehicle than most other comparably-sized SUVs I've driven. And I do mean quiet. Mazda's sound insulation measures include more than 24 kilograms of sound deadening installed below the floor.
Like an increasing number of vehicles, the CX-9 is partly autonomous on the highway, thanks to its lane-keeping assist system and radar cruise control. Unfortunately, this latter feature shuts down at speeds under 30 km/h, so it doesn't save the driver effort in stop-and-go traffic during highway slowdowns.
Mazda makes keeping track of driving information details easier thanks to an active driving (i.e. heads-up) display. Unlike other Mazda models that project information onto a popup transparent screen, the CX-9 projects speed, cruise control, lane information and the tachometer onto the windshield. (I chose the full slate of info offered from the Mazda Connect system.)
Information appears "just ahead of" the front grill, one to four degrees below a driver's line of sight, so the driver's eyes can stay where they need to be more of the time. This display, and the one to the right of the speedometer in the instrument cluster, are full colour.
My only quibble is one of height settings. Have you ever been in a photo where somebody's head gets cut off? I stand 6'5", and this has happened to me a few times. A similar thing happened with this HUD. I like sitting with my torso as perpendicular to the ground as I can manage. Height adjustments for the HUD (I had the seat as low as it would go) would not compensate, so the top portion of the display was cut off. I reclined a little so I could see most of the display, so this is a minor quibble.
The CX-9 boasts a comprehensive slate of active safety features, part of Mazda's i-ACTIVESENSE collection. There are the usual suspects like traction control and stability control. Other systems rely on the camera in front of the rearview mirror and the vehicle's radar system. These include blind spot monitoring, rear cross-traffic alert, a lane-departure warning system that I set to make the steering wheel vibrate each time I nosed out of a lane without using turn signals. It. along with lane-keep assist, turns of while the turn signal is flashing, and turns back on when the turn signal is off.
ABS with electronic brake force distribution works really well, really quickly. I found out just how quickly the brakes worked when I approached a rising gate arm one day. I always approach gate arms so they're up by the time the vehicle passes under it. The CX-9 decided I wasn't going slowly enough, so it slammed on the brakes for me. Mazda's technical explanation of what happened reads as follows: "Using an near-infrared sensor mounted to the windshield, SCBS operates between 4 and 30 km/h to apply the brakes in order to lessen the severity of an impending and inescapable collision at up to 6m." SCBS, BTW, is the Smart City Braking System.
Fuel Economy
The smaller, turbocharged engine on the CX-9 pays dividends at the pump compared to other vehicles in this segment. You can expect 11.2 litres/100 km in the city and 8.8 on the highway. Numbers for front-wheel drive models are a little lower, at 10.5 and 8.3, respectively.
The CX-9 takes regular unleaded in its 74-litre tank.
Pricing
The MSRP on the Mazda CX-9 Signature Trim starts at $50,100. The colour option, freight and PDE bring the MSRP of the model I drove to $52,295. Mazda also offers the CX-9 in GS trim, starting at $35,300 MSRP, and GT trim, $45,500 MSRP base.