Automotive nameplates don't always last, so when a manufacturer releases a 75th anniversary model, the sheer longevity piques my curiosity. That curiosity was satisfied after  a week with the Jeep Renegade 75th Anniversary Edition 4×4.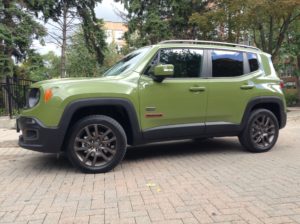 First impressions
My Jungle Green tester has had the Renegade's traditionally boxy look softened somewhat by rounded edges, though not to the same extent as its corporate cousin, the Fiat 500X.
Designed in America, crafted in Italy, this is Jeep's foray into the small SUV segment in more than 100 markets around the globe. A tall stance and lower-body panels designed to protect the metal from dirt, snow and salt ought to inspire confidence on rough roads leading to the cottage.
A body-colour grille with bronze accent, bronze roof rails and 75th anniversary wheels help to distinguish this off-roader from other models, though the most obvious markers are the 75th Anniversary badges.
Interior
Jeep designers added splashes of colour to the cabin. In my tester, for instance, sandstorm cloth/mesh bucket seats stand out against an interior that mixes light and dark in a pleasing "Jeep" style. Doors were accented with the same sandstone colour, especially on the Beats-branded door speakers. A functional, attractive dash includes a passenger grab handle just above the glovebox, handy in cases of impromptu off-roading.
The driver gets power adjustable seats, including lumbar support, while the front passenger gets manual seat controls.
How much room can drivers have in this Jeep? For the only time I can recall, I put the seat a few inches up off the floor to sit a little higher over the wheel, and I still had all sorts of headroom. Rear-seat headroom is equally generous, a product of the relatively flat, level roof that goes against the styling grain prevalent in the compact SUV segment.
Small SUV practicality means getting stuff into the Renegade, so the front passenger seat folds forward to augment the space created by rear fold-down seats and the height-adjustable cargo floor panel.
Some of that cargo floor space is sacrificed during open-air off-roading. The My Sky Open Air removable roof panels stow in a custom-made bag secured to the cargo floor (you can remove it if you want). The honeycomb fiberglass polyurethane roof panels, one above the front seats  and one above the rear, are lightweight and easy to remove. I found a small pamphlet in the centre storage cubby that explains how to take these panels off and put them back on.
Their being light is one thing. However, it helps that I'm 6'5" tall so that I could easily reach above the Jeep to handle the panels. Shorter people might have difficulty doing this. That thought led me to wonder about the logic in manually removable roof panels when a larger, one-piece moonroof would be more convenient. Then again, if you drive a Jeep, manual touches like these go with the brand.
Jeep packed a lot of utility into various optional packages on my tester. The optional Popular Equipment Group includes 40-20-40 folding rear seats, an auto-dimming rearview mirror, and dual-zone automatic temperature control. The optional Cold Weather Group includes rain-sensing windshield wipers, healed front seats, windshield wiper de-icer and a heated steering wheel.
Hockey bag test
The bag fit snugly under the tonneau cargo cover and on top of the My Sky roof panel bag. Fitting more stuff in the back would force me to lower one of the rear seats.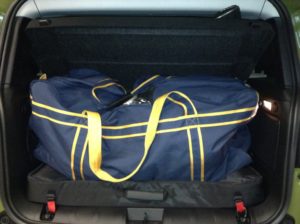 In-cabin technology
This Jeep's visible tech is about average in today's vehicles. My tester featured the Premium Navigation Group, which offers GPS navigation, satellite radio and hands-free navigation operation via a Uconnect 6.5-inch touchscreen, slightly larger than the base 5-inch model.
Call me old-fashioned, but I appreciated the physical buttons along the sides and bottom, as well as volume and tuning dials. I have to devote a greater amount of attention to handle a touchscreen than buttons and dials, something I'm not comfortable doing while behind the wheel of a moving vehicle, so kudos to the designers for keeping physical controls.
The Jeep also includes the standard FiatChrysler steering wheel with its audio control buttons behind the steering wheel. You can't see them, which might seem counterintuitive. I suspect people will stumble upon them by accident, and then only if they place their hands at the 9 o'clock and 3 o'clock positions. (Drivers will likely do this to activate things like cruise control or handsfree features.)
Once you find them and begin pressing them using your index and middle fingers, you'll quickly figure out what they're for. These buttons hugely reduced the number of times I had to reach for the centre stack, and I never lowered my eyes from the road to use them as I might when using similar controls mounted on the front of the steering wheel. Safety-driven design like this deserves to be repeatedly praised. (Yup, I've mentioned these buttons on a Dodge or two, a Fiat or two, and another Jeep.)
Uconnect Access adds embedded cellular technology to allow Renegade occupants to contact local emergency-service dispatchers, FCA roadside assistance or Vehicle Customer Care Center.
A 3.5-inch black and white instrument cluster display sits between the tachometer and speedometer. Jeep designers placed notches on the metallic-looking rims of these gauges, making them resemble scuba diving watches. The display shows a variety of vehicle information, including tire pressure, fuel economy and, of course, speed.
Driving
The 2.4L Tigershark MultiAir engine produces 180 horsepower and 175 lb.-ft. of torque. It's paired to a nine-speed automatic transmission. Overall power delivery is adequate for daily driving. Jeep also offers Renegade buyers a 1.4-liter MultiAir Turbo four-cylinder engine,  offering 160 horsepower and 184 lb.-ft. of torque, plus six-speed manual and automatic transmissions.
Drivers access four-wheel drive options using a dial placed low down on the centre stack, to the left of the shift lever. The dial offers 4-wheel-drive settings for snow, sand and mud.
Active safety features include blind-spot monitoring and rear cross-path detection, plus electronic stability control, electronic roll mitigation and hill start assist. Jeep offers up to 70 safety and security features, including forward collision warning and lane departure warning systems.
Fuel economy
The window sticker indicates 11.2 L/100km city 8 highway and 9.8 combined, reasonably good numbers for a small SUV.
Pricing
Jeep offers th Renegade 75th Anniversary Addition for a base MSRP of $28,995. With options, my tester's MSRP comes to $39,610. Jeep offers other Renegade trim levels, including the base Sport which starts at $21,495 MSRP.