Call them mini-crossovers. Call them tall wagons. Call them increasingly common, members of a vehicle segment that's exploding with new arrivals. Among all the flashy new segment entries competing for market share, older models like the 2016 Kia Soul are raising their game.
Kia leant me a red/black two-tone Special Edition-Sport for a week, and I'm happy to report this sporty little model holds its own.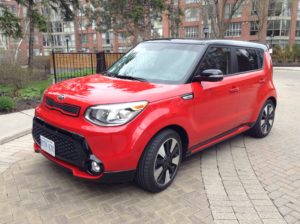 First impressions
You won't mistake the Soul for many other vehicles on the road. Its boxy body is tempered only by the raked windshield and an upward slant of the window sills. The Soul's sporty appearance comes from design elements like a huge grill in front, and rear wheels being just about at the rear corners, go-kart style.
My tester featured high-gloss bumpers front and back. Those bumpers, as well as the roof, side-view mirrors and parts of the 18″ wheels, were black to contrast with the red paint on the rest of the vehicle. (Kia offers the Soul in both ordinary and other "look-at-me" colours.)
When I approached the Soul, the folded side mirrors folded out. That little surprise on a purported "value brand" got my attention.
Interior
Stepping into the Soul's largely black interior, I first noticed the combination tweeters/air vents. The round tweeters point straight up, framed inside a rim that's as red as the paint job outside. Kia calls this a "flying saucer" design.
My tester didn't have the optional panoramic sunroof, but it still felt comfortable, even a little luxurious. Straightforward manual adjustments on the heated seats and the tilt/telescoping steering wheel let me get comfortable quickly. Piano black accents on the heated, leather-wrapped steering wheel and a start-stop engine button sitting beside a leather-booted gear lever that rises from an oval base made me expect even more luxury touches. The climate control cluster features a small round LED screen that tells you everything you need to know.
The more I looked throughout the vehicle, the more it seemed Kia wanted to stick to rounded designs, with nary a visible edge in this otherwise edgy wagon.
I accidentally touched the switch that folds the door mirrors one day and found myself looking at the front of said mirrors while I was moving along. There's a first time for everything…
You can control these mirrors using that switch, but I kept them on automatic, and not just because of convenience. There's something about a vehicle acknowledging your presence by folding its mirrors out when you approach, and folding them back in when you pass by without opening the door. I know, small things amuse…
Hockey bag test
The liftgate opens wide and easily accommodates my hockey bag – just – without my having to fold down the rear seats.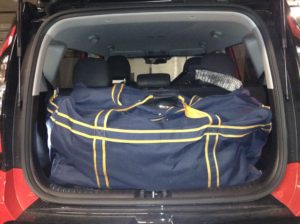 Technology
Kia practiced restraint when adding in-vehicle technology. This likely kept the cost of the vehicle down, but the design helped me find what I wanted without excessive menu scrolling. The Soul offers a settings and vehicle status screen in the instrument cluster, as well as the touchscreen/rear-view camera monitor in the centre stack.
The touchscreen in my tester is too small to accommodate the optional navigation system, which my tester did not have. (That package comes with an 8" touchscreen.) I can't complain. That interface afforded easy access to the features it does offer, like satellite and regular radio and smartphone connections (Bluetooth and USB). Physical buttons flanking the screen take occupants quickly to the features they want to use. I hardly used the touchscreen during my time with the Soul.
Driving
A 2.0L I4 engine mated to a 6-speed transmission provides adequate acceleration (164 hp and 151 lb-ft of torque). My experience? Step on it and the Soul gleefully sprints. Other trim levels sport a 1.6L engine that generates 130 hp and 118 lb-ft of torque.
Handling was great, even when going a little hard on 270-degree highway entrance ramps. I don't think they kicked in while I drove the Soul, but it was good to know that electronic stability control and vehicle stability management had my back. Kia also offers active safety technology like a lane departure warning system and a front collision warning system on the SX Luxury trim level Soul.
The Soul's narrow body and wheels-at-the-corners stance made for very straightforward parking. It proved manoeuvrable in tight spots thanks to a tight turning radius.
Fuel economy
Every automatic tranny Soul features Active Eco to help drivers save a few dollars at the pump. The system reins in the power streamed to equipment that reduces fuel economy, like climate control. The optional Idle Stop And Go feature helps by shutting down the engine when the Soul isn't moving.
Published Canada Energize fuel consumption numbers are 9.8L/100km in town and 7.5 on the highway, for a combined 8.8 L/100km. Fuel economy during my week with the Soul hovered near 10 L/100km. The Soul takes regular unleaded fuel in its 54-litre tank.
Pricing
The base price for my two-tone tester was $25,995, or $28,020, including freight and A/C tax. The base Soul LX with a manual transmission starts at $17,195.